EVA Gym Floor Tile Uses Beyond Workouts and Fitness
By Greatmats Staff Created: July, 2017 - Modified: July, 2021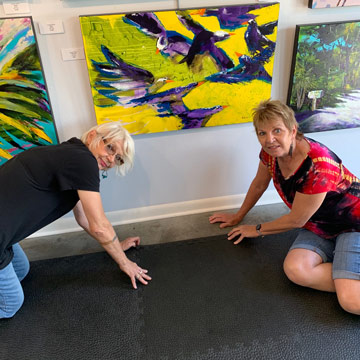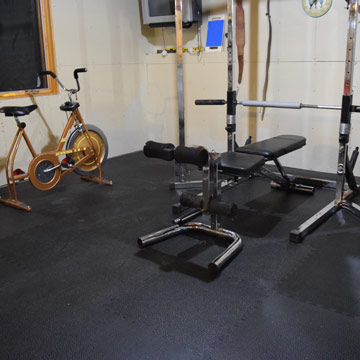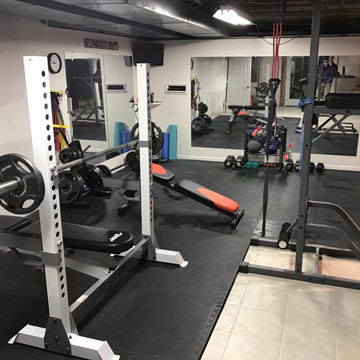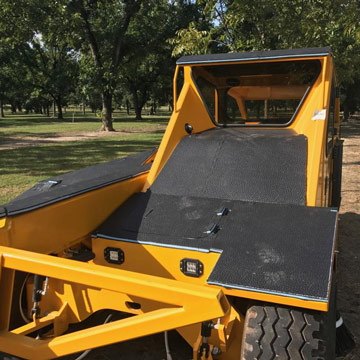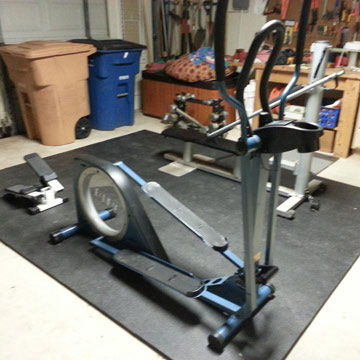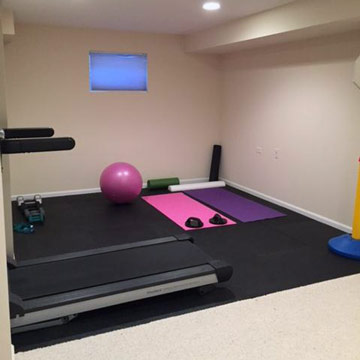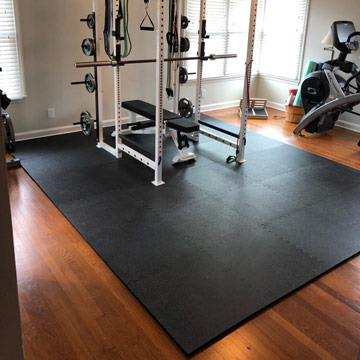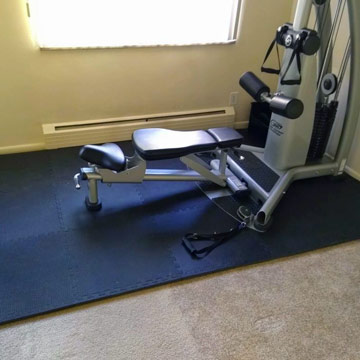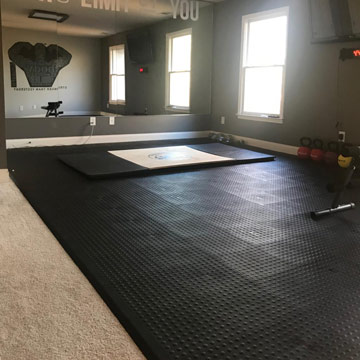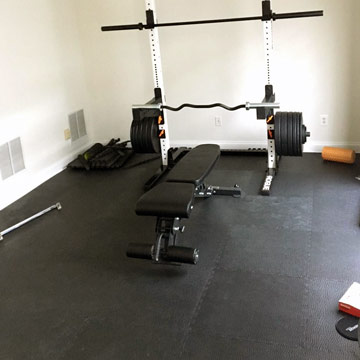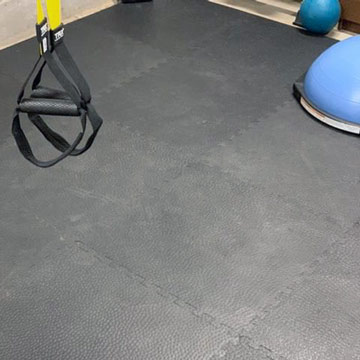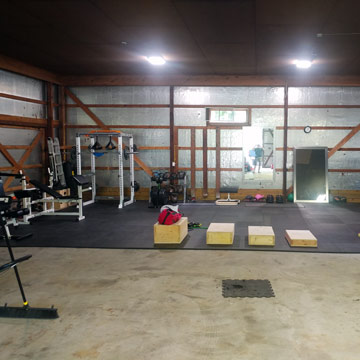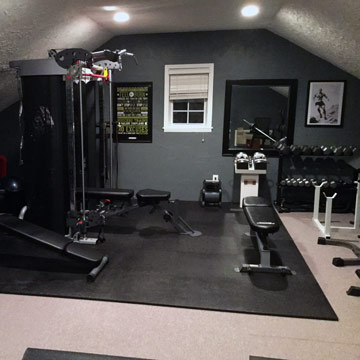 Whether it's an easily transportable floor for horse shows or workout room flooring, Gym Floor Pebble Top 3/4 Inch Tile is a high-performing and popular product. The following list gives ways in which real customers have taken advantage of these tiles and used them far beyond the typical exercise room flooring. Take a look at some things customers are saying about tiles, and learn some more details about the product along the way.
1. Horse Trailers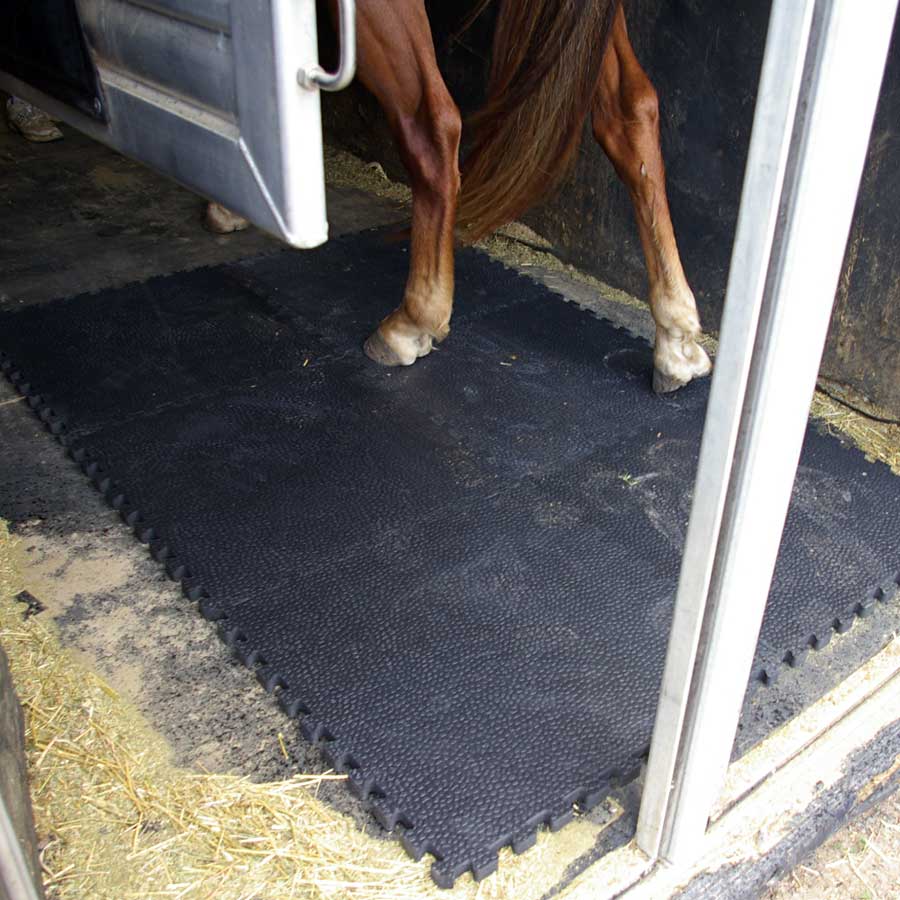 Gym Floor Pebble Top Tiles are 2x2 feet by 3/4 inches and weigh a mere 3.3 pounds each. These workout room flooring tiles are extremely easy to carry and transport, which users find to be particularly handy for horse trailers.
''I ordered these for my senior horse and I love them! I use them in my horse trailer then pick them up and take them to her stall at the horse show. Easy & light!!!''
Debby, Fort Worth, TX
2. Home Gyms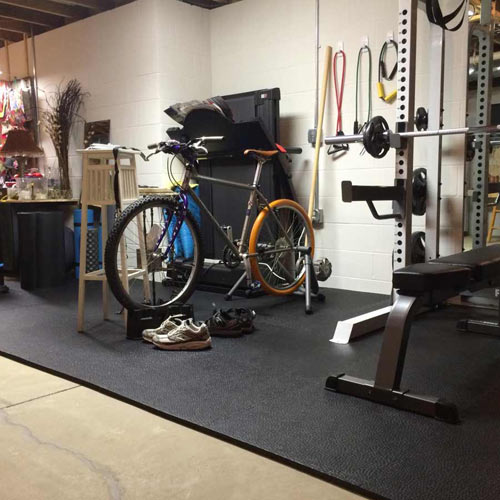 Next, this exercise room flooring is super popular for home gyms. Made of ethylene vinyl acetate foam, these durable tiles are the odor-free alternative to rubber work out room flooring. Tiles are super durable and will not become damaged under repeated impacts, heavy workout equipment, or free weights. At the same time, this workout room flooring provides enough cushion to maintain support and comfort for all types of exercise.
''We love the Tile Pebble Top 3/4 Inch flooring in our home gym... I can drop 35 lb. dumbbells from waist high and the flooring protects our porcelain tiling just beneath it - no problem. My wife does aerobics on them daily, and after 2 years of the same motions over a certain area, it does show some wear but I'd say that's pretty good durability! With the ability to buy two or three replacement squares for the great price they offer, it is an easy fix to get us back up to new condition. Great product - highly recommended.''
Mike, Avon, IL
3. Art Studio Floor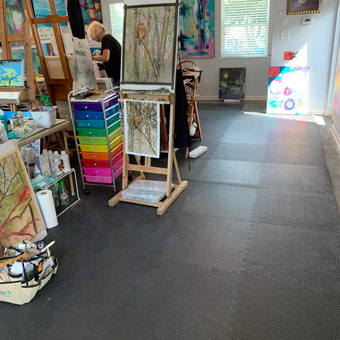 Pebble Top exercise room flooring is super easy to clean and maintain. All cleaning takes is a damp mop with a common household floor cleaner, which is part of the reason tiles work well as art studio flooring. Plus, tiles are anti-fatigue and supportive to joints and limbs standing for long periods of time.
''A great surface to cover a cement floor in an art studio I'm now renting. Easels and furniture move around well on it since it is a harder surface. Easy to assemble. It has reduced most fatigue when I stand and paint, which is what I do. ... It also makes a much more professional appearance to the studio.''
Lorraine, Palm Harbor, FL
4 & 5. Wall Sculptures & Walk in Refrigerator Floor
These workout room flooring tiles can be easily cut with a sharp utility knife to fit any space perfectly - from walls to walk-in fridges.
''Product great, staff great! I used these tile mats for a permanent art project at Canyon Vista Hospital in Sierra Vista, AZ. Lightweight and durable. I also installed my remaining mats in the walk-in refrigerator floor at Mi Casa Restaurant in Benson, AZ. Thank You Greatmats!''
Archie, Cochise County, AZ
6. Child's Play Room
These non-toxic gym flooring tiles create a safe and welcoming flooring environment for kiddos to play on. The exercise room flooring tiles are designed with a non-slip surface for reduced falling risk.
''We are using the mats as a cushioning agent over a concrete floor in our grand-daughters small play room. It has made the room much warmer and quieter. It was easy to trim to fit the area. We placed 12-inch Mickey Mouse puzzle pieces on top and they stay in place very nicely. It was exactly what we were looking for.''
Glenda D, Bossier City, LA
7. Horse Show Stalls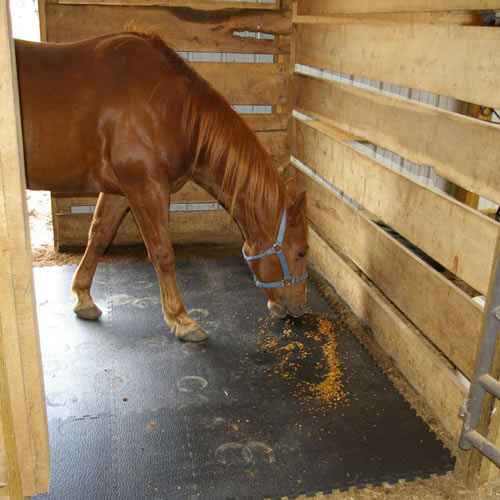 Many users find this work out room flooring to be an awesome solution for horse show stall mats. As previously mentioned, tiles are extremely durable and easy to transport. Plus, tiles will not absorb water.
''We take these portable mats to horse shows for when the stalls are on pavement. They are light and easy to transport and put together. I definitely recommend them!''
Julie, Bend, OR
8. Basements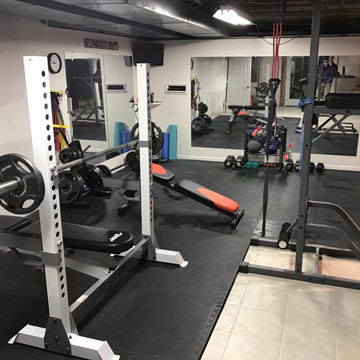 Pebble Top exercise room flooring is designed with an interlocking puzzle-like connection system that is intuitive and simple to use. The workout room flooring tiles do not require any extra tools or adhesives to assemble.
''They have no odor!! Super easy to assemble!! I spent considerable time looking for a surface to put over ceramic tile floor on a concrete slab in my basement that would protect my floor from dropping free weights. Almost all reviews stated that the smell of rubber was horrible and permeated the entire house. The first thing I did when the tiles arrived (and they arrived within a few days of my order) was stick my nose in the box... no odor whatsoever! Assembly was done without consulting a guide. It took me a minute to realize the there are ends and runners, and that you have to mix and match. All in it took me 20 minutes to assemble an 8' x 8' pad - 16 tiles... AND THEY DON'T STINK!!''
Mike, New City, NY
9. Tree Shaker Mats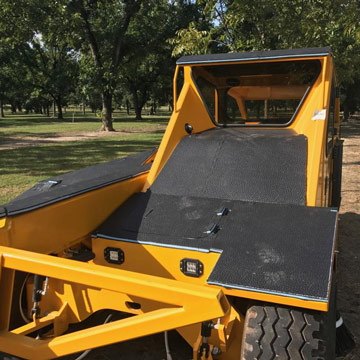 The cushion and durability of these tiles, along with easy customization made them the perfect solution to protect pecans from falling onto the tree shakers during harvest time.
''My sons are in the pecan business as I am, we purchased new tree shakers and we needed some type of padding to prevent the thin shelled pecans from damage when shook out of the tree. Garrett's wife was a gymnast in her younger days and suggested looking at mats. This is a picture of their machine. I followed his lead and covered my machine also.''
Gerald, Albany, GA