2016 Greatmats National Gymnastics Coach of the Year Rilee Sauer
By Brett Hart Created: June, 2017 - Modified: October, 2019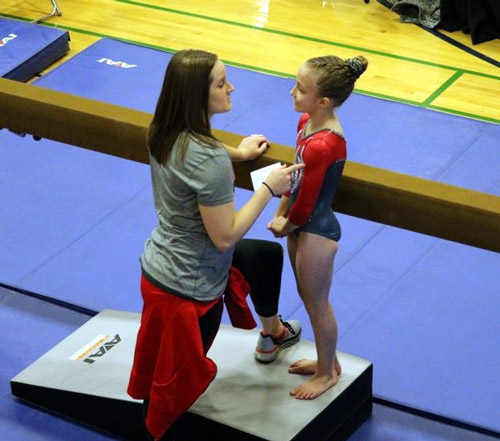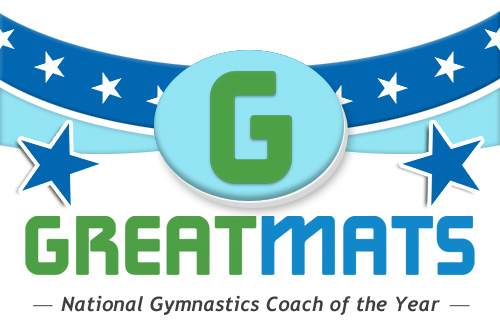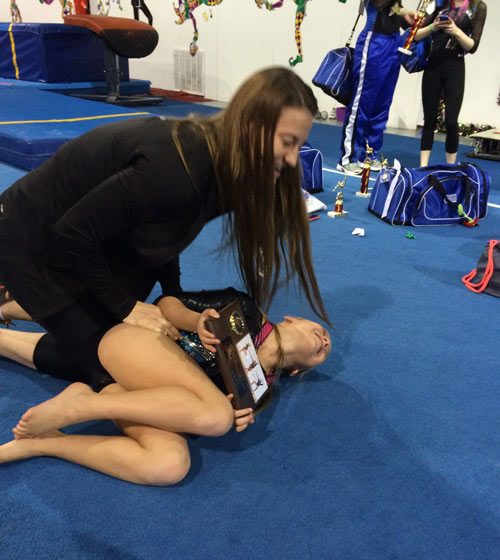 After a tightly-contested race in the first year of the Greatmats National Gymnastics Coach of the Year Contest, Chandler, Arizona, Gymnastics Coach Rilee Sauer rose to the top and earned the title of 2016 National Coach of the Year.
Sauer gathered just over 15 percent of the 1,500 votes cast to earn a finalist spot, alongside Clara Gulino of Slidell, Louisiana, and Lori Dexter of Hanover, Pennsylvania.
Nominated by a grandparent of one her athletes at Gold Medal Gymnastics, Sauer was commended for her tough, kind, caring and encouraging behavior.
''She talks to the girls and gives them encouragement and after they do their routines, each will get a hug no matter how they did,'' the nominator said.
''It's eye opening for me to see that I've made such an impact on the family that nominated me - for them to nominate me let alone receive enough votes from the Gold Medal Gymnastics community to be a finalist,'' Sauer said.
In charge of more than 100 gymnasts as the director of a large compulsory program and coaching within an optional program, Sauer didn't realize the impact she had on individual kids.
''It makes the tough days easier and the great days even better,'' Sauer said. ''I am extremely grateful to have been nominated and even more so to be a finalist.''
She says her drive to help others comes the pride in knowing that people can count on her.
''Whether it's helping my gymnasts accomplish a goal or help a family member at home, I'm the kind of person that wants those around me to know no matter what I am doing, I will be available to help them,'' Sauer said. ''The best part of my job is watching the kids I coach work through the struggle that is gymnastics and come out on the other side successful and feeling good about their accomplishments.''
Finalist Clara Gulino
Gulino coaches at Gymnastics Plus and was nominated for acting as a second-mother to one of her students. A parent of that student said, ''She has gone above and beyond as a coach by personally writing a letter to my daughter inspiring her to achieve goals and gave her a journal to write in. ... She has mentored her in schoolwork and helped her overcome personal anxiety she suffers from by positive praise.''
Gulino believes strongly in athletics serving as important building blocks for life.
''We focus on building strong athletes, but more importantly we strive to build individuals with strong characters,'' Gulino said. ''I am able to encourage them with things such as their schoolwork - one of my biggest priorities, their behavior at home, and help them when they are going through hard times in and out of the gym. To me, when they bring home the gold, it's a good feeling, but when they are excited to show me the A they got on their math test, or their parents tell me they are finally being nicer to their siblings, or they just need a hug after a bad day, those feelings are the best. ... Working with my athletes, their parents, and myself, we create a power team of positivity. It is rewarding to be able to teach them about hard work, determination, perseverance, courage, teamwork, and patience through situations that arise in the gym.''
''I put as much of my heart as I possibly can into the work I do, and I am extremely lucky that it never feels like a 'job,''' she added. ''I feel so grateful for all the thoughtfulness and kindness shown by my gym family who nominated me and took the time to vote and share the post with friends. I am truly honored to be recognized for living my passion. ... I have coached gymnastics off and on for 10 years and consistently the last three. Every year keeps getting more and more enjoyable.''
Finalist Lori Dexter
Dexter coaches at Northeast Gymnastics Academy and was nominated for her generosity. Her nominator said, ''Lori takes time to bring girls into the gym to help them overcome hurdles they are having. She has let her girls stay at her home if they had no way to get to the gym to practice. She has driven them to camps to give their parents a needed break. Lori loves her girls, and they love and respect her.''
During the voting process, others pitched in praise of the giving gymnastics coach saying such things as:
''Love her to pieces. In and out of the gym she is an awesome coach and woman.''
and
''Amazing Coach. Amazing person...we love her dearly!''
The Prize
As the 2016 Greatmats National Gymnastics Coach of the Year, Rilee Sauer has won her choice of either $250 in Greatmats products or $150 in cash for Gold Medal Gymnastics.
Learn more about
Greatmats' annual National Gymnastics Coach of the Year Contest
.

Rilee Sauer
Gold Medal Gymnastics
Chandler AZ 85225