Stage Pads & Mats for School and Gymnasium Safety
By Greatmats Staff Created: August, 2017 - Modified: July, 2021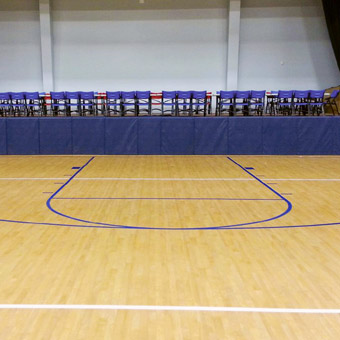 In many schools, a gymnasium serves multiple purposes, and many gyms even incorporate a stage for concerts, talent shows, and other performances. But that stage can be a potential danger for athletes, and that's where stage padding comes in.
Reasons to Invest in Stage Padding
Stage padding covers the edges of your stage, helping to soften the impact if an athlete or student collides with the stage. The simple act of buying stage padding can help to prevent potential injuries and keep your students safer.
Stage padding also increases the versatility of your space. For example, a gymnasium equipped with stage padding could be used for:
Drama class rehearsal
Play performances
Band and choir rehearsals and performances
Class skits
Sports like basketball and indoor soccer practices and games
A variety of other classes and events
Buying stage padding requires an investment, but that investment is small when compared with the potential cost of acquiring more space for the above activities. When your school is already pressed for space, being able to safely use a gym for a wide array of activities is a significant benefit.
Don't forget the importance of being able to offer students a wide variety of activities in addition to sports. The availability of music programs and theater programs can potentially attract students, driving your school's enrollment.
If you've already invested in wall padding for your gym, then stage padding is a natural extension of that investment. It's also an important way to finish off the project and ensure that all dangerous surfaces are softened and protected.
Finally, investing in stage padding means that gym teachers and sports team coaches have one less issue to worry about. Teachers and coaches can focus their full attention on athletes, and athletes can focus entirely on playing or competing, knowing that the stage is padded and safer.
Reasons to Choose Greatmats Stage Padding
Greatmats stage padding offers several advantages and is carefully designed for its durability and quality. Our stage padding features a two-inch foam core that offers excellent shock and impact absorption to help prevent significant injuries.
That foam core is wrapped in a 16-ounce phthalate-free vinyl cover. That cover is designed to be highly durable, so your investment in the padding will last for years.
The vinyl cover receives both an anti-bacterial and anti-fungal treatment to keep it looking great and safe for kids. It also has UV resistant pigments.
All of the vinyl used in Greatmats padding meets NFPA 701 CSFM fire testing and holds a Class A fire rating. It's also flame retardant, ensuring you're using only the safest elements in your school.
Greatmats stage padding is available in 14 different color options. It also has custom colors available, so it can help you to match your school's color scheme.
Installing Stage Padding
Greatmats stage padding is available with multiple installation options. You can choose the option that works best for your school and stage.
Hook and Loop Fastening
The most common installation option is a hook-and-loop fastener. You can remove the stage pad with an easy pull, an ideal choice if you'll want to frequently remove the pads for events like concerts and plays. This option allows you to quickly convert your gym into a more professional performance setting, removing any bright colors that might be on the pads and allowing the audience to focus on the stage.
Z-clip fastening
Z-clip fasteners also create another style of removable installation and are ideal if you know you may be removing the pads often. This type of installation incorporates a channel type connection. One channel will connect to the pad, and a receiving channel is then connected to the stage. You then attach Z-clips to the back of the wall pad panels to secure them to the stage.
Both of these installation options are easy and can be accomplished by most maintenance crews.
What is stage padding?
Stage padding is a cushioned surface connected to the front edge and corners of a stage.
It provides important protection to the edges of stages in areas that may be used for multiple purposes. For example, a school gym might also incorporate a stage, but athletes could collide with it during practices or games.
Stage padding softens the collision and helps to cover any hard corners and edges. It's easily installed and is an excellent investment in the safety of your students and athletes, while still allowing you to use a single space for multiple purposes.
Is stage padding customizable?
Yes, Greatmats' stage padding is fully customizable. We can create padding to meet the specific dimensions of your auditorium, gymnasium, or other space.
In addition to customizing the padding dimensions and overall design, you can also customize the padding's colors. Consider choosing colors that reflect your school's brand colors.
Can you add graphics to stage padding?
Yes, at Greatmats we can add your digital logo to your stage padding. Consider adding the logo of your school, your sports teams, or any other meaningful group or business.