2x2 Rubber Mats - Sundance Interlocking Tiles
By Greatmats Staff Created: August, 2017 - Modified: July, 2021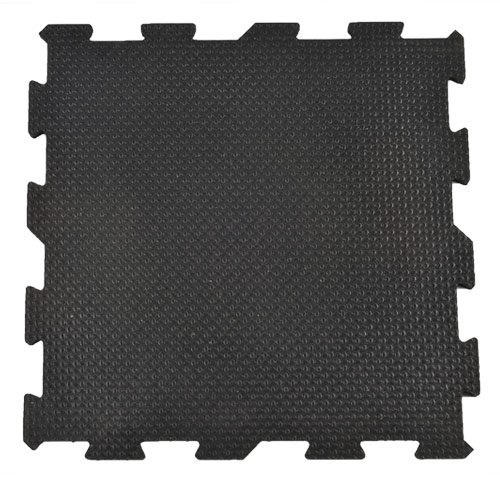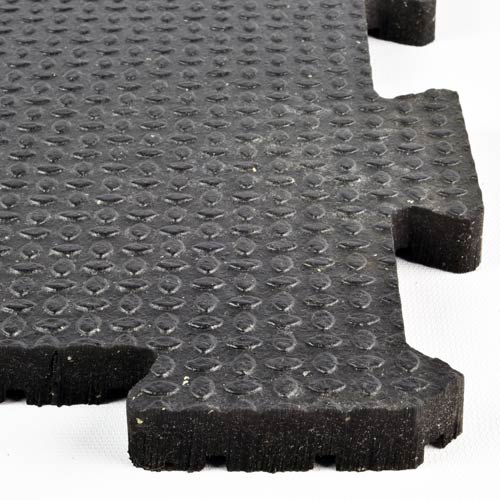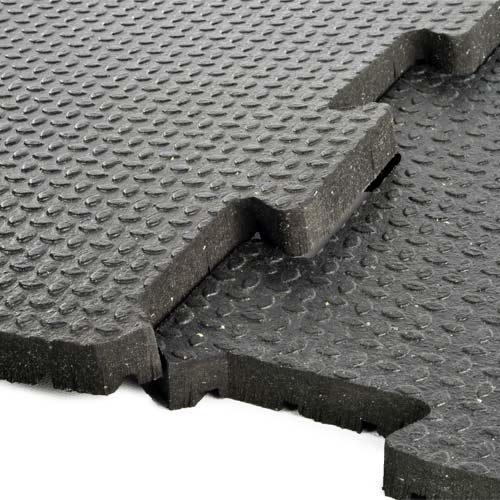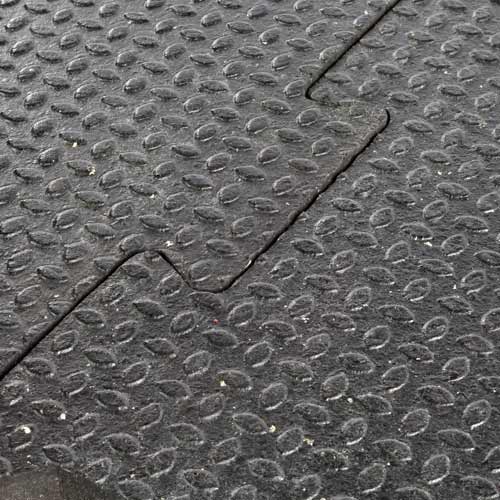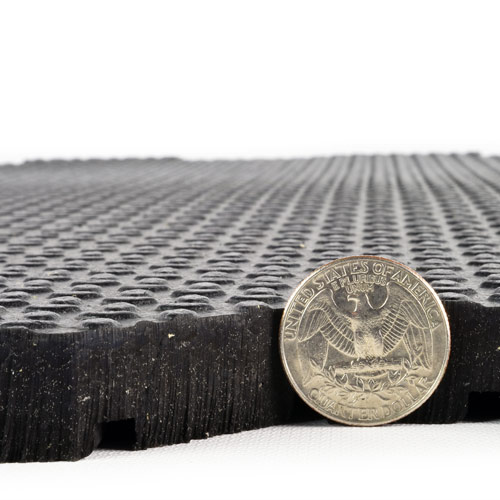 The highly versatile Greatmats 2x2 foot interlocking rubber Sundance tile is an excellent choice for use in weight rooms, home gyms, and even in horse stalls.
These floor tiles are ¾-inches thick, making them highly durable and able to absorb significant impact from dropped weights. The tiles feature a pebble top surface texture to help maximize grip when you're working out, and they're designed specifically to be able to withstand heavy dropped weights while protecting your subfloor. Their Shore A 75 material hardness rating is evidence of their supreme strength and durability.
It's that strength and durability that makes the tiles suitable for use in horse stalls, too. They're designed with a high level of thickness tolerance for consistent strength and quality, meaning the entire tile can support a horse's weight without collapsing. These tiles can be used in horse stalls, grooming stalls, barn aisleways, and anywhere else where you need a durable flooring that's also safe for horses and their handlers.
Using 2x2 Rubber Mats in Your Home Gym
These mats can withstand dropped barbells and are highly durable, ideal for gyms that will see rigorous use. Their interlocking features allow you to create a secure flooring surface that won't pull apart, so you can focus on your workouts instead of your flooring. The interlocking design also makes for easy cleaning.
These tiles are backed by a 10-year limited prorated manufacturer warranty, so you can buy them with confidence. They're made of recycled rubber and qualify for LEED points, so they might be an appealing choice for your commercial gym, too.
These tiles can be dry laid on a hard, flat surface. The seams interlock like puzzle pieces, creating secure connections that won't pull apart during use. This leaves you the flexibility to remove the tiles in the future, whether you need to clean the subfloor, use the area for another purpose, or relocate the tiles to another area altogether.
It's important to be aware that this product does have a rubber smell, so you'll want to use them in an area where you can create plenty of ventilation by opening windows when the tiles are initially installed.
Using a 2x2 Rubber Mat in a Horse Stall
These rubber mats offer the strength and durability needed for use in a horse stall, and they offer several advantages over using larger 4x6 foot stall mats. Their interlocking features create one single mat surface, which can help to prevent urine and bedding from working its way down in between the mats. You also won't have to worry about mat edges and corners curling up, or the mats shifting about during use.
Tile features like their size and weight also make for an easier installation than you'll experience when using larger mats. The 2x2 foot size means the tiles are much more manageable to carry, and they measure only 17 pounds each, so one person can easily carry them into stalls or other destinations. Using several smaller tiles, you can still cover a whole stall surface, but without the physical exertion that using larger stall mats would require.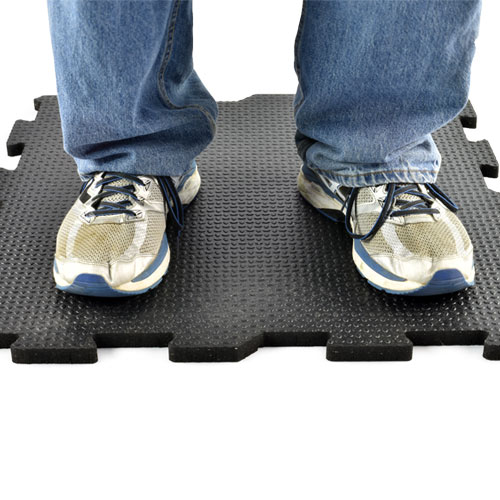 Are 2x2 rubber mats good for home gyms?
The 2x2 floor mats are excellent for use in home gyms. They're designed to withstand heavy weights and are highly durable. These mats feature a convenient interlocking design, so you can handle their entire installation on your own. Since they can be dry laid on a hard, flat surface, these mats are an economical way to create a strong, quality home gym.
When would you use 2x2 mats for horses?
These 2x2 interlocking mats are an ideal choice for use in horse stalls. Their high thickness tolerance means the mats won't collapse under a horse's weight, and the pebble top surface texture maximizes traction for the safety of both horses and handlers. These mats are more conveniently sized than large-scale horse mats, so they can be easier for a single person to install. They can be used in most stalls and stall aisleways, and you can also cut them to fit an area. One of the most popular uses for smaller rubber mats such as these is in horse or livestock trailers - especially for those people transporting their horses to shows and competitions. Since they are so lightweight and manageable, the tiles can even be removed from the trailer and used in the show stalls when needed and then returned to the trailer after the show.
What is the advantage of interlocking rubber mats?
The 2x2 interlocking floor mats offer multiple advantages. They're sized so that they're easy for a single person to carry, making for a more manageable installation. Because the tiles interlock together, there's no adhesive required for installation. Those tiles create a single, secure surface that won't lift up or separate while in use. This means that you'll be able to remove the tiles in the future if you should need to.
When you're working with a large flooring roll, installation can be cumbersome. If that flooring is ever stained or damaged, you really need to replace the roll, or a significant portion of the floor. One of the great benefits of rubber backed mats that interlock is that you can replace just one or two damaged or worn tiles. With this method, you'll save money and time, and you can easily keep your floor looking and performing great.