EVA Foam Tile Costumes - Tia Hoffmann Testimonial
By Brett Hart Created: July, 2017 - Modified: November, 2022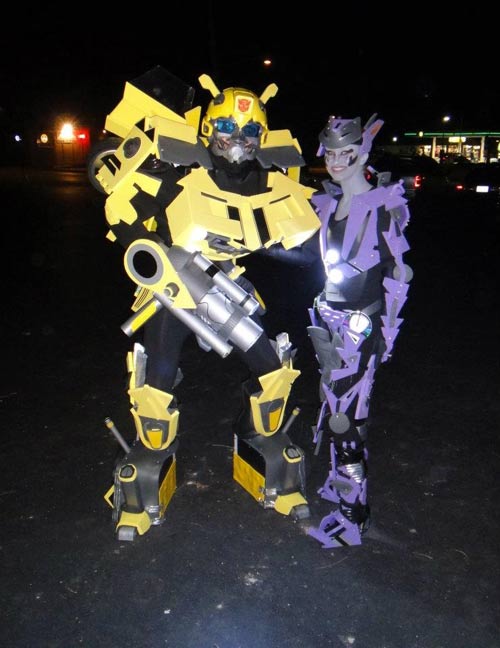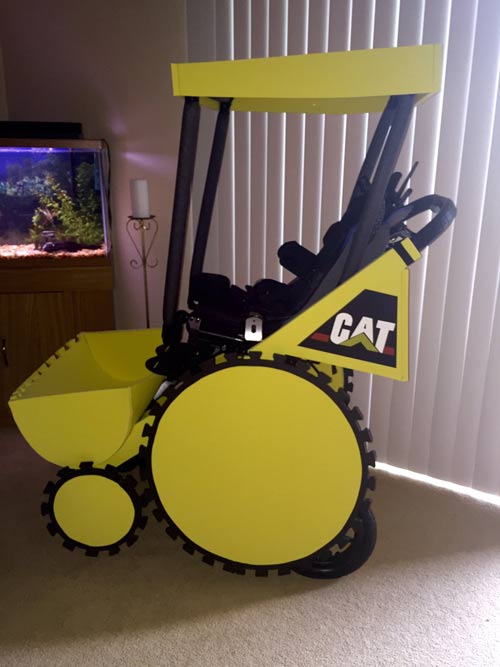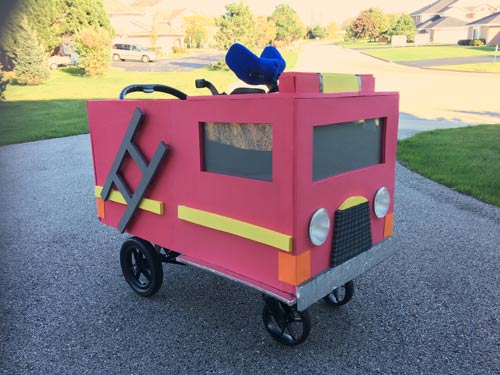 Having already built a reputation for creating elaborate Halloween costumes, Tia Hoffmann of Pewaukee, Wisconsin, set the bar a bit higher a few years ago when she and her then fiance' attended a Halloween themed engagement party.
''We wanted to surprise everybody with our costumes,'' Tia said. ''They knew every year, we had something elaborate.''
Inspired by the Transformers movies, Tia came up with a plan to dress her husband as the yellow Camaro, Bumblebee, and herself as the motorcycle, Arcee. The first challenge was finding the right materials to create the costumes. She needed something lightweight, yet dense enough to hold its shape.
''I considered something like a PVC material and really just thought it was too heavy,'' Tia said. ''I started looking at stores, going up and down aisles to see if I had any materials that popped into my mind, and then I saw yoga mats.''
Tia determined the yoga mats were too malleable, but knew she was on the right track.
''Then I thought of those foam floor mats, and I was like, 'Oh my gosh. That would be great.'''
After a little research, she stumbled upon the website Greatmats.com where she found just what she needed - 5/8 inch thick Premium Foam Floor Mats.
She ordered five of the 2x2 foot mats in yellow for Bumblebee and another three mats in Purple for her Arcee costume. The project consumed her living room and her time for about three months as she constructed the jaw dropping costumes out of these foam tiles.
Using photos and her own imagination and references, Tia logged more than 800 hours working on the costumes.
''We couldn't invite anyone over, and if we did, we had to scramble and shove everything into a bedroom,'' Tia said.
But the time, effort and research paid off as Tia was able to successfully bring her ideas to life.
''I have a very cooperative husband who allows be to dress him up in elaborate costumes every year,'' Tia said.
The experience also planted a seed for future costumes.
A couple years later, Tia came across a woman on Facebook looking for someone who could create a Halloween costume for her child who needed a wheelchair to get around. Tia knew just what she could do to help and ordered another 15 foam tiles from Greatmats and donated her time to create a Caterpillar front end loader costume to adorn the child's wheelchair.
This August, Tia connected with that mother again and they decided to have Tia construct a fire truck costume for the boy using just seven foam tiles and 15 hours of her time.
''I really like using the foam,'' Tia said. ''It's works really well for what I do. I have no education in art, but I've always been creative and crafty.''
Since 2011, Tia has constructed four costume's using the foam tiles, including bride and groom Lego characters. Now the mother of a 9-month-old child and owner of a new puppy, Tia's time and focus is a little more restricted, but the experiences have inspired her to help other families with disabilities.
Her goal is to set up an annual charitable event where several families with children in similar circumstances can enjoy the festivities of Halloween.
Tia Hoffmann
Pewaukee WI