Play Puzzle Mat Uses - EVA Foam Squares
By Julia Nass Created: July, 2017 - Modified: August, 2020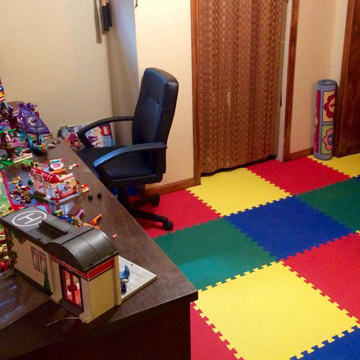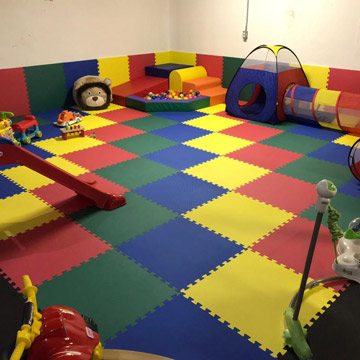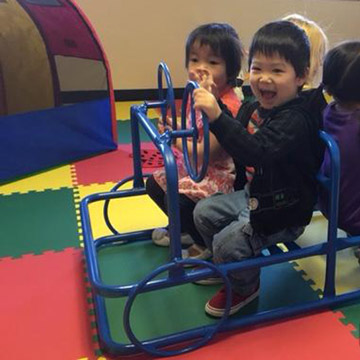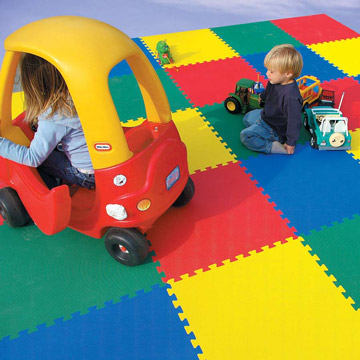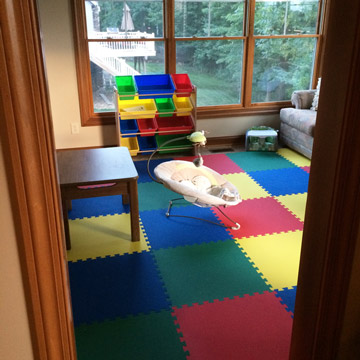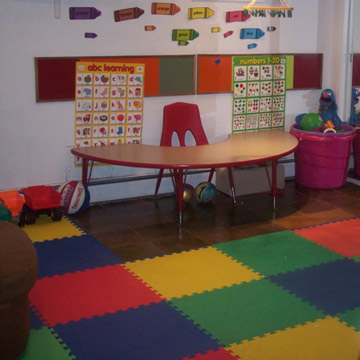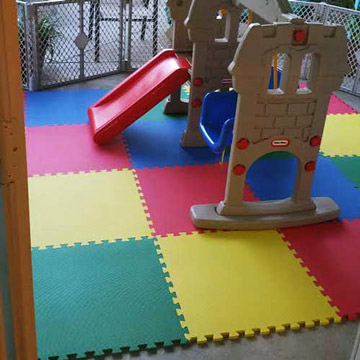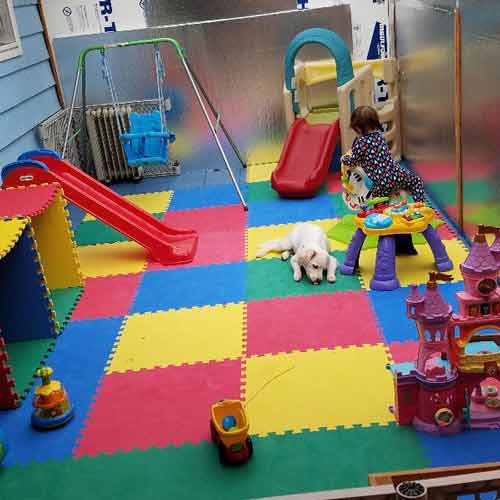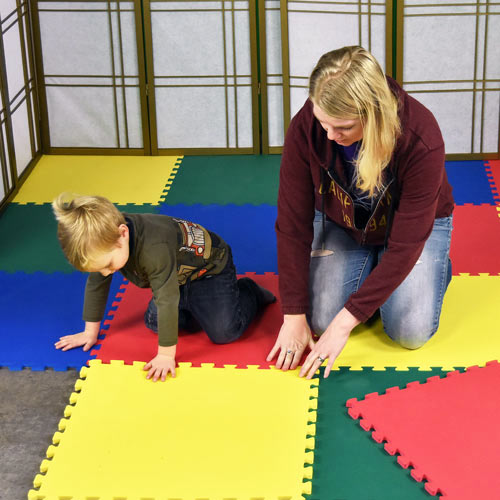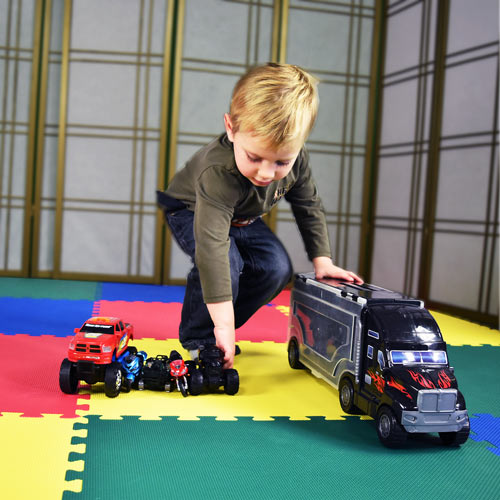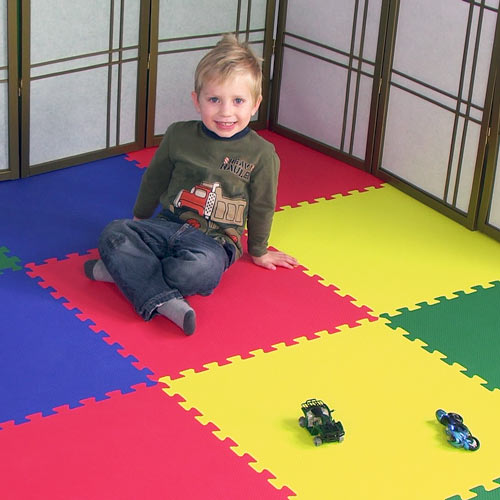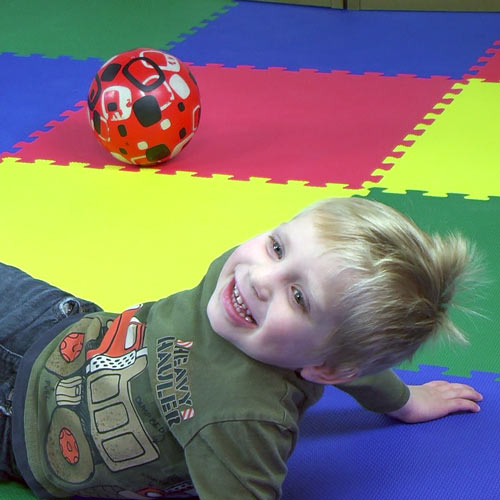 Puzzle Tile 4 Pack
foam playmats
are made out of a high-density EVA foam that provides both comfort and safety in its cushion. The thatched surface of play mat foam tiles prevent slips and falls and is resistant to scuffing. People of all ages will be happy walking, crawling, running, napping, or sitting on floor tiles. These 2x2 foam play mats come in a pack of four different colored puzzle tiles: red, green yellow, blue. What follows is a bright and energizing floor space, perfect for livening up any environment.
Foam foam play mat tiles are hassle free from installation to maintenance. The simple and quick installation process doesn't require any adhesives or special tools. At only one pound each, they are easy to pick up and move or store if need be. Play mat foam tiles are cleaned with a damp mop or sponge and basic household soap. These foam playmats are made with closed cell foam, so they do not absorb moisture. Play mat foam tiles feature a limited 1-year warrant as well.
Top 9 Uses
Puzzle Tile 4 Pack foam play mats were originally created to be the perfect fit for kids play areas. Although they go above and beyond in serving out their original purpose, over the years customers have found plenty of other uses for them. Uncover the top nine uses for play mat foam tiles while learning about what makes them so well-loved.
1. Kids Play Areas
''I ordered 6 sets of the colored mats for my kids play room. They work wonderfully!!! I love how thick & bright they are, and they are super easy to clean, just mop them or if you have a big spill take them outside & hose them down! As a bonus the price was great too!!''
Janiva, Albuquerque, NM
2. Living Room Floor
''I purchased these mats to provide a safe and flat play area over the carpet in my living room. The multi colored tiles make the play area more fun for them and really makes it their space. It takes nothing at all to put them together or take them apart if you want your space back. My 5 year old and 3 year old love to help me and it's easy even for them. I'm very happy with this purchase.''
Daniel, Charlotte, NC
3. Camping Floor
''I purchased 6 4-packs of these for camping. The first time we used them was when scouts were over and it was pouring rain. We made a mat on the garage floor for a free-standing tent as one of the kids was afraid to sleep outside. The next time was for under a tent at a state park when the tent site had stones and roots. These mats seem pretty durable. They make a nice shoe mat for outside our large family tent as well. I chose these mats after seeing an ad for camping mats that cost over twice as much. They're not camo, but do I really care?''
Randall, Paynesville, MN
4. Dog Beds
''Great mats. I use them for dog beds. Each dog gets two, end to end, and each of my four have their own color. They last long, are easy to vacuum or wash, and easy to break down and store when necessary. PLUS, they love them.''
Linton, Kerrville, TX
5. Block Knitting
''I use the mats to block my knitted shawls after washing. Some of the shawls are quite large, and I have to use 6-8 mats for blocking each one. These mats are very suitable for my purpose as I can put them away when the shawls have dried. Because they are foam, the pins that hold the shawls in shape stay in place. They probably won't get dirty the way I use them, but I expect they'll be very easy to clean if needed.''
Yvette, Oakland, CA
6. Construction padding for kneeling
''I actually use them for protection and as a cushion to kneel on during my construction projects, they work great.''
John, Rochester, NY
7. Library
''I teach first grade and these are in my library. They are awesome. Very colorful and comfortable.''
Alexandra, Graham, NC
8. Exercise Area
''The entire transaction went smoothly and I am pleased with the product. I have tile and wood floors and use the mats to form a path in my house for walking exercise. The cushioning is enough that I can walk continuously barefoot for over an hour a day and not have my feet hurt or blistered. The mats are easily manipulated to form a walking path that fits my home. (I am 71 yrs. old and this exercise is important to my health.) I do have to place them in such a way that they will not slip a little as I walk. (I could attach the rubberized runners - that prevent carpet slippage - to the bottom of the cushions and that would work, too.) They are easily picked up in sections when I am finished walking each day.''
Donna, Las Vegas, NV
9. Kindergarten Classroom, etc.
''I bought the foam mats for my kindergarten class. They are wonderful and the perfect size for the children. The children enjoy sitting on them. They are spacious and comfortable.''
Arlene, Palos Hills, IL