Wearwell ErgoDeck Comfort Open Tiles - Anti Fatigue Mat Video
By Paige Cerulli Created: August, 2017 - Modified: November, 2021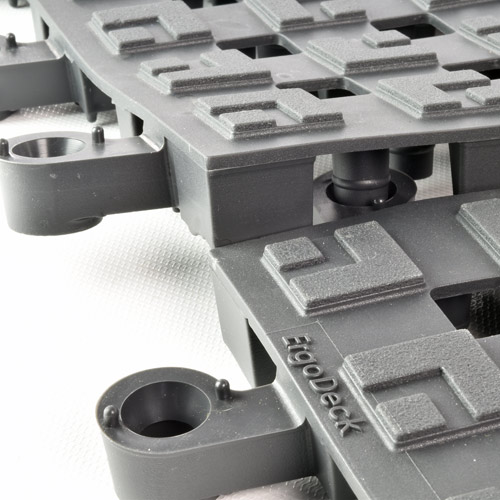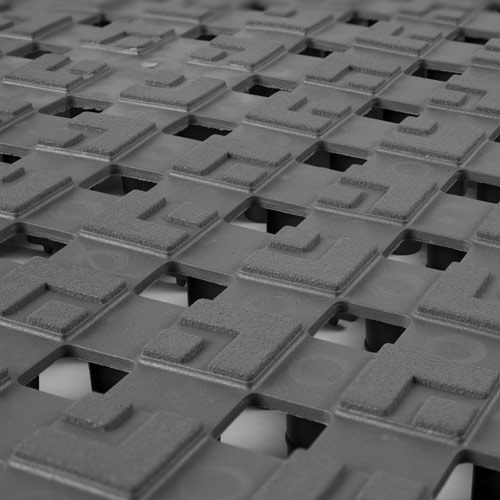 Anti fatigue tiles and flooring can provide valuable benefits for both yourself and employees. But many of these anti fatigue tiles aren't designed to withstand the unique challenges that come with a wet indoor automotive or general manufacturing setting. Exposure to large amounts of moisture, chemicals, and oils can degrade and even destroy the flooring. But Wearwell ErgoDeck Comfort Open 18x18 Inch Tiles offer an ideal solution.
Anti Fatigue Tiles for Automotive and General Manufacturing
These anti fatigue tiles are designed specifically to withstand the harsh environments that come with automotive and general manufacturing. They're ideal for work areas where there is lots of foot traffic but minimal cart traffic. Their perforated design is ideal for areas where liquids need to frequently be drained off quickly.
These tiles are designed to cushion the impact of long-term standing, maximizing employee comfort. The tiles provide resilient support while also wicking away moisture, preventing standing water and the dangers it can create.
Wearwell tiles
are designed with 100% silicone-free PVC. That PVC is flexible and the tiles have a springy underside. As a result, the underside compresses and rebounds, creating a feel similar to rubber while also being supremely durable.
These anti fatigue tiles are also easy to care for. You can sweep them to remove debris. If you need to deep clean the tiles, then you can damp mop them with a mild detergent and warm water. This easy maintenance will save your cleaning and maintenance crew time, and save you money in the process.
Installing Wearwell ErgoDeck Comfort Open 18x18 Inch Tiles
These anti fatigue tiles feature interlocking connections that create a secure hold, making for an easy installation. While the tiles fit together securely, you can take them apart and reconnect them as needed. This is ideal if you're redesigning a workspace, trying out different configurations, or if you need to be able to do a deep, thorough cleaning of your subfloor from time to time.
ErgoDeck Comfort tiles are 7/8 inches thick, so they can be dry laid over many subfloors without adding significant height to the floor. Designed for easy installation and customization, you can cut these tiles every three inches while still being able to connect them with their interlocking system. The system keeps the tiles aligned without any gaps, creating a cohesive, safe floor.
When installing the tiles, you'll need to start in a corner of the area to be covered and connect one tile at a time. There's no underlayment needed, and no need for any adhesive. You can cut the tiles as needed to create a custom floor covering.
Because the tiles are part of a modular system, you can replace a single tile that becomes worn or damaged. This can save you significant money over the cost of replacing an entire section of flooring. It also means that your factory or business won't see downtime for a flooring replacement.
The modular anti-fatigue tiles are designed for an easy, DIY installation. Most maintenance departments can perform the entire installation, so you don't need to hire a professional floor installer. If you decide to expand your flooring, you can easily add on more tiles to your existing floor.
Reasons to Invest in Anti Fatigue Tiles
Quality anti fatigue flooring offers many benefits, whether you're outfitting your garage or investing in new flooring for your business.
Anti fatigue flooring works by keeping your muscles engaged and active. Its gentle cushioning properties help to reduce shock and impact, while it also keeps your muscles working lightly to fight the stiffness and muscle fatigue that can result from long hours on your feet.
The result is increased comfort that lets you and your employees stay focused on your work, instead of on how you're feeling. This flooring can make long work hours more practical and more tolerable.
When that flooring offers a perforated design, like the Wearwell ErgoDeck tiles do, you're also adding valuable safety benefits to a workplace. These tiles can prevent liquids from pooling on the tile surface, possibly preventing slips and falls.
There are many reasons to invest in anti fatigue flooring. As a business owner, investing in your employees' comfort demonstrates that you care for and invest in your employees. It can show potential hires that your business is a good place to work where they'll be treated well.
Anti fatigue flooring can also increase worker productivity. When workers are comfortable, they're better able to focus on the work at hand and on accomplishing their jobs. This increased comfort can also lead to improved staff morale, helping you to create a better work environment.
Uses for Anti Fatigue Tiles
These durable tiles are highly versatile. They're a natural fit for automotive and general manufacturing settings. These tiles can be used in factories and assembly lines, but they're also ideal for use in a garage or home setting, too.