Driveway Basketball Court Flooring Ideas
By Paige Cerulli Created: July, 2022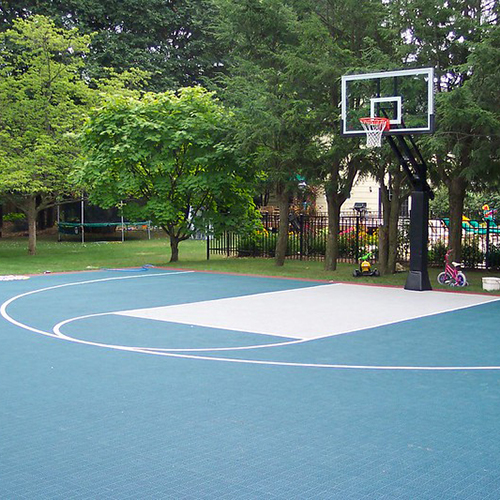 Converting a driveway into a basketball court can provide hours of entertainment and offers valuable practice time for anyone hoping to get on a team. With the right flooring product, you can make the most of your existing paved area, converting it into an ideal driveway basketball court.
Qualities to Look for in Driveway Basketball Court Flooring
While driveways offer the advantage of being flat and paved, they need some improvements before they'll be an ideal surface for playing basketball. When wet, most pavement lacks traction, so rain can really dampen a game.
Pavement is also highly unforgiving, leading to aching joints and fatigue. If a fall occurs, it's all too easy to skin knees and elbows.
Driveways also lack the dimensions of a basketball court. Adding and painting flooring with court lines can make for more accurate and fun practices and games.
The right flooring choice can solve all of these issues and let you make the most of your driveway court.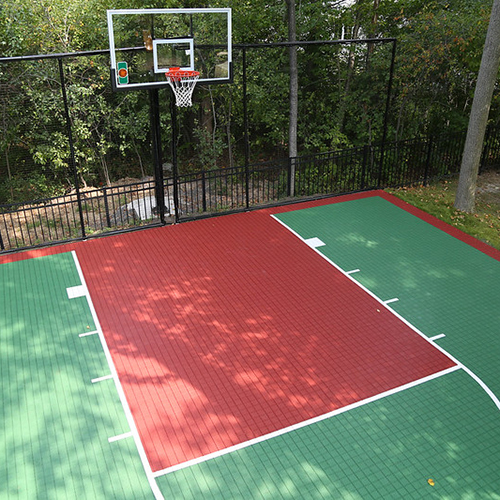 Driveway Basketball Court Flooring Product Options
At Greatmats, we carry several flooring options that can help you transform your driveway into a safe and enjoyable basketball court.
Outdoor Court Tile XT3
The Outdoor Court Tile XT3 is an outdoor sports court flooring that's highly durable. The tiles are resistant to fungus and mildew, and they can withstand any climate and weather condition.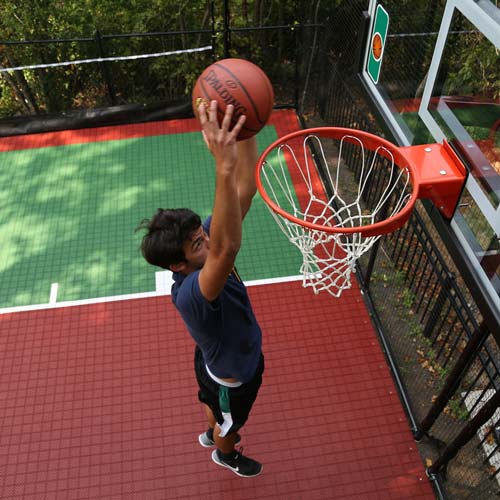 The tiles are made of high-impact polypropylene, and they feature a leaf spring type flex joint system. That system provides lateral give to increase player comfort, and it will also conform to minor subfloor undulations, so you don't need to patch up small imperfections in your driveway before installing the tiles.
The tiles are perforated, so they provide excellent drainage and grip, even when wet. They're available in a wide selection of colors, so there are plenty of court design options.
HomeCourt Sport Tile
The HomeCourt Sport Tile is made of high impact polypropylene and is a highly durable choice for your court. The tiles feature 400 heavy-duty support legs, as well as eight latch locks that make it easy to connect them together.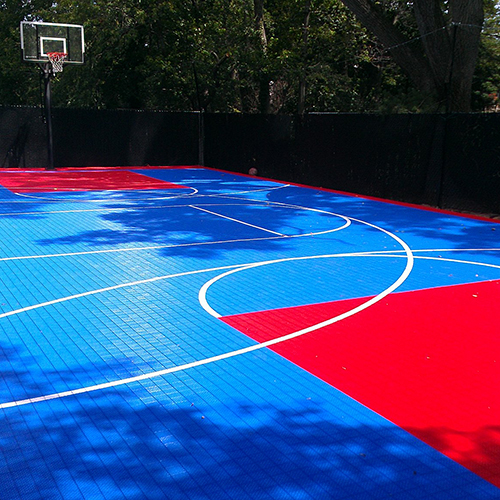 Available in 16 colors, the tiles are UV color stable and designed for outdoor use. They offer excellent drainage and are resistant to mildew and fungus, making them a low-maintenance choice.
Flex joints provide lateral give, helping to keep athletes comfortable during practice and play. The tiles are backed by an impressive 15-year manufacturer warranty.
Tennis Court Tile MT2
The Tennis Court Tile MT2 is a free floating snap-together floor tile that you can use to make an outdoor basketball court. These plastic tiles interlock and are screwed down for a secure installation.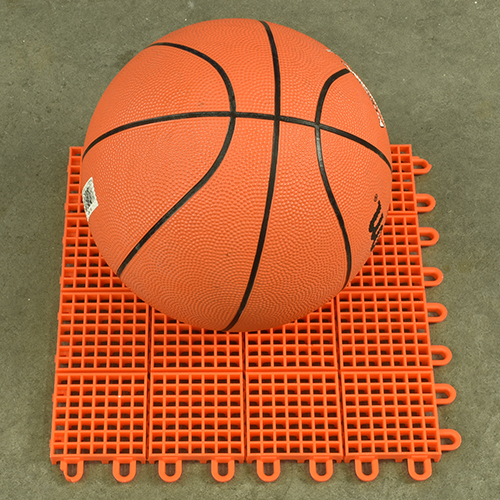 The tiles are designed to allow water to drain, and they feature a surface that maximizes grip. The tiles deliver excellent ball bite, meaning when you dribble, the ball won't skid.
This tile kit features a leaf spring type flex joint system. That system provides lateral give for reduced stress on players' legs, amounting to increased comfort.
The tiles are also ideal for outdoor use, since they won't experience thermal expansion even as weather conditions change. The result is a stable surface that you can play on all year long.
The tiles are available in more than a dozen color options, so you can create the court design and look that you want. There's minimal site preparation required, since the tiles can flex to minor undulations in your paved driveway surface.
Patio Outdoor Tile
The Patio Outdoor Tile is made of a flexible PVC that makes it comfortable underfoot. The tile is designed with 265 pegs on its underside, so water drains underneath the tile and helps to prevent mold and mildew growth.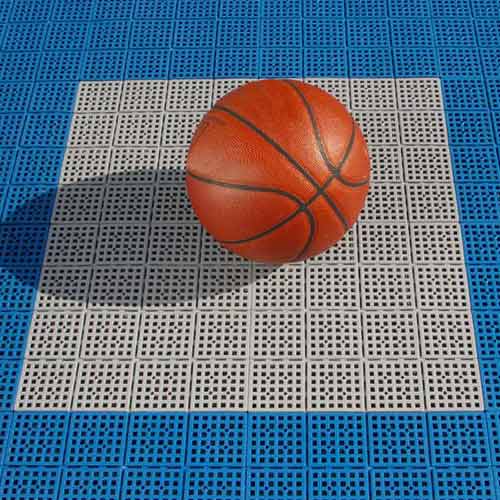 The non-slip surface texture is ideal for playing basketball, and it contributes to a safer court. The tiles have also been UV treated, and they are backed by a one-year limited warranty.
Measuring 12x12 inches, the tiles feature a convenient snap together design for an easy DIY installation. You can dry lay them directly on your driveway, and there's no need to use adhesives.
The tiles' pegs help to keep them in place, so you can build a court of varying sizes, depending on the dimensions of your driveway. Since the tiles weigh just one pound each, a single person can easily handle the installation.
When you use these tiles, you can create a basketball court with a professional look. The tiles dry out quickly after rain, so you can get right back to playing.
While the tiles are forgiving for increased comfort, they're not so soft that they will impede the bounce of the ball or make for play that feels cushy. Instead, they allow athletes to move freely and quickly, while making for a more forgiving surface just in case a fall does occur.