The Agility Facility - Dog Agility Mats Testimonial - Salem, CT
By Brett Hart Created: January, 2018 - Modified: August, 2019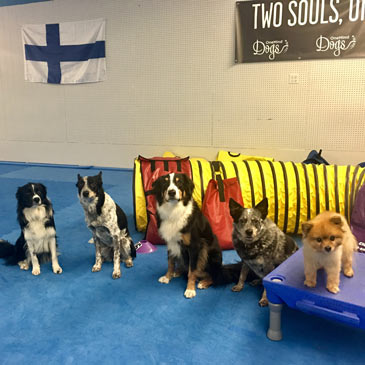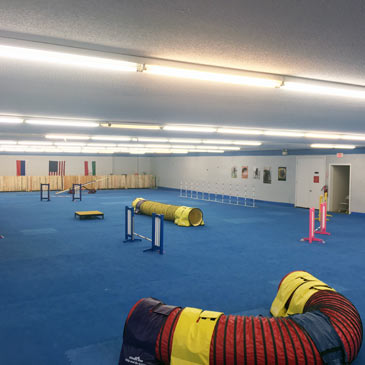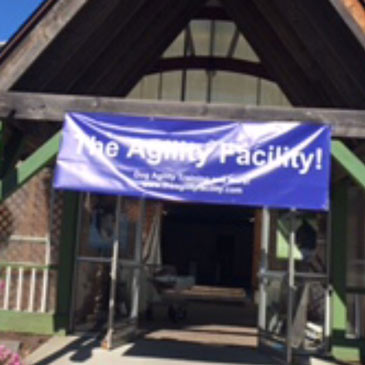 After 22 years of teaching dog agility, Mary Champagne has run the gamut of training locations and surfaces. Starting in a friend's small fenced in yard during the summer and moving to a space above her garage in winter months, Champagne soon upgraded to an indoor riding arena where she and the dogs shared space with horses.
''Over the years, we moved from barn to barn,'' Champagne said. ''We were challenged by the elements and dirt and dust. My students were loyal and followed me everywhere. My classes grew, and I found myself renting two indoor arenas and had two sets of equipment.''
With the growth, Champagne was able to gradually transition from her full time job to teaching agility more often. However, she and her equipment were taking a beating from the cold and dirt of unheated barns.
Dream Facility
So in 2008 she invested in herself and her budding new career and officially began her own business. In Salem, CT, The Agility Facility is now home.
''I had a dream of opening a state of the art agility training facility with premium footing,'' Champagne said. ''The right building just happened to fall in my lap in January 2017. The next step was to get the right flooring. I had done research and had run my own dogs on all sorts of agility flooring. I found Greatmats to be the most friendly to both dogs and humans. The dogs could grip the floor to minimize slipping. The foam mats had a nice cushion for the dog and human joints. I knew this was the flooring that I wanted in my facility.''
So, in May of 2017, she ordered about 2300 square foot of
Greatmats Dog Agility Mats Interlocking Tiles
and, within a month, was able to consolidate all of her classes into one location in Salem, Connecticut.
''The Agility Facility prides itself in having the best dog agility training available,'' Champagne said. ''We have a full slate of classes 5 days a week with seminars and agility competitions on the weekends. Every person that walks into our facility immediately remarks on how wonderful the flooring is.''
Known for following the OneMind Dogs training methodology, The Agility Facility hosted training events with agility coaches from Finland and had agility trainers in from three different countries in its first six months since opening its doors.
''We teach everyone equally, whether they want to compete locally, nationally, internationally or just come for a weekly outing with their dogs,'' Champagne said. ''We want both dogs and humans to have fun while staying safe on our wonderful Greatmats and clean equipment.''

Mary Champagne
The Agility Facility
Salem CT 06420