Agility Flooring - MasterPeace Dog Training Testimonial
By Brett Hart Created: December, 2017 - Modified: October, 2023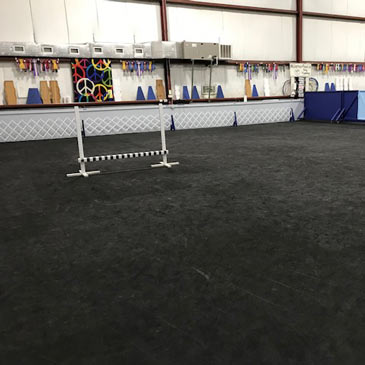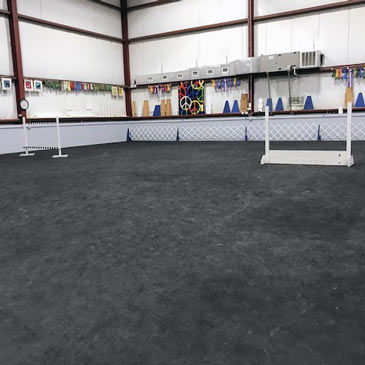 When running a full service dog training facility with experienced instructors, using the proper flooring is critical to the health and safety of both the dogs and trainers.
''A number of our instructors are older - over 50, over 60,'' said MasterPeace Dog Training co-owner Patty Sontag. ''To be on your feet for 5-6 hours at a time, your joints feel it.''
MasterPeace Dog Training, which was founded 16 years ago in Franklin, MA, by Fran and Mike Masters, offers everything from puppy kindergarten to all levels of obedience, agility and nosework training.
When it originally took over its roughly 7,300 square foot facility had rubber horse stall mats covering the floors.
''There was someone here before us for probably about 4 years, and I think they had tried to clean that floor with some kind of scrubber,'' Sontag said. ''It really did a number on the floor. It made it very slippery, and it got worse as the years went along. ... We were concerned about that, both for the safety of the dogs and the people.''
So, in May of this year, they decided to do something about it and upgraded their entire facility with
Greatmats Dog Agility Mats Interlocking Tiles
.
''Greatmats seemed to be the best for our purposes,'' Sontag said after doing much internet research. ''Both as far as the comfort level for the dogs and handlers. And also for the fact that if one of the mats was damaged or gouged or whatever, it would be relatively easy to take up, flip it over and continue to use it.''
The decision was much appreciated across the board.
''Just to have that comfort level as you're walking around and you're demonstrating or working with the dogs or whatever, it's much easier on the legs and the hips,'' Sontag said. ''We're enjoying that aspect of it.''
There was, however, a learning curve as they adjusted to a floor with increased traction.
''We had to get used to that both for working with the dogs - walking, picking up our feet - and also for some of the equipment,'' Sontag said. ''In obedience you have to throw dumbbells. You have to relearn for the bounce factor. But the comfort level is a big key. ... It's a pleasure to walk on.''
''Initially, the dogs had to relearn how to stop on a floor like this that is grippy,'' She added. ''On the previous floor, because it was slippery, they would - on a drop on recall for instance, where they're coming from 40 feet away and you have to signal them to stop and drop. They would stop, but they would slide, and they don't do that on this floor. They stop, and they stop. They don't slide. They had to relearn that as well, but they've all accomplished that very, very easily.''
There was also the visual aspect of the change. As an EVA foam product, color variations are common, so not every tile had a perfectly matching black color. Over time, however, Sontag said, ''The floor has melded together, so you don't notice any variation any more. It just needed just a little bit of time down. Now, it looks like just one complete black floor.''
''We're really happy with it. It's what we needed, especially for our agility dogs.''
MasterPeace Dog Training is open seven days a week and uses its new flooring approximately 12 hours per day. In addition to classes, it also rents its 40x50 and 4x65-foot rings out to clubs for things such as obedience and rally trials and roaming seminars.
Patty Sontag
MasterPeace Dog Training
Franklin MA 02038