Leigh Sylvester - 2017 Dog Trainer of the Year Nominee
By Created: October, 2017 - Modified: January, 2018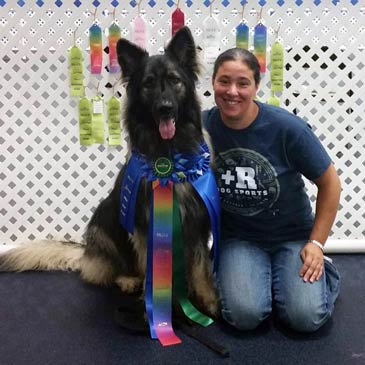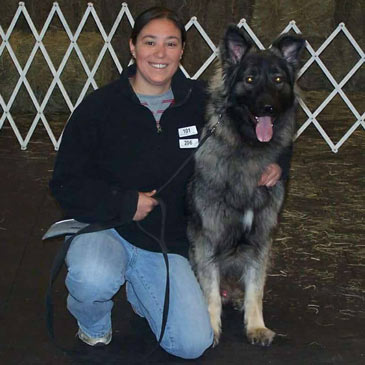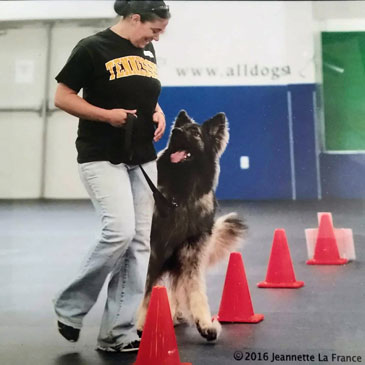 (If the ballot does not load, please visit https://www.facebook.com/Greatmats/ - Look for the voting photo album and like the photo of the person you'd like to vote for.)
Leigh Sylvester made history recently she when led her dog, Kingston, to become the first Shiloh Shepherd to ever win the highest obedience title in World Cynosport's Rally history (ARCHMX or APDT Rally Master Champion) and brought home a total of 21 ribbons the weekend of Sept. 16 and 17 at Al Dogs Gym in New Hampshire where Kingston began his career.
This all came after Kingston's amazing recovery from an iliopsoas injury and a neuromuscular disorder that left him barely able to use his back legs.
Sylvester and Kingston not only overcame the injury, but critics who said her force-free positive-reinforcement style of straining would not work well enough to get Kingston to this point.
Sylvester now has plans to get Kingston into nosework competitions and therapy work while she has qualified to become a judge in World Cynosport.
Learn more about the
3rd Annual National Dog Trainer of the Year Contest
or
Greatmats National Award Series.

Leigh Sylvester
Paws 'N Effect
Hamden CT 06514