Do You Need Weightlifting Drop Pads?
By Paige Cerulli Created: April, 2022 - Modified: April, 2023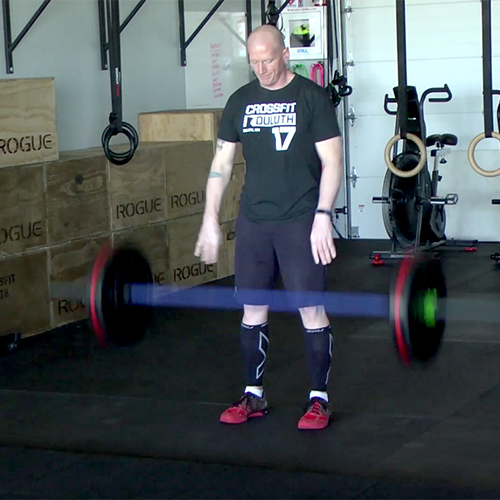 Whether you're creating a weightlifting area at home or want to add one to your professional gym, it's important to choose the right flooring materials for the space. Weightlifting drop pads are a popular option, but do you really need them?
Do You Need Weightlifting Drop Pads?
Weightlifting is a highly demanding activity for your flooring, particularly in areas where you'll intentionally be dropping weights. That dropped weight can damage your subfloors if you haven't installed adequate protective layers over that surface.
Rubber floors are popular for weightlifting rooms because of their superior strength and durability. Rubber can absorb significant vibration and reduce noise, and those sound insulation properties can make a commercial gym a much more enjoyable and welcoming environment.
Rubber also offers the advantage of being a fairly economical flooring choice. When you're looking for flooring for an entire room, rubber tiles or mats can be a practical solution.
Situations Where You Need Weightlifting Drop Pads
While rubber floors can absorb a lot of the impact and noise associated with dropped weights, these floors can't always do the job on their own. Rubber's ability to protect your subfloor is directly related to its thickness, so if your rubber floors aren't adequately thick, dropped weights could still damage your subfloor.
Half-inch-thick rubber mats are suitable for areas where you will be lifting weights but not deliberately dropping them. These mats are thick enough to help protect your floors if a weight is accidentally dropped, but aren't a good choice when the mats will have to repeatedly absorb the impact of dropped weights.
A rubber flooring product that's at least ¾-inch thick is a better choice when you'll be frequently dropping weights, like a barbell or slam ball. Generally it's not a good idea to drop a dumbbell, kettlebell intentionally as it can damage the weight itself. Either way, this thicker rubber is better able to absorb the impact of those dropped weights.
If you'll be practicing Olympic weightlifting and your flooring is less than ¾-inch thick, then it's a good idea to invest in a weightlifting drop pad system. You can lay these pads directly over your existing flooring for enhanced shock absorption and sound dampening properties.
Investing in weightlifting drop pads allows you to continue to use your existing flooring. It may mean that you're able to convert an existing room into a weightlifting space without having to invest in all-new flooring.
These pads can also be helpful when you will only be using certain portions of the room for weightlifting. You can invest in just enough pads to cover those areas that will be used, meaning you will save money over the cost of flooring the entire space.
Situations Where You Don't Need Weightlifting Drop Pads
In some cases, your existing flooring may be adequate for your weightlifting activities. If you use sound deadening gym floor tiles, you don't need to invest in additional weightlifting drop pads.
These sound deadening gym floor tiles are a higher-performance tile than your typical rubber flooring, and they're better able to absorb sound and impact. These tiles are engineered specifically to control vibrations and reduce sound transmission.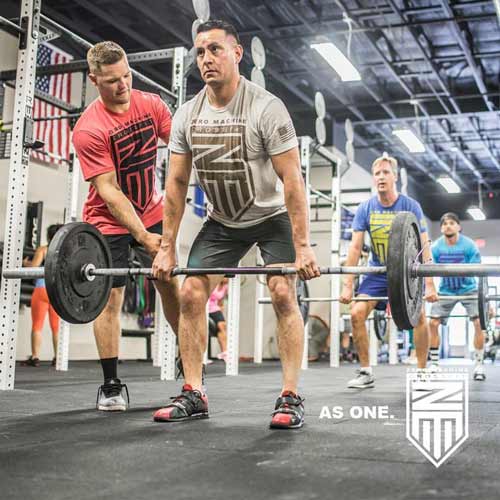 The tiles are able to reduce sound and shock, which means that the athletes in the gym will hear less noise and will also feel less vibration through the floor. These tiles tend to be at least an inch thick, but can range up to 2.5 inches thick.
Keep in mind that it's still important to choose the tile thickness that's appropriate for your weightroom and the types of weights that you'll be lifting (and dropping). While a tile that's 1 to 1.25 inches thick is fine for lightweight equipment and hand weights, it's best to invest in a 2- or 2.5-inch-thick tile for areas where you'll be using heavier weights.
When you've installed sound-deadening gym floor tiles that are the appropriate thickness for the weights that you'll be using in the space, you don't need weightlifting drop pads, too.
Choosing the Right Flooring for Your Gym
When planning a home or a commercial gym, it's important to choose the right flooring from the beginning. When you choose the right flooring product, you can prevent expensive flooring replacements or additions later on.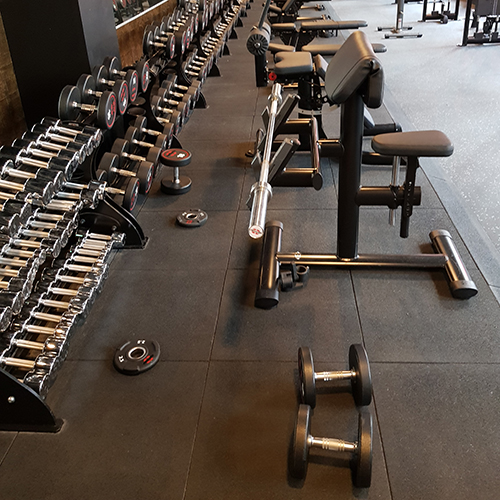 Start by determining which activities your gym will be used for, both now and potentially in the future. Think about the qualities that the flooring will need to have within each section of your gym, including durability, ease of cleaning, impact absorption, and traction.
It's also important to consider which type of installation method is best for your gym. Some products are designed for a permanent installation, while others, like modular tiles and mats, are more versatile and can be removed and relocated if needed.
If you have questions about which flooring product is right for your gym, give us a call. Our customer service team is happy to provide you with product samples and shipping quotes, and can help you to decide which product will suit your gym flooring needs.