What Are The Dimension Of A Shuffleboard Floor?
By Paige Cerulli Created: July, 2022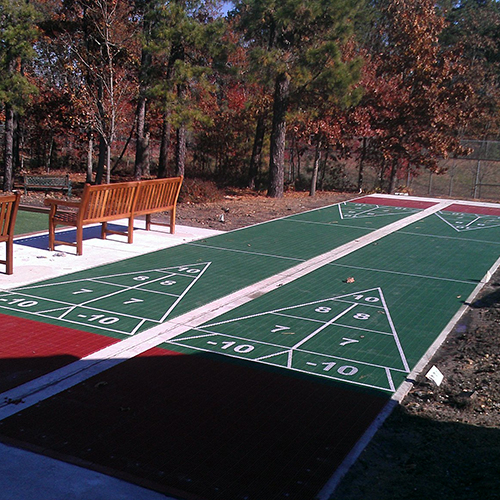 Shuffleboard is a popular game that makes a great addition to your recreation center, school playground, event center, family home, and more. Whether you're creating an indoor or outdoor shuffleboard floor, it's important that you create the court with the appropriate dimensions to support game play.
Dimensions of a Shuffleboard Floor
As you plan your shuffleboard floor, it's helpful to familiarize yourself with the rules, equipment used, player strategy, and scoring system. When you understand these elements, you can plan out your floor and ensure that it will work for players.
Regulation shuffleboard floors measure 52 feet long by 6 feet wide.
Keep in mind that many variations to this court size exist, and you can easily play on a smaller court.
In fact, smaller courts are often ideal for players who are new to the game, or for kids. Adopting a smaller court size can allow you to still create a court when you have limited space, and a court measuring 15 feet long by three feet wide is often ideal for children.
What's more important is that you establish the court markers appropriately. Your court will need two triangles, each divided into five zones.
It's also important to leave a shooting area at the base of each triangle. This shooting area is traditionally six by six feet.
There are many shuffleboard court diagrams available online to help you plan your court. You can paint lines onto your court flooring, but make sure to double-check the layout before you start painting.
To get the best results, consider lining the areas to be painted with tape to ensure you get clean, straight edges. If you're creating your first court, you may want to tape out the lines beforehand, then play with the tape in place to verify that your layout works for the game.
Shuffleboard Floor Products for Sale
To create a shuffleboard floor, you will need a hard, flat surface, like a concrete pad. But it's also helpful to consider a flooring product that you can lay on top of that surface.
While concrete gives you the flat, firm surface that you need for player stability, it isn't ideal for use in the shooting area. Concrete is unforgiving, and players who spend too much time on it can experience joint pain.
Concrete can also be cold underfoot, while asphalt can quickly heat up in the sun. A flooring surface that's so sensitive to temperatures will limit players' ability to use the court.
It's also important to consider how the court performs in and after rain. Puddles can quickly form on a hard, solid surface like concrete, and those puddles mean that players won't be able to use the court until it's fully dried.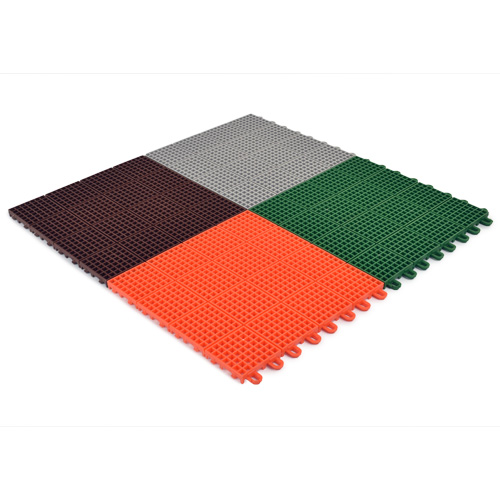 Using an additional flooring product can drain water away and help to maintain a dry surface. That product can add traction, keeping your players up and out of any moisture, while allowing them to use the court right away after the rain passes.
At Greatmats, we have a few products available that are ideal for use on your shuffleboard floor.
Tennis Court Tile MT2
The Tennis Court Tile MT2 offers a grippy surface that gives players the traction they need. It also creates a comfortable surface that allows players to enjoy the court for longer periods of time.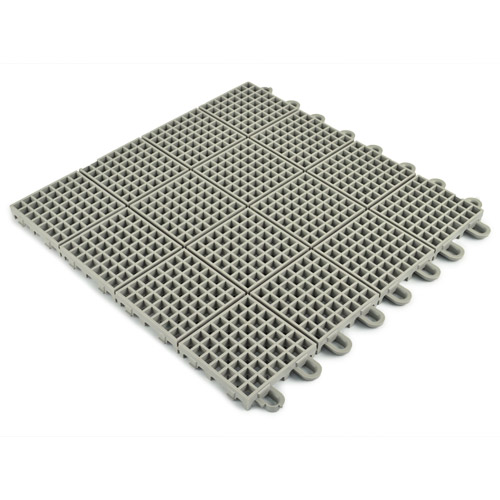 This system has a free floating snap together design. Each tile features eight loops and tabs, so it's easy to align and interlock the tiles.
The system's leaf spring type flex joint system creates lateral give, so it helps to reduce the stress on players' legs. The tiles are made of polypropylene plastic, so they won't expand or contract in fluctuating temperatures.
Since the tiles are perforated, they drain away water quickly, allowing players to use the court after it's rained. A screw-down installation is required, but it creates a highly durable and long-lasting court.
The tiles are available in a wide selection of colors, so you can create a court with the exact aesthetic that you're looking for. The tiles are UV stable and backed by a 10-year warranty.
HomeCourt Sport Tile
The HomeCourt Sport Tiles are durable, strong tiles designed for both indoor and outdoor courts. The tiles are made with high impact polypropylene, and they are static load rated for 250 psi, making them one of the toughest options available for your shuffleboard court.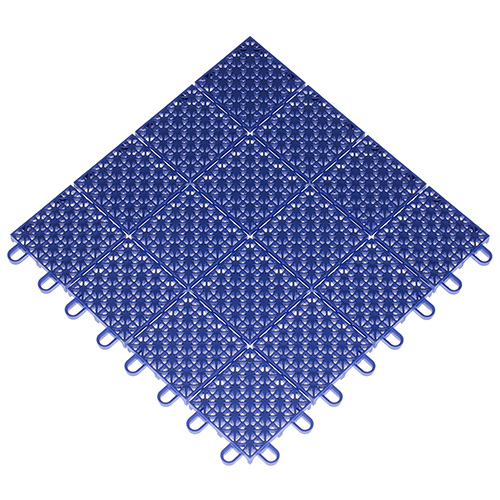 The tiles feature 400 support legs, as well as narrow ribs that provide plenty of traction while minimizing abrasion. The result is a long-lasting tile that minimizes the wear and tear that players see on their shoes and equipment.
Each tile features eight latch locks, which allows you to quickly and easily connect the tiles together. The tiles also feature flex joints that allow for lateral movement during play, helping to minimize stress on players' legs for increased comfort.
These tiles are also designed to withstand the challenges of outdoor installation. They are UV color stable and resistant to mold and mildew, minimizing the maintenance involved.
You can choose from 16 standard color options, so you can create a shuffleboard that reflects your brand or business colors.