DIY Outdoor Basketball Court Tiles and Indoor Flooring: Video Overview
By Julia Nass Created: September, 2017 - Modified: September, 2021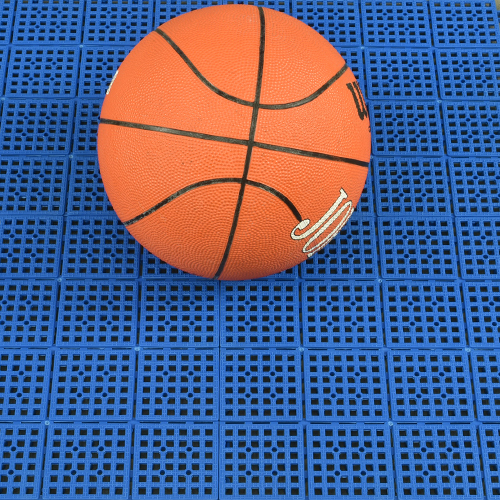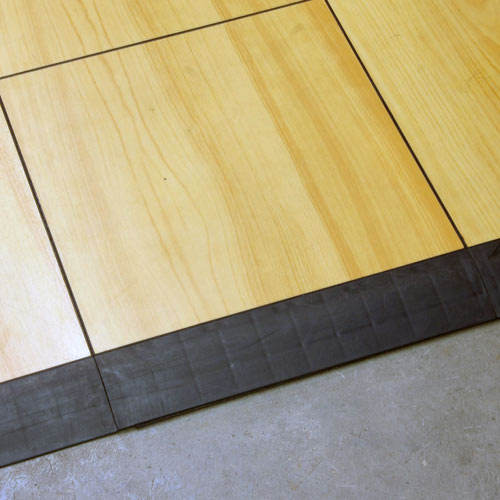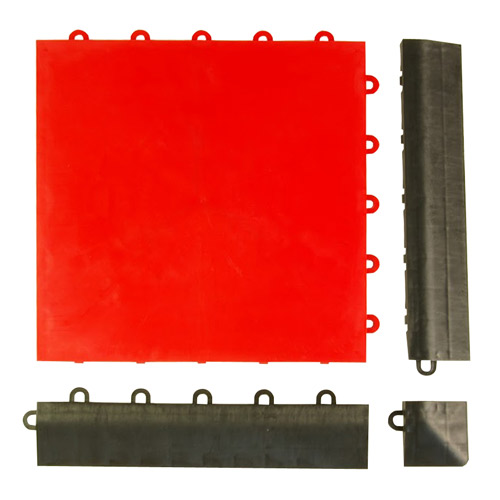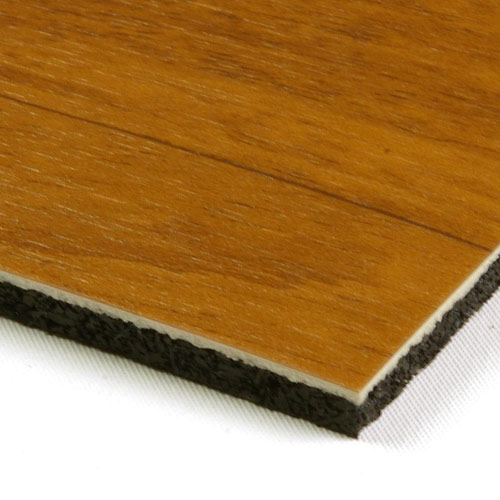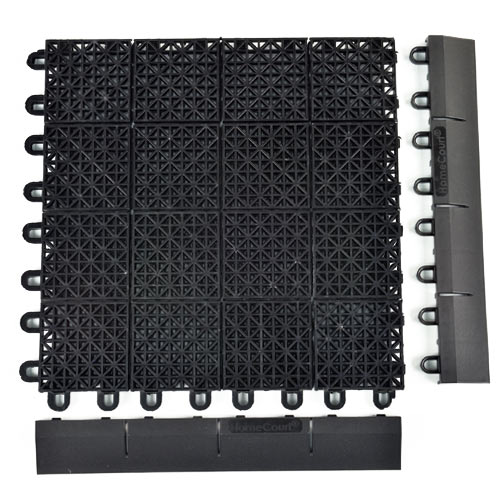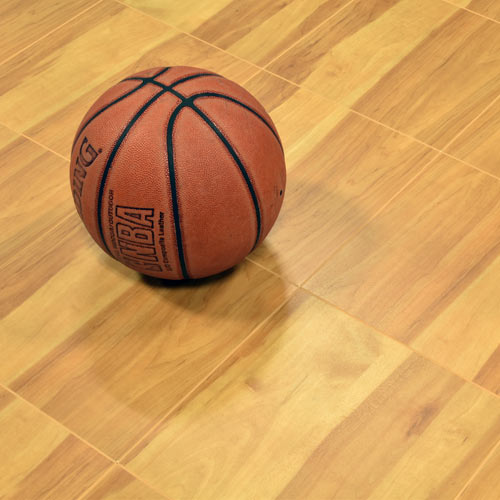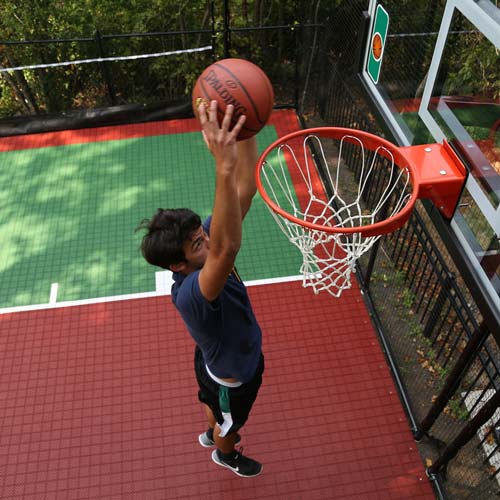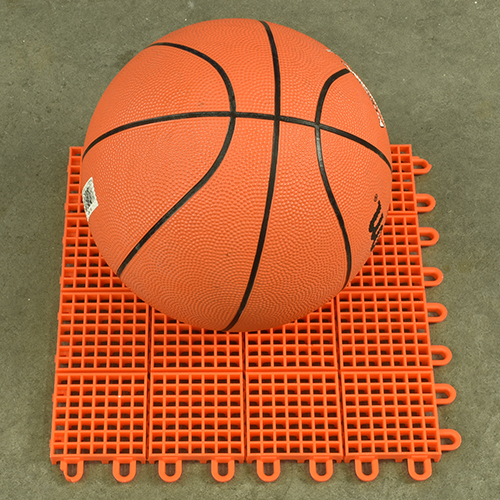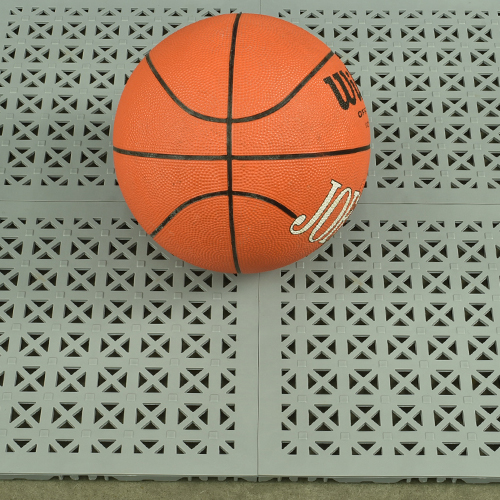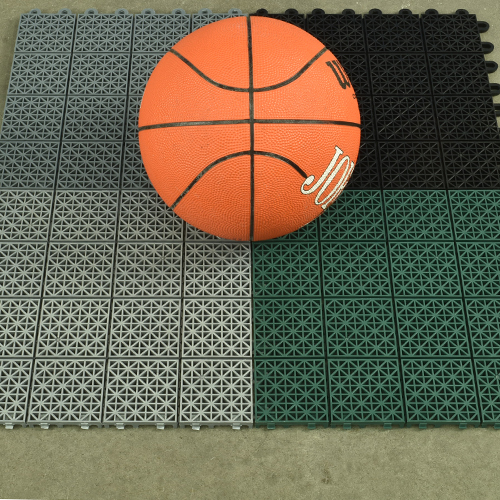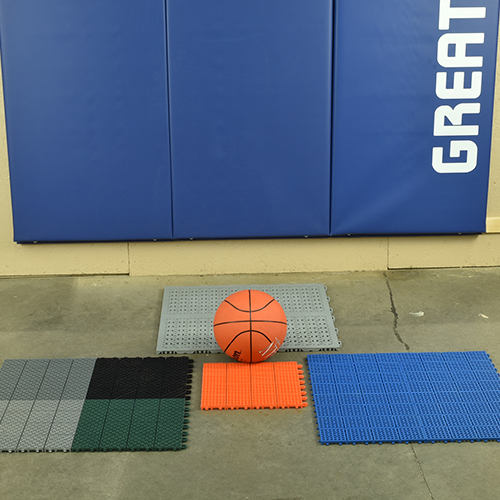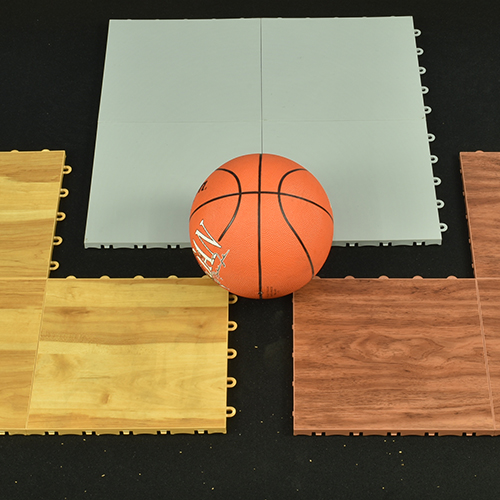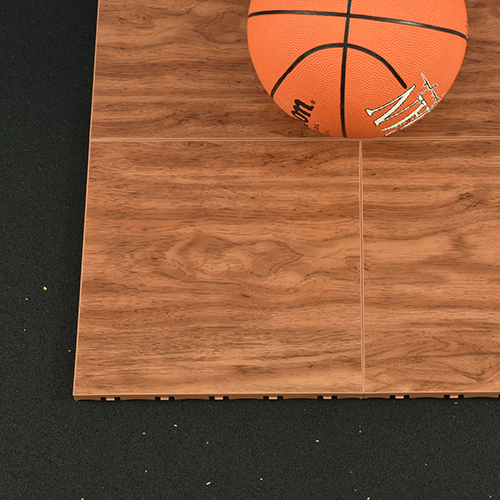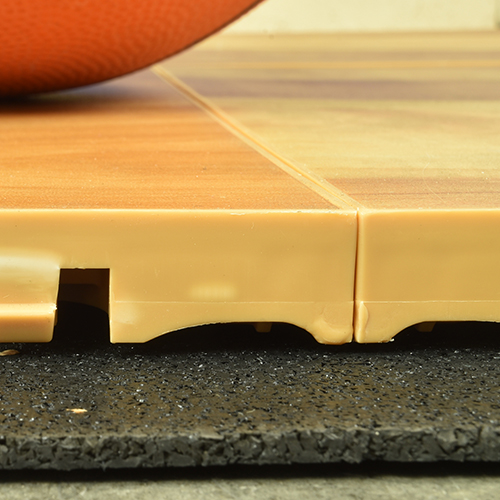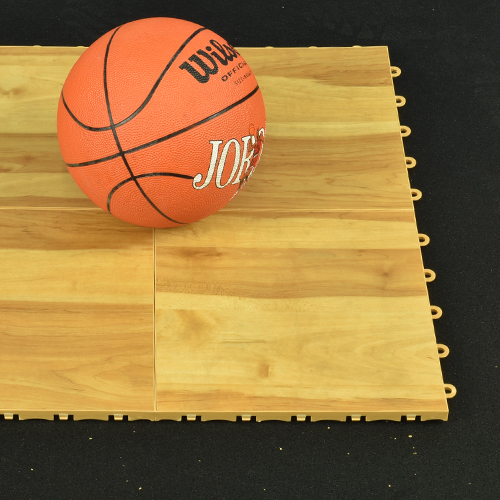 Feeling ready to fully embrace your inner LeBron James and Stephen Curry with a new basketball court? Despite your best efforts to play like them, chances are you're not making their salaries quite yet. Luckily, you don't have to have the money of a pro NBA player to feel like one. Greatmats offers a variety of sport court tiles that look and feel as serious as you play - without installation stress or financial strain.
Creating a basketball court out of Greatmats' sport court tiles is an easy DIY project, which lets you save on steep installation prices. Further, you don't have to fret about putting money into a project you might eventually have to leave behind by moving. You can simply take your basketball court with you wherever you go.
Once you've decided on sport court tiles, you'll have to figure out which one will work best for your budget, environment and location. Here, you'll learn about the top indoor basketball flooring and outdoor basketball court tiles available.
Indoor Basketball Flooring
Whether it's for a community center, church, athletic facility or your own home, Greatmats has the way to create your ideal indoor basketball court. Greatmats offers a few different low-maintenance, high-quality indoor basketball flooring options.
Modular Sport Court Tiles - Do-It-Yourself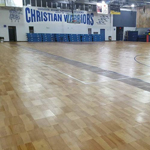 The first is modular sport court tiles. One of the best all-around options is Greatmats'
Max Tile Raised Floor Tile
. The base of the tile is made of polypropylene, while the top surface is 3 mm of commercial grade laminate vinyl available in multiple different woodgrain options. The vinyl is wear-resistant (with a wear layer .03 mm thick) and features UV protective coating, so the tile will never need refinishing. You can also easily paint basketball court lines on vinyl.
The polypropylene base features a unique, computer-designed connector system. All you have to do for installation is place the tiles on a hard surface, align the tiles' nubs with other tiles' loops and step on the top tile with your foot. With a few more steps, you'll have an entire basketball court in no time. The durability of polypropylene ensures the connectors will not degrade, even after repeated removals and installations.
Because the tiles are raised, air can flow underneath it, which prevents moisture build-up, mold and mildew. The vinyl is also non-absorbent. Thus, raised basketball flooring is an excellent option for courts in moist environments or subterranean spaces.
Similar to the Max Tile court flooring is the
Basketball Court Tile Gym Floor Pro
. These court tiles offer an even thicker wear layer and are designed to last for more than a decade under commercial gym flooring use.
If the vinyl surface is not for you, Greatmats also offers
court tiles
made of 20 mm-thick pure polypropylene. These snap-together tiles are a fun alternative to the classic wood style with a nice selection of brightly-colored tiles. They are designed to hold 20,000 lbs./square foot, which demonstrates their durability.
Modular sport court tiles come in a variety of colors and wood-grain designs. You can choose from options including red, blue, white, black, walnut, cherry, oak, and maple. We recommend underlying the sport court tiles with 3 to
6 mm of low-density rubber underlayment
for added cushion, quiet and comfort.
Athletic Vinyl Padded Indoor Basketball Flooring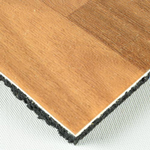 Another excellent indoor basketball flooring option is Greatmats'
athletic vinyl padded flooring
roll. The wood-grain design roll features a 2mm vinyl top layer fusion bonded to a 5 mm rubber base. There is also a high-performance urethane wear layer. The result is an attractive, high-quality wood-alternative flooring. Vinyl padded basketball flooring yields the classic wood style, but is a more economical option.
Don't mistake the practical cost for lesser quality. Rubber basketball flooring is still an extremely durable and long-lasting option. Greatmats' vinyl basketball court provides sound and shock absorption, which lessens the risks of floor impact and sound escape. Other benefits include fade resistance, low-maintenance and simple clean-ability: no polish or wax is required. Rolls are available in 4 different colors, and come in a standard 6x30 ft size.
Outdoor Basketball Court Tiles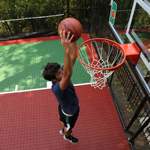 When choosing basketball flooring for an outside court, it's important that your investment is long-lasting. That means it's necessary to use materials that will maintain their quality even when exposed to extreme weather conditions. Greatmats
outdoor basketball court tiles
are guaranteed to withstand the negative effects of weather while maintaining player-friendliness.
Greatmats' outdoor basketball court tiles are made from a special high-impact polypropylene copolymer. These tiles are constructed as outdoor basketball flooring that will withstand a static load of at least 16,000 pounds per square foot. In other words, these courts are extremely durable.
Further, the outdoor basketball court tiles prevent standing water with an innovative flow-through design. Water will quickly dissipate, so you don't have to worry about the negative effects of moisture build-up. Tiles are also mildew and mold resistant. You won't have to worry about temperature either, since Greatmats' sport court tiles are created with thermal expansion control.
Whatever the weather, Greatmats' sport courts remain stable and comfortable for players. The tile incorporates a leaf spring-type flex joint system, which controls give and reduces leg stress. This system also allows the tiles to conform to minor underlying surface irregularities.
Greatmats guarantees both quality and appearance. Greatmats' outdoor basketball court tiles are fully color saturated, so they will not fade over time. Plus, there are 16+ colors to choose from, so you can design your court in any way you wish.
Just like the indoor basketball flooring tiles, installing outdoor basketball court tiles is a money-saving do-it-yourself project. Installation is easy and does not have to be permanent.
Regardless of location, going with Greatmats for a basketball court will feel like a slam dunk. If you still feel unsure about what kind of flooring is best for you, Greatmats offers unbeatable warranties and customer service to help you navigate your options and ensure you get the best DIY Basketball Flooring.