Cheerleading Giveaway Entry - Palm Bay Magnet High School
By Created: February, 2017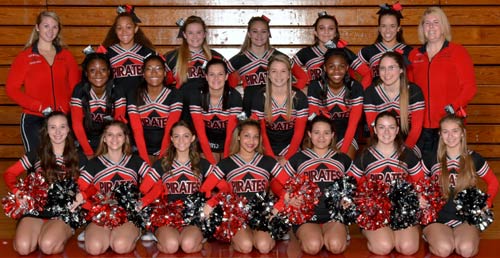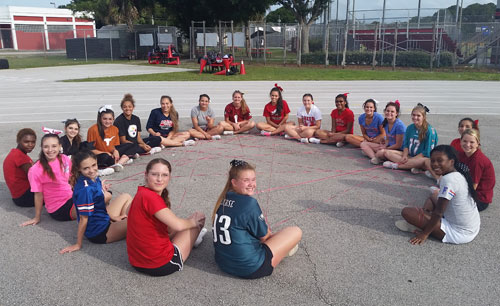 I am super excited to have the opportunity to tell you about our cheerleading program and our current need of new safety mats.
I began my journey coaching at Palm Bay Magnet High School a little over four years ago. I came in as an assistant coach and brought back the freshmen program that had been gone for a few years. We fundraised hard and, for the first time in many years, the program was able to purchase a new uniform.
The following year, I was given the opportunity to take over the program! This was my opportunity to really get a firsthand look what our program really needed. Just about everything was outdated. We had megaphones that were rusty, uniforms with stains, and broken, smelly mats.
Through fundraising efforts over the next three years, we have successfully replaced all but one uniform and purchased new megaphones.
The one thing we have not been able to do is to replace our mats. We currently have two mats (10'x42') both of which are stained and smelly. One of them has about 3 feet ripped off of the end (for unknown reasons). These mats were here when I got here, and I didn't even know we had them until my second year when our facilities admin wanted to move where they are stored.
At this point, we realized that we had no good way to move them, and they had been rolled up wet many years ago! They were molded and stained with who knows what. Needless to say in an effort to improve the safety of our stunting skills, we pulled out our old mats cleaned them the best we could, and lugged them halfway across our campus to our practice location, which you can see in the attached picture.
Our practice area is a corner of our track where it is almost all asphalt and very little grass. Thankfully, we have amazing custodians that agreed to move our mats by golfcart for all of our home games so we only have to move them for practices!
Our school is very unique, where our stadium is also used by our local university. This year their cheerleading squad also used our mats for their games, and as we recently found out, they were put away by them at the end their season wet. We are once again dealing with a mold situation!
My goal is to purchase six of the 4X6 1-3/8 Home Cheer Floors, this would make it easier for my cheerleaders to move them on their own, and for us to keep them cleaner. So I would use the money that we potentially earn through this contest to help cover the cost of these, and we would make up the difference through fundraising.
This year is going to be a building year for us. As you will see in our attached team picture, our squad is not large. However, this year, 13 of our cheerleaders are graduating, and we will be starting out our tryouts with only two returning varsity members.
Our athletic program would most likely use their portion of earnings to improve upon our outdated floors in our weight rooms.

Courtney Bender
Palm Bay Magnet High School
Melbourne FL 32901