Cheerleading Giveaway Entry - Nashua Elks Crusaders, Nashua High South
By Created: August, 2017 - Modified: July, 2021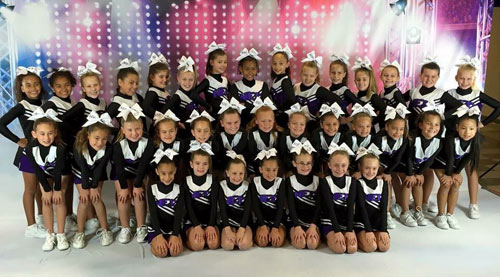 My name is Becky Williams, and I am writing on behalf of the Nashua Elks Crusaders. I am a board member as well as a mother of a cheerleader. The Nashua Elks Crusaders are a 501(c)(3) non-profit organization that supports both cheerleading and football and is affiliated with the American Youth Football/American Youth Cheer Association. The Nashua Elks Crusaders have been a staple of the Nashua, NH community for 47 years.
As much as we would love some beautiful new mats of our own, we don't have any dedicated practice space or place to store them (we rely on using our area schools or sports complex and borrow their mats - if available). I am writing in hopes of winning the $350 cash. Hopefully when I tell you a little bit about our teams, you will agree.
In the 2015 season, we had 120 cheerleading participants, ranging in age from 5-15 years old. Those participants covered 4 teams, 3 of which earned a bid to Regionals. Our Division 10 team, comprised of 35 girls ages 8, 9, and 10 years old, made it all the way to the AYC National Cheerleading Championships in Lakeland, Florida. There, they placed 2nd in the nation, missing out on first by less than 1 point! Now that they have this experience behind them, they have their eye on the prize more than ever and are determined to get back to Florida and come home with the championship.
We would use the $350 towards the purchase of new uniforms. After the hard work and effort these girls put in day after day, we would love to outfit them in dazzling new uniforms to match their even bigger personalities. Don't be alarmed that the previous uniforms won't go to good use as we are adding to our cheerleading squads this season! For the first time in our history, we will be creating an Inspirational team to allow girls and boys ages 5-22, regardless of physical or mental ability, to participate in the sport we all love!
Either cash or mats would be a wonderful gift for our Nashua High School South school system. $500 worth of mats could help the school district get full sets of mats for our 3 middle schools (they cheer during basketball season). The $350 cash could be used to offset the cost of waiving fees for athletes who cannot afford to pay the user fees.

Becky Williams
Nashua Elks Crusaders/Nashua High School South
Nashua NH 03062