Cheerleading Giveaway Entry - Greater Nanticoke Area High School
By Created: July, 2017 - Modified: August, 2019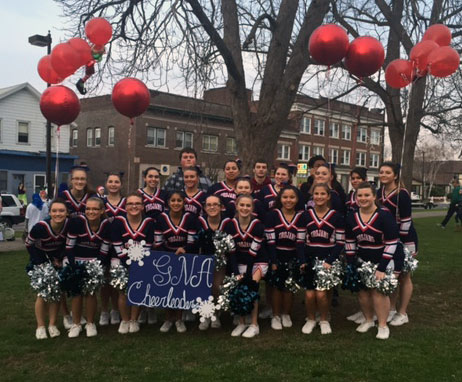 My name is Crystal Lore and I am currently the Greater Nanticoke Area Varsity Cheerleading Coach.
GNA's Varsity Cheerleading team has come a long way in the past two years. I've seen their spirit grow stronger and their hunger for learning and progressing has never been greater.
GNA's Cheer program never had safety equipment. All stunting would be practiced outside in a grassy area. The athletic department was able to purchase three 4x8 mats for the cheer program. Our team really put them to use, every chance we got.
As a coach safety is first priority. It's hard to tell your team we can only do so many stunts at a time. Practicing all of our groups at once is impossible with limited equipment. Having more safety mats will allow our team to progress and practice skills together. GNA will be competing for the first time in over 15 years next season.
Having the extra mats will help GNA on its way to making some great memories while competing. This team deserves good things to happen to them and I know even one mat would make a world of difference with great appreciation.
Our School District is also making progress in upgrading our wellness and athletic training facilities along with associated equipment. Last November, our maintenance staff and some of our coaches refurbished the weightroom in our fieldhouse with a thorough cleaning and painting of the room as well as the equipment we are currently using.
Additionally, the District purchased $4,000 of new machines and equipment for that facility. That sounds like a lot of money, but with this type of equipment, it doesn't go as far as you may think. Longer term plans call for a wellness facility being retrofitted into one of our existing rooms in the school once an elementary school expansion project is completed. That room would serve as a cardio-type workout facility to compliment the weight room.
In short, the District has made a commitment to physical fitness and wellness. However with funds being tight, we will only be able to add equipment when such funds become available, primarily through donations. We are looking into any and all avenues to help accomplish this goal and would certainly appreciate your contribution.
Thank you for your time and consideration.

Greater Nanticoke Area Cheerleading Stunt
Crystal Lore
Greater Nanticoke Area High School
Nanticoke PA 18634