Cheerleading Giveaway Entry - Bradford Area High School
By Created: August, 2017 - Modified: August, 2019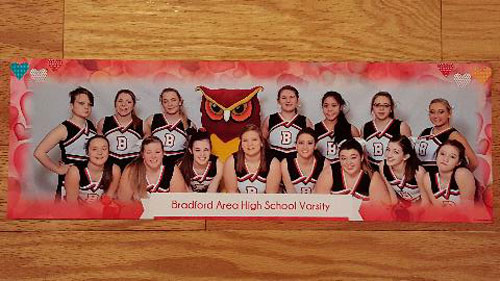 My name is Jennifer Jordan, and I am the varsity cheerleading and competition coach at Bradford Area High School in Bradford, Penn.
We practice in our cafeteria where we must remove tables and chairs before and put down tables and chairs after each practice.
Our current mats are old gym mats which as you will see in the video are all different sizes. This creates a huge problem for us as when we are stunting, the mats slide and pull apart causing the girls to trip and fall and sometimes roll their ankles.
The athletic department is in need of new mats. The current mats that we use are also what the track and physical education department uses. The approximate age of the majority of our mats are 10-15 years old with some of them being salvaged from a flood that occurred within the building a 5 years ago. As you may or may not know the State pf Pennsylvania is in a budget crisis where many cuts have been made and extra spending and such has ceased. We were super excited when one of our cheerleaders stumbled across this opportunity.
We would love to win this contest so we could provide a better and safer surface for our girls to practice and perform. Thank you for considering our submission.

Bradford Area Cheerleading Stunt
Jennifer Jordan
Bradford Area High School
Bradford PA 16701