Reasons to Use Carpet Tiles to Protect Gymnasium Floor
By Greatmats Staff Created: November, 2023 - Modified: November, 2023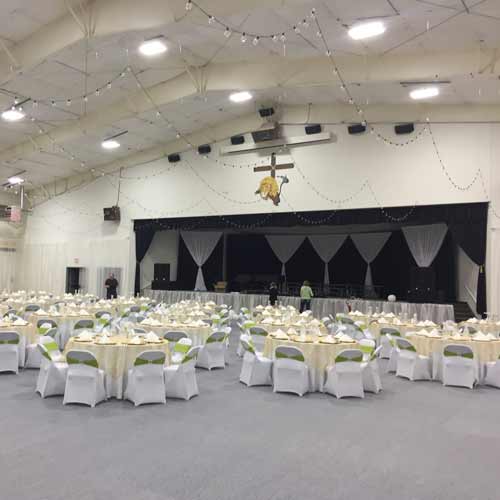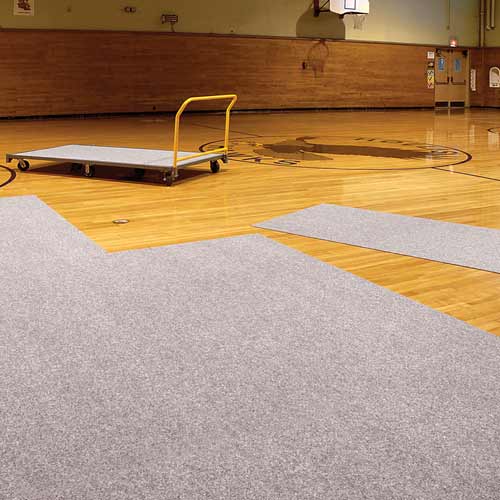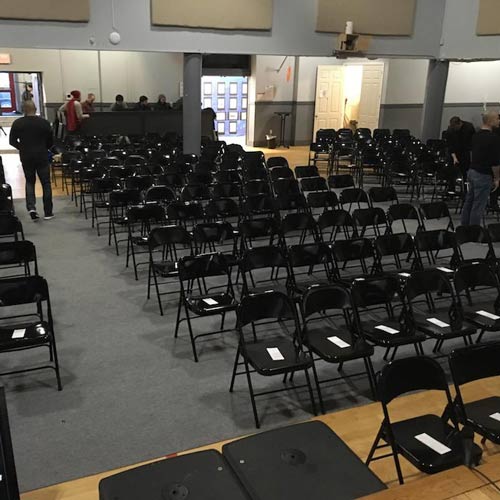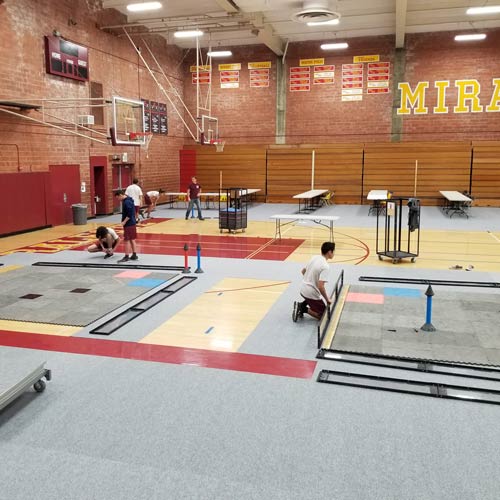 When it comes to safeguarding your hardwood court floor during non-athletic events, you have two primary choices: vinyl rolls or carpet tiles. The
Gym Floor Covering Carpet Tiles
stand out by offering unique advantages that vinyl covers simply can't match. These carpet tiles are the better option for sound absorption. They are also aesthetically pleasing to the eye.
1. Floor Protection Made Easy
Athletic gymnasiums are made for basketball, volleyball, and physical education classes. Occasionally though, they host graduations, special speakers, and other events. Although it's enjoyable to be able to host
special events inside the gymnasium
, having so many people and so much equipment on the gym floor isn't good for the longevity of the flooring.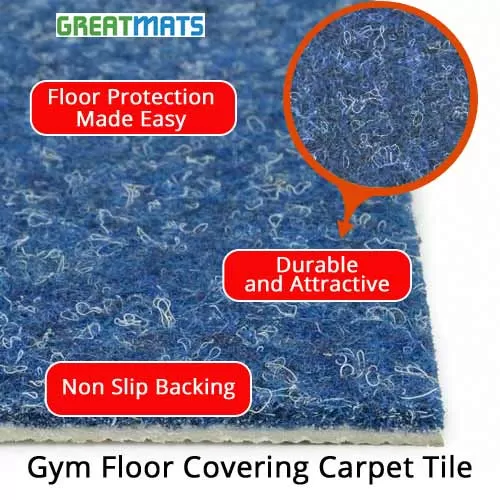 That's where the
Gym Floor Covering Carpet Tiles
enter the picture. The surface of the tiles is carpeting, which ensures a good grip for people walking on them.
These gym tiles make protecting the gym floor easy. After installing these gym carpet tiles, you won't have to worry about people or chairs scuffing or damaging the gym floor. These gym floor covering carpet tiles are made to handle the heavy traffic you'll see at your event,
like a spring gala
.
2. No Adhesive or Tape Required
These carpet tiles can be placed over any hard, flat surface without the use of adhesives or tape whereas it is recommended to tape down the seams of vinyl gym floor covers to prevent tripping hazards.
The individual tiles are heavy enough (at nearly 14 pounds) that they will not slide around after you position them against one another.
3. Easy Installation and Removal
One person usually can install and lay out these tiles, but they might be a little heavy for some people to handle alone due to their size. Installation will be easier and go much faster with multiple people. You'll want to keep the gym cover carpet tiles on a
large hand cart
that can handle a lot of weight. The cart allows you to roll the carpet tiles from a storage room to anywhere you need in the gymnasium.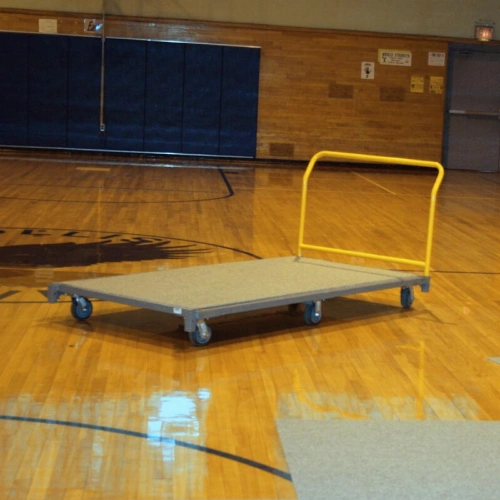 Each tile has straight edges on all four sides, allowing it to sit tightly against other tiles. You'll want to lay the tiles flush against each other to prevent any gaps or seams from appearing, where someone could trip.
Removing the gym carpet tiles is just as easy, and also goes faster with multiple people working. Use the hand cart to stack the tiles, and roll the cart along as you pick up the tiles to reduce the distance you have to carry the gym carpet segments. Make sure to stack the tiles as straight as possible to ensure that the stack does not tip as you roll the cart.
4. Provide Comfort and Style
When having a ceremony in a large area with hard flooring, where people may be standing for a long time waiting in lines or giving speeches, having the gym floor covering carpet tiles installed will provide a softer area for people to stand.
You'll also love the look of these gym carpet tiles after they're installed, as they completely transform the feel of any area. The tiles are available in aesthetically pleasing colors: blue, dark charcoal, or gray. These colors will look great for any event.
5. Non-Slip Backing
The polyolefin plus backing on the carpet tiles provides a non-slip backing. This means you don't have to apply any adhesives to the back of the tiles before laying them over the hard floor. And the backing will not cause any discoloration of the gym floor itself.
Additionally, the non-slip backing means you can feel comfortable placing objects on top of the gym carpet tiles without having to worry about the objects slipping out of place. For example, a lot of organizations use the gym carpet segments when holding a special event in a gymnasium. You can place folding chairs and tables over the gym floor covering carpet tiles, and they'll stay in place.
6. Low Maintenance
These tiles are easy to care for. It's recommended that they're vacuumed after every use or daily if the tiles are left in place for multiple days. Heavy traffic areas may require a vacuum with a rotary power brush. Should a high traffic area become soiled with mud, it's recommended to allow the area to dry completely before attempting to vacuum it.
For soiled tiles, you can use a carpet cleaner or an all-purpose spot remover on them. (Before applying any chemicals or cleaners to the gym floor covering carpet tiles, test the cleaner on a spare tile to ensure no discoloration will occur on the carpet mat.) Try to treat any spills or soils as quickly as you can after they happen. After applying the spot remover, use a clean white cloth to remove the stain.
Long-term maintenance on the gym floor covering carpet tiles should involve a steam cleaning periodically. Gym carpet tiles that receive heavy traffic during wet winter months should be steam cleaned more often, for example.
Performing these basic maintenance tasks on the gym carpet tiles will ensure a longer lifespan for them.
7. Less Accessories Needed
With vinyl gym floor covers, you typically need tape, a tape dispenser, and a storage rack for installation. With carpet tiles, all you need is carpet tiles and maybe a storage cart. This saves on the initial cost.
8. Acoustical Benefits
Carpet tiles absorb noise and vibration better than vinyl covers. The acoustical benefits of carpet tiles will be appreciated at concerts, graduations, and other events.
9. No Wrinkles or Ripples
Unlike vinyl covers, these carpet tiles will never have wrinkles or ripples that could potentially be a tripping hazard. Wrinkles or ripples can also be unsightly.
For help choosing your best option for gymnasium floor covering to protect your hardwood court floor, reach out to one of our flooring experts.