What is the Best Squat Rack Mat: Top 5 Flooring Options
By Lisa Hobbie Created: June, 2020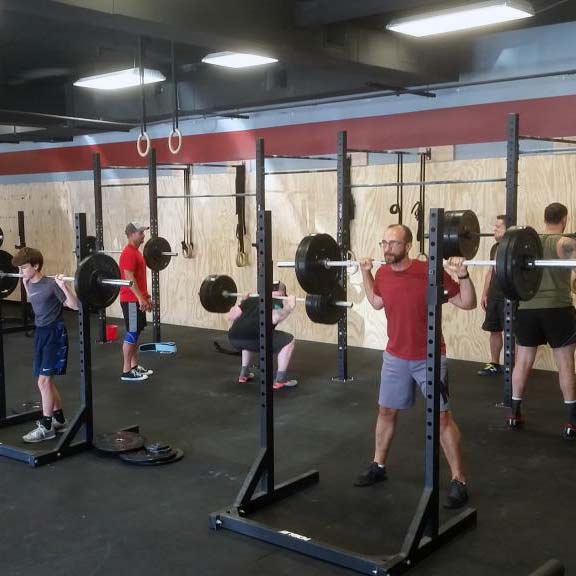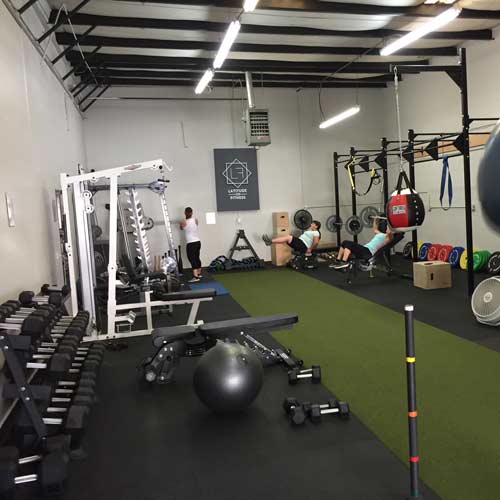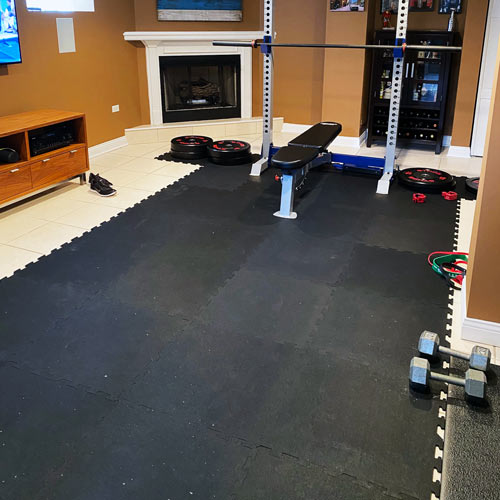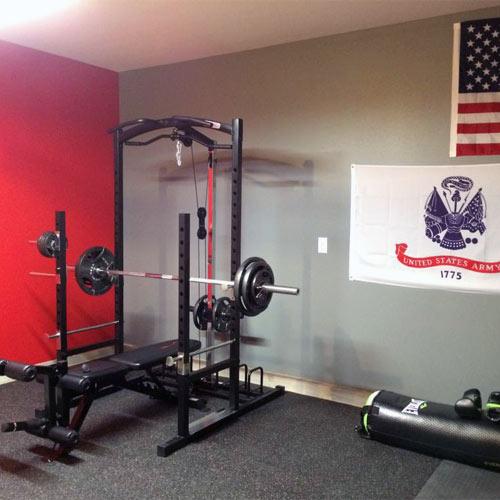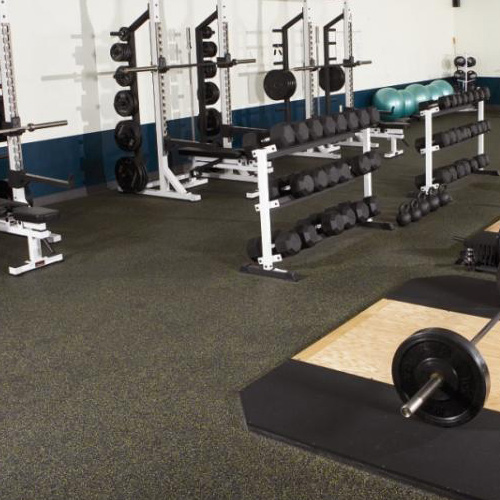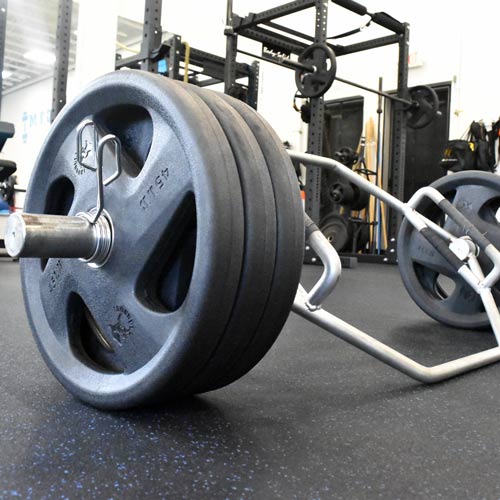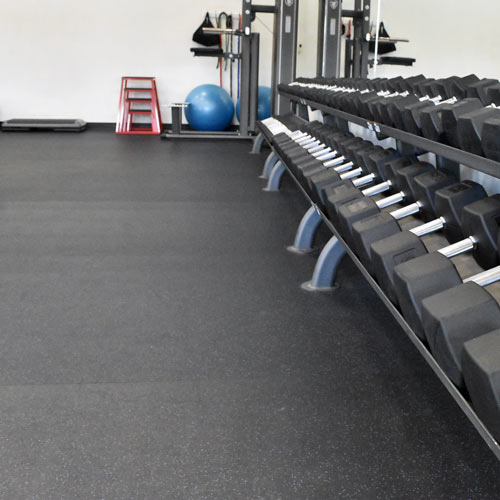 For anyone who is serious about outfitting their weight lifting workout space, a squat rack is a must have. They are used for strength training and powerlifting, and they are essential to a successful solo weight lifting program. Serving as a mechanical spotter for a free weight exercise program, squat racks look similar to a guillotine, and they provide safety and risk reduction for athletes who could potentially otherwise get buried under heavy weights. 
Although a tough concrete floor is often the subfloor beneath a squat rack, stand, or cage, a squat rack mat is a great addition to the lifting area. Not only does it add stability and safety for the lifter, but it also provides protection and sound absorption from heavy weights that could drop or fall from overhead.
Greatmats offers a number of squat rack mat options from which to choose.
From horse stall mats to puzzle mats and many varieties in between, the solutions at Greatmats provide the best value and protection for your floor and your athlete. 
5 Best Squat Rack Mat Options
1. 2 3/4" Sterling Athletic Rubber Tiles for Squat Rack Mats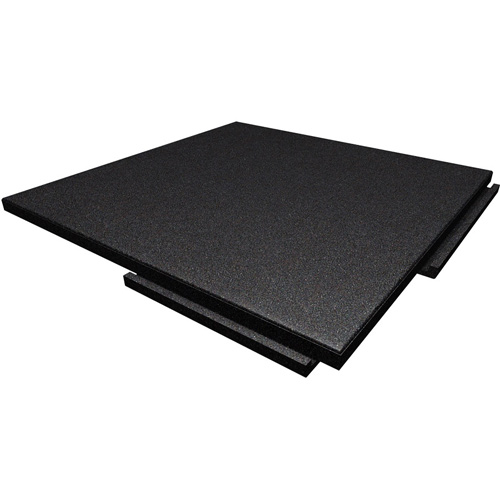 Maybe you are interested in a comfortable squat rack mat that is also the best at absorbing sound when weights are in use. If so, the
Sterling Athletic Rubber Tile flooring
option should be considered. These rubber tiles are heavy duty, extremely durable, easy to clean, and provide superior sound attenuation and shock insulation. They will hold up to even the heaviest of weights, high-impact workout moves, exercise equipment, and more - and, keep any unwanted noise from dropping weights at bay. For the best floor mats for squat racks that will absorb sound, protect the floor and offer cushion for your body, this is it.
2. 3/4" Rubber Gym Mats for Under Squat Racks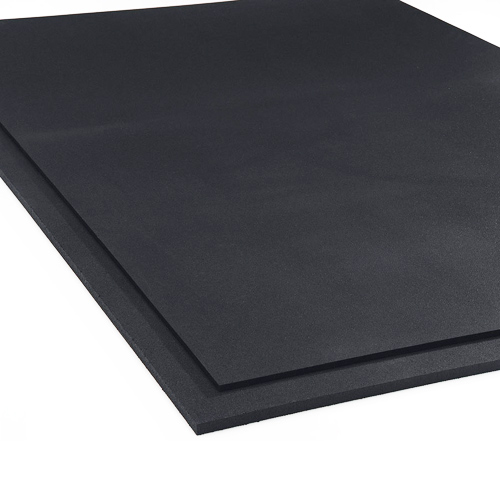 Rubber Gym Mats
offer an economical squat rack mat option that maintains a high level of toughness. This ¾ inch, 4x6 inch mat is an extremely popular and durable option. Although very affordable, the quality is still high. This mat does not slide around easily, even when placed under a lot of stress. At 91 pounds, this mat will stay put without adhesive - especially if multiple mats are laid next to each other. With 24 square feet per mat, this product works really well under a squat rack. 
3. 8 mm Interlocking Rubber Tiles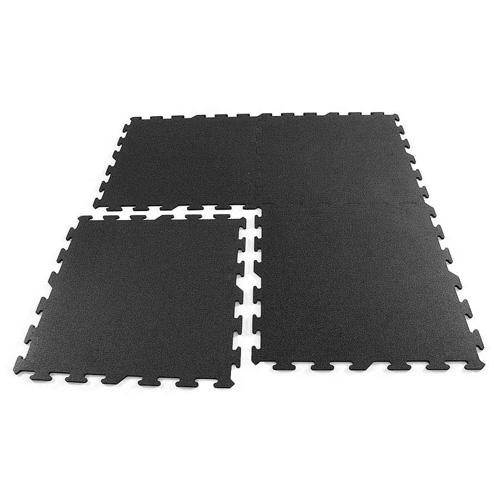 Interlocking Rubber Tiles
are a popular mat option under a squat rack as well. This product is made in the USA of durable and resilient rubber floor surfacing material. These interlocking tiles require no adhesive, for an easy DIY installation. The 8mm thickness provides a long lasting protective surfacing, and it is designed specifically to withstand the weight of exercise equipment - like a squat rack. This product is very easy to clean and maintain, and it will perform well for years to come. 
4. 1/4" Rubber Flooring Rolls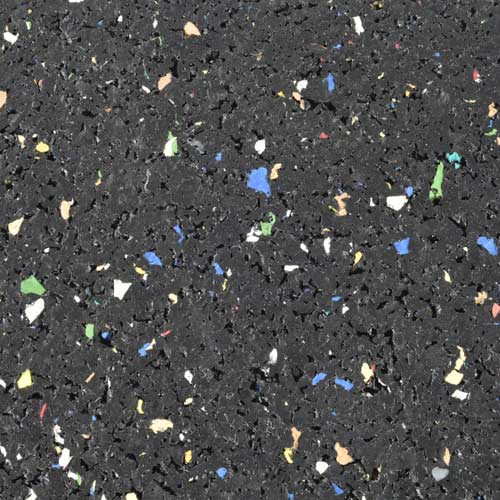 Rubber flooring rolls also provide a great squat rack mat solution, with the
¼ Inch Regrind Confetti
option being a high quality, affordable choice. This rolled rubber mat is made in the USA from recycled rubber. It is 4 feet wide, and it can be cut to any length from 25 to 100 feet long making it great for large weight training spaces. Rubber flooring rolls are easy to install over a concrete with either glue or double faced tape. In some cases, they can even be dry laid. They can also be installed over hardwood, provided a layer of protective paper is in place to prevent any reaction between rubber and the wood floor's finish. Rubber flooring rolls are available in a variety of colors and thicknesses. Once the rubber flooring roll is placed and secured, it requires little maintenance, with a sweeping, vacuuming, or damp mop cleaning process, as needed. 
5. 1/2" Rubber Flooring Rolls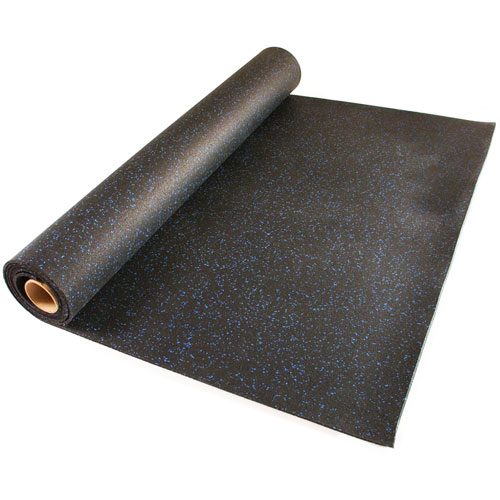 The
Geneva rubber with 10 percent color
is another popular rubber roll choice. This option can be purchased by the square foot, in any roll length from 25 to 100 foot long. One linear foot of material is equal to 4 square feet. The rolls are 4 ft wide. This type of resilient rubber flooring product is very durable and long lasting. Made from recycled rubber material this flooring option is considered a green product and may contribute to LEED points in green buildings. It will act as a sound dampener and as a floor and squat rack protector. 
The wide variety of squat rack mat options at Greatmats is quite extensive. The different varieties 
have been installed in hundreds of professional and home gym settings and provide the best in quality, service, and dependability. Most mats come with a warranty and are designed specifically to take the use and abuse of heavy weights and fitness equipment. You can be confident in the longevity of your investment when you choose Greatmats. Simply reach out to the friendly and knowledgeable staff who will help you determine the best option for your space.