What Are The Differences Among Stage Padding Styles
By Paige Cerulli Created: December, 2022 - Modified: January, 2023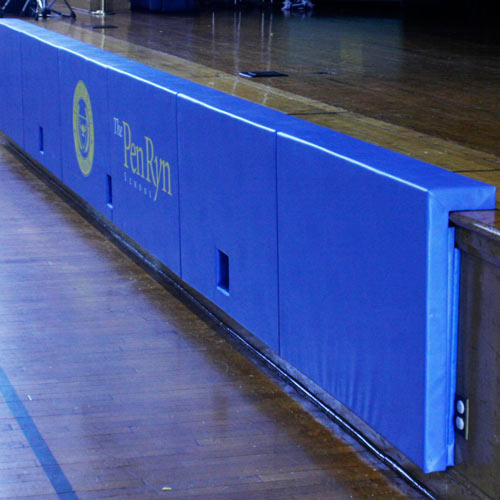 Stage padding offers many benefits, and it's a must-have when your school's stage is in the same space as your gymnasium. As you shop for stage padding, you'll find several different styles available. It's important to understand the differences in those styles so you can determine which stage padding option is right for you.
The Benefits of Stage Padding
Stage padding is an essential investment for many schools and recreational areas, simply because of the building's design. It's common to create a stage in one end of the area used as an auditorium.
Such a design makes it easy to assemble students for presentations and concerts, and the school only needs one large space for these multiple purposes, saving money. But when the auditorium space doubles as a gym, it's also easy for students to collide with the stage, potentially suffering severe injuries.
Stage padding cushions the wood edge of the stage, helping to absorb the impact of a collision. Quality padding can help to reduce injury severity, even preventing injuries like fractures and head injuries.
Investing in stage padding makes the space safer for students. It also allows a school to safely use the space for multiple purposes, including drama clubs, theater productions, concerts, assemblies, gym classes, sports team practices, sports competitions, and more.
Different Types of Stage Padding
As you shop for stage padding, it's important to consider the type of padding that's best for your needs.
Padding Styles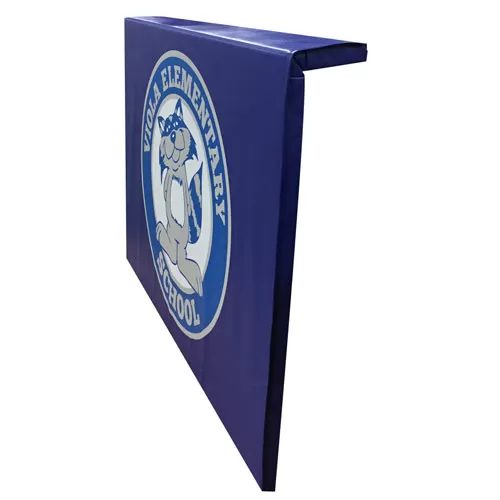 Padding styles can differ between products. The most common type of padding is a
flat front pad
that includes a padded top return, covering the dangerous corner of a stage.
Another style gives you slightly more versatility. These
L-shaped pads
feature a hook and loop hinge, so you can access storage doors beneath your stage.
Installation Options
You'll also find that the pads' attachment styles differ. Some pads feature a
hook and loop tape
along their horizontal edges, so you can connect them to the stage using a hook tape attachment kit.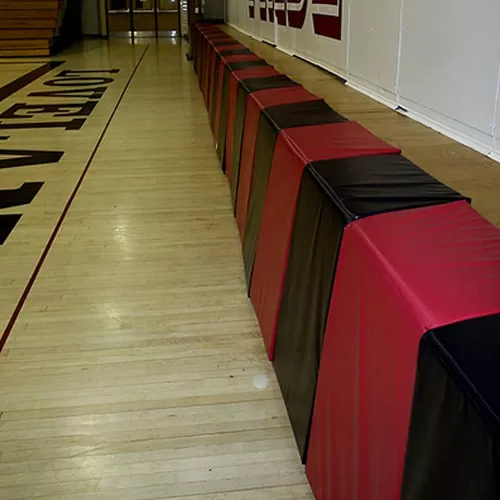 This design makes it easy to remove the pads as needed. You can quickly convert the stage for a concert or show, then replace the pads before the space will be used in school the next day.
Pads are also available with
grommets
, allowing you to easily install them. Grommets make for a secure, long-term installation when paired with masonry fasteners.
Custom Shapes and Dimensions
Stages vary in their style and shape, and at Greatmats, we can customize our stage padding to fit your stage. For example, if you have a curved stage, we can create
curved mats
to custom dimensions, so they will fit and follow the curve of your stage.
Our custom-made pads are also made to your specific dimension needs, ensuring they match the height and length of your stage. This is particularly important, since the pads need to deliver adequate coverage to be effective; any exposed portion of your stage could be a safety hazard.
Custom Colors
Stage padding is also available in
custom colors
, so you can choose colors that reflect your school's branding or your sports team's logo colors. With a wide range of vinyl colors available, you can custom design pads to deliver the exact appearance that you want for your space.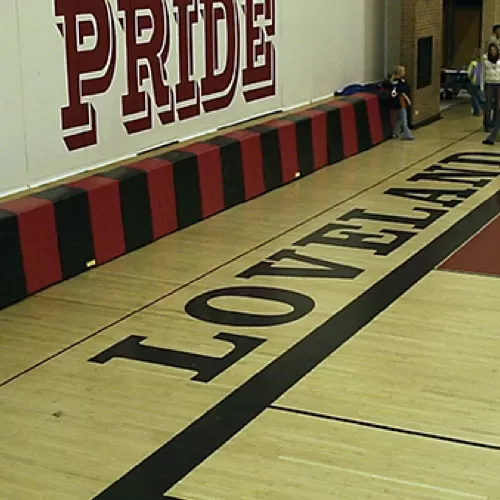 Adding
custom logos and graphics
can also make your stage padding one-of-a-kind. You might choose to customize the padding with your school's name or logo, and that also serves as an excellent photo backdrop during events.
Choosing the Best Stage Padding for Your School
As you consider different stage padding styles, it's important to determine if you're looking for a
permanent installation or a product that you can easily remove
. The installation method will affect how easily you can remove the pads, with hook and loop closure installation being ideal for temporary use.
Look for pads that feature quality materials and a durable design. At Greatmats, our padding features high density foam designed to maximize student safety.
That foam is carefully selected to maximize its shock absorption, while also being a durable choice. When paired with rugged vinyl, the pads are long-lasting additions to your stage.
These pads are also designed to reduce mold and mildew, and they're resistant to punctures. Other features to look for include fire resistance, fire retardant properties, and emissions qualities.
If you're looking for custom options, you'll find plenty of choices at Greatmats. From custom designing padding to meet your stage's dimensions, to providing a wide array of custom color options, we work hard to deliver the finished product that you've envisioned for your school.
Contact us today with any questions, or if you're looking for something custom-made. We're happy to help you create the specific product that you need, and can also answer any questions you might have and provide shipping quotes.