Are Terrazzo Floor Tiles Expensive?
By Paige Cerulli Created: November, 2021 - Modified: November, 2021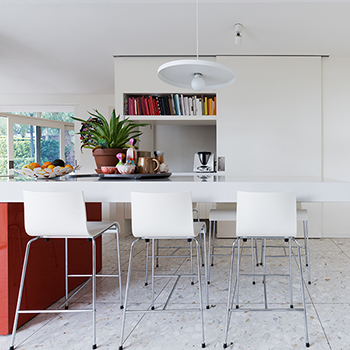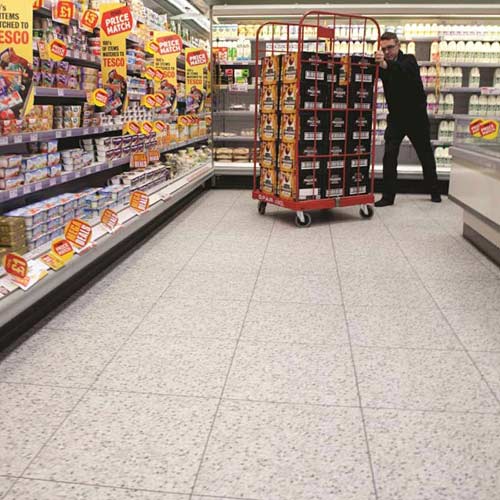 If you're looking for a luxurious floor tile with a polished finish, you might be tempted to buy terrazzo floor tiles. Traditional terrazzo floor tiles are quite expensive, but at Greatmats, we have a practical, easy-to-use alternative.
What are terrazzo floor tiles?
Terrazzo floor tiles feature a distinctive look. The tiles are made by exposing marble chips on a concrete surface. Then, the tiles are polished down to create a smooth, beautiful finish.
Many homes and businesses use terrazzo tiles not only for flooring, but also on walls and countertops. It's highly durable but it can be slick underfoot.
Terrazzo tiles cost between $7 and $10 per foot, making them one of the more expensive flooring options. Traditional tiles also have some drawbacks, since they're labor-intensive to install and can be cold during the winter.
If you want the look of traditional terrazzo flooring, we offer a beautiful alternative that's stylish but that has many benefits compared to these hard tiles.
Greatmats SupraTile 7 mm Designer Vinyl Top Series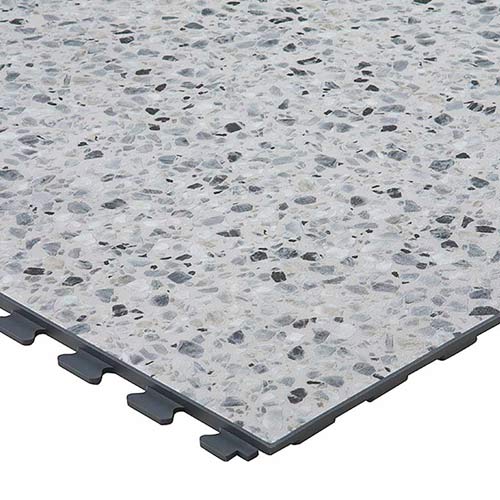 With the SupraTile 7 mm Designer Vinyl Top Series, you'll enjoy multiple advantages when compared to traditional terrazzo floor tiles.
These tiles offer the same polished terrazzo style. The intricate finish is eye-catching and makes quite the impression, whether you use it in an entryway, bathroom, kitchen, or other space.
These tiles feature a white base that resembles marble, plus plenty of flecks in blues, greys, and blacks. The colors make these tiles highly versatile and flexible in their application, since they'll complement many different decor schemes.
These tiles are also highly durable, so you'll get plenty of use out of your flooring investment. Rather than being constructed of marble, these tiles feature five-layer construction for a superior performance.
Two top layers are clear and protective to preserve the printed pattern and keep the tiles looking new. These layers can withstand significant foot traffic.
The middle layer is the design layer, which features the printed pattern on PVC.
The fourth layer, a bonding layer, connects the design layer to the bottom layer.
The bottom layer contains the tile's interlocking design to hold them together without need for glue or adhesive.
As a result of this multi-layer construction, each tile can support up to 2,000 pounds. The layers are bonded together with 50,000 pounds of pressure and a heating technique, making them supremely strong and durable.
Not only are the tiles strong, but they're resistant to many of the hazards that would damage other tiles. These tiles are resistant to water, oil, chemicals, mold, mildew, impact, and abrasions.
Thanks to this durability, the tiles are suitable for installation in bathrooms, kitchens, basements, dining rooms, and more. In business settings, you can install the tiles in an office, salon, art gallery, hotel lobby, nursing home and retail showroom. The possibilities are endless.
Easily installation for terrazzo floor tiles
If you were to install traditional terrazzo floor tiles, you'd need to use the traditional tile laying process that includes grouting the floor. You'd need to hire a professional or have access to tools like a tile saw - and plenty of time.
The SupraTile 7 mm Designer Vinyl Top Series offers a much easier and more affordable installation option. There's no adhesive required for installation, and you can handle the process yourself with minimal prepping.
You can install these tiles over old, slightly uneven subfloors. Their interlocking edges fit together securely, creating a floor that won't pull apart during use. The seams also disappear into the tiles once they're connected.
This interlocking design serves multiple benefits. If you ever need to remove or relocate the floor, you can do so, and the tiles are conveniently sized so they're easy to carry into a home or business.
If a few tiles become damaged, you can replace just those tiles. That saves you the cost of having to replace a larger section of floor.
You can also expand the floor later on if you wish, simply by laying down more tiles and connecting them to your existing floor.
The tiles are also easy to clean. Use a damp mop and clean them with hot water and a common household floor cleaner.
How to save money on terrazzo floor tiles
If you want the beautiful look of terrazzo floor tiles, then consider using the
SupraTile 7 mm Designer Vinyl Top Series
. These tiles cost just over $9 per square foot, a price comparable to most traditional terrazzo tiles - but much easier to use for a DIY installation.
It's important to consider the money you'll save when installing these vinyl tiles, as compared to traditional tiles. Since there's no need to hire a professional installer, you'll save significant money. There's also no need for items like a tile saw, so you can affordably install the tiles on your own.
These vinyl tiles' durability also ensures you'll get plenty of use out of your new flooring. The tiles are an affordable way to get a luxurious finish in your home or business, and because they resist water, mildew, scratches, and impacts, they're a long-lasting flooring investment for your space.