What Are the Advantages of EPDM Tiles?
By Kyle Schurman Created: June, 2021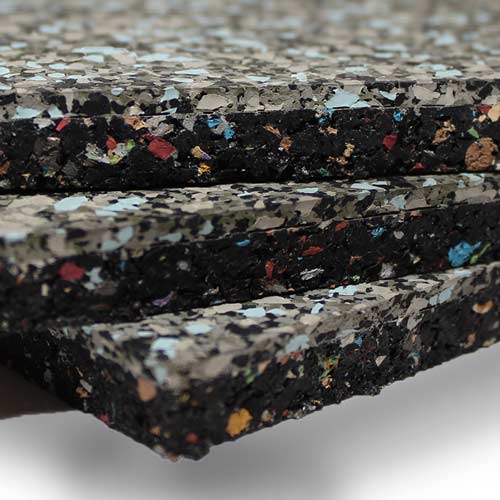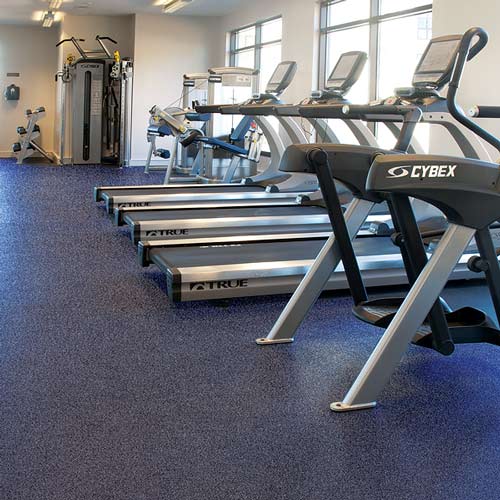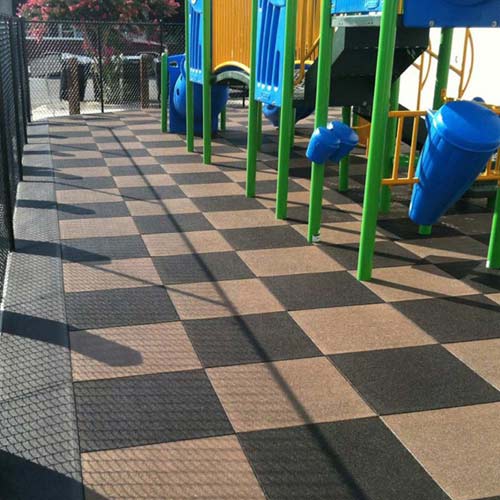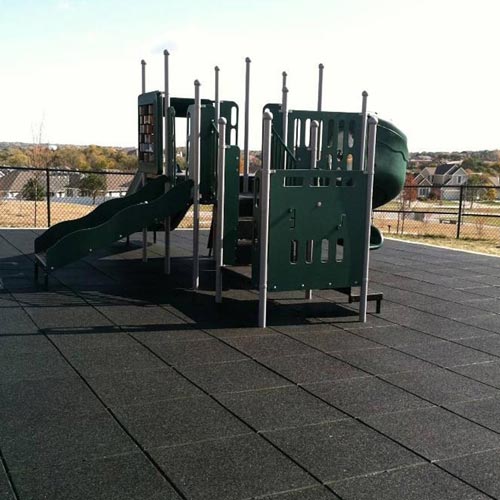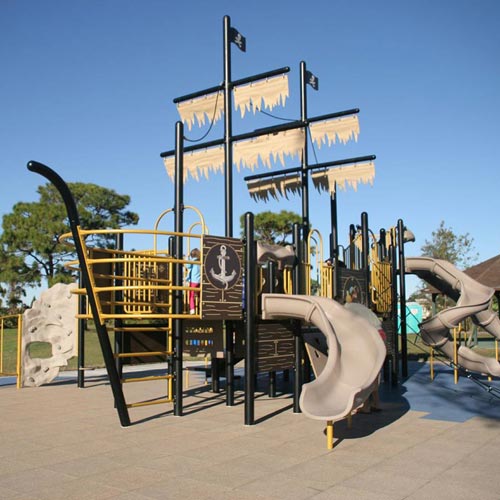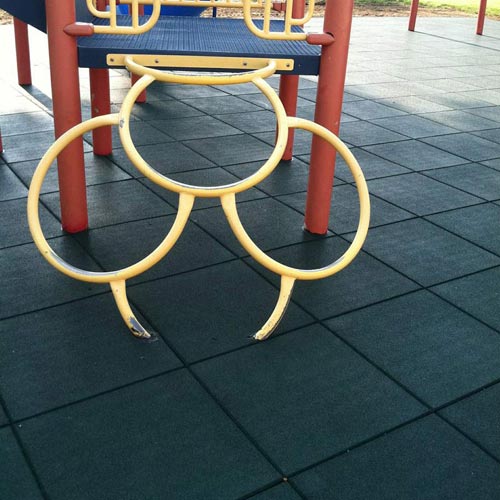 For those who need an especially soft type of rubber tile that also has excellent durability, EPDM tiles are a popular selection.
Some of the benefits that EPDM tiles provide include:
Resistance to UV exposure

Resistance to varying and extreme weather

Remains stable in extremely low and high temperatures

Waterproof to drain effectively after rainstorms

Low conductivity for electricity

Will not become brittle over time

Cushioning to guard against falls

Absorbs noise

Available in multiple stylish color choices

Easy to clean

Cost effective material

Eco-friendly, as it often consists of recycled materials
What Is EPDM Rubber?
EPDM is short for ethylene propylene diene methylene. This is a synthetic rubber material that has no toxicity. It's safe to use in almost any use case, especially where children and pets will be playing.
Much like natural rubber flooring material, EPDM is extremely durable. It will deliver a long-lasting level of performance, giving customers a good value over time.
The versatility of this material makes it a popular choice in many different use cases, including for a children's playground, a flat top roof, a home gym, a fitness center floor, rubber decking over cement, or an athletic track.
Do EPDM Tiles Provide an Advantage in the Install Process?
Some rubber EPDM materials require a pour-in-place installation. This is more typical in an exterior layout, such as with a running track at a school.
However, for someone choosing to try to install EPDM as a DIY project, pouring the synthetic rubber material is a challenging process. Instead, consider solid EPDM tiles, which apply many of the same benefits as poured EPDM, but that are easier to handle.
An interlocking design on these tiles provides a far easier install process versus pouring EPDM material. Some tiles allow for a dry lay floor that will float over the surface underneath (meaning it doesn't need gluing to the substrate).
Among interlocking EPDM tiles, one of the easiest models to install is the Biggie Smallz Survivor Rubber Interlocking Tile. It measures only 1/4 inches in thickness, which keeps the overall weight of the 2-by-2-foot tile at only 6 pounds, making it easy to handle.
These tiles work well in a location where installers are looking for a splash of color in the floor, rather than basic black that's common in rubber floors. This tile has a 20% concentration of random color flakes over the black base color.
The manufacturer cuts the edges using a precise water jet technique that ensures a tight fit without the need for adhesive, simplifying installation.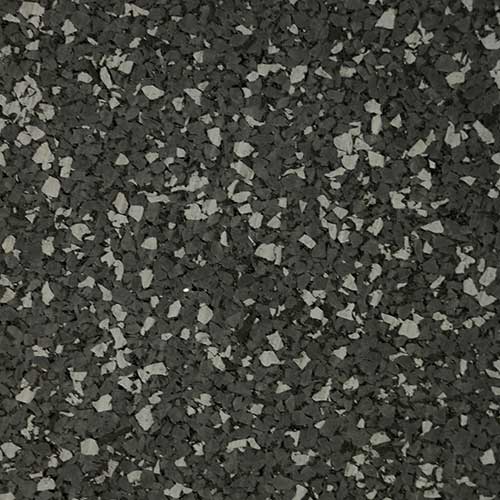 Another thin tile featuring an EPDM synthetic material is the Eureka Rubber Gym Tile. These tiles are available in a few different color patterns, mixing dark and light colors. This is a designer look that will enhance any area.
As an interlocking tile, it creates a potential DIY installation option. At 5/16 inches of thickness, this tile has a good level of durability, yet it only weighs 7.7 pounds to make moving the tile into place an easier process.
It has excellent shock absorbency capabilities, so it will work especially well in workout and athletic training areas.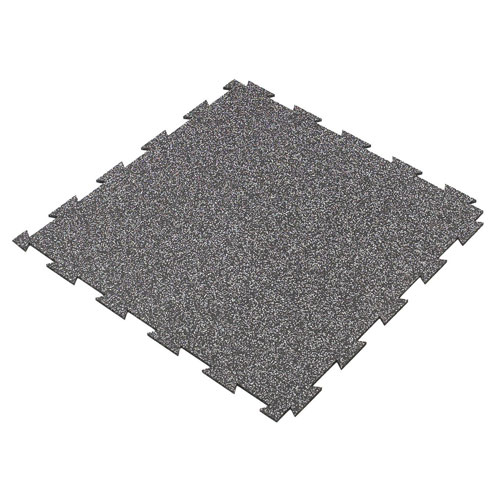 At almost 1/2 inches in thickness, the Domination Rubber Gym Flooring Interlocking Tile has an excellent mixture of durability and cushioning. This makes it ideal for both home and commercial gymnasiums.
This is a stylish tile design, offering multiple different color choices. The EPDM synthetic rubber material almost yields a two-tone color pattern with specks of darker color over the base color in these tiles, creating an interesting look.
Each tile measures 37 by 37 inches in size and weighs 30 pounds, so having multiple installers on hand will make the job go faster. A glue down installation is the best option with this tile.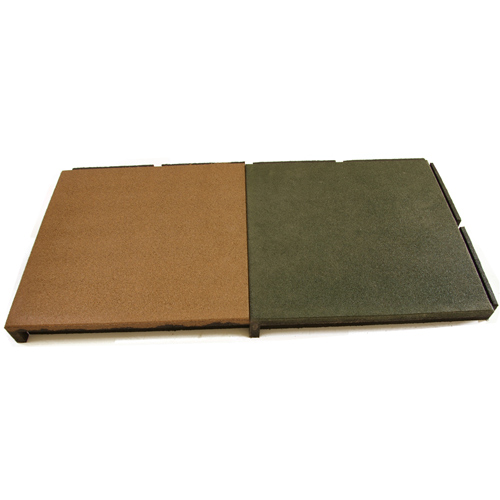 For an exterior installation at a children's playground, the 2.25-Inch Blue Sky Outdoor Interlocking Tile and the
2.75-Inch Blue Sky Outdoor Interlocking Tile
are excellent choices. These are highly durable tiles that look great.
Importantly, they provide a safe place for children to play, as they have a fall height rating. In playground areas where kids will be climbing on equipment, EPDM rubber tiles have the cushioning required to guard against injuries after a fall.
The 2.25-inch thick tile covers 2 by 2 feet and weighs 27 pounds. It offers a 4-foot fall height rating to protect children playing on it.
The thicker 2.75-inch tile also has dimensions of 2 by 2 feet, but it weighs 30 pounds. It delivers a 6-foot fall height rating, making it a good choice for a playground with taller climbing equipment.
Both tiles will work for a dry lay installation, relying on the interlocking edges to maintain a secure layout. Installers also have the option of gluing the interlocking tabs or performing a full glue down installation.
Installers can choose among colors of blue, gray, or tan with dark flecks embedded against the base color. Ramped border edges are available for an add-on price.