What Is The Advantage Of A Modular Turf System?
By Lisa Hobbie Created: July, 2021 - Modified: October, 2023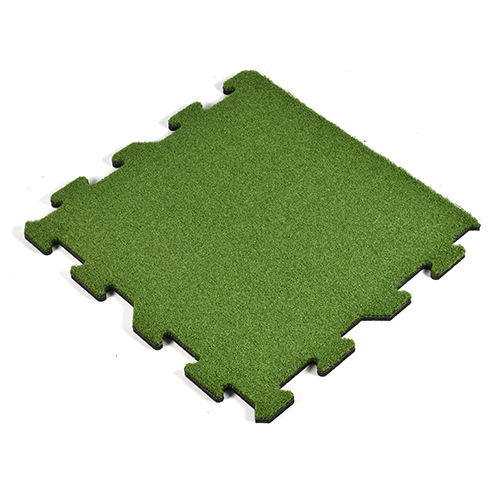 What Is The Advantage Of A Modular Turf System?
Artificial turf is an appealing surface for many uses, including athletic training. But permanently installed athletic turf can have some downsides, especially when you're dealing with space limitations.
Modular turf systems offer many advantages compared to more traditional artificial turf. Not only do you have more versatility with installation options, but these modular turf systems offer several other perks that make them a highly popular choice.
Advantages To Using Modular Turf Systems


Portability and transportability. A modular turf system can be moved into, installed, and disassembled and removed from any facility or venue, in whole or in part. This means that venues with a traditional gym or other hard surface floor can have turf in place for different events. This offers versatility and the ability to promote multipurpose use, even when you may have limited space.



Ease of turf replacement. If certain modular turf panels or tiles become damaged or worn, those sections can simply be replaced with new ones. This offers a huge savings of both time and money compared to the replacement of an entire flooring system.


Fast installation. A modular turf solution can be installed right over a sports surface, allowing for a quick conversion to turf. There isn't significant site preparation to worry about, and there's no infill to purchase or install, which can save you time and money.


High quality. Most modular turf products are designed to last and provide outstanding performance - even after multiple uses and assemblies/disassemblies. These highly durable products are often backed by multi-year manufacturer's warranties.


Training on turf at any time of the year is possible. If a standard gym floor doesn't provide the type of surface needed for training and practice, you can move your training that is typically outdoors to an indoor, temporary facility with artificial turf that will support many types of sports and activities.



Top Modular Turf Systems at Greatmats
At Greatmats, we not only carry an excellent variety of traditional turf, but we also carry some top modular turf systems, too.
RageTurf Rally Interlocking Tile
The
RageTurf Rally Interlocking Tile
is a versatile indoor gym turf system. This tile features a rubber backing that adds just enough cushion for fitness training. The tile is available in four different blade colors, including traditional green, black, gray, and dark blue. Once installed, the tile seams nearly disappear into the turf for a more natural look.
This tile is ideal for many athletic uses, including agility training for track and field or football athletes, and soccer skill training. It offers optimal traction for these types of workouts, and can also be used in weight training areas. The rubber backing helps to protect subfloors from dropped weights, and the tiles can also be ideal for recreational workouts in home spaces like basements or garages.
Installation is as simple as lining up the slots on the tiles with the tabs on the adjacent tile and pressing them together. There's no need for adhesive.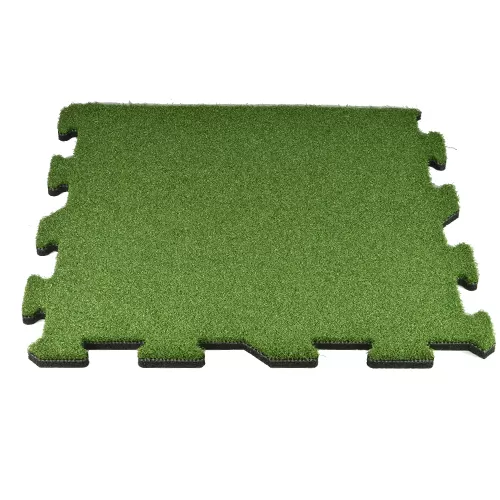 RageTurf Ultra Tile
The
RageTurf Ultra Tile
is a highly durable tile featuring a close knit surface texture that's bonded to the rubber base. The tile is made from 90% post consumer recycled material, so it's an eco-friendly option. The rubber base provides shock absorption and slip resistance for athlete comfort and safety.
This tile is durable enough for indoor or outdoor use. It can be paired with reducers and ADA ramps for a smoother transition onto and off of the tile, and it can also be connected to other UltraTile Rubber Weight Floor Tiles to create a more versatile workout area that's suitable for multiple purposes.
With its close knit surface and shock-absorbing rubber, this tile is best suited for footwork drills and sled workouts. It's backed by a five-year limited manufacturer warranty.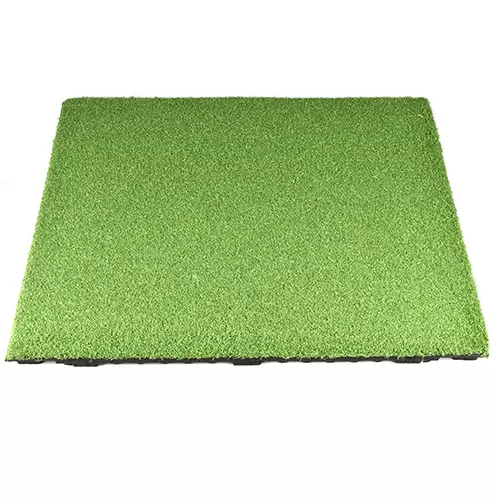 Golf Practice Mat Commercial Heavy Duty
The
Golf Practice Mat Commercial Heavy Duty
is an ideal solution when you want to practice your golf swing at home or on the go. The mat features a ⅝-inch-thick closed cell foam backing for a natural feel. It's professional grade quality and sturdy, designed to withstand misuse, and it's even dense enough to hold a tee.
At 3x5 feet, the mat can be easily moved or stored away for excellent versatility. It's ideal for both home and office use and is backed by an eight-year limited manufacturer warranty.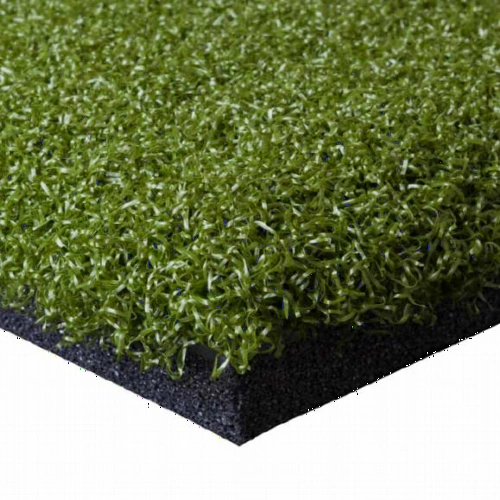 Golf Practice Mat Residential Economical
The
Golf Practice Mat Residential Economical
is suitable for use at home or when on the go. This mat features a natural look and has a 5 mm foam pad backing for extra cushion. The mat is environmentally friendly and offers stability and a top performance. The pile height of 0.56 inches allows you to practice your swing, and you can use a wide soft broom to remove any surface debris.
Since the mat measures 3x5 feet, it can be easily moved and stored away. The mat is backed by an eight-year limited manufacturer warranty.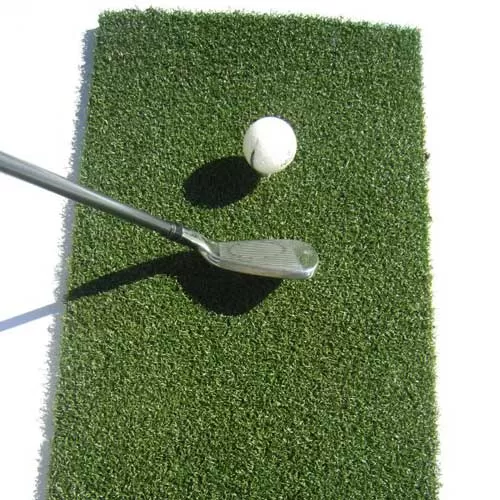 Buying Your Modular Turf System
The Greatmats customer service team is here to help you as you explore your modular turf system options. We're happy to answer your questions, provide shipping quotes, and help you choose the product that's best for your needs.