Tammy Smith wins 2018 National Horse Trainer of the Year Award
By Brett Hart Created: December, 2018 - Modified: July, 2021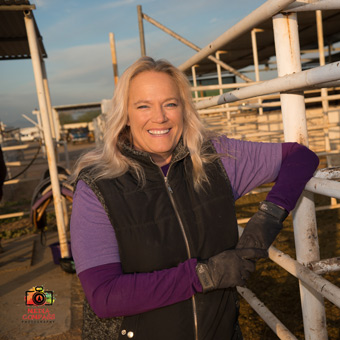 Horse industry veterans Tammy Smith, age 51, of Chandler, Arizona, and John M Joyner Jr., age 64, of Canutillo, Texas both found themselves in a unique situation last month as they led a field of 20 trainers nominated for Greatmats fourth Annual National Horse Trainer of the Year award. Smith and Joyner combined to compile approximately 4,700 of the 6,100 total votes in a two-week online vote, recognizing horse industry trainers who have made a positive impact in their communities through the demonstration of integrity, service and quality.
Neither had ever been nominated for an award before and found the experience to be both shocking and exciting. When all the dust had cleared, Smith emerged with the title of 2018 Greatmats National Horse Trainer of the Year.
Tammy Smith
''All my students and parents were super excited about it,'' Smith said after learning that she had been nominated by one of her students.
A riding instructor at Fox Mask Basic Horsemanship, Smith has 25 to 30 students and a waiting list at any given time. While most of her students are children - as young as age 7 - Smith also teaches riders into their 60s and loves getting people off of their couches and out into nature.
''My specialty is hunter jumper,'' she said. ''I start all of the beginners out English (to learn balance, control and feel of the horse.) I work beginners through intermediate.''
Smith started riding horses at the age of 7 and has been involved with riding, showing and teaching others how to ride ever since and is certified with the Certified Horsemanship Association (CHA). In 2012, she took her business full time.
''I love seeing the enthusiasm with the kids and everyone involved,'' she said. ''It's the best reward ever to sit back and watch someone else live your dream.''
Being sure to keep parents involved as much as possible while teaching their children, Smith doesn't let her students just get comfortable on just one horse. She rotates them around to different horses to keep them learning the different characteristics and riding styles each horse can teach them so the can apply those lessons when hopping on a new horse.
As they progress through her program, Smith encourages her students to participate in horse shows and competitions to get better and perfect what they're doing.
''I don't want them to become a good rider,'' Smith says. ''I want them to become a great rider.''
Her horses follow suit as well, as one was recently named 2018 Lesson Horse of the Year by the CHA.
John M. Joyner Jr.
John (JJ) Joyner Jr. started training ''paints, quarters and Arabians'' in 1978 and has continued training off and on for the last 40 years with a brief full-time stint in the early 1990's and then returning to full time in 2003.
A jack of all trades, Joyner breaks his own horses and has won multiple national championships and Top 10 award over the years.
''I train horses. I train kids, and I help people with their problems,'' Joyner says. ''When I take a young horse that doesn't know anything up through its training to where it becomes a champion at the regional or national level. That's pretty cool. And when I take a rider who lacks confidence and lacks skills and I see that rider develop into a confident equestrian... that makes a positive lifelong impact on people. That's what's been rewarding to me - to watch people grow and develop.''
Joyner, who runs Joyner Arabians has worked with western horses, hunter horses, driving horses, halter horses and kids horses - and his team of historical reenactors - Six Guns and Shady Ladies - has been named the best historical reenactors by True West Magazine six years in a row in a national competition.
Joyner has also been a member of AMBUCs, which helps people with mobility and independence challenges by way of scholarships and other services, since 1987 and is currently a national officer.
Joyner said he was impressed by the amount of support he's received since learning of his nomination for the Greatmats award.
''I had a lot of friends calling me,'' he said. ''I had fans from Spain and Germany. It was just kind of a neat deal to see that much effort put into helping me achieve some success in that area. It did make me feel good that folks were willing to do that. We had a lot of fun with it.''
''The good Lord has blessed me to have some success and any way I can give back... This gives me a little bit better platform when I go to talk to people about horses and what they can mean in their lives and how they should treat them. Anytime you've been recognized at a national level, it gives you a little more credibility when you start to talk to people. It's a great honor.''
Founded in 2015, the Greatmats National Award Series is the first of its kind to recognize such a diverse group of individuals for both their positive professional and community influence. Learn more about the
Greatmats National Award Series
, including past winners and nominees.
Greatmats.com is a national specialty flooring industry leader based in Milltown, Wisconsin, since 1999. Greatmats gives back to its local community by donating 5% of its annual profits to local non-profit organizations. It also supports green initiatives through the use of solar energy at its Wisconsin headquarters and by offering a large variety of products made from recycled and renewable resources.
Tammy Smith
Fox Mask Basic Horsemanship
Chandler AZ 85286