VIP Prima Red Rubber Mat 3 x 5 feet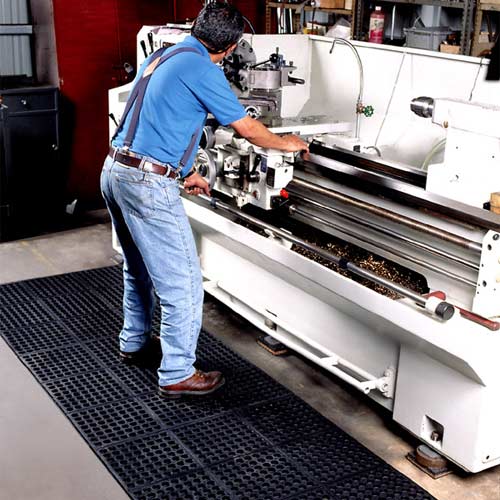 Excellent drainage
Available in light grease resistant and general purpose versions
Anti-slip and anti-fatigue
Ships Out: Estimate 2-4 Weeks on Average
TOP FEATURES
Excellent drainage
Available in light grease resistant and general purpose versions
Anti-slip and anti-fatigue
Lightweight and easy handling
Snap together to easily accommodate any area, even 90 degree turns
Built in connectors
Grease resistant
Use Types
Light Duty Kitchens, Light Grease Applications, Service Areas
NOTE: This item is a custom order and is not returnable.
The grease resistant, industrial VIP Prima Red Rubber Mat 3 x 5 feet is anti-slip.
VIP Prima Red Industrial Rubber Mats, 3x5 Feet

For a type of food service flooring mat that can stand up to harsh and wet conditions day after day, you can count on the performance of our VIP Prima Red Grease Resistant Industrial Rubber Mats. These perforated 3x5 mats offer high levels of performance in messy environments, keeping employees safe and comfortable.

The large drainage holes ensure that liquids will not stay on the surface of the industrial rubber mats for very long. This will keep an employee in a kitchen at a school cafeteria, galley, or commercial restaurant safer from the possibility of slips because of wet shoes.


Easy-to-Carry Commercial Wet Floor Mats

At a size of 3-by-5 feet, these commercial cafeteria mats weigh only 32 pounds, meaning one person can slide them around a large kitchen or factory area, moving them to wherever employees need them the most.

As an added advantage of the VIP Prima industrial rubber mats, they have a built-in edge connector system on each mat. This design greatly simplifies the process of creating a larger coverage area by simply connecting multiple mats together.

Customers can create layouts to match odd-shaped areas, such as at a workstation in an industrial setting or in a food prep area in a kitchen.

The connector system allows the customer to assemble a large section of mats quickly, but it also gives the customer the ability to separate the mats just as quickly.

For cleaning purposes or to move the industrial rubber mats to a new location in the building, separating them into a more manageable size is the best option, taking advantage of the lighter weight per mat.
Grease Resistant Red Kitchen Mats
The red version of the VIP Prima mats provides grease resistance, allowing customers to deploy these mats in an area that can end up with light exposure to grease. They will provide some protection against common oils found in a kitchen setting as well.
The VIP Prima black colored rubber matting offers many of the same properties as the red mats, along with the same connector system. However, the black mats only work in a non-grease exposed environment, as they do not offer grease resistance. The black mats are general purpose mats for food service and industrial areas.
Ergonomic Anti Fatigue Rubber Matting
Employees who must stand for the majority of the work day know the benefit of having a comfortable location with forgiving flooring. The right cushioning in the floors can yield a more enjoyable work experience, protecting the lower body joints of the employee from fatigue and soreness.
Workers who spend most of the day on an extremely hard surface may experience significant leg fatigue by the end of the day, increasing the chance of making an error or of becoming far less efficient.
An employee who repeatedly must fight aches and pains in the back, knees, ankles, and hips while standing all day is more likely to miss work as well.
Our 1/2-inch rubber mats provide just a little bit of cushion for employees, while remaining firm enough to support their bodies adequately. Flooring that is too soft can yield almost as many lower body joint problems as unforgiving, hard flooring.
Rubber has plenty of ergonomic benefits, as it encourages those standing on it to shift their weight periodically, which helps with blood flow in the lower body. This is a natural process that employees won't even notice as they're standing on the rubber mats.
The perforated holes in the mats allow liquid to drain through quickly, but they don't affect the integrity of the rubber, ensuring it will continue to deliver its anti fatigue benefits.
Restaurant and Commercial Kitchen Mat Specifications
Width: 3 feet

Length: 5 feet

Thickness: 1/2 inch

Coverage: 15 square feet

Weight: 32 pounds

Color: Red

Texture: Perforated
Maintenance and Care
Cleaning our industrial rubber mats does not require a long period of time, as they will not soak up grease and oil. This means customers can simply clean these unwanted materials from the surface, ensuring they are ready to use again the next day.
They do not soak up water, either, which further simplifies the cleaning process and which reduces the amount of time required for drying.
To clean the red cookhouse mats, use a deck brush with a mid-level stiffness in the bristles. Use warm water with a mild soap or detergent, and scrub the surface of the rubber with the deck brush. The manufacturer recommends cleaning both the top and bottom surfaces of these mats daily to remove all grease and oil.
Do not use harsh cleansers, de-greasers, or bleach on the rubber matting, as these items could damage the material. Because the bakehouse mats have grease resistance built into them, simple cleaning products will do the job adequately.
Do not wash them in a dishwasher. Do not use a steam cleaner on them more than once a week. Allow them to air dry after cleaning, and they will be ready to use again within a few hours.
Maintenance
Grease Resistant matting subjected to grease and oil must be cleaned, both sides, on a regular basis (daily for busy commercial use), with warm water, a deck brush, and a mild detergent absent of bleach, chlorine or butyl.
Shipping
Ships via ground delivery, larger orders may ship via freight.
Please review our shipping disclaimer.
SPECIFICATIONS
| | |
| --- | --- |
| SKU# | 2523-R35 |
| In Stock | Yes |
| Product Type | Mat |
| Material Type | Rubber |
| Product Edging | Straight |
| Thickness | 1/2 inch |
| Width | 3.00 feet |
| Length | 5.00 feet |
| SF per Item | 15.00 |
| Weight | 32.00 lbs |
| Packaging | Cartons |
| Number of Pieces per Package Type | 1 |
| Non Absorbent | Yes |
| Special Adhesives | No |
| Universal Interlock | No |
| Interlock Loss | 0.00 feet |
| Kid Safe | Yes |
| Interlocking Connections | Yes |
| Made In | USA |
| Surface Finish | Perforated |
| Surface Design | Solid color |
| Installation Method | Lay out flat, interlocking |
| UV Treated | No |
| Reversible | No |
| Border Strips Included | No |
| Manufacturer Warranty | 1 year waranty |
RELATED PRODUCTS