Interlocking Playground Tile Colors BB 2.5 Inch x 2x2 Ft.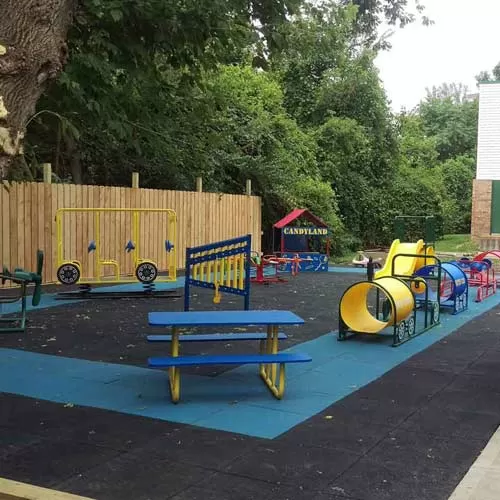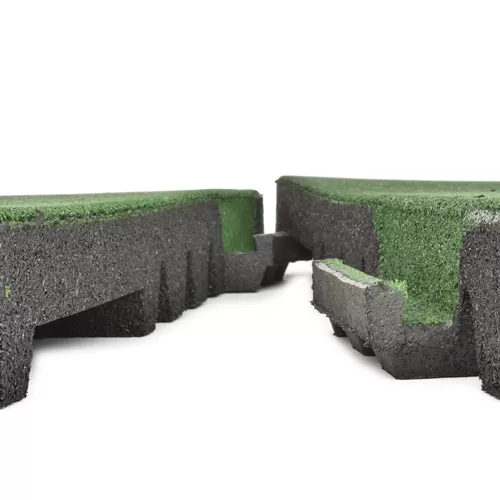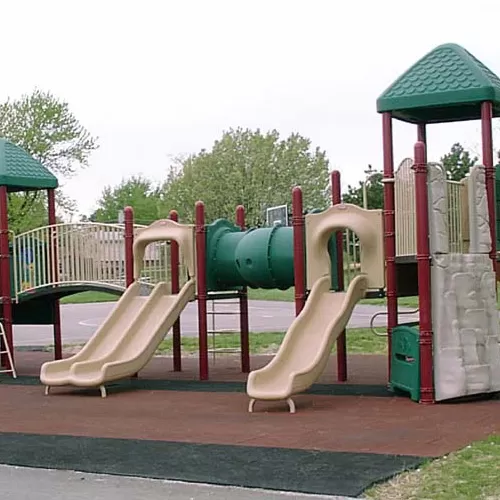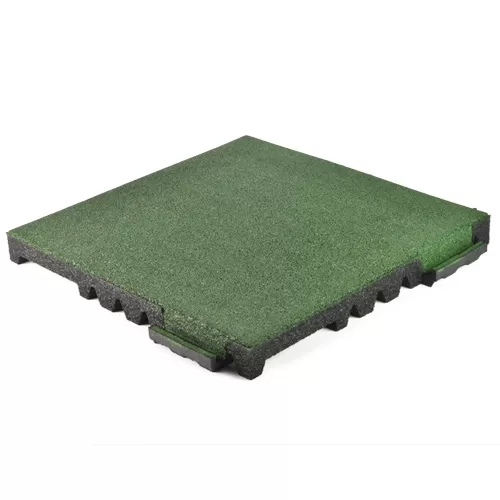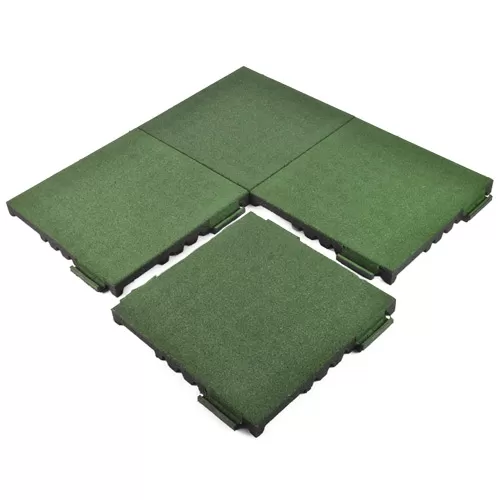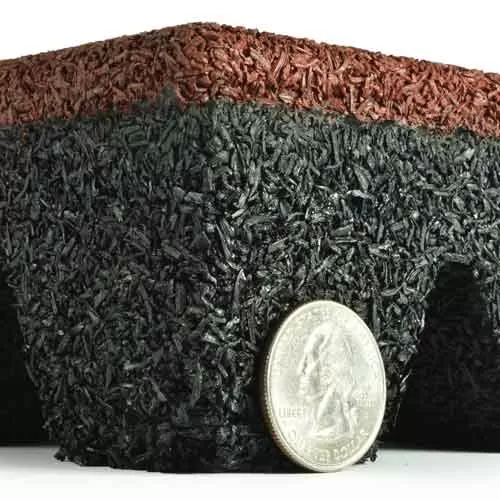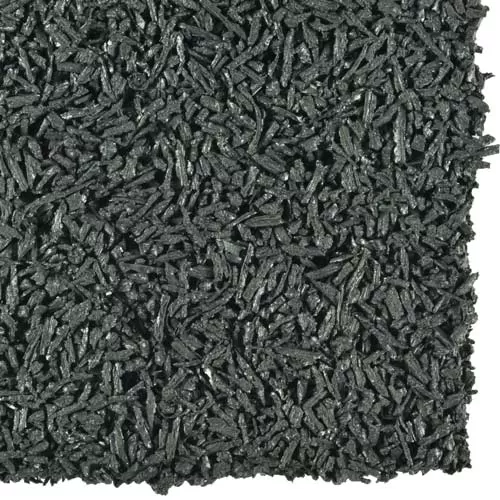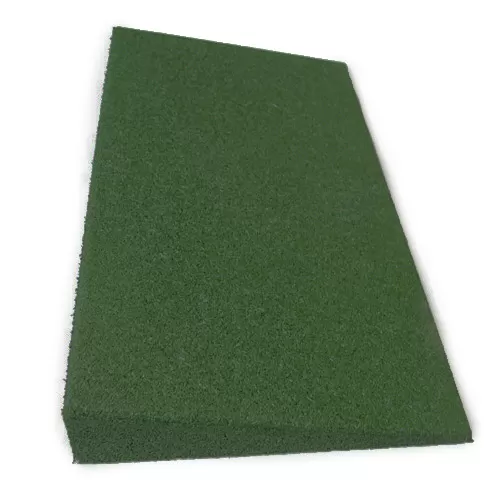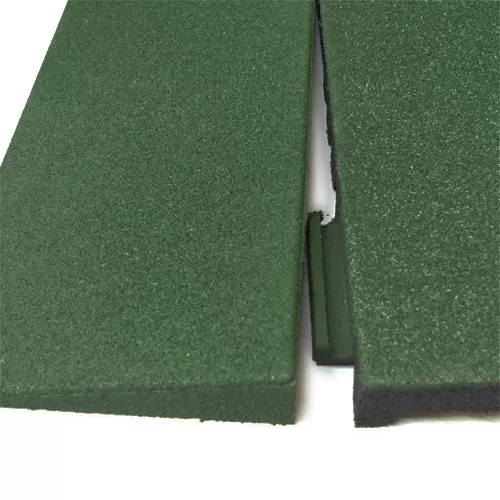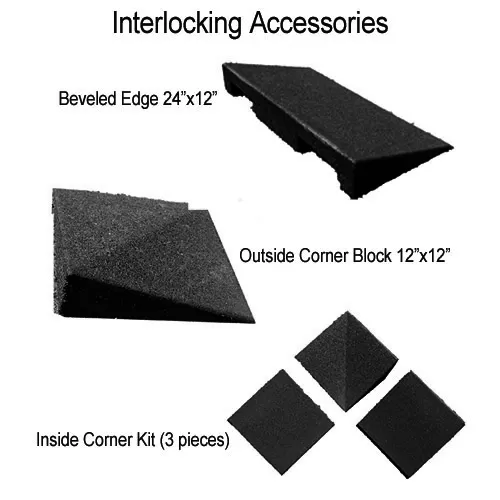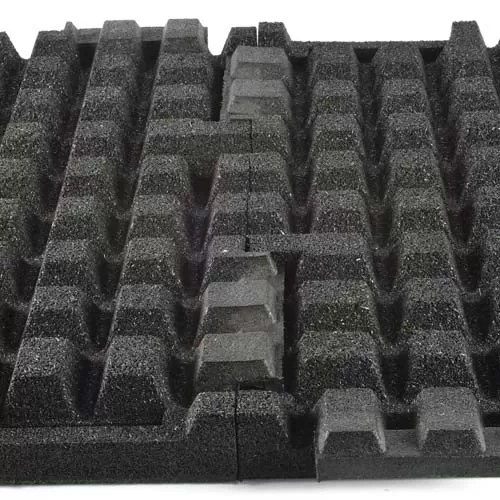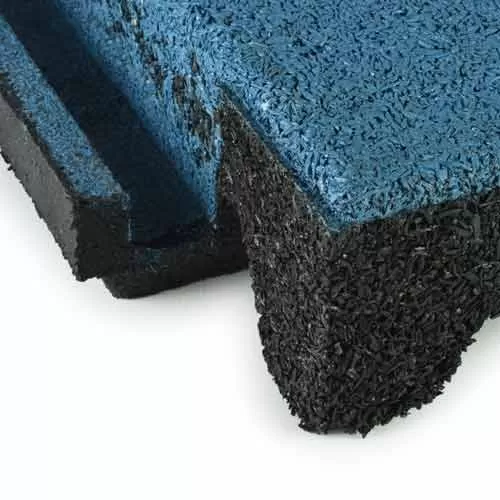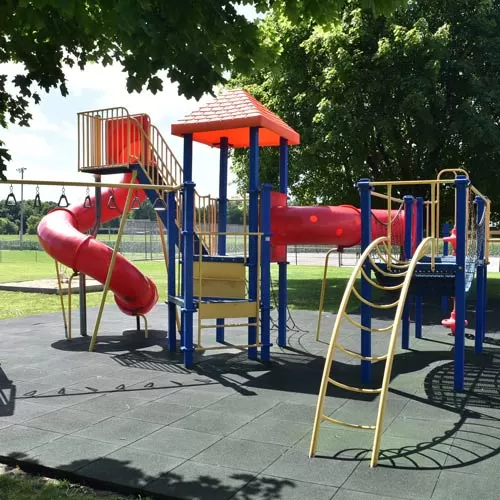 Meets ASTM F-1292-99 for fall zones up to 6 feet
Interlocking tiles
No daily maintenance required
$44.12
/tile
(You Save 20%)
Call for Better Price on Volume Orders
(13 Reviews )
Ships Out: Estimate 12-14 Weeks

Green

Blue

Red

Brown

Gray
VIDEOS
Interlocking Playground Bounce Back Tiles Features and Benefits Video
City of Elgin Iowa Interlocking Playground Tiles
TOP FEATURES
Meets ASTM F-1292-99 for fall zones up to 6 feet
Interlocking tiles
No daily maintenance required
Made in the USA with recycled content
Ships from the Northwest USA
IPEMA certified
Great option for west coast customers
Mix and match colors for a custom design
Use Types
Playgrounds, Patios, Rock Wall Climbing, Safety Areas, Skateboard Parks, Play Areas, Decks, Swings and Slide Areas
Interlocking playground tiles in colors are 2.5 inches thick and feature a 6 foot fall height rating. Interlocking playground tiles are designed to provide an impact absorbing resilient safety surface which is utilized in the fall area or safety zones around playground equipment.
Interlocking Playground Tile 2.5 Inch in Colors. This product is a great option for west coast customers, and ships from the Pacific Northwest.

Our interlocking rubber playground surfacing is a popular and dependable outdoor option that can be found in playgrounds throughout the country. It provides long-term safety while offering ADA accessibility when used with our ADA border ramp edging. This Ultimate RB rubber surface tile is also available in many varieties of thicknesses, with the largest being 4 inches.

Unlike other surfacing options such as wood chips or loose-fill sand or gravel, these tiles do not have to be continually raked to maintain a safe surface for your playground. The solid design of these playground surface tiles makes it impossible for foreign objects to hide out of sight. This provides a safer environment for children. Also, unlike poured-in-place rubber surfacing, you don't have to replace your entire surface if some of the higher-wear areas begin to wear down. If you have a tile that's wearing down because of heavy use (maybe it is under a swing set or at the base of a slide) you can simply replace that tile. No patching or excessive labor is required.
This interlocking tile is an excellent safety surface that is fall-height rated for indoor or outdoor usage. It will perform year-round in all weather conditions for years. In addition to black and these standard colors, this product also features colorful EPDM mixed color options that will enhance the appearance of any playground surfacing.
Fall Heights in Feet:
6 Feet equals 2.5 inch thickness
8 Feet equals 3.5 inch thickness
For 10 foot fall height, please see our Bounce Back Playground Tiles.
Made in the USA with recycled content, this interlocking rubber surfacing is sure to enhance the appearance of any playground. This tile is an excellent safety surface that is fall-height rated for indoor or outdoor usage. It will last for years and perform with whatever weather conditions you are faced with.
Each year over 200,000 children are injured on playgrounds in the United States. Many of these injuries result from children falling onto inadequate surfacing. Our Interlocking Playground Tiles take great steps to protect children while maintaining an attractive and durable rubber tile design. Outstanding features of these tiles include:
Safety: Our Interlocking Playground Tiles are designed to meet federally mandated Critical Fall Height requirements for playground equipment up to 8 feet tall. These rubber playground tiles have been certified to comply with these requirements by IPEMA through TUV/SUD, which is a third party, independent testing/certification laboratory. Additionally, the manufacturer conducts regular, in-house Critical Fall Height testing as part of their Quality Control plan.
No other playground surfacing material offers the degree of safety assurance that rubber tiles can provide. Wood and rubber mulch products are easily displaced, resulting in inadequate thickness/protection in large areas of the playground. They also present an undesirable and dangerous material that children can swallow, throw or kick. Poured-in-place products are subject to climatic variation during installation, which makes the durability and lifespan of the material unpredictable. These tiles are produced to eliminate these problems and offer the assurance of safe surfacing for children's play areas.
Color Options: Interlocking tiles are available in EPDM, and standard color tops. The first is a surface wear layer of colored EPDM rubber granules. This option includes the EPDM colors. A second color option is a surface layer of colored tire crumb rubber. This economical option includes Black, Red, Blue, and Green. Different colors can used in combination to create very appealing playground designs to enhance the ground level play options for children.
Design Flexibility: With a full complement of ancillary shapes including inside corners, outside corners and beveled edges, Interlocking tiles allow for a multitude of playground design options.
Durability: Made from durable SBR tire rubber, Interlocking tiles offer durability unmatched by any other surfacing option. They will provide a safe surface for children to play on for many years.
For added protection against both vertical and horizontal shifting of the installation sub-floor, the interlocking feature can help prevent gaping and provide a uniform appearance for the playground surface. The interlocking mechanism is very easy to utilize and requires no special effort or technique during installation.
Installation Ease: Interlocking tiles can be easily and economically installed over a variety sub-surfaces. Once an installation sub-surface has been properly prepared, the tiles can usually be installed by the customer's maintenance crew. This cannot be said of poured-in-place surfacing, which requires expensive contractors and specialized equipment to effectively install.
Maintenance Ease: Interlocking Tiles are virtually maintenance free; there is no need for time consuming maintenance or expensive annual replenishment like mulch products. Most cleaning simply involves a broom, garden hose or leaf blower. Replacing damaged tiles is as easy as removing the tile and installing a new one. This is not the case with other playground options which require costly and unattractive poured-in-place surface repairs.
Moisture Permeability: Interlocking Tiles are designed to allow rainwater to flow through the tile surface and away from the playground, as opposed to forming puddles on the surface. This allows children to resume play after bad weather sooner than they could on other surfaces such as poured-in-place.
Environmental: Interlocking Playground Tiles are made from 100% recycled rubber and a specially engineered polymer binder. Because of the high level of recycled material in each tile, these products meet and exceed the requirements set forth in U.S Executive Order 13101, Greening the Government, and they can be a contributing factor towards LEED Green Building certification.
American Made Quality: We are proud to state that these Interlocking Tiles are made in the USA. These playground safety tiles are covered by the manufacturer's industry leading 10 Year Limited Warranty.
Ships on 52x76 inch pallets. Generally LTL carriers will only deliver two of these pallets on the same truck. When a customer requests lift gate delivery for interlocking tiles the total delivery amount is delivered over the period of a couple of days. This makes the freight cost very high. If the number of pallets is high it is generally better for the end user to rent a forklift in order to offload.
These outdoor rubber tile are manufactured using recycled rubber buffings or crumb rubber from reground automotive tires. Black or color from the rubber material will rub off to some extent under normal use. This is common contact wear with this type of rubber tile in this product family type. All pigmented colored rubber tiles for outdoor and indoor use will experience some color ambering under UV exposure and some circumstances of color coming off.
Shipping
Ships via freight delivery, shrink wrapped on pallets.
This Product Ships Freight Only.
Please review our shipping disclaimer.
ACCESSORIES
Accessories for INTERLOCKING PLAYGROUND TILE COLORS BB 2.5 INCH X 2X2 FT.
ANSWERS
Product Questions:
Q: How would this surface stand up to Phoenix summer 121 degree heat? Will it melt? Will it remain cool to the touch for infants and toddler play?
A: The tiles will not melt, and are used in southern climates, they will get warm to the touch, use a lighter color to stay as cool as possible, use shade structures where possible.
Q: What about toxic fumes or gases? Are there any materials in the rubber which are harmful to humans?
A: The base material is recycled rubber tires and the glue is a urethane based formula. Designed for exterior installations or well vented installs in doors.
Q: If coustomer request for any kind of design on the surface of the rubber,can you provide? Thanks a lot.
A: These rubber playground tiles can only be ordered in solid colors.
Q: Can these tiles be safely placed over concrete?
A: The interlocking rubber playground tiles work great installed over concrete.
Q: Can these tiles be placed on a rubber membrane roof top?
A: Possibly, depending on the roof structure. Please reach out to a member of our team to further discuss this.
Q: do you sell any playground tiles that have the hopscotch squares or know who does?
A: We do not offer this as an option with our playground tiles.