Martial Arts Inspiring Story - Brett Hendrix
By Created: July, 2017 - Modified: April, 2018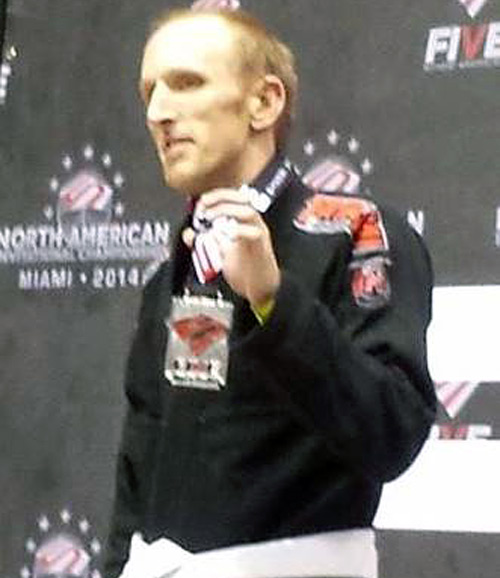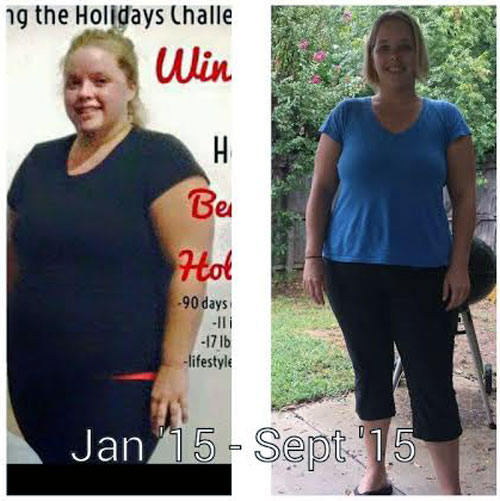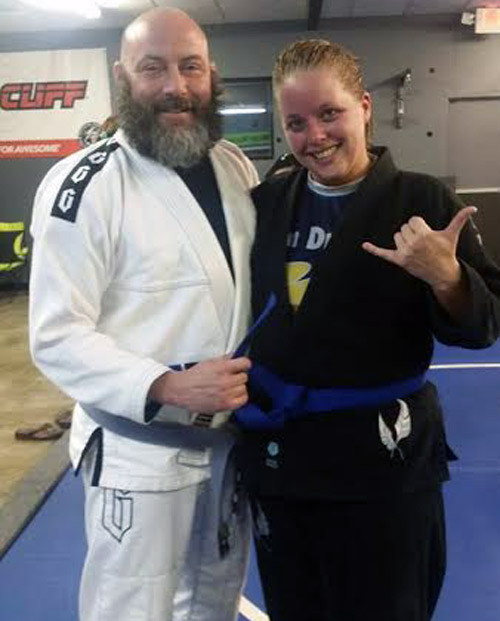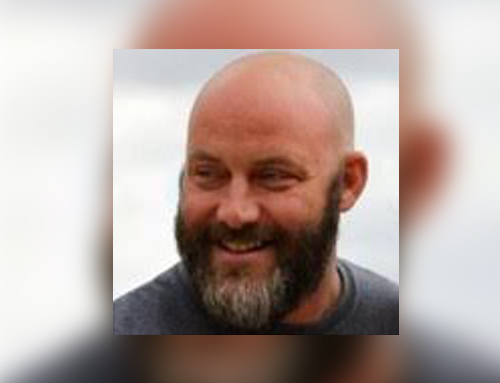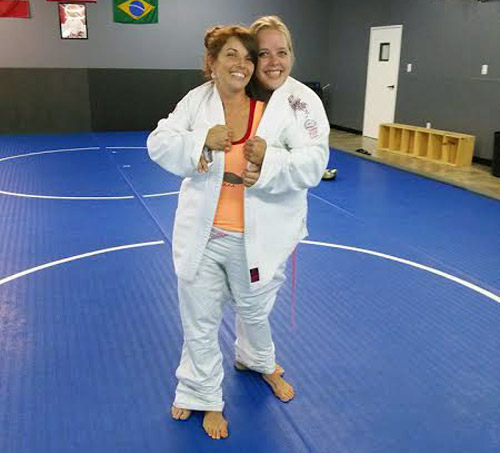 A year and half ago, my wife Sara and I had reached a crossroads that neither of us was prepared for. After eight years of marriage and numerous attempts to conceive through different methods of conception and fertility treatments, we found ourselves hopeless and broken - physically, spiritually, mentally and financially.
Being laid off from my job added fuel to the fire, and bad turned to worse. We ended up living in a pay-by-the-week hotel, living hand to mouth. The fertility drugs, along with comfort eating to battle depression, had caused Sara to gain a lot of weight, up to 327 pounds. I was the complete opposite, 5'11'' and weighing in at a whopping 125 pounds. At 38, I was already a 25 year smoker. My last workout was in 1998 when I left the Air Force. We were both a wreck. We needed a positive change.
It was at this time that Sara was contacted by an old friend named Stephanie. It seemed her husband Chuck was going to be opening a gym and needed to have a t-shirt designed for the grand opening. Throughout the process, I had Sara enquire about us being able to join the gym. I figured it may be good stress relief for us both. I assumed it would be the typical gym with weights, treadmills and other assorted workout machinery. I didn't know the first thing about Muay Thai or Brazilian Jiu Jitsu.
My first day at the gym, it was only myself and coach Chuck Adam. I was surprised when he grabbed a kick pad and had me join him on the mat. Where were the weights and the soccer moms on tread mills?
He had me start with simple kicks to the pad. After a mere 30 seconds, I was forced to stop and catch my breath. How embarrassing! And, due to a previous compound fracture to my arm, scar tissue in my wrist made pushups next to impossible. I left that day feeling even more defeated than ever.
Two days later, Sara and I returned together for her first class. Again, I left feeling defeated, but this time I had a partner to share in my misery. We both had a hard time walking up the three flights of stairs to our apartment. Yet, the pain and soreness somehow reminded us both that we were alive and there was more to life than being sad about the things we couldn't change or had no control over... and we persisted.
After several weeks of Muay Thai classes and watching the Jiu Jitsu classes as we were changing, I was asked if I'd like to try a class. Reluctantly, I agreed. After having my butt handed to me by a tiny little lady named Beth, I realized I was nowhere near the man I thought I was. I was ashamed of how far I had let myself go and how terribly out of shape I was. But, that shame motivated me, and I kept going to class.
A couple of months later, Sara finally decided to try a class. She was very self-conscience about her weight and even more uncomfortable with having strangers in her bubble. She ended up feeling the same as I did, defeated and embarrassed, but she too used that feeling of defeat as motivation... and we persisted.
A few months into our training, Sara and I both were feeling a bit better about our prospects, at least as far as the gym was concerned. Sara had lost a few pounds, and I had managed to gain a little bit of cardio. We had increased our training days from two days a week to four. Both of us had gained a little bit of self-determination and drive. We were smiling again. We had purpose and were hell bent on improving ourselves. Then entered Tyler.
Every night when we would get home from the gym, we noticed a group of teenagers hanging out on the steps on the way up to our apartment. One young man seemed completely out of place amongst the would-be ruffians. He always ensured that the rest moved out of our way and even offered to help us carry up our bags and groceries on occasion.
It was during one of these meetings that he noticed Sara's gym bag and asked what sort of training we were doing. When we told him that we were training in BJJ, his eyes lit up like a kid at Christmas. He said that his dream was to one day compete in the UFC. From then on he would be there on the stairs every night when we got home. He'd ask what we had learned that night and if we needed a hand with our bags.
Finally, I invited him to come to the gym with us. He was quite sullen in informing me that his parents couldn't afford the gym fees. It broke our hearts. Having financial burdens of our own, I understood the situation and his disappointment. Even so, we told coach Chuck about Tyler and asked how much it would cost to start bringing him with us. Coach Chuck was kind enough to let us add Tyler as a family member at a greatly discounted rate.
That night when we got home I asked Tyler to introduce us to his parents. We told them of the situation and that Sara and I would be happy to pay his gym fees if they would allow him to train with us. Two of our teammates also thought so much of Tyler that they both donated gis to him. We have since become very close friends with his family, a blessing in its own right. And, for a man who was not blessed with children of his own, having anyone, let alone such a fine young man as Tyler, look up to me has been amazing. I try harder every day to live up that. I love him like he's my own son and am proud to have watched him train and grow this past year. It has truly meant the world to me.
Now, fast forward to the present. We train five if not six days a week. Sara has lost 130 pounds! She has become a beast on the mat and has competed in two tournaments, taking gold in her second! She has more drive than anyone I have ever met. It's as flattering to me as it is her when people mention how good she is looking and how proud they are of her. She is truly awe inspiring and my greatest inspiration.
I have also gained more confidence than I dreamed imaginable. Though I still have worlds to go, I can now get through fitness class, Muay Thai class, BJJ class and still roll six rounds at 5 minutes each. That's far greater than the 30 seconds I would last when I first started. I have also competed in two tournaments and took a bronze and a silver. Oh yeah, Tyler also won three medals (one gold) in his first tournament!
Aside from being in the best shape of our lives, learning valuable self-defense techniques, acquiring much needed self-respect and discipline (which cannot be overvalued), it has been the personal connections that we have made with our training partners and coaches that has had the greatest impact on our lives. It is through these amazing men and women that we have achieved our set goals and created even greater ones for the future. Each one of them is an inspiration both on and off the mat.
They push us not only to be better practitioners of our beloved sport, but to be better people. We are forever grateful to Peak Performance in Southlake, Texas, and look forward to many more years of training with our BJJ family. Our gratitude to coach Chuck Adam and Beth Spanggaard Willars can never be overstated.
Thank you so much for always pushing us to give our all and be our best. We are forever grateful. And, to our teammates, we stand in awe of you all. We truly appreciate the time and effort you have all put in to help us learn and grow. You are all warriors in my book and we feel honored to able to train with you all.
Our story may not be worthy of a prize, but I truly hope that it can inspire someone who happens to read it. We've already attained more through our BJJ journey than we ever expected. Remember, even in the darkest of places, a single flame can create an enormous amount of light. That flame for us has been BJJ. Perhaps it can be yours as well. If not, I sincerely hope you find your own flame to fan. Cheers.
Vote here by ''liking'' or ''commenting'' on the photo
Brett Hendrix
Peak Performance MMA
Southlake TX 76092