How Do Rubber And Vinyl Stair Treads Compare?
By Lisa Hobbie Created: January, 2021 - Modified: August, 2021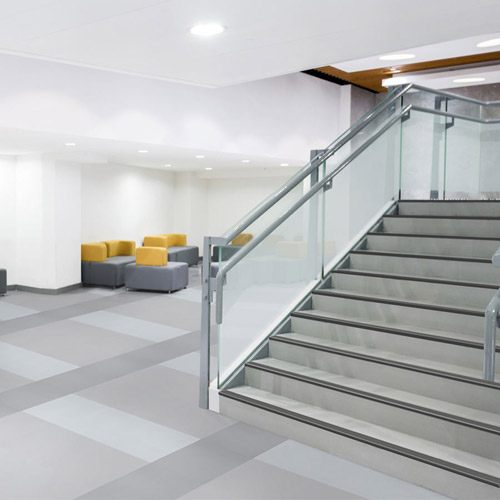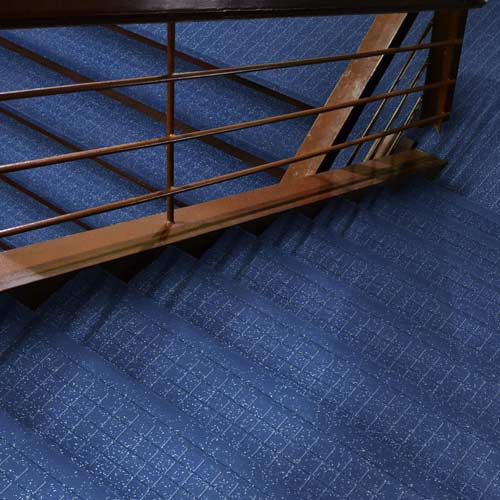 A
stair tread
is the portion of a step or set of stairs that is walked on. These horizontal sections should be covered in a tread that prevents slipping and preserves the stairs. One of the most popular materials used for stair treads is rubber, as it offers slip resistance and traction.
How Do You Attach Rubber Stair Treads?
Where rubber stair treads are not all the same, some basic installation guidelines serve for all. Before going through the process of actually installing rubber stair treads, good preparation is imperative to ensure a good installation. Make sure to inspect the products for quality and potential defects. Keep the products in a suitable environment until beginning the installation process. Then, read complete installation instructions accompanied by each product and follow all instructions and guidelines.
The first step is to make sure the subflooring on the steps is smooth, firm, flat, clean, dry, free from defects, free from oil, free from paint and old adhesive, free from drywall compound, and free from any other chemical, residue, or foreign matter. If the existing steps show any imperfections, it is important to apply a suitable smoothing compound to ensure no irregularities show through to the surface of the finished floor. Each type of step or staircase may require additional or specific preparation, including -
Wooden Stairs: Must be smooth, flat, clean, and dry. They must be nailed securely and stable. Be certain to fill all cracks, deformations and depressions with a cement base patching compound. Make certain to thoroughly clean all steps thoroughly before installation of new material. Remove old glue and adhesives by mechanical means only.
Concrete Stairs: It is recommended to perform a bond test. Fill all cracks and imperfections with a cement-based patching compound. Prior to installing, power troweled, slick finished concrete steps must be sanded and roughened up. Curing compounds are mechanically removed, as they can prevent adhesives or sealers from forming a proper bond.
Steel Stairs: A wire brush should be used to clean the steps. Be certain to remove all rust, sealers, coatings, and contaminants.
Once the stairs are prepped completely and ready for installation, apply adhesive - either tape or glue - per product instructions. Once applied, position and place the tread onto the step, starting at the nose and pushing back and pressing down until it is in place. Then, roll it to ensure good adhesion. Make sure the treads fit tight to the nose and are adhered to the nose. Once the treads have been installed, roll again using a hand roller - pressing down firmly to make them extra secure. Make certain to remove any excessive adhesive immediately.
Once the installation is complete, sandbag any areas where needed to insure bond in seams, edges, or potential problem area. Keep all foot traffic off of the treads for at least 12 hours, and keep heavy foot traffic off for 24 hours. Don't allow heavy equipment or rolling loads on the treads and don't perform maintenance for a minimum of 72 hours.
Are Vinyl Stair Treads Slippery?
Although rubber is often a popular stair tread material, vinyl is another viable choice. Vinyl stair treads often employ molded patterns into their surfaces to add traction and anti-slip features. Any surface can become slightly slippery when wet, but good quality vinyl stair treads are manufactured in a way to prevent excess slippage.
Vinyl is not slippery when compared to many other surfaces, and it is affordable and easy to keep clean.
Which Stair Treads Are The Best?
Greatmats offers a variety of rubber stair treads and vinyl stair treads that are among the best on the market. The most popular 4 products are:


Linear Series Commercial Rubber Stair Treads
Linear Series Visually Impaired Safety Rubber Stair Treads
Endura Flexsibles Rubber Stair Treads
Linear Series Commercial Vinyl Stair Treads


Linear Series Commercial Rubber Stair Treads provide quality and functionality with their grooved surface for improved traction and aesthetics. With high slip resistance and comfort, as well as sound dampening qualities, comfort, and safety - these rubber stair treads really do provide it all.
These rubber stair treads come in many decorative, earth tone colors, like shades of grey, blue, beige, and green. They are suitable for any commercial or residential space where heavy foot traffic is present.
The product requires a glue-down installation and results in a product that provides safety and comfort.
Made in the USA with various length options and matching components available, this product offers options for just about any indoor space or place like schools, institutions, hospitals, office buildings, public areas, government buildings, and more.
The rubber material is eco-friendly, designed with the use of natural resources and minimizing long term effects. Made with 23 percent of raw material these treads provide several LEED points. These rubber stair treads will cost about $52 per square foot to purchase.
Linear Series Visually Impaired Safety Rubber Stair Treads meet all ADA guidelines for safety stair treads. They feature a unique, grooved surface for improved traction and a 2 inch abrasive safety strip that is available in 9 attractive colors.
These rubber stair treads are stable, firm, and slip resistant. They come in various length options with matching components available. Like the Linear Commercial Treads, these boast high durability, comfort and safety. This product also features the unique, one-of-a-kind rubber formulation that is highly slip resistant and comfortable while dampening the sound of foot traffic.
This product is also eco-friendly, designed win the same manner as the previous product and made with roughly 1/4 raw material, making it eligible for LEED points. These rubber stair treads will cost about $64 per square foot prior to installation.
Endura Flexsibles Rubber Stair Treads are 6-foot stair tread covers that are commercial, slip-resistant treads. They provide consistent comfort and durability on your home or business staircases. Sculptured or LVS Square surface profiles are available in 17 color options and provide a 10-year limited warranty.
The Endura treas are unique in that they contain a built-in wax that emerges over the life of the product - reducing soiling and the need for repeated waxing and stripping.
This rubber requires a glue-down installation process. Once installed, it is extremely low maintenance. This product is used worldwide, as it is one of the best values you can buy at less than $15.50 per square foot.
Greatmats also offers superior vinyl stair treads. The Linear Series Commercial Vinyl Stair Treads perform really well in commercial settings. They thrive in areas of high foot traffic by providing outstanding slip-resistant qualities and increased comfort. They also dampen sounds from clicking shoes and echoey conversation.
Like the other Linear products, these vinyl stair treads also are eco-friendly and designed to minimize long-term effects of the use of 23 percent of raw material. These vinyl stair treads are made in the USA and will cost under $40 per square foot.
Greatmats - for Rubber Stair Treads and Vinyl Stair Treads
If you have a staircase in your home or office, the rubber stair treads and vinyl stair treads from Greatmats improve the look of the staircase and help increase slip protection and protect the stairs from heavy foot traffic. Stair treads also reduce the number of scratches and stains that damage the surface of certain subfloors and stairs, and they help to therefore minimize maintenance costs on the stairs.
If you're looking for stair tread covers that will improve the look and safety of a staircase and protect the stairs, Greatmats offers a number of fabulous solutions. Where the 4 products highlighted are the most popular rubber and vinyl stair treads for commercial settings, Greatmats offers additional options for home or office that are easy to install with anti-slip properties. Take the Endura Solid Color 4 Foot Stair Treads for example. For clean, classic, solid color stair tread covers, this product is perfect. These rubber treads are commercial grade, stable, firm, and slip-resistant. They are also easy to clean and maintain.
Rubber and Vinyl Stair Treads are a superior choice for stair tread covers with round and square nosing options. They add a beautiful, professional look that provides insulation and cushion for walking comfort in a home or business. They resist scuffing, gouging, cigarette burns, and most chemicals and are offered in rubber or vinyl options. Once installed with a simple glue-down process, these products are very durable and long-lasting.
Whether one of the listed stair tread products suits your budget, needs, and preferences, or, if you want to explore other options, keep in mind that Greatmats has unbeatable quality and service. Friendly and knowledgeable agents are standing by - just waiting to answer your product questions and help you determine which rubber stair treads or vinyl stair treads, or, alternative products, are right for you.