Honeycomb Medium Duty Brown Mat 3x4 Feet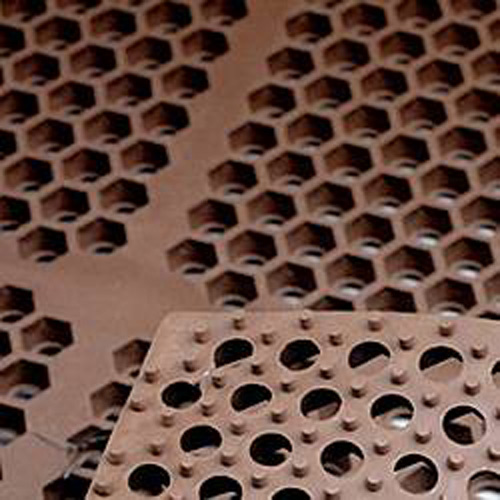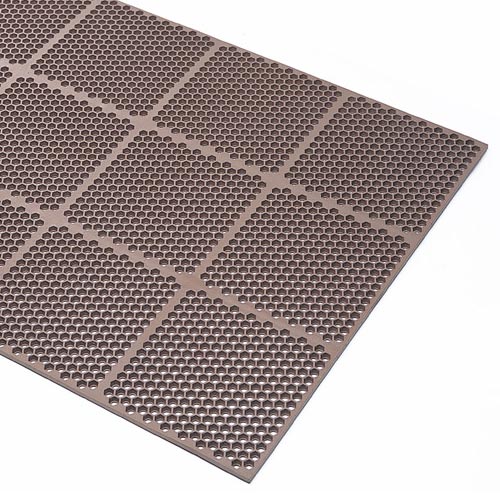 Honeycomb design adds product strength
For light to medium applications
General purpose mats for use in non-grease applications
Ships Out: Estimate 4-6 Working Days
TOP FEATURES
Honeycomb design adds product strength
For light to medium applications
General purpose mats for use in non-grease applications
Anti slip traction
Excellent drainage
Use Types
Light Duty Kitchens, Bars, Prep Areas, Waitress Pick-up, Assembly Lines, Behind Counters
NOTE: This item is a custom order and is not returnable.
Honeycomb Medium Duty Brown Mat 3x4 Feet includes a versatile and durable hexagonal surface design, making these mats a great 3x4 honeycomb anti fatigue mat. This brown honeycomb mat also features hundreds of raised bottom knobs. This innovative design feature improves the comfort of the mat, thereby making it a great ergonomic kitchen mat. These drainage anti fatigue mats will provide hours of comfortable support to workers in a wide range of light to medium work applications.
Honeycomb Perforated Anti Fatigue Kitchen Mats, 3x4 Feet

Finding comfort and anti slip capabilities in standing mats with large numbers of perforation holes is not easy, which makes our Honeycomb Perforated Anti Fatigue Kitchen Mats highly popular choices in areas where people must stand and work where spills may occur.

Our brown rubber anti fatigue kitchen mats use a honeycomb pattern in the perforations that ensure the mats easily can support the weight of someone standing on them, even though the holes in the mat occupy the majority of the surface. The honeycomb shape provides greater stability than other shapes.

Having hundreds of perforations in the surface of each mat encourages a faster drainage process in areas where standing water often is a problem. This ensures the person standing on the mat will not have constantly wet feet, which reduces the chances of slipping when stepping off the mat.

In addition, the rubber material the manufacturer uses in constructing our anti fatigue kitchen mats provides a sure footing. Even when working in tough environments in a restaurant setting, a bar, or a home kitchen, the rubber in the mat will help food preparers resist slipping.
Multiple Potential Use Cases for Our Brown Rubber Mats
These anti fatigue kitchen mats are usable in a wide range of situations. They do not absorb water, so they will work in areas with significant moisture.
Additionally, the underside of each mat has pegs that raise the base of the mat a fraction of an inch off the subfloor. When water drains through the perforations, it will reach the subfloor quickly. The pegs create a natural channel for the water to flow away toward the floor drain.
The pegs provide anti fatigue capabilities for the person using the mats as well. Rather than being flat against the subfloor, the pegs ensure the mats will have a little more give to them than mats that are flat to the ground. Yet, the design does not sacrifice stability.
By having a bit of give in these anti fatigue kitchen mats, we can deliver a higher level of comfort for customers. Those using the mats will have reduced pain in the lower body joints, like the ankles, knees, and hips. This allows them to work for longer hours comfortably.
Our customers for these mats include commercial restaurant kitchens, laundry facilities, stations for dish washers, food prep areas, hostess stations, waitress stations, food service areas, bar service areas, and other places where people must stand for long periods of time.
Large Amount of Coverage Space
With mats each measuring 3x4 feet, customers are able to move around a little bit and reach kitchen utensils and ingredients without having to leave the surface of the mats. To gain even more coverage area, customers can place multiple mats side by side. The mats have flat edges and slide tightly together without the need for adhesives.
In areas where customers want to protect items from possible breakage after a drop, laying out these rubber mats over a hard cement or vinyl subfloor will provide a cushioning layer.
This is a great idea in areas where waiters or waitresses may be juggling multiple glasses and plates. Should one fall to the floor, the rubber mats should protect the glassware.
It also works nicely in areas where people will be washing dishes, as soapy water can create a slippery situation. In addition, the mats protect those walking near the dish washing station from slipping in this wet area.
Medium Duty Brown Honeycomb Mat Specifications
Width: 3 feet

Length: 4 feet

Thickness: 9/16 inch

Coverage: 12 square feet

Weight: 22 pounds

Color: Brown

Texture: Honeycomb shaped perforations
Maintenance and Care
Caring for rubber mats is an easier process than with other types of flooring, which is one of the reasons they are so popular. When using these anti fatigue kitchen mats in areas where messy spills may occur, customers appreciate the ability to clean them quickly.
The best way to clean one of these mats is by using warm water and a deck brush. Avoid regularly cleaning the light duty commercial mat with a power washer, although customers can use a power washer occasionally. Do not fold the mat when cleaning it or place it inside a dish washing machine.
If the mat has soils on it, use a mild dish soap mixed with the warm water. Do not use cleaning solutions that contain bleach or chlorine. Do not use cleaning solutions that contain a degreaser, either.
Scrub both sides of the mat, as any soils or liquids that go through the perforations may cling to the underside of the mat. After cleaning both sides, lean the mat against a rack or another object that ensures both sides can air dry naturally.
Do not use these mats in areas that will have significant grease and oil exposure. They work for light- and medium-duty environments. They carry a one-year limited manufacturer warranty against defects, although they should provide a much longer level of performance with the proper care.
Maintenance
Clean both sides, on a regular basis, with warm water, a deck brush, and a mild detergent absent of bleach, chlorine or butyl.
Shipping
Ships via ground delivery, larger orders may ship via freight.
Please review our shipping disclaimer.
SPECIFICATIONS
| | |
| --- | --- |
| SKU# | 2535-B34 |
| In Stock | Yes |
| Product Type | Mat |
| Material Type | Rubber |
| Product Edging | Straight |
| Thickness | 9/16 inch |
| Width | 3.00 feet |
| Length | 4.00 feet |
| SF per Item | 12.00 |
| Weight | 22.00 lbs |
| Packaging | Cartons |
| Number of Pieces per Package Type | 1 |
| Non Absorbent | Yes |
| Special Adhesives | No |
| Universal Interlock | No |
| Interlock Loss | 0.00 feet |
| Interlocking Connections | No |
| Surface Finish | Drainage holes |
| Surface Design | Solid color |
| Installation Method | Lay flat |
| UV Treated | No |
| Reversible | No |
| Border Strips Included | No |
| Manufacturer Warranty | One year limited against manufacturing defects |
RELATED PRODUCTS