Diamond Runner Black per SF Custom Cut Lengths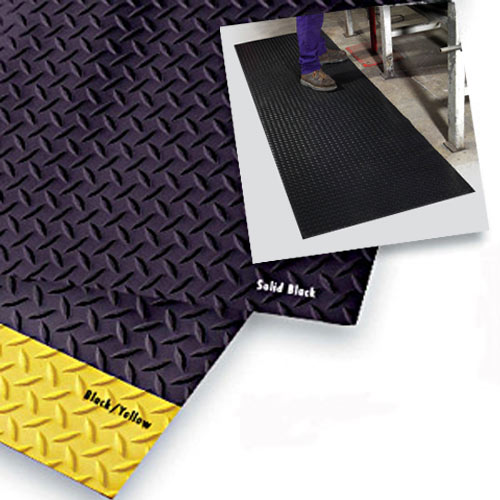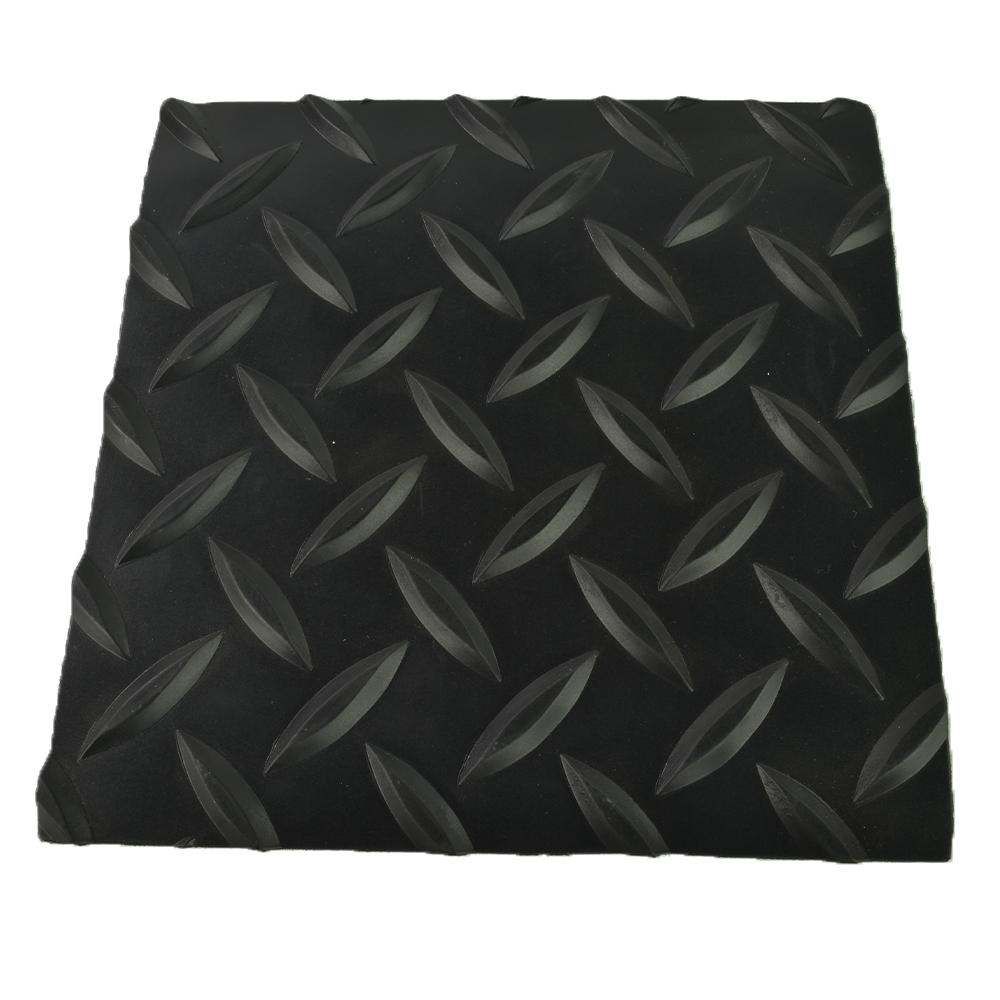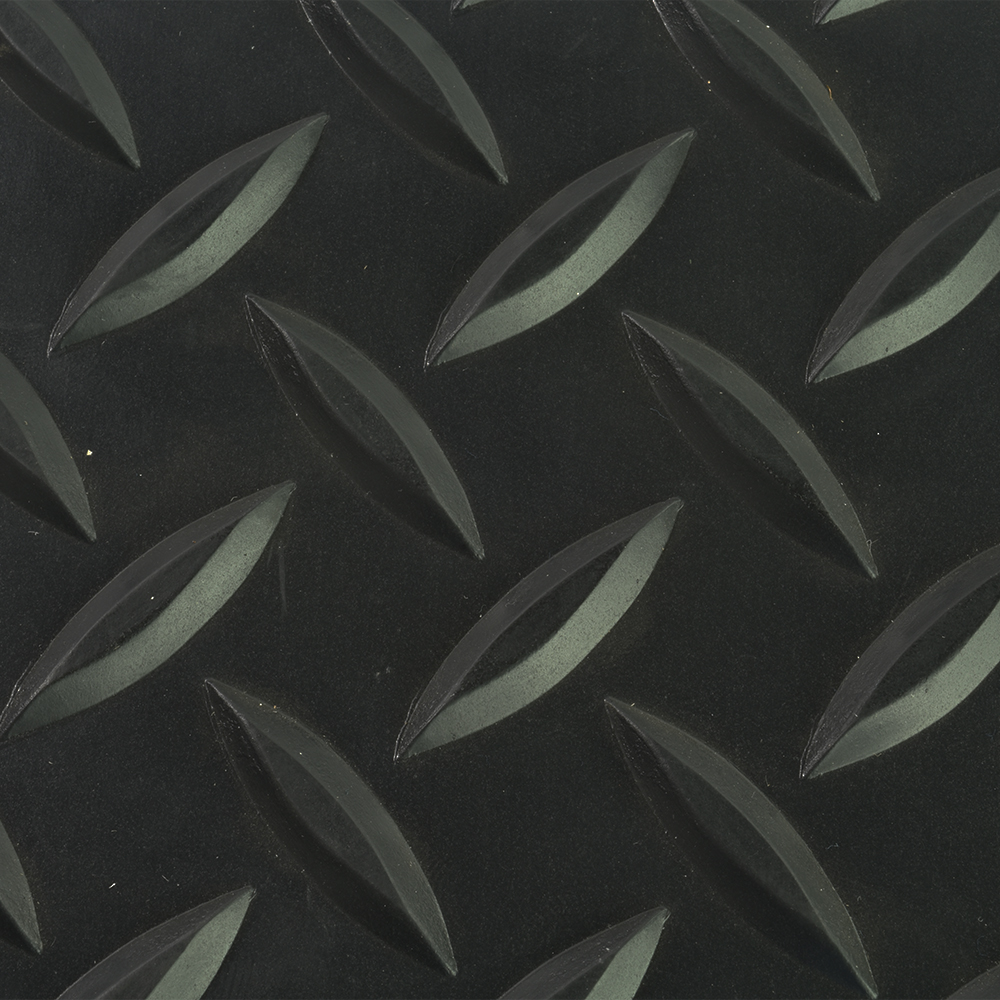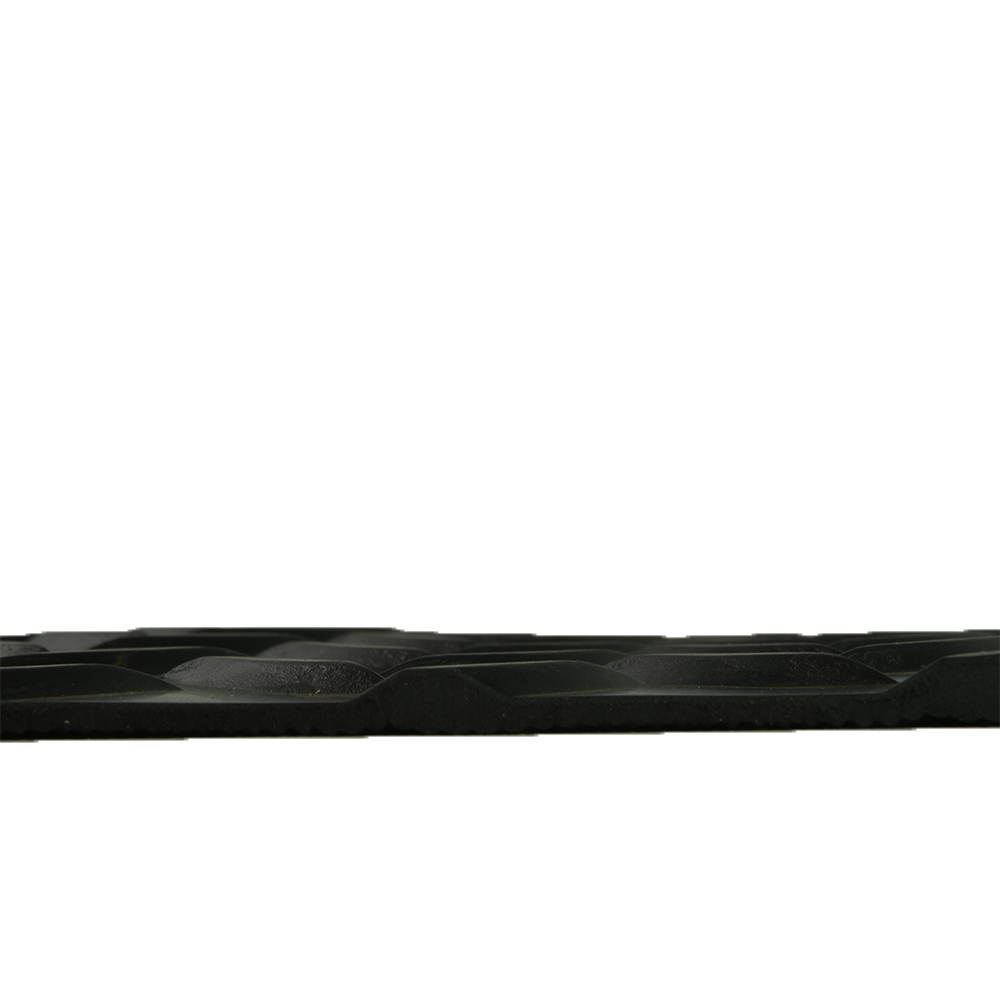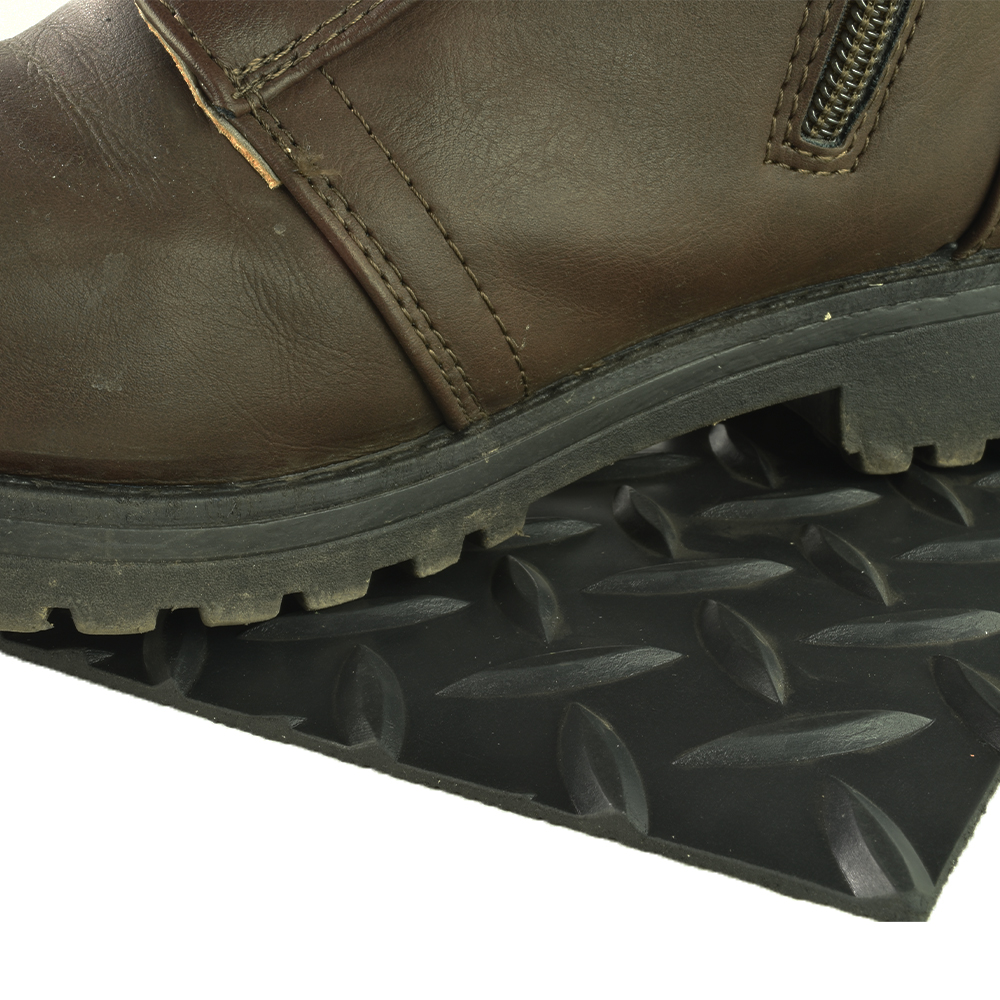 Made in the USA
Anti-slip traction
Water repellant
Handling Time Estimate: 3-4 Weeks on Average
Made in the USA
Anti-slip traction
Water repellant
Anti-fatigue
Wear resistant
Custom cut lengths available
Runner is 4 ft wide
Made from 96% recycled content
NOTE: This item is a custom order and is not returnable.
Diamond Surface Safety Runner, Black Diamond Anti-Fatigue Mat
When seeking an industrial anti-fatigue runner, the Diamond Runner Black per SF Custom Cut Lengths product delivers the perfect mix of anti-fatigue properties and texture to maintain a steady footing.
Our anti slip safety flooring measures 3/16 inches in thickness, while featuring a raised diamond deck plate patterned surface that provides incredible traction.

Additionally, it protects the sub-floor, reducing maintenance costs. The flexible 100% vinyl compound resists grease, oil, and common chemicals. These anti fatigue walkway mats are non-absorbent, so they will not soak up water either.

Use Cases
The primary use for these aisle safety mats is in walkways in an industrial setting. These mats only work for an indoor installation, as they are not UV treated.
Aisles:
Our black diamond anti fatigue mat is the perfect solution for creating an aisle or a walkway inside a building or factory where wet or high humidity conditions are common. People walking through the area with the wet conditions may not have the proper footwear for that area. But the diamond surface safety runner will give them the grip they need to move through the area safely using the mat as a walkway.
Avoid Tripping Hazards:
One of the nicest features of our industrial anti-fatigue runner is its thin profile. Because it measures only 3/16 inches in thickness, the Diamond Runner Black Custom Cut Lengths product can be laid out almost anywhere in a building or home without creating a tripping hazard. The thin runner has almost no lip that someone could trip over, unlike some other anti-fatigue mats that are much thicker.
Grip Surface:
The diamond surface safety runner has a textured surface with a slightly raised diamond pattern of alternating lines. In any area where you need to gain a grip that's better than the sub-floor, you can make use of the black diamond anti fatigue mat.
Factory Settings:
If you have a long working area at a factory, such as in front of an assembly line, using our diamond service safety runner along the length of the line will be a cost effective way to give employees a sure footing and some anti-fatigue properties in the flooring.
Large Coverage Area:
In places where you need to cover a large area with anti-slip matting, the black diamond anti fatigue mat is the perfect solution. It's available at a good price point because of the thin vinyl material used in its construction, so you can use the runner over large areas without spending a lot of money.
Temporary Safety Flooring:
Because our industrial anti-fatigue runner doesn't weigh a lot, you can move it from place to place or store it away when it's not needed and bring it out for special jobs. When you're seeking a temporary style of mat, the ease of moving the diamond surface safety runner gives it an advantage over some other types of anti-fatigue mats that are thicker and heavier.
Wet Areas:
The black diamond anti fatigue mat provides just the right amount of grip for those standing or walking on it in areas of the building that are wet. Rather than allowing employees to walk on a damp cement or tile floor where they could slip, this diamond surface safety runner will prevent slipping. This makes this type of flooring perfect for use in an area like a restaurant kitchen, for example, where you can lay the flooring down in front of preparation areas, so even if there's a spill, the flooring will continue to give employees a good footing.
Although our industrial anti-fatigue runner product will help in situations where employees must stand for long periods of time, we do offer thicker styles of high-quality mats that will provide relief for muscles. Just contact our customer service team to learn about all of the options we have for anti-fatigue mats.
Tough Materials
The vinyl industrial anti-fatigue runner will stand up to heavy foot traffic nicely. It is a Made in the USA product that features a 1-year manufacturer warranty. The all-black vinyl will continue to look good, even after heavy use.
Because the industrial anti-fatigue runner is tough and sturdy, installation is an easy process. With some mats that are soft and thick, it can be difficult to install them because the bendable mat is tough to carry. However, our runner can be installed easily because it's lightweight and easy to carry.
There is no need to use adhesives with the diamond surface safety runner when installing it. The tough vinyl material will lay flat easily with no curling of the edges, so no adhesives are required. A cheaper style of anti fatigue mat may not lay flat properly, which could create a tripping hazard for those walking past it.
The toughness of our industrial anti-fatigue runner provides an additional benefit that cheaper mats cannot match, in that the vinyl mat will maintain its consistency, even after periods of repeated use. You don't want an anti fatigue mat that remains indented after someone stands on it. Instead, the mat should hold its consistency and bounce back to its original shape immediately after anyone stands on it.
Finally, the black diamond anti fatigue mat will give you an excellent value over the life span of the flooring, as it will last a long time while remaining in good working order. Having a long lasting mat means less frequent replacement, enhancing the value of the original purchase.
Anti-Fatigue Properties
The black diamond anti fatigue mat delivers good results when you're trying to help workers avoid feelings of tired muscles and sore joints after they've stood to do their jobs for long periods of time. The Diamond Runner Black Custom Cut Lengths flooring isn't as thick as some other options for anti-fatigue flooring, but it still provides a nice advantage over sub-floors like wood, cement, or tile.
Some people don't like certain anti-fatigue mats, because they are too thick and too soft. These mats with a soft consistency may cause the person using them to sink into the mat too far, which causes a couple of problems. First, the worker could stumble or trip while trying to move after standing on the soft mat for too long. And second, the soft mat doesn't give the support to the legs necessary to deliver the anti-fatigue properties. You almost end up needing more muscle power to stand up and maintain your balance with the cheap, soft mat, leading to further muscle fatigue.
Our thin vinyl industrial anti-fatigue runner easily outperforms cheaper, soft mats by giving the person standing on it a sturdy base. You also won't sink into the diamond surface safety runner, so our mat eliminates the possibility of a stumble.
However, don't only count on the black diamond anti fatigue mat to give you the safety, muscle relief, and joint relief you're seeking with this style of flooring. You and your workers need to take other steps to ensure the most comfortable and ergonomic work environment.
Workers should shift positions regularly while working, which will cause them to use multiple muscle groups throughout the day, reducing the potential of muscle fatigue. And by using different muscles, the possibility of placing too much strain on a particular joint will be reduced. Make sure anyone who must stand for long periods while working will have proper footwear for supporting the body.
Cleaning and Maintenance
Another great feature of this diamond black flooring is that it requires very little maintenance. The vinyl materials used in the flooring are tough and will stand up to general use and spills without suffering damage.
For general cleaning of this type of flooring that involves dry debris, you can just sweep it with a standard broom or with a push broom. This should remove dust and other dry particles.
Some customers choose to clean the anti fatigue flooring with a vacuum cleaner. Some vacuums with extremely powerful settings could cause a discoloration or damage on the surface of the mat, so we'd suggest you test the vacuum on a small area of the flooring before using it on the entire installation.
Because these mats will not absorb water, you can use a mop or cleaning brush on them. Use a mop with warm water and a household cleaner that's safe to use on vinyl surfaces for a cleaning of the entire flooring. To work on a particular stain on the surface of the floor, you can use a soft-bristled scrub brush or sponge with hot water and household cleaner in that area.
Should the flooring become damaged, understand that it cannot be reversed. The diamond surface texture is only on the top of the flooring, so you cannot reverse the floor to hide damage.
Ordering Options
The diamond surface safety runner is offered in 4-foot widths and custom cut lengths. Just contact our customer service team when you're ready to order, and you'll be able to select a length to have shipped to you.
The Diamond Runner Black Custom Cut Lengths product weighs only 0.90 pounds per linear foot, so moving these black diamond anti fatigue mat sections from place to place is a relatively easy process.
Maintenance
Damp mop with general household cleaner.
Shipping
Ships via ground delivery, larger orders may ship via freight.
This Product Ships UPS Ground and/or Freight.
Please review our shipping disclaimer.
| | |
| --- | --- |
| SKU# | A410B-39-265-Custom |
| In Stock | Yes |
| Product Type | Mat |
| Material Type | Vinyl |
| Product Edging | Straight |
| Thickness | 3/16 inch |
| Width | 4.00 feet |
| Length | 1.00 feet |
| SF per Item | 1.00 |
| Weight | 0.90 lbs |
| Packaging | Cartons |
| Number of Pieces per Package Type | 1 |
| Non Absorbent | Yes |
| Special Adhesives | No |
| Interlock Loss | 0.00 feet |
| Interlocking Connections | No |
| Made In | USA |
| Surface Finish | Diamond |
| Surface Design | Solid color |
| Installation Method | Lay out flat |
| UV Treated | No |
| Reversible | No |
| Border Strips Included | No |
| Manufacturer Warranty | 1 year waranty |
RELATED PRODUCTS