The Best Aerial Mats for Aerial Arts and Gymnastics
By Lisa Hobbie Created: August, 2019 - Modified: August, 2023
Aerial exercise is not only amazing for building strength and flexibility in the participant, but it is beautiful and exciting for spectators. Aerial hammock conditioning, certain types of Pilates, gymnastics, dance, yoga, hoop exercises, circus, and fabric aerial conditioning are all activities that fall under the category of aerial activity and fitness.
These practices may seem super intimidating, but they can be very rewarding and fun. There is a certain level of caution that must be taken, however, as the potential for injury can be great – depending on the specific discipline. It is imperative the instructors and coaches are trained and knowledgeable with the ability to dictate the pace of the participants.
It is also very important that the facility in which the activity is practiced takes the necessary safety precautions to reduce the likelihood of injury from falling, landing incorrectly, or fatigue.
Aerial mats are absolutely necessary for activities that involve drops, swings, high-risk moves, tumbles, silks, ropes techniques, leaps, flips, or flying on or with any sort of apparatus. Not only do mats provide protection, but they also allow the athlete to have confidence as they perfect difficult moves.
There are many types of mats available, and different mats are better suited for different aerial activities. With the many different types, qualities, densities, and thicknesses of mats, finding one to meet your needs may be confusing. This may leave you asking, what are the best aerial mats?
Landing Mats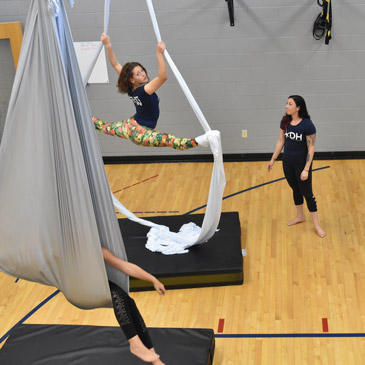 Landing (or crash) mats are for gymnastics, trampolines, acrobatics, martial arts, and more. The density of the foam when choosing a landing mat is very important, as a mat for a body-first landing will be much softer than one suited for a feet-first landing. Foam crash mats are very versatile and a good option for landing, jumping, tumbling, and falling.
Landing mats
come in a variety of sizes and thicknesses, and are often available in non-folding, bi-fold, or quad-fold. Non-folding mats are ideal for larger areas, while folded mats are nice when you want to move them or fold them for added thickness during training. For mats with folds, look for ones with connector strips built into the coverings to prevent injuries from stepping into cracks when multiple mats are connected together.
It is important to select a crash mat with soft and sturdy enough foam to ensure optimal shock absorption and mat performance. The mat should have a high-impact foam core with the ability to quickly compress – providing a safe landing zone for your athletes. It should then have the ability to return to its natural shape once the tumble is complete.
Landing mats should also contain a sturdy cover that will ensure a stable landing area – while also protecting the layers of foam underneath.
Foam Puzzle Mats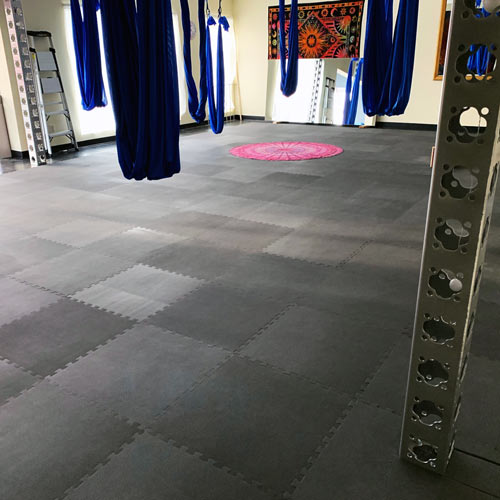 Foam puzzle mats
are a good option for exercise where a lower level of cushioning is suitable but still necessary to prevent leg and foot injuries. Aerial dance and some gymnastic activities are two examples of practices where foam mats are a feasible option. Puzzle foam mats provide excellent value and a soft matted flooring solution that can go over any solid surface. They provide anywhere from 10-38mm of cushioned thickness and a non-slip surface. Foam puzzles are easy to install and keep clean and are typically firmer than other styles of foam mats that feature a vinyl or denim-style cover.
There are also Foam Mat rolls, which are typically 1 to 1.5 inches thick and provide for an excellent subfloor providing rebound and cushion. Many facilities use this type of mat underneath other pads for extra cushioning or attach it to their walls – protecting athletes who may crash during practice time. These are available with either vinyl or carpet tops.
Greatmats – Providing the Best Aerial Mats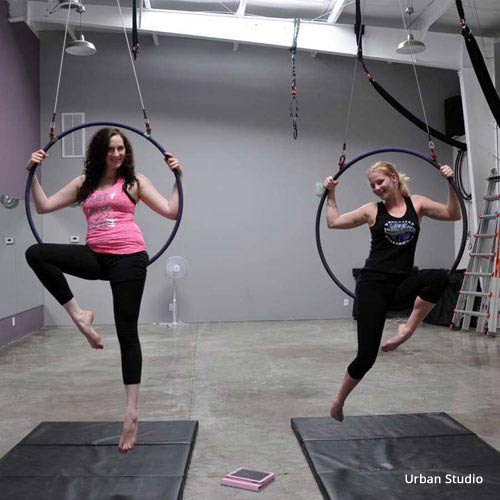 When it comes to the best quality and selection of aerial mats, Greatmats is second to none. Numerous coaches and instructors have selected Greatmats for their budget-friendly and customizable options – providing the exact thickness and width needed to address any and all safety issues.
Gymnastic floor mats are used in schools, pro cheer gyms, and pro training facilities all over the US. Offerings include a wide variety of landing mats that come in folding and non-folding options. Regardless of the size, thickness, and mat type you need for whichever aerial discipline you're providing, Greatmats certainly has what you need. Thanks to the Greatmats price match guarantee, you can also shop with confidence – knowing you'll never overpay for a product or find better service. When you're ready to explore options for aerial mats, please reach out to our customer service team at 877-822-6622.