Jennifer Simpson Named 2020 National Fitness Trainer of the Year
By Christa Brunnette Created: December, 2020 - Modified: November, 2022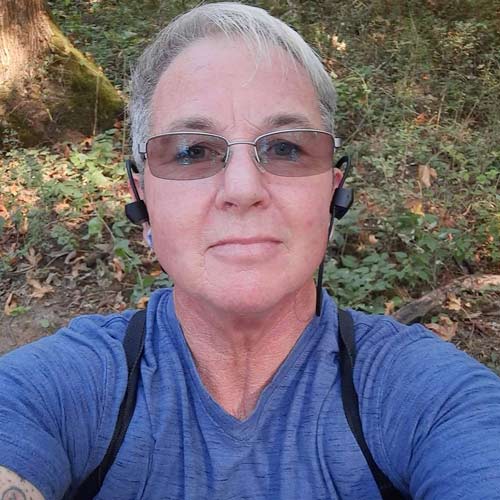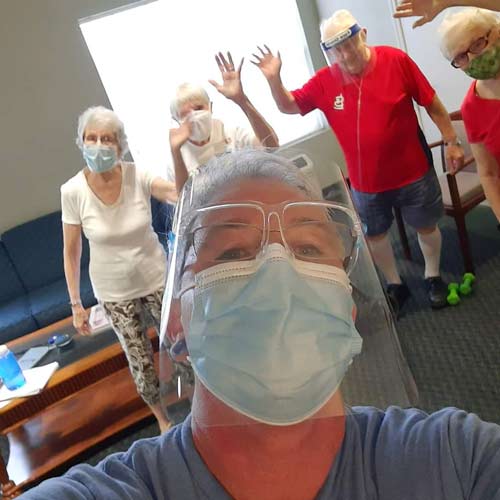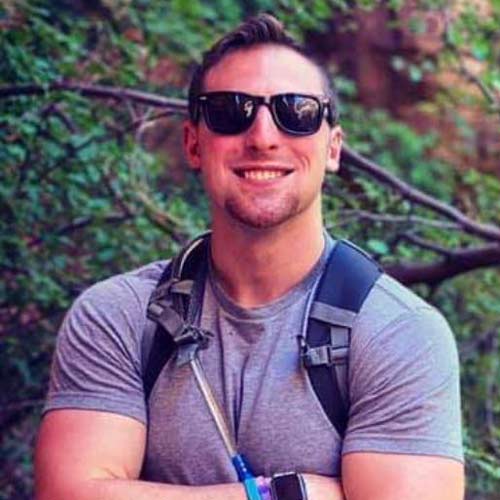 2020 has been a year filled with unprecedented health challenges, causing the elderly population especially to struggle to motivate themselves to keep moving and active. But that didn't stop Jennifer Simpson from breathing life into the CherryWood Village retirement community in Portland, Oregon.
Long term members of the facility who helped push Jennifer to a victory in Greatmats' annual contest to name the 2020 National Fitness Trainer of the Year, generated more than 2200 votes and have said not only does she raise activity levels, but spirits as well. Using her customized boot camps described below, Jennifer is known for motivating residents to new physical feats. She is a shining light on gloomy days.
Jennifer displayed her usual humble attitude about the support she's received from the community. "It is such a nice feeling to get recognized for something that I have been so passionate about for years," she said.
During the past 18-years Jennifer has worked as a personal trainer all over the country. It was on her way to work that she discovered she was nominated for the Greatmats Personal Trainer of the Year award.
Jennifer excitedly said, "there was an email sent out to everyone in our community about my nomination and asking to go and vote for me. I was so surprised and flattered."
The nominator remains anonymous, but Jennifer feels closer to her community than ever before.
"I am beyond grateful that someone took the time out of their day to nominate me and write such nice words. I have trained people all over the US, so it could have been from anywhere."
A sudden leap of fate brought her to Portland, Oregon two years ago, when she had to take care of her mother who was diagnosed with Alzheimer's.
Seeking to maximize her impact on the community, Jennifer then started working as a fitness instructor for CherryWood Village retirement community home, and now considers Portland her home.
"The people of CherryWood are my family, and this is what I was truly meant to do. I have found that this is my favorite population to work with," she said.
Movement patterns, flexibility, and balance are her core focus when training her community and she makes sure to challenge the community during every class.
Jennifer said, "The workout classes I teach are nothing like the commonly known program, Silver Sneakers. I create my own boot camps for the elderly community, which are much more challenging. The older folks I train can do full lunges and are very agile. We even have 100-year old's, standing and doing the workouts with us! It's an incredible feeling seeing them progress."
She believes that her success in this industry has come from not looking at age as a limitation. "While other trainers focus on what they can't do, I focus on what they can do," she said.
With everything on lockdown, Jennifer is lucky enough to still be able to go into work every day and do group social distancing workouts from the hallways of where the residents live.
Jennifer is going to put her prize money into buying our Rubber Tile Mats to create her own home gym. "I would love to have my own home gym, especially during these times where everything is shut down. Working out for me is how I keep my own sanity."
When asked her plans for the future with the gifts she's received, Jennifer left us with her simple perspective geared towards success:
"I want to give back more than I receive. The amount of appreciation I receive is the best kind of gift I could get."
Runner Up Scotty Gehlbach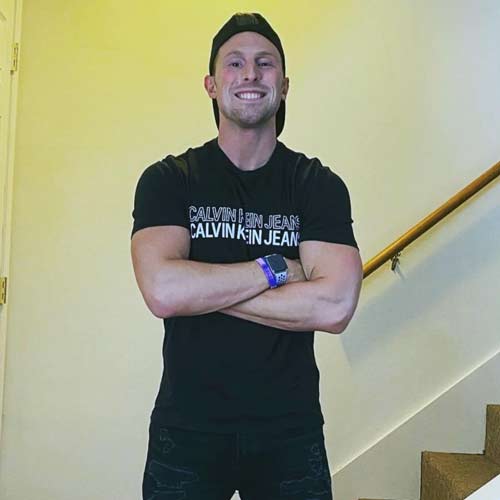 When Scotty Gehlbach first found out that he was nominated for the title of 2020 Greatmats National Fitness Trainer of the Year, he said "I was super surprised! The club director of where I work, Mandee, nominated me, and I didn't find out about it until I had members come up to me and tell me that they had voted for me in this competition."
Words from a passionate client of Scotty: "Scotty Gehlbach is driven and genuine and gives more to his clients and his team than any other individual I know. He is passionate and invested in the success and wellness of those he works with and strives for personal growth and greater knowledge every day. Scotty gives tirelessly, without hesitation and always reassures his members in hardship and celebrates alongside them in success. -- Scotty is a great trainer and keeps me motivated! He pushes me to do the best that I can. I am forever thankful for him and in one year I lost 137 pounds."
"When I found my nomination online, I was shocked to find out that I had so many votes already," Scotty said.
Nominations for Scotty came pouring in from members, clients, family, and friends. He felt the warmth of community support encouraging.
"It definitely feels super amazing and humbling knowing that I have so many people cheering me on."
Scotty went to Hocking College, in Nelsonville Ohio, where he got his degree in fitness management. Scotty's initial inspiration to become a Fitness Instructor came from the Reality TV show, The Biggest Loser.
"I want to be able to help people become the healthiest versions of themselves and live their life to fullest. The real reward is being able to be a part of that transformation process and the fulfilling feeling of accomplishment I get at the end of the day,"he said
Scotty is an active member of his community, volunteering at a wide variety of events including wellness fairs, cancer awareness fundraisers, and community middle schools. He loves volunteering at the middle schools where he gets to teach kids about living a healthy lifestyle and get them moving, lessons still absent in many middle schools across America. "I enjoy working with kids to instill the values of creating and maintaining a healthy lifestyle and building a better foundation for them to pave the way for healthy living for generations to come," he said.
"I've loved the camaraderie of it all," Scotty said of his feedback from the community throughout the contest. ''The number of members, clients, coworkers, family, and friends all coming together to support me through the process, and share on social media has been so insane and such an amazing surprise. Small town, huge support system, it's insane."
Coming to Jackson when Scotty graduated from college, like many recent graduates, it was not easy to find a job. He found that the majority of the fitness centers he applied to required previous experience already.
The Anytime Fitness in Jackson was the one willing to give him a shot. So, he packed up his bags and took the opportunity to start a new life for himself in the small town in Jackson.
"I've been rebuilding my life here for two years now," Scotty said. "Jackson is a very small town, and I started out here not knowing anyone. Now, I feel like I know the whole community. I am overwhelmed by the amount of people in my community who have come out in support of me all over social media. I couldn't have done it without Mandee, the club director and my boss, Mika."
True to his humble nature, Scotty said that he didn't even know there was a prize, but he stated he plans to give back and donate his winnings toward new tumbling mats for the Anytime Fitness where he works.
Jennifer Simpson
Cherrywood Village
Portland OR 97216