Comparing Hockey Rink Rubber Flooring Options
By Paige Cerulli Created: March, 2022 - Modified: August, 2023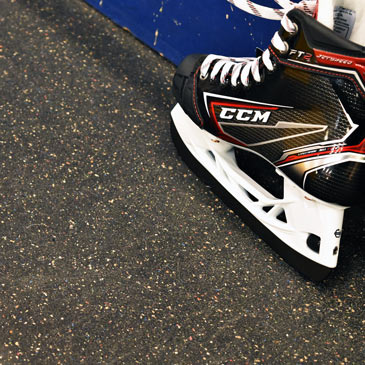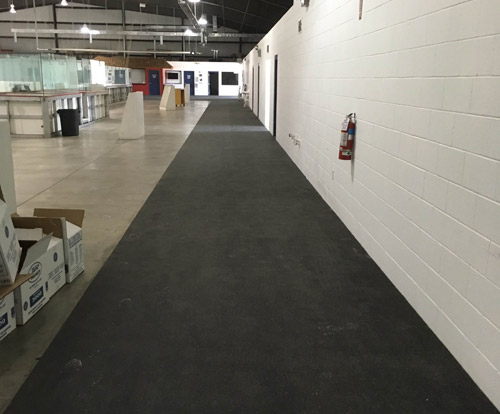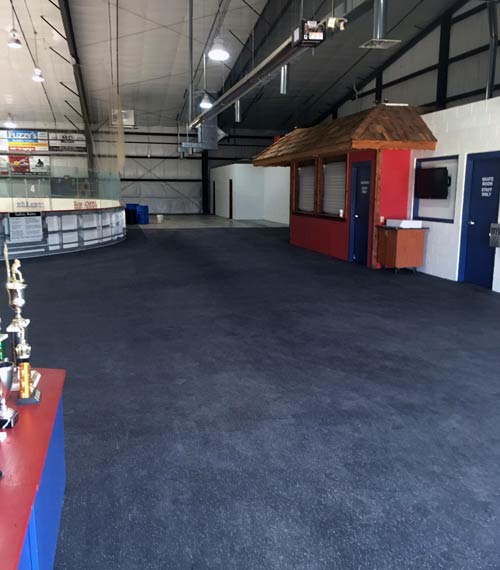 Finding the right flooring for your hockey rink can be tricky. It needs to be durable, safe, easy to install, but also economical. Hockey rink rubber flooring is an ideal solution, but it's important to choose the product that's right for your rink.
Qualities to Look for in Hockey Rink Rubber Flooring
Rubber flooring products vary in their durability, installation method, and suitability for use in a hockey rink. When deciding which product is best for your rink, look for the following qualities.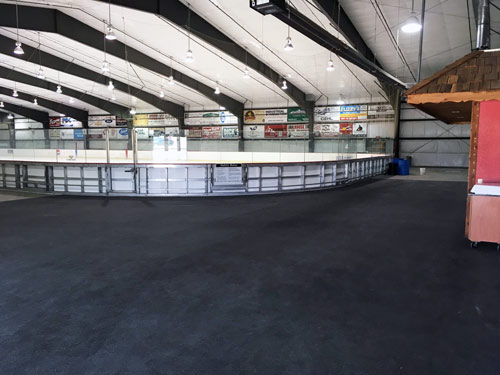 Thickness
When you're shopping for hockey rink rubber flooring, it's always best to look for products that are at least ⅜" thick. This thickness is essential in areas where ice skates will be worn, since these thicker products will be better able to withstand blade traffic than thinner products can.
Installation Method
Consider the installation method that's best for the area that you're flooring. Depending on the products that you choose, you may be able to dry lay some products, while you'll have to glue down others.
If you choose rolled rubber products, you'll need to glue rubber rolls down. This is generally a job for a professional, and you'll need to budget both money and time for the installation process.
Tiles and mats are often not glued down, though the right option will depend on the product that you're using and how and where you'll be using it. If you opt for mats, make sure that they're large and heavy enough to stay in place without adhesive.
Hockey Rink Rubber Flooring Options
At Greatmats, we offer an excellent selection of hockey rink rubber flooring products.
Rubber Flooring Rolls ⅜ Inch Regrind
One of our more economical products, the Rubber Flooring Rolls ⅜ Inch Regrind is made in the USA with recycled rubber. This green product features extra small flecks of rubber, and the colors vary within each roll.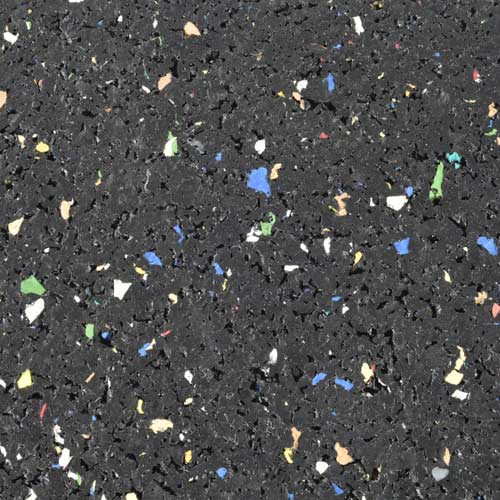 This flooring is available in custom cut lengths of 25 feet or longer. You can lay the rolls directly over a hard surface, like concrete, for an easy installation.
Intended for use indoors, this rubber roll is a versatile choice for a hockey rink.
Rubber Flooring Rolls ½ Inch Black Geneva
If you're looking for a thicker rubber with the convenience of a roll, consider the Rubber Flooring Rolls ½ Inch Black Geneva. These rolls are made in the USA and feature a durable, resilient rubber.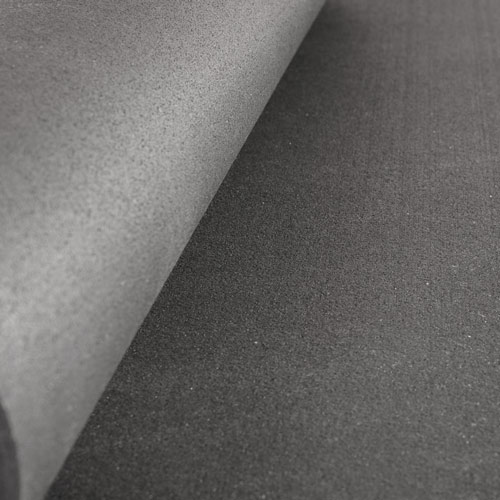 This flooring remains non slip, even when it's wet, perfect for those days when your skaters are walking in ice and snow before stepping into the rink building. The rubber also has a low odor, so it's suitable for use indoors.
This flooring acts as a sound dampener and a floor protector, contributing to a more enjoyable rink environment.
Rubber Mats 4x6 Ft x ¾ Inch
The Rubber Mats 4x6 Ft x ¾ Inch are a highly durable flooring choice. They're made of recycled rubber, so they're an eco-friendly option, and they're backed by a 12-year limited warranty.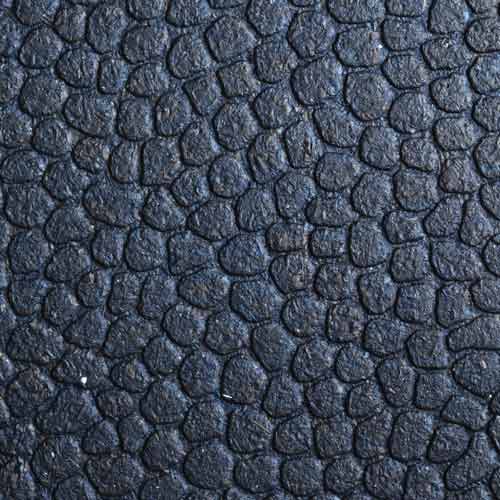 These mats offer excellent traction and are totally non-absorbent, a definite benefit given the ice and water that are common in rinks. They're also antibacterial and antifungal.
Domination Rubber Gym Flooring Square Tiles 38 x 38 Inch x 12mm
With the Domination Rubber Gym Flooring Square Tiles 38 x 38 Inch x 12mm, you'll enjoy a high-density surface that's extremely durable. These tiles are skate resistant, so they can withstand the demands of installation in the high-traffic areas of your rink.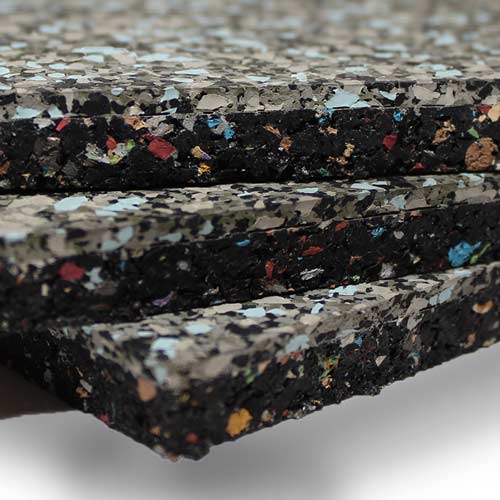 These square tiles are generously sized, meaning they'll quickly cover large areas. They're stain-resistant and help to reduce sound, which can help to keep your rink an enjoyable space for athletes and spectators.
The tiles are made from 50% recycled rubber.
Domination Rubber Gym Flooring Interlocking Tiles 37 x 37 Inch x 10mm
The Domination Rubber Gym Flooring Interlocking Tiles 37 x 37 Inch x 10mm are highly durable, dense tiles that are blade and skate resistant. The tiles are suitable for installation in commercial facilities, including skating and hockey rinks.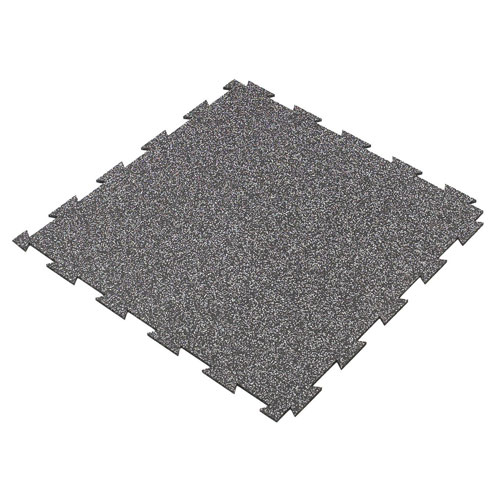 Offering high traction, the tiles help to absorb shock and sound. They feature an interlocking design that makes for an easy installation.
Hockey Rink Rubber Flooring Testimonials
Many professionals have purchased flooring from Greatmats. Don't take our word for it - hear what they have to say about the quality of Greatmats products in their rinks and skate shops.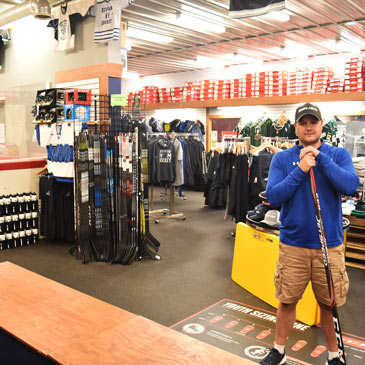 Sean Coffey of Hudson, Wisconsin, started
St. Croix Sports
, a sporting goods store, in 2014. The store sharpens up to 100 pairs of skates a day, but the concrete floor of his store wasn't conducive to skate traffic.
Coffey installed Greatmats ⅜ inch Regrind Confetti Rubber Flooring Rolls in his store. He appreciated that the mats could just be unrolled and dry laid, and that they were easy to clean.
His customers appreciated that the floor was skate-friendly.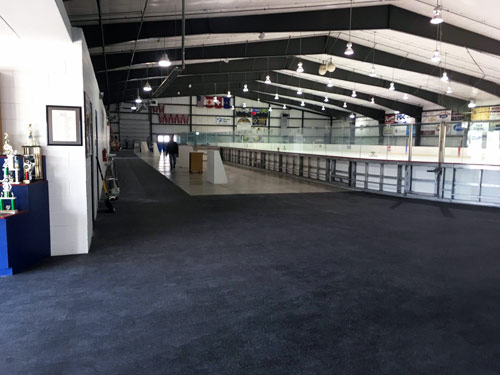 Monroe Youth Hockey Association
President, Joel Fonseca, opted to use Greamtats products when it was time to replace the flooring in the Association's hockey rink. The previous flooring consisted of cow mats that shifted and bunched up.
Fonseca ordered ⅜ inch thick rolled rubber flooring from Greatmats, and observed that the flooring laid down well. The facility handled their own installation, gluing all 6,000 square feet of the mats down, and Fonseca felt that the floor "turned out great."