Staylock PVC Floor Tiles for Basements
By Kif Richmann Created: June, 2017 - Modified: April, 2023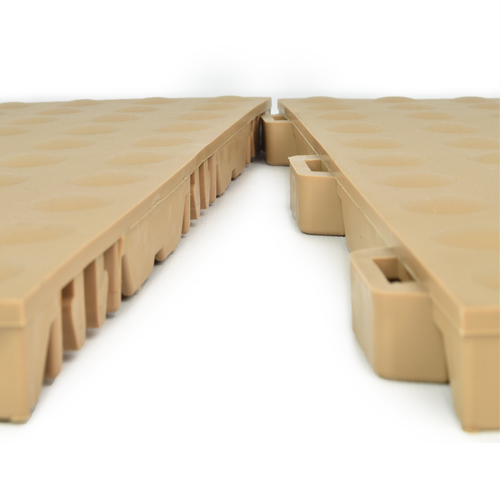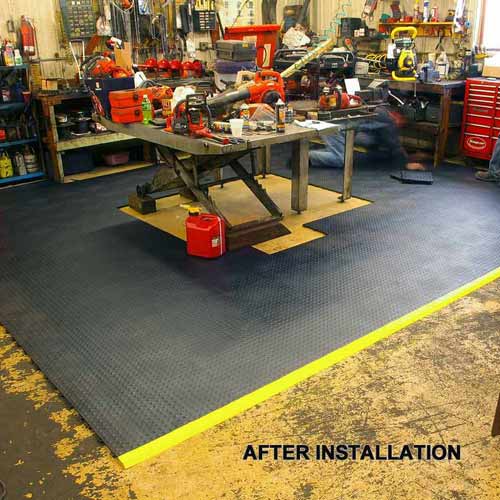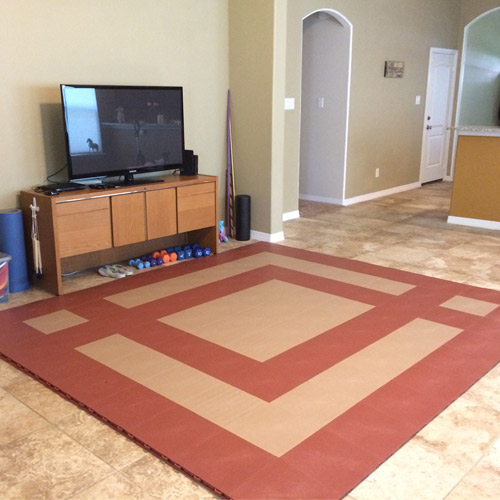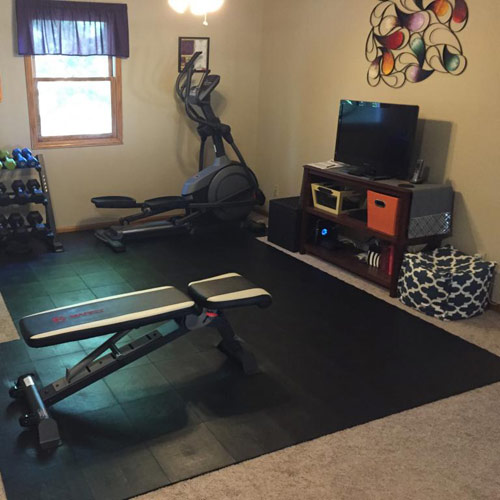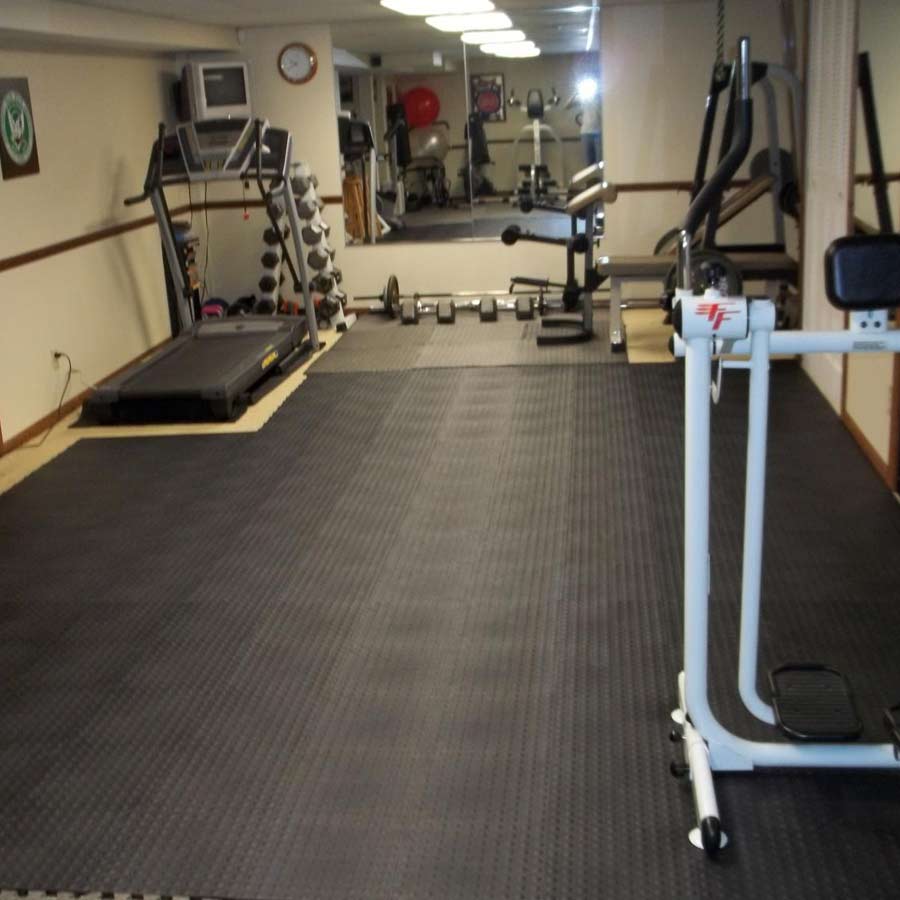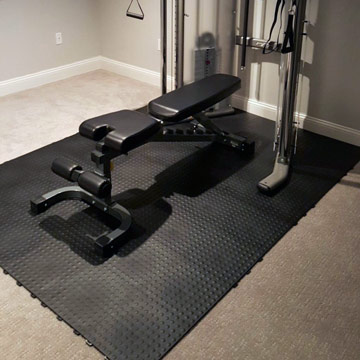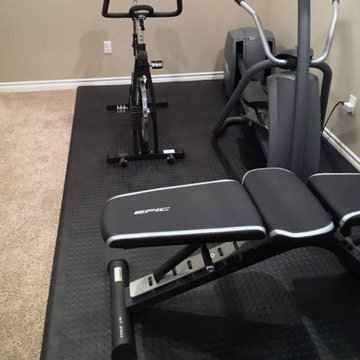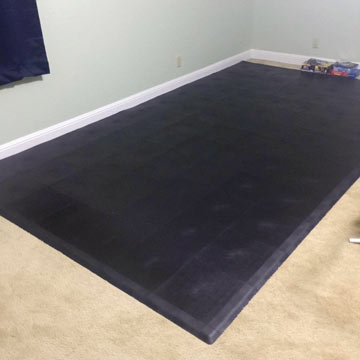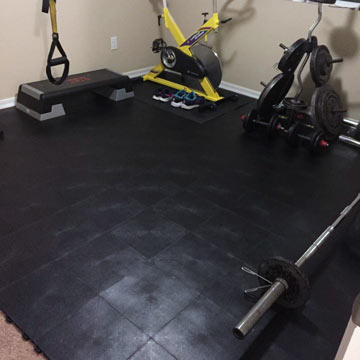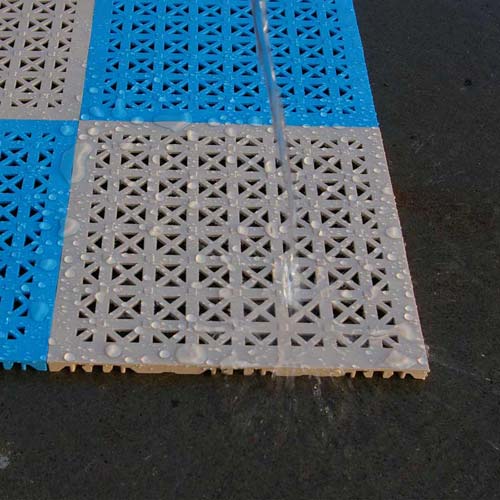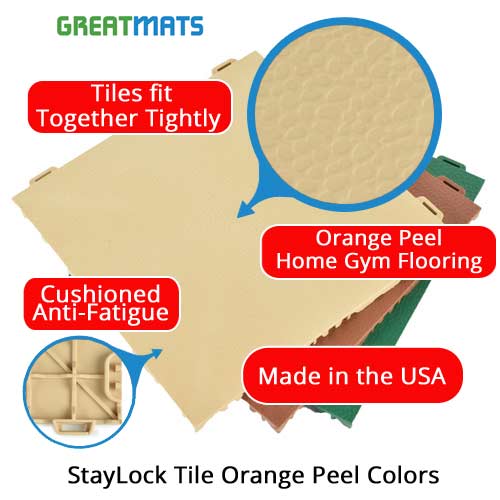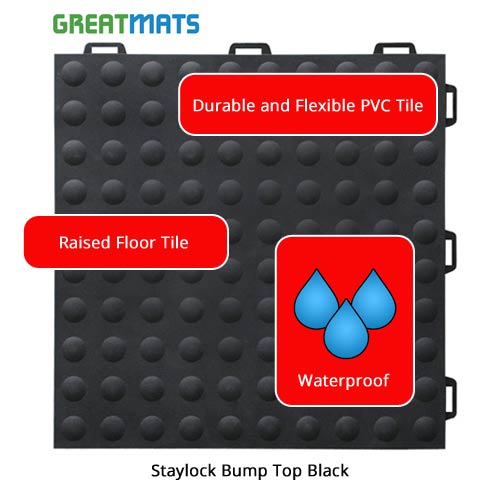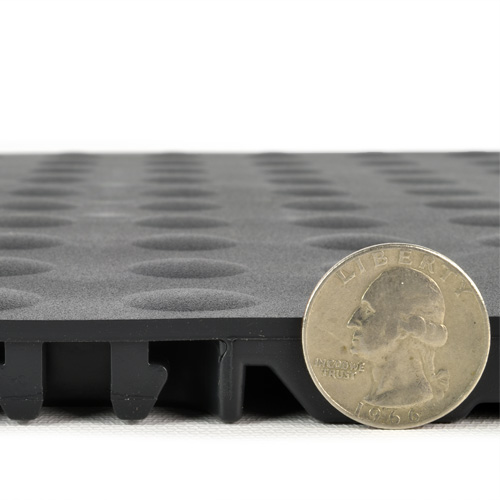 StayLock basement flooring is one of the most durable and reliable flooring surfaces you can find. Used as basement flooring tiles, workout surfaces, and even patio coverings, these tiles deliver consistent quality that lasts for years and years.
However, there are a few different surface types that have their own unique qualities. Understanding the different types of surfaces, as well is their most common uses, will help you choose the right tile for your needs.
Where to Use StayLock Basement Flooring Tiles
These tiles are made entirely from PVC plastic, a durable and reliable material for basement flooring. One of the main advantages of using PVC for basement floor tile is that it is entirely non-absorbent. As any homeowner knows, even the best-sealed basements can have dampness or leakage, so using materials, such as treated wood and non-absorbent tiles is essential. With these basement floor mats, no water will seep into the flooring, which helps keep down mold and bacteria.
Of course, the mats are also extremely durable. PVC is one of the toughest materials you can use for your flooring.
They all have tab 'n loop connections, which makes assembly and disassembly easy, and can be laid with no special adhesives, making installation convenient and fast.
Measuring one foot by one foot in width, they are 9/16 of an inch high and weigh no more than 1.5 pounds. They are made with pride and quality. No matter which one you choose, you'll have long-lasting, reliable basement floor tiles that give your space traction, durability, comfort and seamless consistency!
This is one of the best products when you are looking for anti-fatigue quality from your interlocking floor tiles. They have a
bump top design
at the surface, which gives the tiles traction and durability. They have the strength of rubber without the weight and the cushioning of foam without the indentation.
Lower Level Home Gyms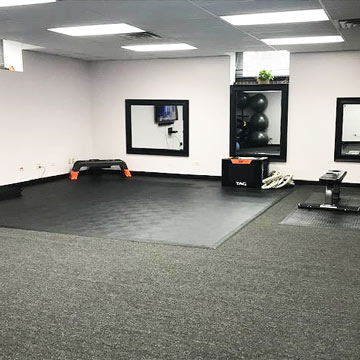 Home gyms have unique needs that should always be considered thoroughly. For a gym, you need strength, traction, and at least a small degree of cushioning. The flooring for a home gym should be able to withstand the consistent pounding of workout equipment, as well as the weight of energetic jumping exercises like plyometrics or HIIT workouts. The flooring should also provide some cushioning. Working out on hard surfaces can be damaging to joints and ligaments. Having a softer, cushioning surface can be very beneficial.
With these tiles, you'll have greater durability thanks to the strong PVC material, but you'll also have increased cushioning thanks to its flexibility. The ergonomic design of these basement tiles ensures superior performance during your workouts and reduces the chances of a joint injury or prolonged pain. They can also be cleaned easily, which is important when you start dripping sweat during a workout. Because they are non-absorbent, they also won't draw in liquids, which helps fight bacteria, an important concern for home workout areas.
Basement Workshops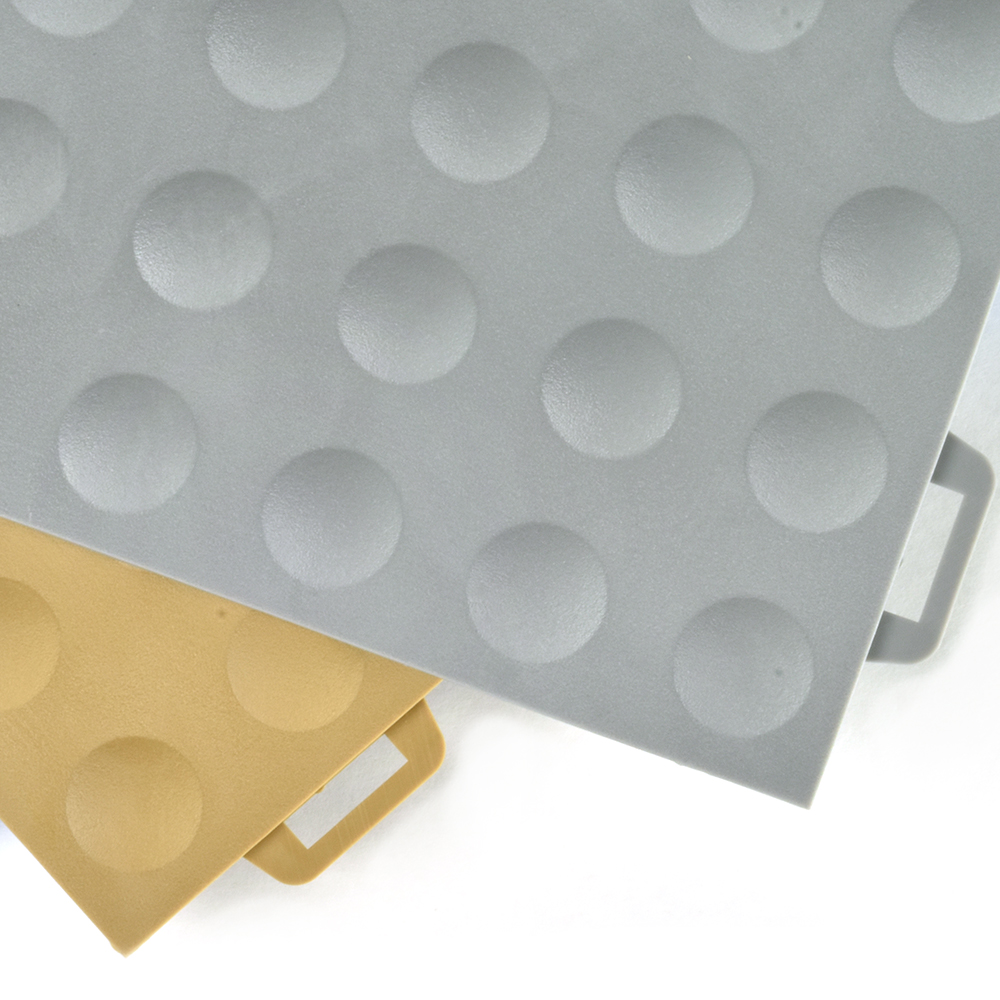 Do you have a home workshop that needs a high-quality flooring? Then you can't go wrong with these basement flooring tiles with the bump top. One of the most important factors for workshops is less chance of slipping, not just on the surface, but between the mats and the floor. While there are other mats that provide excellent slip resistance, StayLock flooring provides quality traction on top and is less likely to slip around on the floor. The more tiles you use, the less chance there is for floor movement. They can even be installed over top of carpeting without the risk of sliding around or damaging the carpet below.
Workshops also need anti-fatigue flooring. Whether it's a home workshop or a commercial space, people will be on their feet for hours, which means anti-fatigue benefits can come in handy. You might not notice it right away, but after a few hours of work, the anti-fatigue quality will be greatly appreciated.
Non-absorption is also important in shops. There can be chemicals, dyes, stains, paints, and many other liquids, so you need basement floor tiles that are non-absorbent. Fortunately, StayLock Tile Bump Tops meet these needs.
Arguably the most interesting surface design in our entire selection of
basement floor tiles
, the orange peel is an interesting take on the PVC surface. It has a rigid, bumpy, surface that resembles orange peel (surprise!) and gives the tiles a superior traction and grip.
StayLock Bump Top Tiles are available in gray and tan.
Exercise Rooms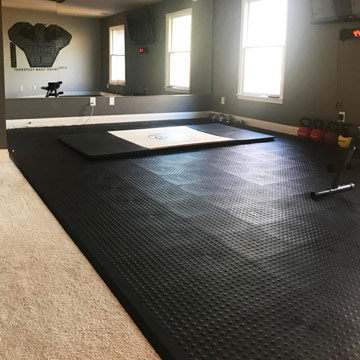 Like home gyms, professional exercise areas need a combination of rugged durability, traction and cushioning. Exercise areas often have specific needs for cushioning, as more plyometric and jumping exercises are performed, which creates an increased risk of joint pain, such as knee or ankle problems. With these tiles, you can have the cushioning you need for an exercise area while still having the durability of PVC.
The tile's non-absorbent nature is helpful in areas where sports drinks or water could be spilled. Of course, there is always the chance of sweat, which can create sanitary issues for professional and home exercise areas. These basement floor tiles are not only non-absorbent, they are easy to clean, giving you superior cleanliness and convenience.
Best of all, the tiles are easy to assemble. Tab 'n loop tiles offer one of the best options for portable exercise flooring with potential for heavy traffic. It can be installed in virtually any space and disassembled again easily to be moved if needed. This further enhances the convenience of these tiles, as they can be used for basement floors, garage floors or even over carpet!
Basement Play Areas
When kids need a cushion yet reliable surface for play, these basement flooring tiles are essential. They are strong, waterproof and reliable, and they have a 20-inch fall rating from the ASTM, giving parents added reassurance that kids are playing in a safe area.
Because the tiles are dry laid, you can use them in one place, say the basement, then move them to another location, say the garage, when kids are no longer using the play area.
To create a wonderful play area, give your kids the comfort and safety of StayLock Tile Orange Peel and you'll have a long-lasting surface that takes the abuse and messes of growing children!
Playground Floor Tiles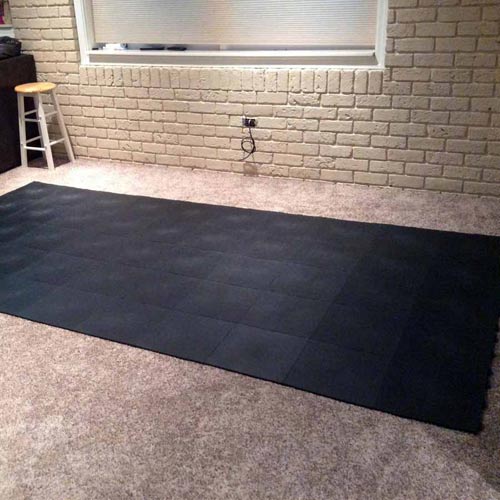 While the perforated top makes these tiles perfect for outdoor use, they can also be extremely effective for indoor use. When you lay these tiles around indoor playgrounds, you have a surface that is fall rated to 20 inches. Of course, no surface can completely prevent injuries, but these tiles provide better cushioning and enhanced safety to children. They are also available in many different colors, allowing you to match the floor tiles to the playground equipment.
Indoor playgrounds should also have quality traction. These basement floor tiles have a non-slip surface that creates superior quality for kids and better reassurance for parents and caregivers. Between the slip-resistance and 20-inch fall rating, you have a playground mat that is consistent and safe!
Wet Basements
If you want to lay down a flooring surface on an outdoor patio, but you live in a high-moisture area, what options do you have? You need a surface that is waterproof, slip-resistant and has a perforated top, which makes these basement floor mats a great option.
Perforation is key to the safety and quality of these mats. When you have mats like these on your high moisture space, water does not pool on top; instead it falls underneath the surface. This prevents pools and puddles at the top and helps maintain a safer and more comfortable area. This makes
StayLock Perforated Tiles
a perfect solution for pool or hot tub areas as well as basements and patios.
When the rain stops and the sun shines, the tiles will stay in great shape for a long time. In any condition, even extreme rain, and basement water seepage these basement flooring tiles will meet your needs.
Perforated Basement Floor Tiles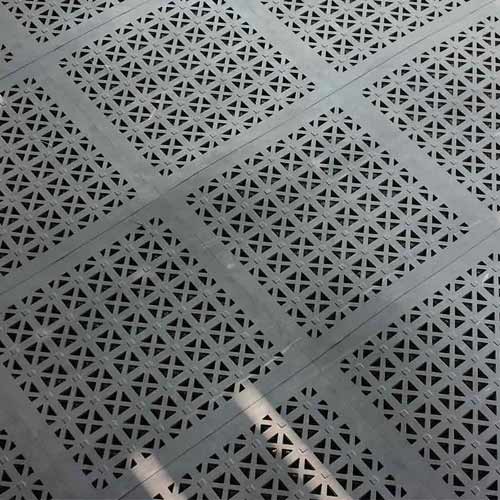 Made specifically for indoor/outdoor use, this is the only StayLock tile on this list that is perfect for use in outdoor conditions.
The perforated top, however, is also essential for outdoor use and other wet areas. When the rains come, water will flow underneath the tiles, which prevents pooling at the surface. These two features come together to make one of the most effective tiles for indoor or outdoor use.
Greatmats Delivers Quality Interlocking Basement Floor Tiles
Are you excited about the potential of StayLock tiles, but aren't sure which surface type is right for your needs? If you need help selecting the right products, contact our helpful staff today.
We have the knowledge, experience, and large selection you need, ensuring you get the right basement flooring mats, patio tiles, or rollout surface for any purpose.