What Is The Best Underlayment For Laminate Flooring: AcoustiCork Roll
By Lisa Hobbie Created: December, 2020 - Modified: December, 2020





If you are considering a renovation or remodel project that includes a flooring upgrade, you may be considering a laminate product, which is a very popular choice. Laminate can often be more durable than traditional hardwood or tile, and it is resistant to scratches, damage from moisture, and wear and tear. It is also relatively easy to keep clean. Because it is relatively easy to install, it can often be done without professional help. The laminate floors at Greatmats are beautifully designed and made to last, with options that look like everything from traditional wood floors to those that look like ceramic tile.
An essential addition to this type of flooring is a laminate flooring cork, rubber, or foam underlay.
Underlayment
is necessary to get the best result from your floor. Because laminate floors are often floating floors, they need to be evenly distributed across the subfloor. Having a high-quality laminate flooring underlay allows the floor to float appropriately and provides support, stability, and noise reduction. It also makes the floor more sturdy by supporting the locking system between the flooring planks. Greatmats specializes in offering the best laminate flooring underlay options available.
AcoustiCork 100 Foot Roll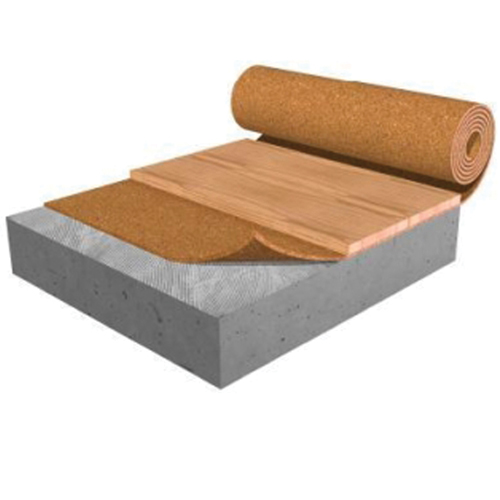 The AcouistiCork laminate flooring underlay is a commercial quality flooring underlayment that is designed to meeting standards for condo associations and building code requirements where the floor-ceiling assembly system is a natural stone, ceramic, or wood with a suspended ceiling.
This laminate flooring underlay is sold in rolls that are 6mm by 48.5 inches by 100 feet. It is super effective at reducing noise with minimum thickness. This option is affordable and versatile. It is also very easy to install with a dry lay or glue down the process.
This product boasts long term durability and comes with a 10-year limited warranty. It is 100 percent natural and sustainable, non-toxic, hypo-allergenic cork with a flecked surface. Each roll is 128.5 pounds and arrives shrink wrapped on a pallet. This laminate flooring underlay will cost less than $1.00 per square foot but will deliver unmatched quality and value - making your laminate floor experience a positive one.
Custom AcoustiCork Roll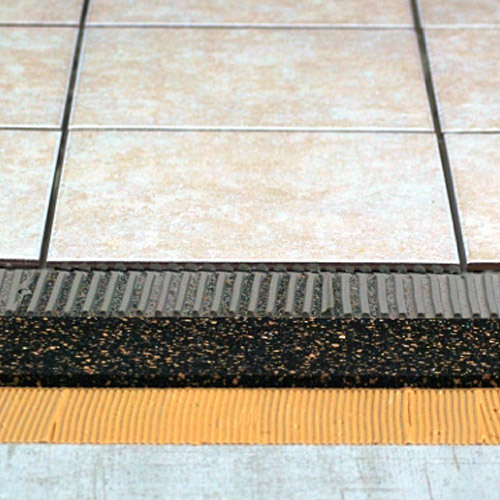 The AcoustiCork RC1000 laminate flooring underlay product is a blend of recycled cork and rubber to create the best in sound control underlayments. This blend of materials provides improved low-frequency acoustical performance of rubber and improved adhesion and working characteristics of cork.
The high performing sound control underlayment works over concrete or on any hard surface, like wood, or even pressed, level dirt. Each roll is 10 mm thick by 4 feet wide and 15 feet long. It's also available in a 5mm thick by 4 feet wide and 30 feet long option. With two thicknesses to choose from, you can select the option that meets your preferences or building requirements.
This laminate flooring underlayment is highly effective and easy to install without adhesives or mortars. It is made of 90 percent recycled or renewable content with maximum LEED potential. This product is just over $2.50 per square foot, providing superior quality at an affordable price.
SilentTread Rubber Sound Underlayment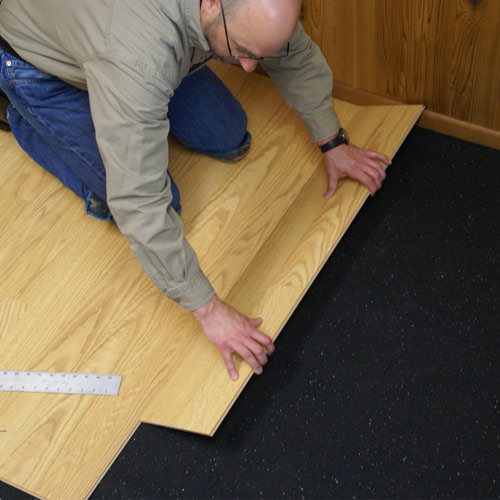 The SilentTread laminate flooring underlay is another superior product. It is suitable for commercial and residential applications, and it is recognized for its acoustic qualities. Each roll is 3.2 mm or ⅛ inch thick and 4 by 25 feet long.
It outperforms competitors for sound dampening qualities, and the durable rubber material it is made of will not be crushed or degraded. It has an antimicrobial ingredient that prevents the growth of mold, mildew, and bacterial, and it is made from recycled tires.
It is easy to install and lays flat during the installation process with its superior density. This product comes with a 20-year limited warranty, and at only about 65 cents per square foot, provides superior value and affordability.
Greatmats - For your Laminate Flooring Underlay and Laminate Flooring needs!
Aside from the products highlighted, Greatmats features a number of other laminate flooring and underlayment solutions. The quality laminate flooring underlay options provide comfort, insulation, sound reducing, and hygienic qualities, as well as a thermal and vapor barrier.
The underlayment and flooring options available at Greatmats are of the highest quality, and they offer numerous features such as easy installation, low maintenance, warranties, thickness options, and more.
No matter what your flooring needs are, Greatmats offers a solution for you, including the ability to get you free samples and to answer any questions you have, like options appropriate for wet areas that require the ability to allow water to drain. With more than 20 years of trusted customer service and more than 4,000 5-star reviews, Greatmats has what you need to keep you and your floor happy.