Dog Flooring for Shows - BFF Pet Services Testimonial
Dog Agility Foam Mats at Super Pet Expoa
By Brett Hart Created: September, 2019 - Modified: September, 2019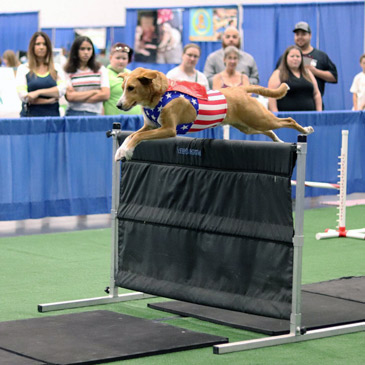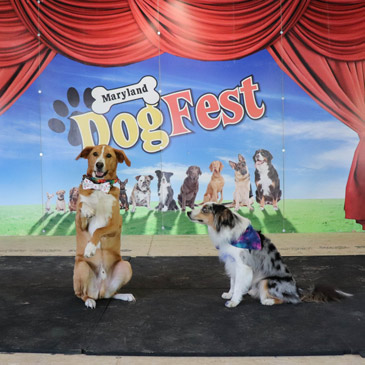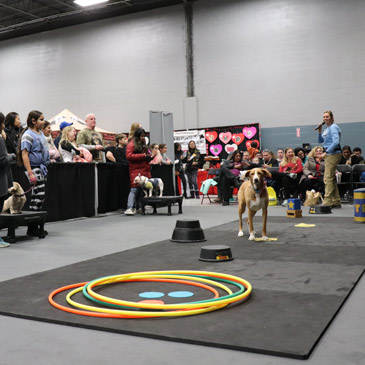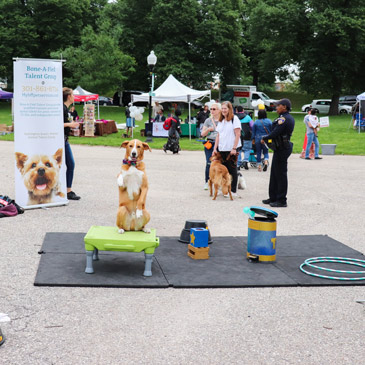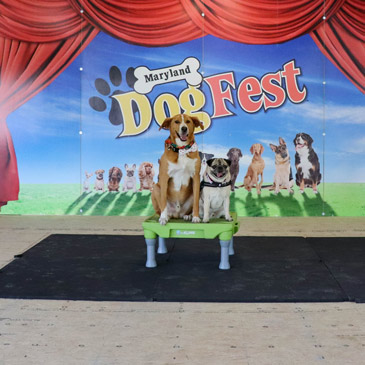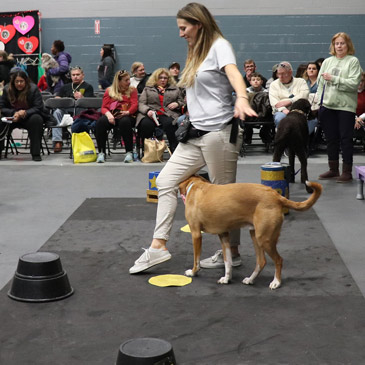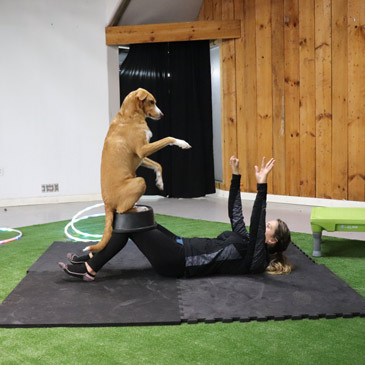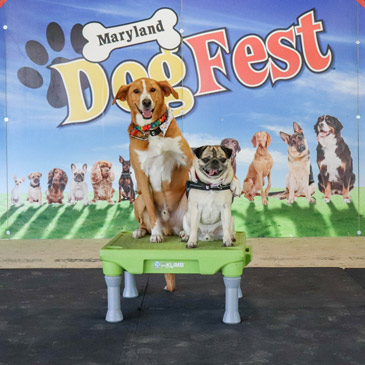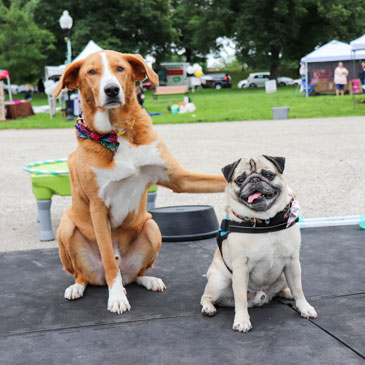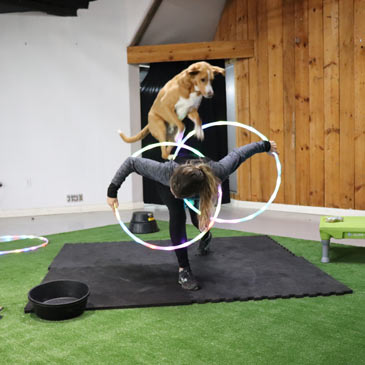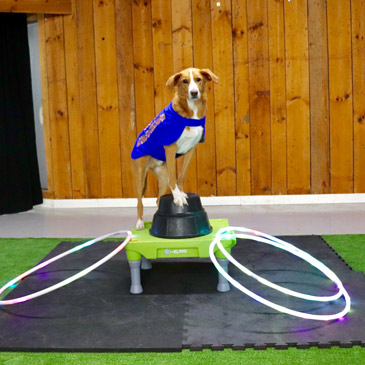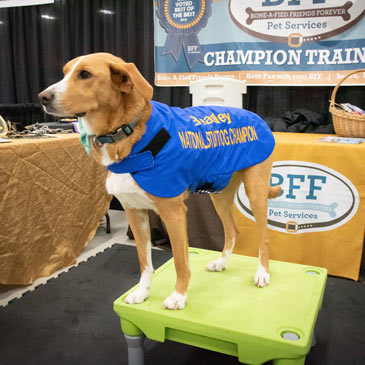 When it comes to agility and trick dog training, there are very few dog trainers with the knowledge and skills of Chrissy Joy. As a member of the
Bone-A-Fied Friends Forever (BFF) Pet Services
team, Joy trained her Ibizan Hound-mix rescue, Good Beasley, to a 2018 National Stunt Dog Title and AKC Performer Title as well as both agility and rally titles. She was also a finalist for the 2018
National Dog Trainer of the Year Award
.
A certified trick dog instructor and canine conditioning coach with a background as a television, movie and commercial actress, Joy combined her passions to begin the BFF Talent Group (BTG), which has developed a strong roster of a couple hundred dogs she has personally seen or worked with for film production work of all kinds.
"We have a group of dogs that are available for live shows, set work, demos and workshops," Joy said. "This is the first time that we're seeing that kind of dynamic group that can do a whole bunch of everything."
Since beginning the BTG in summer of 2017, it has already worked with top names of the industry including The Walt Disney Company, Home Depot, Puppy Bowl, Chewy and more.
Safety in Dog Training
When Joy began her career in the professional dog training field, she developed a special interest in dog safety. As she attended events, she made it a point to inquire about the footing at the events and the Greatmats name kept entering the conversation. This especially rang true when searching for a flooring that met Joy's top 3 criteria for trick and agility flooring - portability, grip and shock absorption.
As someone who travels around the country for live events and workshops, she needed something that could be transported easily and provide a safe, non-skid surface that would preserve the joints of her dogs.
Greatmats Dog Agility Mats Interlocking Tiles met each of those criteria perfectly. The 1x1 meter EVA foam flooring tiles were on Joy's radar for five years before she pulled the trigger and ordered a dozen of them in January of 2019.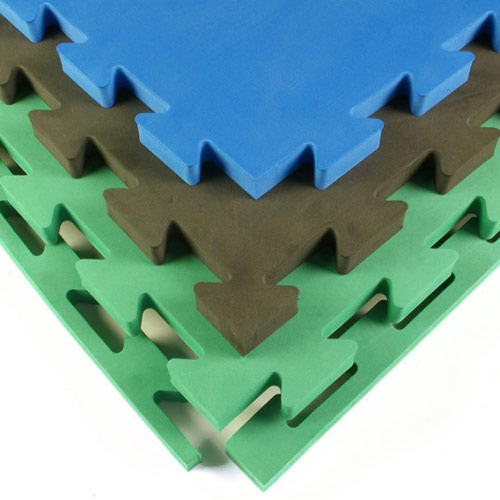 "We use it at every event we go to, and we use it as much as we can when we travel anywhere and also when we're working on set and in class," Joy said. "People really like it for agility."
Most of the places where she and her dogs perform are not designed for dog performance as the flooring they're asked to perform on ranges from slippery wood to hard concrete and pavement. Some large events have attempted to rectify those situations by installing extra cushioned flooring, but that doesn't always offer the desired results either.
"Too shock absorbing causes a loss of speed and motion. It works against the dogs needing to be in motion," Joy says.
With more than 20 shows under her belt since getting her Greatmats dog agility mats, Joy says, "The Greatmats offer enough shock absorption, and the spring back quality is really great for agility, stunt dog work and tricks."
Although the mats offer interlocking edges to connect together for a uniform floor, Joy leaves the attached border strips on the mats in most cases and simply butts the straight edges up to each other for shows in order to save time for both setups and tear downs.
"We have less than a 10 minute turnaround to break a whole stage, and it's easier for us to just whisk them off one at a time," Joy said.
And by leaving the border strips on, she says, it reduces the risk of she and the dogs getting feet caught around the edges of the mats.
"I really like having those borders in place," Joy said.
In many cases, people may be concerned about puzzle mats shifting and sliding around if they are not connected together, but that has never been an issue for Joy - which she credits to the size and 3/4 inch thickness of the mats.
"If they were smaller, they would probably shift," she said. "I don't have any slipping issues with the Greatmats. I really think that thickness of the mats for stunt performances and live shows is ideal. I can depend on them on anything we're thrown at. It allows my dogs to perform at their best."
"There are some dogs we have that are great performers but absolutely hate slippery floors and just won't work on (slippery floors)," She added. "It's a must wherever we go to bring (Greatmats) with us. We try to use them in the areas we need the most shock absorption. All the big landings, I'll strategically place a couple.
"We love them so much we even use them on grass sometimes. It offers just a nice surface to work from in general."
As word of Joy and Beasley continues to spread, so does the busyness of their schedules, which include the Pittsburgh Pet Expo, Petcon NYC, AKC National Invitationals, Super Pet Expos, World Dog Expo, and more. The duo has even managed to land gigs on the big screen as each are scheduled to make appearances in movies in 2020. Joy has been cast in Paramount Picture's ''Clifford The Big Red Dog,'' starring Rosie Perez and John Cleese. And Beasley has earned a starring role in a Tom Denucci-directed film with Jon Lovitz recording the voiceover for Beasley's character, ''Toby.''
Chrissy Joy
BFF Pet Services
Brandywine MD 20613