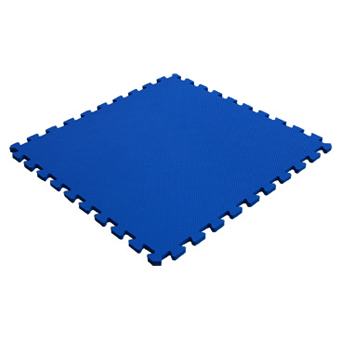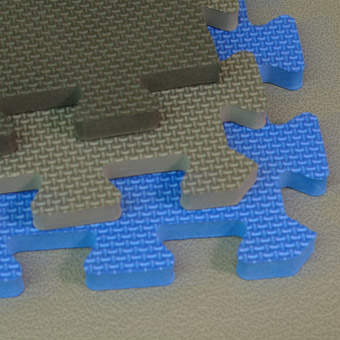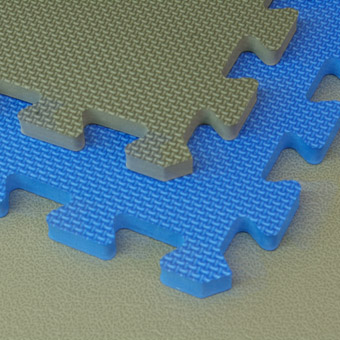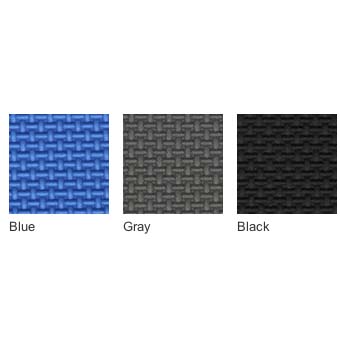 Applications:
Kids Flooring
Schools
Preschools
Dog Agility
Children's Play Areas - Home and School Use
Exercise Rooms
Basements and Garages
Indoor Sports & Multipurpose Rooms
Parachute Staging Areas
Great for Concrete and Hard Surfaces
Product Info:
Easy to clean. Can be vacuumed and washed with soap and water - Test your vacuum.
Place directly on concrete or tile - No adhesive Needed for a snug, tight fit.
Waterproof and odorproof/ Closed cell EVA foam will not absorb moisture or other substances.
Can be used outside in mild climates, not UV stable, not suitible for extreme sunlight locations.
Exercise equipment will leave some level of indentation in the mats, but will not hurt the mats. The indentations will be virtually permanent.
Made in Taiwan
No border strips, all center tiles.
Please Note:
Color and shade may vary somewhat from tile to tile within the same order, this is common with this type of EVA foam material. Make a checkerboard pattern in your room to alleviate this potential issue.
Precautions:
Test your vacuum on the mats to make sure your vacuum will not leave scratches in the tiles.

Have your vacuum cleaner set at highest setting or just use hose and nozzle. DO NOT use power head. When used outside the mats may expand and curl if exposed to direct sunlight in warm climates for extended periods of time.

If this particular foam mat is not perfect for your application or budget please consider one of our other foam mats, we offer a complete and comprehensive line of interlocking foam mats to our customers, some starting at $0.99 cents per square foot and while other foam mat products offer free shipping. Please browse our complete line of puzzle foam mats. If you have questions please Chat with us online, send an email or call our friendly customer service center to speak with one of our flooring experts about our foam mats.

This product is shipped UPS or FedEx Ground and or via freight delivery.
Please review our
shipping disclaimer.
Characteristics:
Lead Free and Latex Free
Anti-Fatigue
No Odor
Non Slip
Waterproof
No Adhesive Required
Easy to install and Easy to take up
Light weight and portable
Size and Dimensions:
Tile: 24" x 24" x 1/2" or 12.5 mm - thickness tolerance of 1 mm + or -
Customers who viewed this item also viewed: