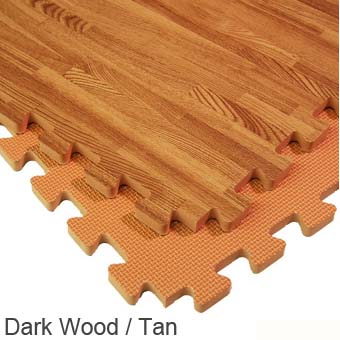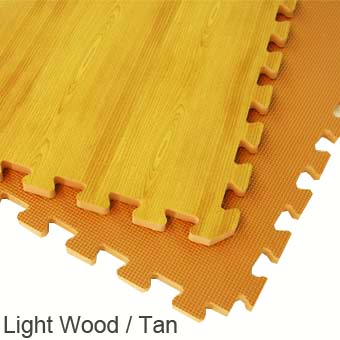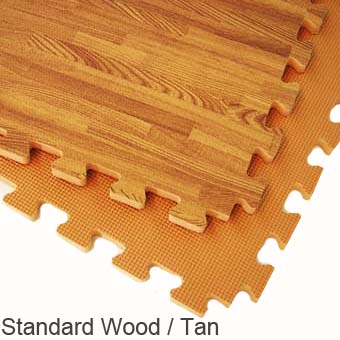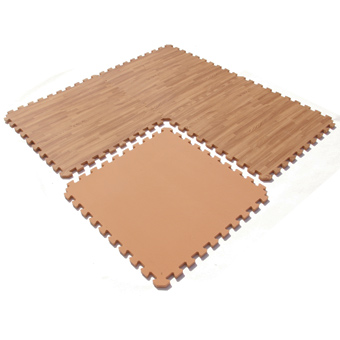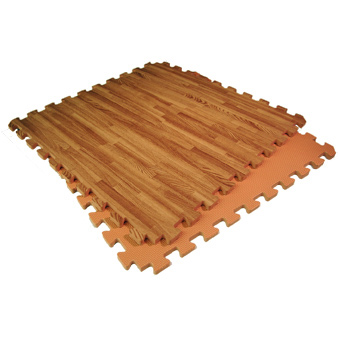 Interlocking floor tiles come with two borders strips per tile. These allow you to create a finished edge that you can use against the wall or in an island-type layout. Use the border strips with these interlocking floor tiles to create a finished, clean looking flooring design.

Give your room the great look of hardwood floors while adding the comfort and warmth of interlocking foam tiles. This product is great for basement floors, exercise areas, and trade show booth floors.

The reversibility of these interlocking floor tiles doubles the usefulness and lifespan of this flooring option. It is ideal for home or trade show installations. You can use these tiles with either side up. Wood grain floor tiles are lightweight and simple to install.

Interlocking foam tiles can transform your hard, flat surface into a cushioned and comfortable work or play area. Interlocking foam tiles are simple to install and require no adhesive or tape. The wood side of this foam product features a smooth surface that is scratch resistant and durable while the tan side of the tile features a thatch texture. This thatch surface is durable enough for almost all shoe types.

Select an oak wood-grain look, a tan texture, or both for your basement floor, kids room, or family room. With this interlocking floor tile you will receive two border strips per tile. This allows you to edge and "island" layout with a straight edge all the way around the perimeter of your foam floor installation.

Installation is as easy as laying the foam floor tiles down and interlocking them together. You can easily cut this material with a sharp utility knife to fit the tiles in wall-to-wall installations. Each tiles measures 2x2 foot x 1/2 inch (13 mm thick). Start your installation in a corner, using the provided border strips to reduce the amount of cutting required for a wall-to-wall installation.

Both sides of these interlocking floor tiles are easy to clean and are durable to common foot traffic. Both sides will interlock with each other allowing you to have both tan and wood grain sides up at the same time for a checkerboard or other layout design.

This interlocking floor tile will ship via ground delivery service to your door.

This product is shipped UPS or FedEx Ground and or via freight delivery.
Please review our
shipping disclaimer.
Features:
Material: EVA Foam
Material Density: 35 Shore C
Type: Tile
Country of Manufacture: Taiwan
Tile Size: 2 feet x 2 feet
Thickness: 1/2 inch or 13 mm, plus or minus .5 mm
Connection: Interlocking
Universal Interlocks: No
Weight per: 1 Pound per Tile
Edge Type: Borders
Tiles per Carton: 25
Ordering Minimum: 15 Tiles
UV Treated: No
Stocked: Yes
Non Absorbent: Yes
Ships Out From Warehouse: 1 day
Warranty: 1 Year
Border Strips: 2 Border Strips per Tile
Installation: Dry Lay on Hard Flat Surface
Special Adhesives: No
Top Texture: Smooth Flat
Loss Per Tile: 3/8 Inch
Reversible: Yes
Characteristics:
Wooden Grain and Tan Reversible Design
Double the Design Options
Lead Free and Latex Free
Easy Interlocking Foam Floor Tile
Waterproof Closed Cell Foam Material
Create Safe and Soft Floors
Pricing for Wood Grain Reversible - Foam Floor Tiles
Wooden/tan

On Sale Now




$6.36

per piece - $1.59 per SF
Was:

$12.29

per piece

You Save 48%



Standard Wood / Tan






Light Wood / Tan






Dark Wood / Tan



Customers who viewed this item also viewed: