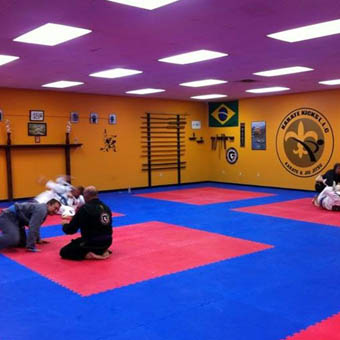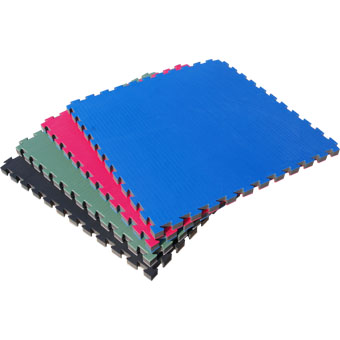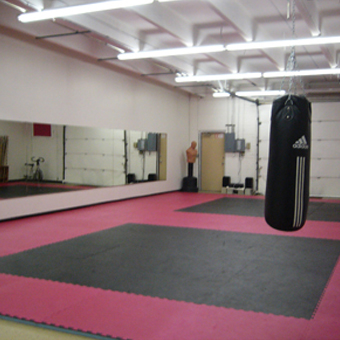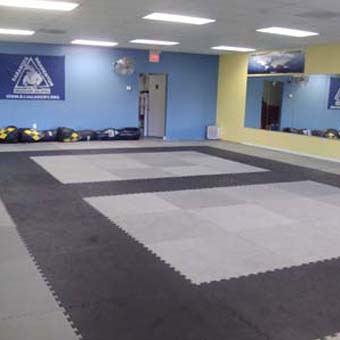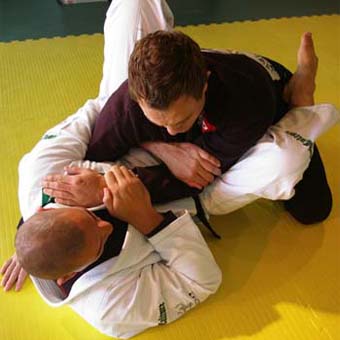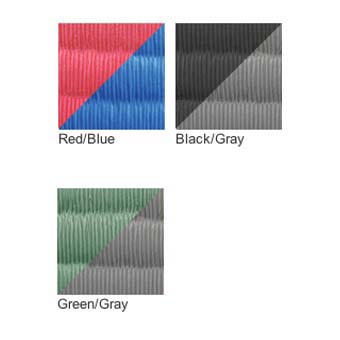 These MMA mats are used for professional martial arts studios and are easy to install and serve as an economical interlocking grappling mat for MMA floors and training. Use this MMA mat for Judo, grappling, BJJ and Jiu Jitsu training in your studio and for competitions. These interlocking grappling mats are an economical and very effective interlocking style martial arts mat for studios and home use. Available as a reversible MMA mat with colors on both sides, allows for a multi color design in your facility. The size of these grappling mats are 40x40 inches x 1-5/8 inch thick and are designed to be used directly on concrete without the need for additional padding on any hard flat surface.

These 1x1 meter x 1-5/8 inch thick mats and are an excellent choice for MMA floors and MMA training, Judo, BJJ and Jiu Jitsu. Our grappling mats are designed with a durable tatami mat top surface texture that will not give any skin burns while performing MMA moves. These MMA mats are used nationwide in professional studios and for competition floors.

Excellent Jiu Jitsu mats, these 1-5/8 inch thick interlocking tiles are extremely durable. Designed for repeated throws and takedowns, they are ideal Jiu Jitsu mats for any grappling arts where a soft landing surface is required. Simple interlocking installation allows you to use these dojo mats in a temporary or permanent application. Choose from red/blue, black/gray, or green/brown color combinations.

Simply lay these MMA and grappling mats down and interlock the martial arts mats together for a perfect fit every time. Installation is easy for a wall to wall fit, simply measure twice and cut once using a sharp utility knife. Allow your new grappling mats and MMA mats to acclimate to your room's climate conditions prior to installation. Always avoid direct sunlight on the grappling mats, as the foam mats can expand with increased heat and humidity.

Grappling mats and interlocking MMA mats by Greatmats have been installed in hundreds of professional martial arts facilities nationwide and receive outstanding reviews as the best interlocking MMA mat in the market at unbeatable prices. Request a free sample of our MMA mat for your review and testing, or request a price quote online. Use our online floor plan designer to layout your new martial arts floor using grappling and MMA mats for your facility.
Applications:
Grappling
MMA Mats and Flooring
BJJ Training
Judo Mats
Jiu Jitsu Mats
Precautions:
Allow approximately 1/2 inch gap around the perimeter of your room during installation to allow for mat expansion which can occur with fluctuations in heat and humidity. We advise to keep any direct sun light off the mats as this can heat up the mats and cause expansion. Mats are designed for use with bare feet.
Border ramps are available in gray only. The ramps are sold as a set of two, corner pieces are not available. The tatami pattern will always run the long way on the ramp and may not match the texture pattern direction on your floor. Please inquire with questions.

Please note:
Color tone variations can and will most likely occur within the same batch of mats, even mats that are made at the factory within minutes of each other can vary in color. This is common with all interlocking EVA foam mats.

We are determined not to be undersold - please contact us if you are offered a better quote for the same product with shipping cost included as part of the total cost.

These mats are designed for grappling and MMA and feature a no-burn surface texture. They are designed for barefoot use only. Soft martial arts shoes can be worn but please note that they may scuff your mats.



This product is shipped via freight delivery. Mats are palletized and shrink wrapped.
There are 5 mats per bag. Please review our shipping disclaimer.
Size and Dimensions:
Tile: 40" x 40" x 1-5/8" - 1 mm + or - thickness tolerance
Weight: 9 lbs per mat
Attached trim piece: 40" x 1.5" x 1-5/8"
Characteristics:
Durable top texture does not give you rug burns
Interlocking seams are very tight and will virtually disappear as the mats get used
Lead Free and Latex Free
Anti-Fatigue
No Odor
Waterproof
No Adhesive Required
Product Info:
Reversible Design
Border Strips Included
Waterproof
Tatami Top Surface
Expand Your Floor as Needed
Easy to Assemble
Easy to Clean
Our MMA mats feature a tatami top surface texture that will not give rug burns. The interlocking puzzle design makes these mats easy to install and fit for wall to wall MMA floor installations.
Please Note:
Foam interlocking mats such as this type may have a common issue of coloring from the mat material coming off on feet and uniforms. This issue is not consistent and is not uncommon in the industry with this type of EVA foam mat.
View Installation PDF
View Cleaning Instructions PDF
View Fire Rating Data Sheet PDF
View Fall Height Rating PDF
Pricing for Grappling Mats 1-5/8
Grappling Mats

On Sale Now




$26.95

per piece - $2.50 per SF
Was:

$35.00

You Save 23%
For Volume Discounts Request Quote
15-25 mats
$29.00 per piece
26-55 mats
$28.00 per piece
56-75 mats
$25.50 per piece
76 + mats
Request or Call for Quote
Request a Quote



Red/Blue






Black/Gray






Green/Gray



Customers who viewed this item also viewed: