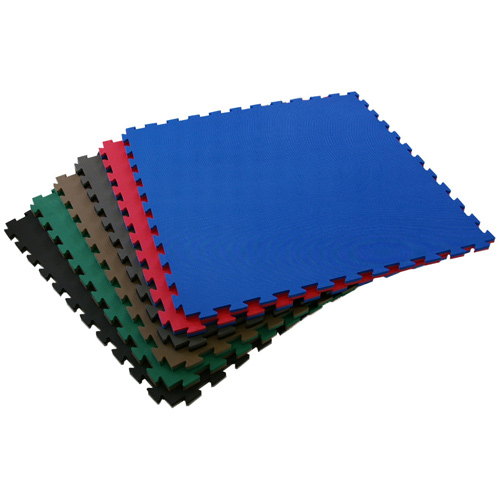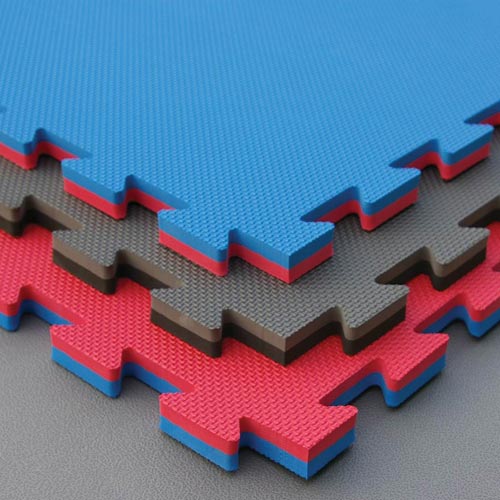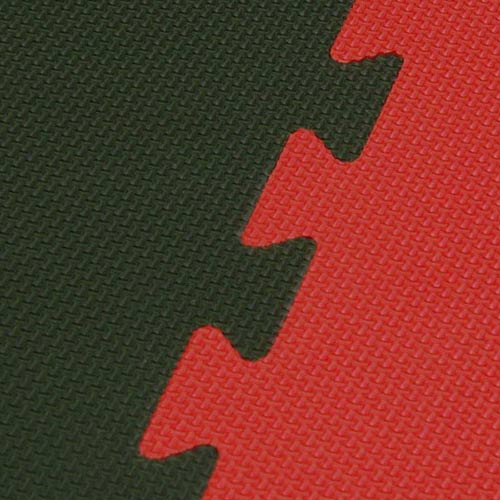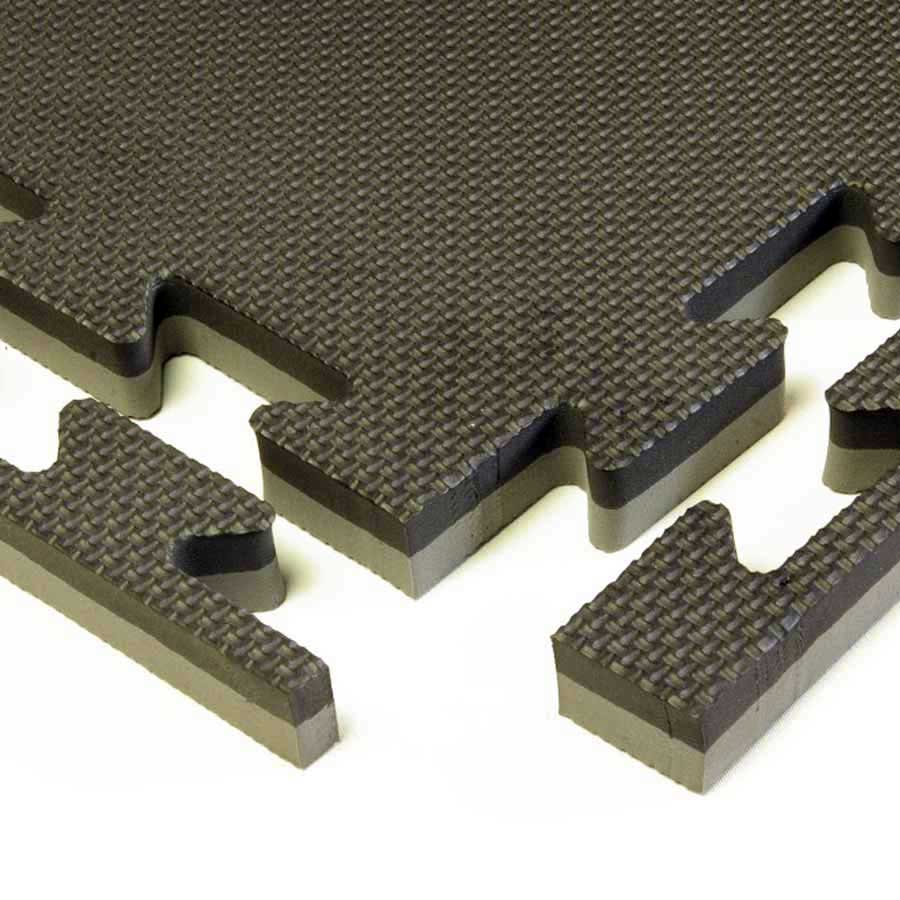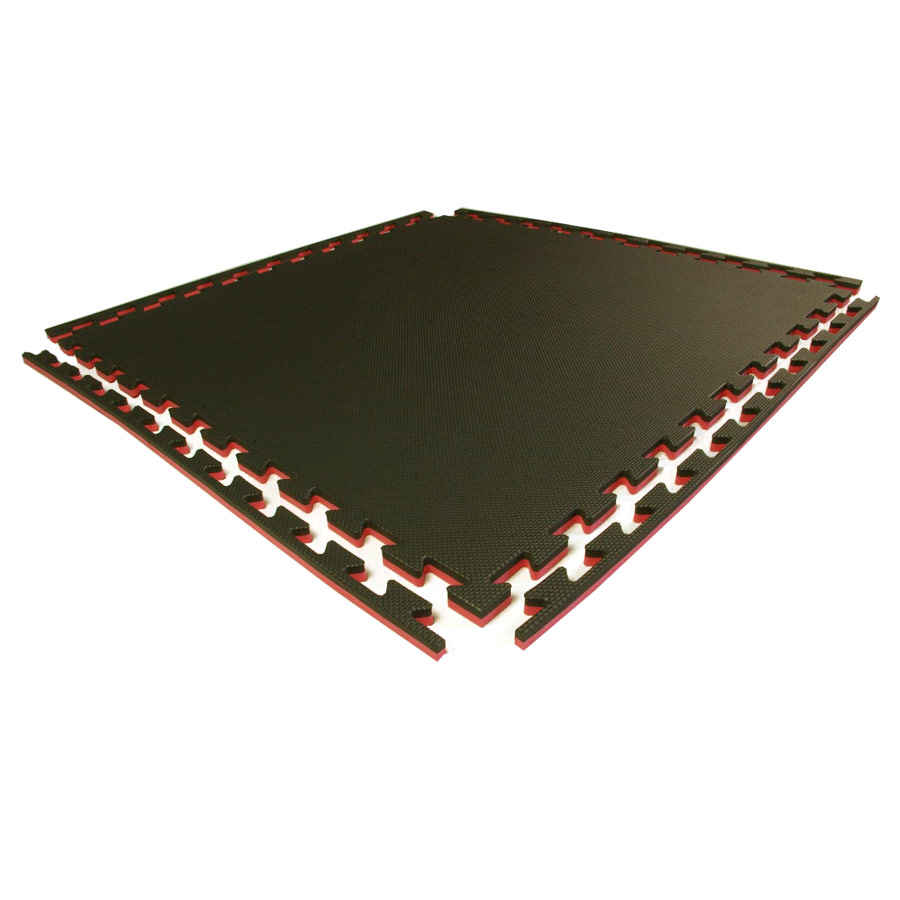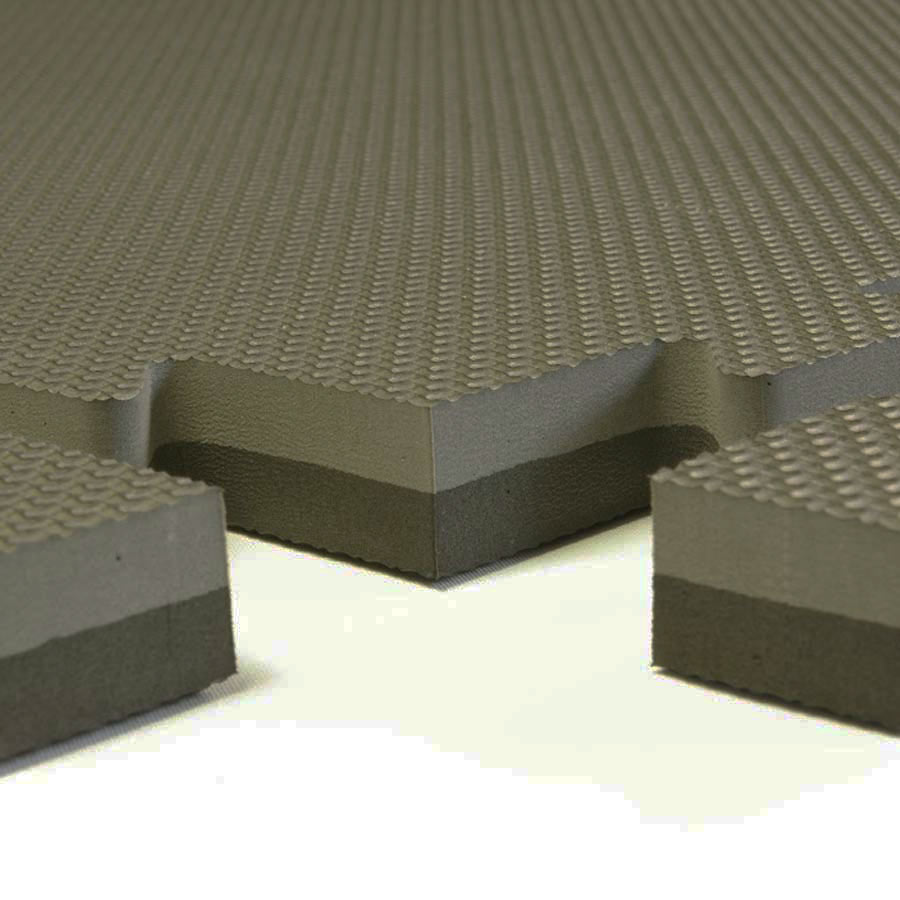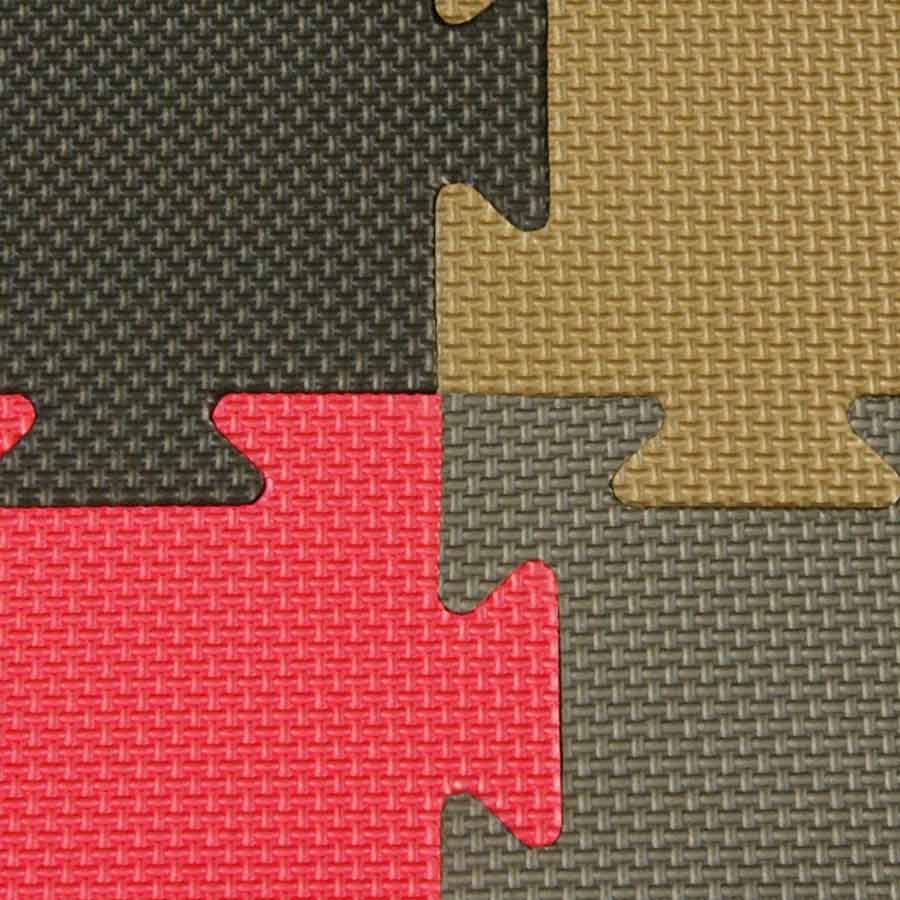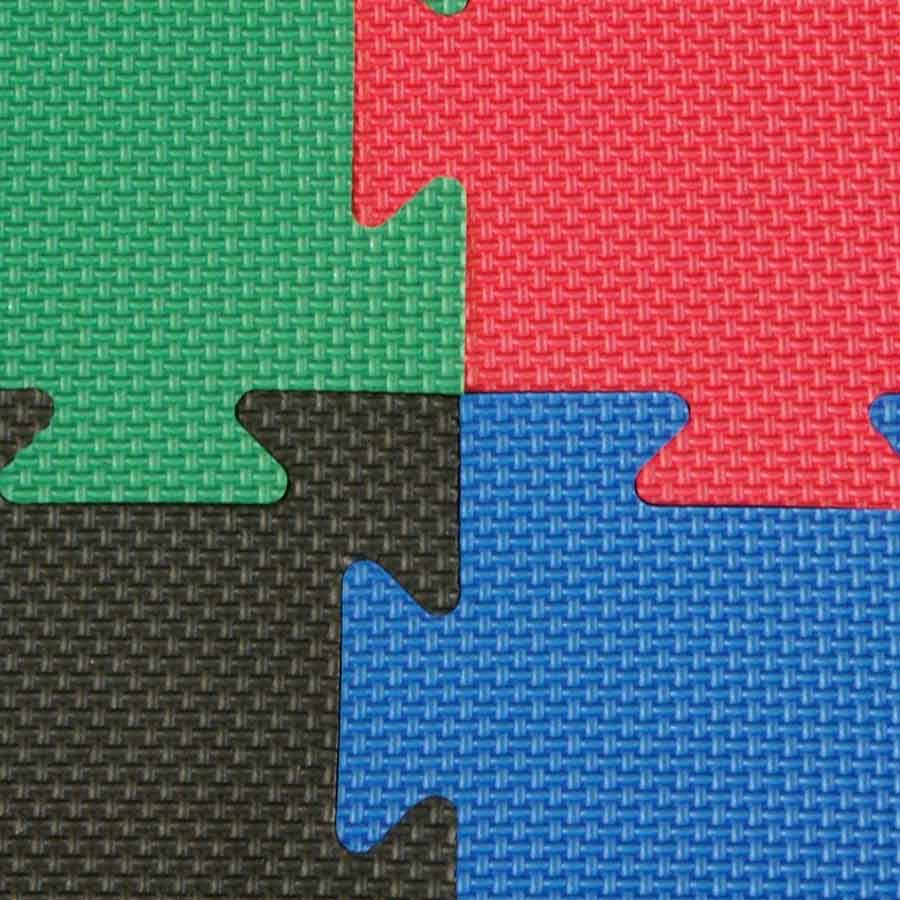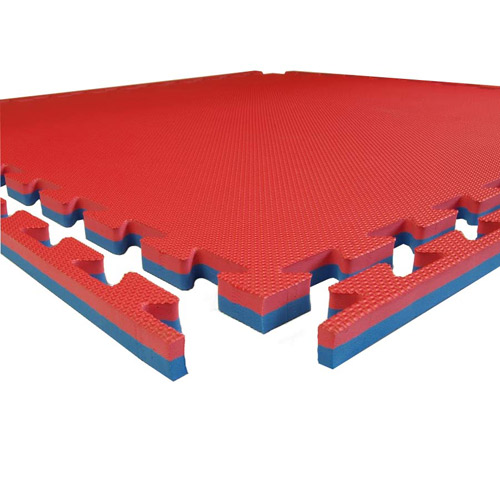 Pro Sport 7/8 Inch Foam Tile
(51 Reviews ) Write a Review
SKU# MAMPro78
On Sale
Reg: $19.95 per Tile
$15.89 per Tile - In Stock
$1.47 per SF
Ships out 1-3 Days
Ship times are typical, inquire for immediate availability.
GREATMATS CUSTOMERS ALSO VIEWED
DESCRIPTION⌃ Back to top
Benefits
Lead free and latex free EVA foam
Shoe and boot resistant
Easy installation with interlocking design
Double sided and double colored
Scuff resistant thatch texture
Non moisture absorbent
Reversible and removable
No adhesive required
Use Types
Taekwondo Flooring, Martial Arts Studios, Basement Flooring, Taekwondo Mats
Now a 20 mm martial arts Taekwondo mat that is specifically designed as an affordable taekwondo flooring option for professional martial arts and TKD studios. This taekwondo mat features a durable thatch top surface pattern that is very resistant to shoes and athletic footwear. A great portable martial arts and taekwondo flooring system that will last for years for use and enjoyment.
This martial arts and Taekwondo mat is a very durable professional quality interlocking puzzle mat for martial arts dojos and multipurpose athletic flooring installations.

This foam flooring puzzle mat option is an affordable soft and safe flooring material that features a scuff resistant top thatch texture. This foam floor tile is built to withstand intense martial arts training while using shoes or boots. The top texture of this foam tile is one of our most durable surface textures available in a martial arts puzzle mat.

Foam matting as flooring is effective for military and police tactical training and boxing gyms when using shoes or boots. This type of martial arts foam floor is commonly used in professional martial arts studios and can be used with bare feet. This martial arts mat is ideal for mixed use rooms such as aerobics, kickboxing and Taekwondo.

Made of high density EVA foam, this foam floor option is 40x40 inches in size and is an interlocking foam tile. These mats are designed to last for many years, and are completely non absorbent. Not suitable for use with tables and chairs.

Be sure to clean your mats regularly with a vacuum (after testing the vacuum on the tiles to make sure it does not damage your martial arts flooring). Use a damp mop with basic household soap and hot water as needed. Spot clean using a scrubby and a sponge. A walk behind auto cleaning machine is recommended for cleaning this karate flooring in large commercial areas.

Allow an approximately 1/2 inch gap around the perimeter of your room during installation to allow for mat expansion which can occur with fluctuations in heat and humidity. Keep direct sunlight off the mats if possible as this can heat them up and cause expansion.

Color tone variations can and will most likely occur within the same batch of mats. Even mats that are made at the factory within minutes of each other can vary in color. This is common with all interlocking EVA foam mats.

Not recommended for yoga studio floors, too soft and slippery, especially when wet.

Tile Size:
Side to side with border strips attached 41 x 41 inches
Outside to outside of interlocking tabs 40.25 x 40.25 inches
Outside to inside of interlocking tabs 39.375 x 39.375 inches
Measurements may fluctuate if tiles are heated and expand
Maintenance
Product can be damp mopped with common household floor cleaners, avoid bleach. Test your vacuum before use.
Shipping
Ships via freight delivery shrink wrapped on pallets.
This Product Ships UPS Ground and/or Freight.
Please review our shipping disclaimer.
SPECIFICATIONS⌃ Back to top
| | |
| --- | --- |
| In Stock | Yes |
| Product Type | Tile |
| Material Type | Foam |
| Product Edging | Interlocking |
| Thickness | 7/8 inch |
| Width | 3.33 feet |
| Length | 3.33 feet |
| SF per Item | 10.80 |
| Weight | 6.00 lbs |
| Packaging | Shrink Wrapped on Pallets |
| Number of Pieces per Package Type | 80 |
| Non Absorbent | Yes |
| Special Adhesives | No |
| Universal Interlock | No |
| Interlock Loss | 0.04 feet |
| Kid Safe | Yes |
| Material Density | Shore C 35-40 |
| Interlocking Connections | Yes |
| Made In | Taiwan |
| Order Minimum | 15 |
| Surface Finish | Thatch |
| Surface Design | Solid color double sided |
| Installation Method | Interlocking, dry lay |
| UV Treated | No |
| Reversible | Yes |
| Border Strips Included | Yes |
| Manufacturer Warranty | 1 year limited |
PDF DOCUMENTS⌃ Back to top
View Installation Instructions
View Cleaning and Maintenance
View Warranty
View Specifications Data Sheet
View Flammability Test
You will need Adobe® Acrobat® Reader to view PDF documents.
Download
a free copy from the Adobe Web site.
Q & A⌃ Back to top
Ask a question about this product
Product Questions:
I'm looking for interlocking matting for boxing. What is the best option?
This sports and martial arts floor can be used for boxing also.
REVIEWS⌃ Back to top
Customer Rating:
09/24/2015
These mats are perfect! They are firm enough for stand-up and bag work, but soft enough to be comfortable on bare feet. They also work well for rolling and falling. I would recommend something thicker for take-downs, but in our bag-room, they are perfect. They installed super quick easy; we just laid them down before class one day. We bought 36 to cover an approximately 30 sq ft area. I had to trim nine to fit the width of the room. I marked it with a utility knife and then cut through more quickly with a saber saw. I had no issues. We have used the room for about a month now, at least two high-intensity classes per week training MMA. We typically have 4-10 people working out each class. It has been perfect for our needs; and looks great!
Dana
Memphis, TN
Customer Rating:
08/09/2015
Love my 2nd basement gym even more than the first thanks to my Pro Sport 7/8 inch foam floor by Great Mats. Staff was very accommodating with my shipping requests. Floor went in on a Sunday afternoon with no tile defects. I'd highly recommend these mats for cardiovascular or MMA workouts.
Scott
Lakewood, CO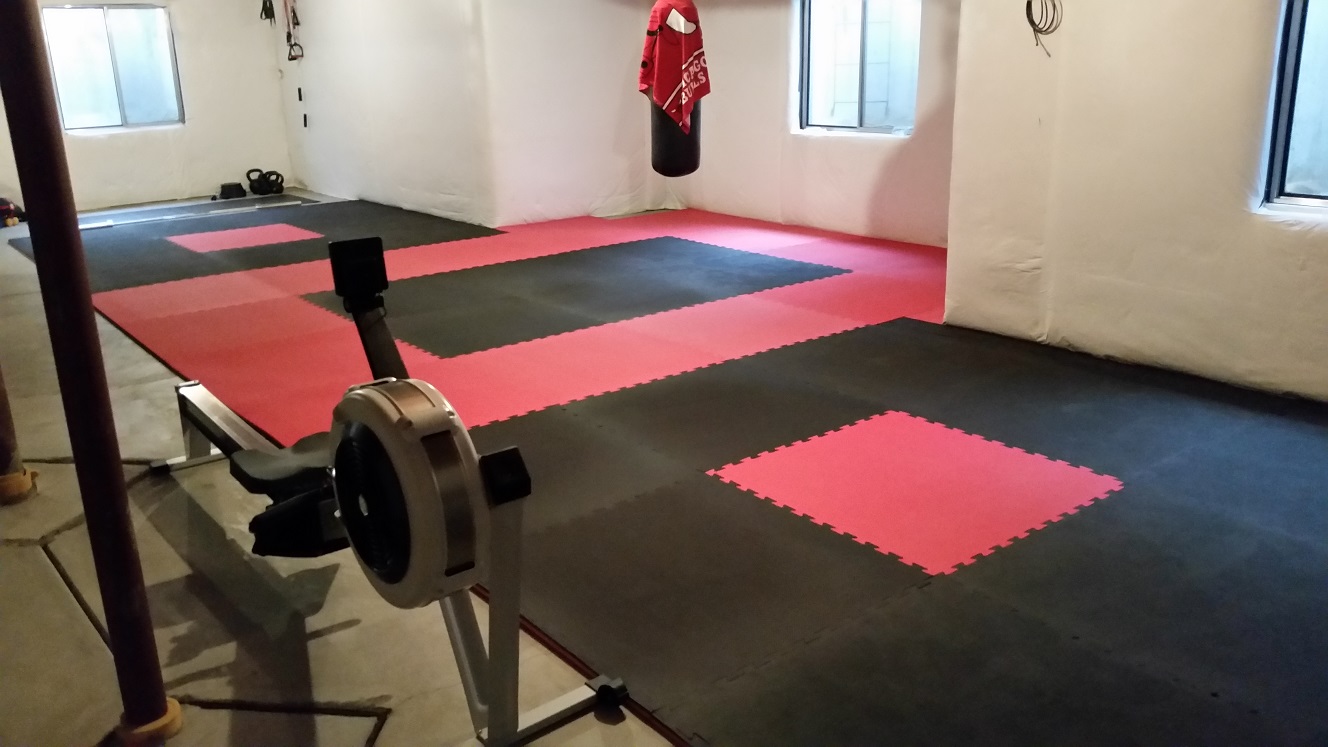 Customer Rating:
05/24/2015
Outstanding product. My second purchase from this company and they have been everything you could hope for, kind and friendly with a great product to boot. I have every amount of confidence you will share my same views of Greatmats, you have nothing to loose.
Jeffrey Louis
Houston, TX
Customer Rating:
05/04/2015
Mats arrived quickly and were in great condition. This has been my 3rd purchase in the last 7 years. With a traffic of roughly 100 people per day the mats hold up really well even with people wearing sneakers.
Very happy customer.
Robert
Ho Ho Kus, NJ
Customer Rating:
04/07/2015
I couldn't be more pleased with Greatmats, or our Rep. Pam! She was very patient with us making sure we had the best product to match our existing Tiles purchased from Greatmats over a year ago. We were able to incorporate new into the existing type of tiles that were previously discontinued. We received the perfect sample to make sure our new product was going to work.
Our students are excited with the new flooring and we are stoked about the fit and look.
Thanks Greatmats!
Robert
Redmond, OR
Customer Rating:
02/23/2015
Love these mats for boxing related classes. Not my first order, not my last.
Jeffrey Lee
Tupelo, MS
Customer Rating:
01/10/2015
I love the mats they are very practical and sufficient iam glad I called greatmats.com.
Samer
AMERICAN FALLS, ID
Customer Rating:
11/02/2014
Person at order desk was very knowledgeable and helpful. The mats were easy to install. We put them to unconventional use -- on the walls of several horse stalls to help prevent horses that tend to kick, from sustaining injuries. The mats work very nicely for this purpose.
Margot
CLINTON, NY
Customer Rating:
10/29/2014
I love the mats! They were really easy to install, they're easy to clean, and my dogs absolutely love the cushion beneath their paws! The mats are great! :)
Deirdre
Wheeling , WV
Customer Rating:
09/01/2014
Excellent Product! I did a lot of research and found this mat before I purchased this mat. I am glad I did.
Robert L
Christiansburg, VA
Customer Rating:
08/19/2014
The mats are great..... they are definitely cut more accurate than other puzzle mats I have had in the past. Attached is a few photos....Once the mirrors are installed I'll send more.... Tina was great to work with...thanks!
Dave
Vernon, NJ
Customer Rating:
08/04/2014
Looked around online at all my options, with a good price point and reviews I chose these. Installed in no time and looks great, just what I was looking for to put in the garage for my training bag for my son and me to practice TKD. Received top notch customer service and was able to find the best shipping option for this product. Will be a five star product once the long term durability is tested.
Anonymous
Brownsburg,IN
Customer Rating:
07/12/2014
Overall quality of these mats is good, The foam is firm yet allows for enough cushioning. The puzzle pattern is precise so that the mats are interlock without any gaps. The only and biggest downfall of these mats is the surface. Although having a surface pattern that should avoid slipping, the mats are in fact very slippery if used barefoot - which usually is the case when practicing martial arts. Especially in warmer seasons and during intense training when feet and hands get sweaty, the mats do not provide enough friction to allow for proper grip.
Nina
Batavia, OH
Customer Rating:
06/19/2014
I bought these mats for my children as they have been in TKD for many years now. We wanted to be able to train at home as well as at school and decided to convert the garage into a studio. Thanks Greatmats for a superior product at a GREAT price, you made our wish come true. The service was great, shipping was quick and I could not have asked for a better experience. I spent about an hour or less installing the mats by myself, it's so simple even a caveman could do it. Two thumbs up!!!!
Andrew
Bakersfield, CA
Customer Rating:
07/24/2013
These mats were perfect for us for a studio that was used for martial arts instruction but also for dance. They're durable, convenient, and an excellent value. Would definitely purchase these from Greatmats again (in fact, this is our second purchase!)
Accounts
GRAND RAPIDS, MI
Customer Rating:
07/23/2013
The martial arts puzzle mats went down very easily. We do tai chi and applications (sparring). Some mats had to be cut for fit. A "box cutter" works okay, but I found a saber saw smooth cut blade worked more easily. They're a lot easier to fall on than a sub-floor! Pat Kessler
Pat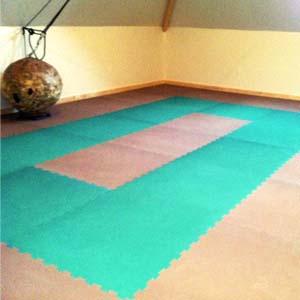 Customer Rating:
07/23/2013
This is our sweatshop floor. It is Greatmats martial arts floor 40" x 40" lock in mats and they work wonderful! Dewey Wendt
Dewey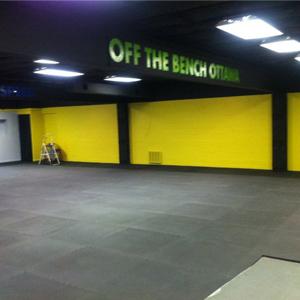 Customer Rating:
07/23/2013
You can cut corners on some things, but in a martial arts studio, flooring ISN'T one of them. After exhaustive research on flooring/mat options, obtaining samples from several sources, and getting advice from the friendly, helpful folks in customer service at Greatmats, we feel we absolutely got the best price possible from Greatmats and we didn't sacrifice quality, either. We purchased 1,500 sq ft of this mat and are using it for both martial arts and Zumba fitness. Greatmats literally saved the day: We realized we had a problem (i.e. we goofed and assumed we could cut a 40x40" tile in half and get TWO 20x40" tiles to interlock. Didn't think to ask about that. It doesn't work.) So a mere 3 days before our Grand Opening, we were 8 mats short. Greatmats was able to expedite those 8 mats to us and we opened on time without an unsightly "empty space". *Whew! Thanks!* Very happy, thank you. - Mrs. Gary Johnson, Guardian Martial Arts Studio, Harrodsburg, Indiana
Liane
Harrodsburg, IN
Customer Rating:
06/20/2013
These are "great" mats. We are using them teaching armed and un-armed combatives including takedowns and break falls. I would not use these for aerial throws but for falling and rolling the're great. They also stand up well to shoes and boots and don't take any skin if you slide on them.
We lay them down and take them up for each class and so far they have held up really well. I'm very happy with our choice.
JohnPaul
Blaine, WA
Customer Rating:
04/18/2013
Mats are extremely easy to install
Proved to very durable so far
Very convenient to move
Easy to mop off
Firm enough for stand up, soft enough for grappling training
Good traction without being too abrasive to need rash guards while grappling
Christopher
Victor, ID
More Reviews...