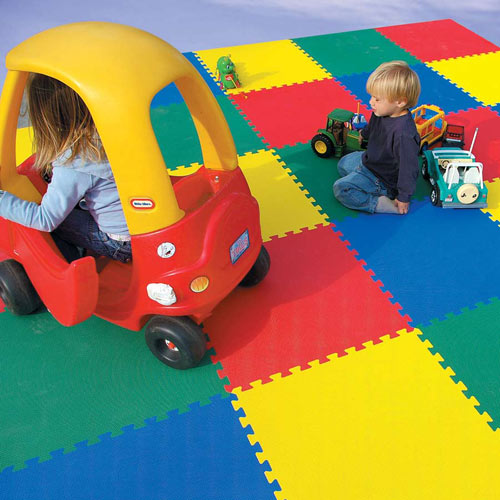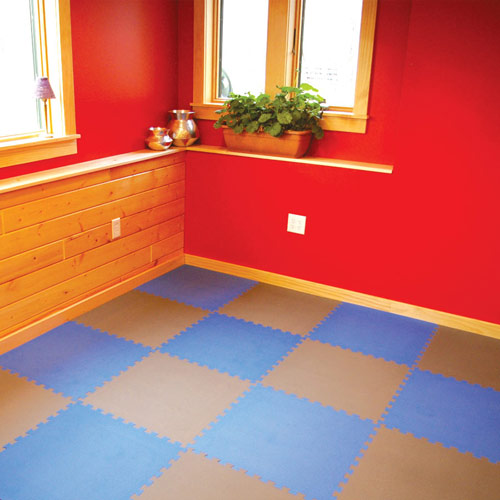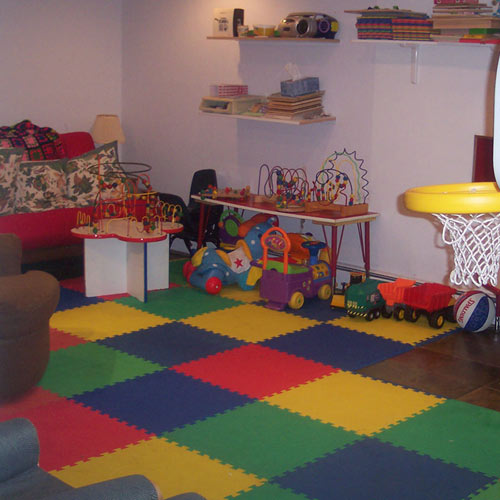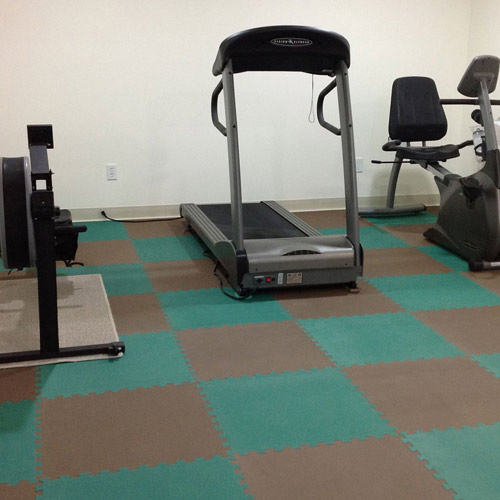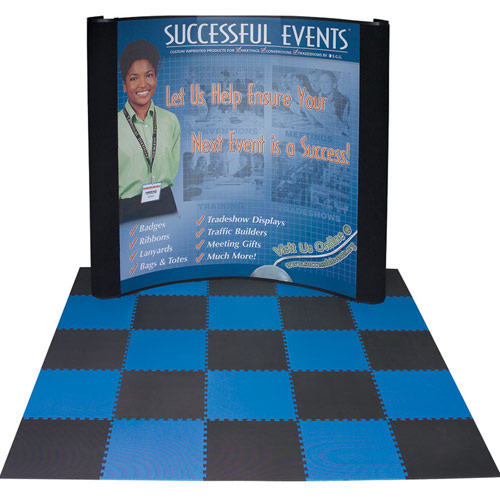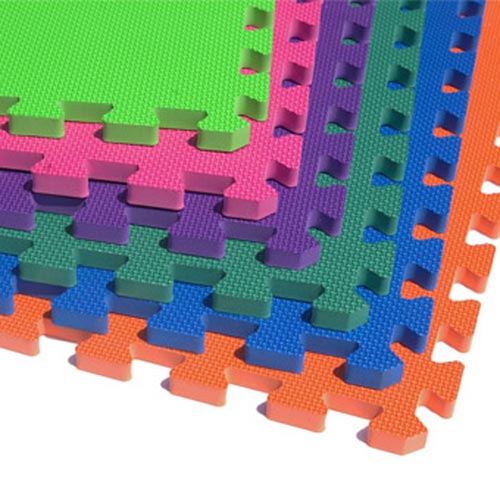 Foam Floor Mats 5/8 Premium
(372 Reviews ) Write a Review
SKU# DF15
On Sale
Reg: $8.12 per Tile
$5.79 per Tile - In Stock
$1.45 per SF
Free Shipping
- lower 48
Ships out 1-3 Days
Ship times are typical, inquire for immediate availability.
Please request a volume quote for 500 SF or more.
Use Types
Basement Foam Floors, Kids Play Mats, Exercise Foam Flooring, Home Gym Soft Floors
Greatmats' Premium 5/8 inch foam mat is one of its most popular foam mats. These interlocking foam floor mats are ideal for kids play rooms, trade show booths or almost any indoor area where you need a soft surface for work or play. Premium foam mats feature a textured surface on one side and a smooth surface on the other. This allows you to decide which type of surface you would like for your particular application. The texture side of the foam flooring features a thatch design that is resistant to scuffing. Interlocking foam mats turn any room into a safe and soft play or workout area.
Premium foam mats are 2x2 feet in size and come with two detachable border strips, allowing you to easily transform the sides of your mats from a puzzle edge into a straight edge. This makes it easy to create island layouts with finished borders. For wall-to-wall installation, simply use border strips in corners and along walls. Premium foam mats can be easily cut with a sharp utility knife.

These mats are a premium quality product made from EVA foam material that can change a basement or den into a playroom or indoor sports area. Our multi-color options foam floor mats will allow you to mix and match to fit your decor or get creative with your design. And the universal interlocking design means you won't have to spend extra time, figuring out which direction to lay the tiles as each side interlocks the same way. Use our interactive online room designer to easily create scaled room layouts and design color options with these premium interlocking foam mats.

When used as kids foam floor tiles, this 5/8 inch mat can transform a kid's bedroom or play area into a colorful, stimulating and safe fun zone. The foam not only provides great cushion for active children, but can also serve to muffle noise and provide thermal insulation. As an added benefit, the waterproof material is also resistant to stains. Lead and latex free, these kids foam floor tiles are safe for your youngster.

The Premium foam tile is offered with a 1-year warranty against product defects. It can be expected to last for 10 years or more in normal residential applications when cleaned and cared for on a regular basis. Greatmats stocks thousands of square feet of this and similar foam flooring products for large-scale commercial and athletic projects.

If this particular mat is not ideal for your application or if you have questions, be sure to give us a call. We offer a complete and comprehensive line of interlocking mats. Some foam tile products are offered with free shipping. Browse our complete line of puzzle mats. Our flooring experts are also available to answer your questions via an online chat or email.

All About Foam Mats

Interlocking foam floor mats are great for exercise rooms. We offer our standard 5/8-inch mat in 15 colors. You may also choose to upgrade to our Home Sport and Play mat. This product is 7/8 inch thick with 3 color combinations. Home Sport and Play mats feature two different colors, with one color per side. They are reversible which allows you choose either color to display. Most of our mats are an interlocking style. They are lightweight and can usually ship via ground service. This can save money versus a freight delivery, especially for residential customers. Greatmats interlocking mats are easy to cut with a sharp utility knife for a custom wall-to-wall installation.

Mats for kids' playrooms can be made safe, soft and comfortable with Greatmats interlocking mats. Your entire space can be filled with colorful puzzle mats wall to wall with custom colors. Match the colors with your child's bedroom theme. Whether you want calming colors for a bedroom or vibrant colors for a play area, the choice is yours. Installation is simple and you can change the color and/or design of your flooring easily by swapping or rearranging kids foam floor tiles at any time. Whatever your choice, our interlocking mats in 5/8 inch thickness will be a wonderful addition to your child's floor play area in your house.

Exercise rooms are another popular place for our customers to install Premium 5/8 inch interlocking puzzle mats. Try our foam tile floor planner to design your layout to scale. When using a foam tile for an exercise room floor you have a few things to consider. Typically, exercise equipment will leave some level of indentation in the foam. This will not hurt the material. Any indentations will take about the same amount of time to heal or return to normal as the amount of time the mat took to indent. Some indentations in your foam flooring, however, may be permanent.

Foam mats for basement flooring can turn any hard and cold floor into a comfortable, warm and soft floor full of color and design. Dull and hard basement floors will jump to life when an interlocking foam floor is installed. Bring bright color, design and safety to your basement with Greatmats puzzle mats. These mats are waterproof and made of closed cell EVA foam. The closed cell material does not allow mold or bacteria from a damp floor could penetrate your mats. The foam mats will also act as a vapor barrier to any potential moisture coming up through a concrete floor.

When our customers have to stand for hours at a time, they are thankful for foam mats in a trade show booth or events booth locations. Our premium mats in 15 brilliant colors come with two border strips attached, meaning each 2x2 foot foam mat can be utilized as a center, a border, or a corner piece with no wasted material. It is easy to create a 10x10 foot trade show booth layout with 25 mats. A 10x20 foot trade show or special events booth would require 50 foam mats, while a 20x20 ft trade show booth will require 100 mats.

Easily clean the mats on a daily basis with a broom or a damp mop. Consider a hard plastic cargo ready carrying case to transport and store your mats for years of use. We have many sizes of cargo ready durable plastic event tile carrying cases to choose from. They range in sizes from 2x4 and 4x4 feet and all the way up to cases that carry 200 mats for a 40x40 foot booth.

Please Note:
Have your vacuum cleaner set at highest setting or just use hose and nozzle. Don't use power head.
High heels can puncture the foam tiles.
Install over a hard, flat surface for aerobics activities. Do not place the tiles on top of carpeting, as foam tiles can shift.
When used outside, exposure to direct sunlight in warm climates for extended periods of time, may cause the foam tiles may expand and curl.
Color and shade may vary somewhat from foam tile to foam tile within the same order, this is common with EVA foam tiles.
Allow the foam tiles to acclimate to your room before installation. The foam tiles can expand with changes in heat and humidity, so allow a 1/4 inch expansion gap for wall-to-wall installations.

Contests and promotions
Like us on Facebook to find out about our latest contests and promotions. You could win a gift card or Greatmats product, or maybe just save some money on specialty flooring you've always wanted. Greatmats hosts at least one contest every month for chances to win great prizes.
Maintenance
Product can be damp mopped with common household floor cleaners, avoid bleach. Test your vacuum before use.
Shipping
Ships via ground service, and may ship via freight delivery for larger orders via common carrier on a pallet.
This Product Ships UPS Ground, FedEx Ground and/or Freight.
Please review our shipping disclaimer.
| | |
| --- | --- |
| In Stock | Yes |
| Product Type | Tile |
| Material Type | Foam |
| Product Edging | Interlocking |
| Thickness | 5/8 inch |
| Width | 2.00 feet |
| Length | 2.00 feet |
| SF per Item | 4.00 |
| Weight | 1.10 lbs |
| Packaging | Cartons |
| Number of Pieces per Package Type | 25 |
| Non Absorbent | Yes |
| Special Adhesives | No |
| Universal Interlock | Yes |
| Interlock Loss | 0.03 feet |
| Kid Safe | Yes |
| Material Density | Shore C 30-35 |
| Interlocking Connections | Yes |
| Made In | Taiwan |
| Order Minimum | 15 |
| Surface Finish | Thatch |
| Surface Design | Solid color |
| Installation Method | Interlocking, dry lay |
| UV Treated | No |
| Reversible | No |
| Border Strips Included | Yes |
| Manufacturer Warranty | 1 year limited |
View Installation Instructions PDF
View Cleaning and Maintenance PDF
View Warranty PDF
View Specifications Data Sheet PDF
View ASTM Fire Test Result PDF
View Flammability Test Report PDF
Ask a question about this product
Product Questions:
Are play room mats PVC and phthalate free? Does the foam contain formaldehyde? Thank you, Julie
The manufacturer of our EVA foam tiles has provided us a test that states that one sample of an EVA foam tile passed a test that states the sample was free of formamide. We don't then state that all of our EVA foam tiles are formamide free, and I know that other supplies will promote this. The reason is that all the EVA foam tiles on the market are pretty much the same material. Formamide free EVA tiles can not exist, however the formamide will dissipate over time and one can get a passing test result after a few months of manufacturing. We source from the largest manufacturer of EVA foam tiles in world and I personally visit the factory each year and have much knowledge about the manufacturing process. I'll not state on my site what I know is not true. EVA foam tiles do not contain PVC material and thus no phthalates. Some blogs talk about EVA replacing PVC in foam tiles, this is not true, they are totally different materials. PVC is a plastic. EVA foam comes from the flip flop industry. Thank you David Butler President
Is this product safe for babies?
This is product will protect against an hard surface. The product is not tested for other safety features.
I am looking for a product to install at a Day Care Center. The product should be heavy duty and come in different bright colors. Suggestions?
We have various interlocking foam tiles which are very popular for daycare and childcare locations, however the foam tiles are not really designed for areas with tables and chairs. We have our Staylock line of flooring tiles which provide a 20 inch ASTM fall height rating and can be used with tables and chairs and are easy to clean and are very durable for a long period of time.
Can your Foam Floor Mats 5/8 Premium be installed outside?
All foam tiles will expand and potentially deform when exposed to heat and direct sunlight, so we can not warranty the foam tiles outdoors. The tiles are waterproof and will not absorb moisture. I believe some of our customer have used these tiles outdoors under portable swimming pools.
Will bed frames ruin the floor mat? Do we need to put anything under desk legs or bed frame legs to protect the floor?
Any small surface area that carries a load will intent the foam tiles. This can leave an almost permanent indentation, however this will not damage the foam tile per say. You can use coasters under such feet or legs to disperse the weight of the furniture.
Customer Product Reviews
Customer Rating:
07/22/2015
Super Fast Shipping; Quality of Mats is Great! Definitely recommend this product.
Jennifer
Palm Bay, FL
Customer Rating:
06/27/2015
Perfect
TIMOTHY
Torrance, CA
Customer Rating:
06/21/2015
Excellent as always. Good shipping as well
Pat
Charlotteville, VA
Customer Rating:
06/06/2015
They were easy to install, and are a wonderful floor. They do scuff rather easily from furniture. But if you aren't putting furniture on them then they don't scuff. They are easy to clean with a simple vacuum (no roller), and a wet washcloth gets any sticky stuff off. My children are hard on things, and this floor is no exception. We love the floor though. We love the great colors, and the fact that we can clean up a wet floor in the laundry room very easily.
Kari
Brookston, IN
Customer Rating:
06/02/2015
Love the Premium 5/8 Foam Floor Mats for my children's playroom. It's soft enough for all day play and firm enough for toy cars and trains. The installation was fast and easy - I'm a 32 year old female and I did the room (11x15 with a closet and built-in drawers) in less than an hour by myself. I would recommend these tiles to any family with toddlers. The selection of colors is great - I am thinking of doing my daughters bedroom next!

Thanks Greatmats for a great product, fast shipping, and excellent customer service! You have a return customer!
Jackie
Cleveland, OH
Customer Rating:
05/21/2015
I love these mats. they're great for high impact exercises/activities. I've noticed an improvement to my back stiffness with just a few weeks using these mats for plyometric workouts.
Zak
Chicago, IL
Customer Rating:
05/04/2015
We love our mats, particularly because we have 2 kids. They are easily cleaned, comfortable and durable. We have had them for about a month, and I am noticing that there are nicks on them. The nicks are not from everyday use as much as heavy toys dropping, so I am not overly concerned. I know I can replace a tile or two if needed, which is great. Overall, we are very happy with this choice.
Melanie
Philadelphia, PA
Customer Rating:
04/23/2015
Excellent product to protect my soft wood floor when my 3 year old grand daughter visits and uses our living room as her playroom. It is very easy to assemble, disassemble and store when not in use.
James P
Chivago, IL
Customer Rating:
04/23/2015
GREAT MATS IS RIGHT!!! LOVE THIS PRODUCT ~
very well made products at a reasonable price... I purchased for my ten month old, my baby puts everything in her mouth, I was so relieved to find the mats did not have that odor that some of these mats have. We loved them so much we purchased more for our work out room! Great buy, and great company...excellent customer service. We will certainly be a long standing customer of Great Mats!
Denise
AUSTIN, TX
Customer Rating:
04/03/2015
Product is great. Turned my unfinished basement into a play area my kids love to play in! Great value for money!
Ninad
Edison, NJ
Customer Rating:
03/30/2015
Just as was ordered! Love them. Great Quality and Great Colors!!
Karen
Roberta, GA
Customer Rating:
03/16/2015
great product
Daniel
Staten Island, NY
Customer Rating:
03/14/2015
excellent product. Exactly what I was hoping to find. And the best price I found.
David
Hartvillle, OH
Customer Rating:
03/08/2015
Great flooring nice and soft, dampens sound Echo and keeps the floor nice and warm and soft landings for the kids, easy to install.
Justin
Flint, mi
Customer Rating:
03/05/2015
Exactly what i needed for my installation. Product is well made and customer service was friendly and helpful.
Brian
Boston, MA
Customer Rating:
02/26/2015
I have purchased this product twice, once for a screened in porch and most recently for the basement flooring. Easy to install, easy to clean stands up well to three large dogs and two adults.
Preston
Clay Center, KS
Customer Rating:
02/25/2015
I love my new mats. They are perfect for my home gym!
David
Palo Alto, CA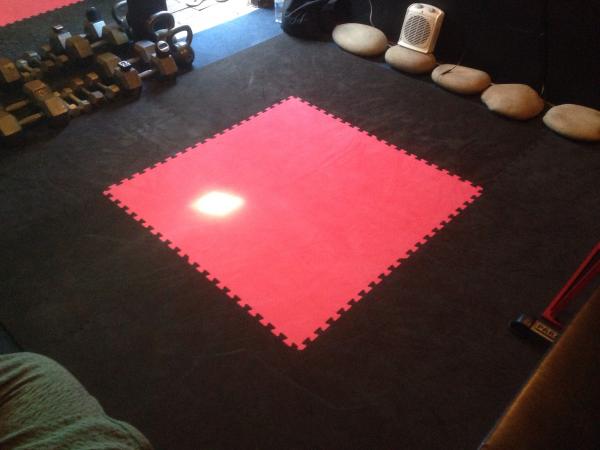 Customer Rating:
02/12/2015
The Foam Floor Mats 5/8 Premium are just what we wanted to cover our bamboo floor so i could have a mini-gym in my office. Arrived quickly and in good shape. Fit together easily. We even got a few extra which we use often.
Richard
Fairfield, IA
More Reviews...