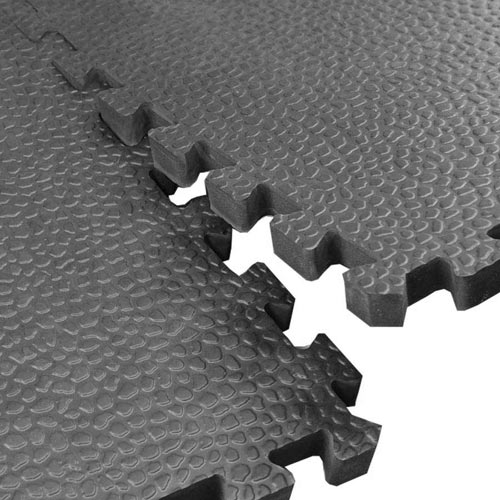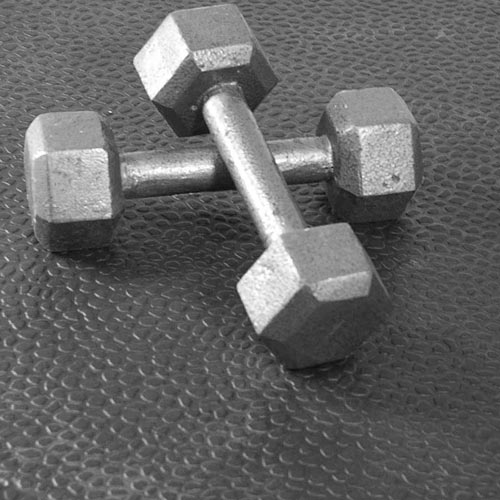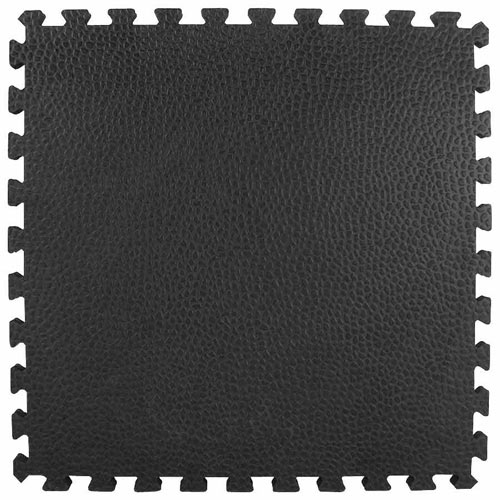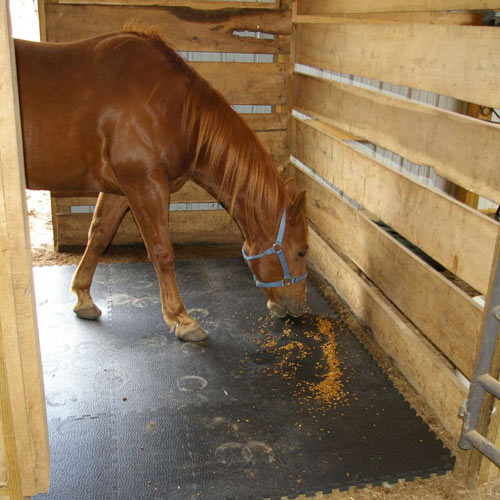 Pebble Top Foam Gym Floor Tile
(74 Reviews ) Write a Review
SKU# PEB34
On Sale
Reg: $11.96 per Tile
$9.96 per Tile
$2.49 per SF
Ships out 1-3 Days
Ship times are typical, inquire for immediate availability.
Use Types
Exercise Room Flooring, Home Gyms, Weight Rooms, Portable Temporary Horse Stall Mats
Pebble Top exercise room flooring is available in this durable all EVA foam flooring tile. Made of quality foam and designed with a super durable pebble top surface pattern, this exercise room flooring tile is an excellent option for home exercise and gym floors where a lightweight and durable flooring is needed.
This floor tile is a very high density foam material and at 3/4 inch thickness, this tile will stand up to great punishment. Not quite as durable as rubber, but this floor tile in a foam material comes the closest of any product we have available. Install this foam exercise flooring over any hard flat surface and interlock the tiles together for a fast and easy installation.

These exercise room floor tiles can withstand all types of exercise equipment. This tile measures 21 mm thickness, + or - 1 mm. Each tile comes with two border strips attached. This flooring option is designed to last for years beneath exercise equipment.

This high density durable EVA foam floor tile can also be used as a portable horse stall mat for temporary installations.
Maintenance
Product can be damp mopped with common household floor cleaners, avoid bleach. Test your vacuum before use.
Shipping
Ships in cartons via ground service to your door, for larger orders product may ship freight delivery.
This Product Ships UPS Ground and/or Freight.
Please review our shipping disclaimer.
| | |
| --- | --- |
| Product Type | Tile |
| Material Type | Foam |
| Product Edging | Interlocking |
| Thickness | 3/4 inch |
| Width | 2.00 feet |
| Length | 2.00 feet |
| SF per Item | 4.00 |
| Weight | 3.60 lbs |
| Packaging | Cartons |
| Number of Pieces per Package Type | 25 |
| Non Absorbent | Yes |
| Special Adhesives | No |
| Universal Interlock | Yes |
| Interlock Loss | 0.03 feet |
| Kid Safe | Yes |
| Material Density | Shore C 62 |
| Interlocking Connections | Yes |
| Made In | Taiwan |
| Order Minimum | 9 |
| Surface Finish | Pebble top |
| Surface Design | Solid color |
| Installation Method | Interlocking, dry lay |
| UV Treated | No |
| Reversible | Yes |
| Border Strips Included | Yes |
| Manufacturer Warranty | 1 year limited |
View Installation Instructions PDF
View Cleaning and Maintenance PDF
View Warranty PDF
View Specifications Data Sheet PDF
Related Products:
Customer Product Reviews
Customer Rating: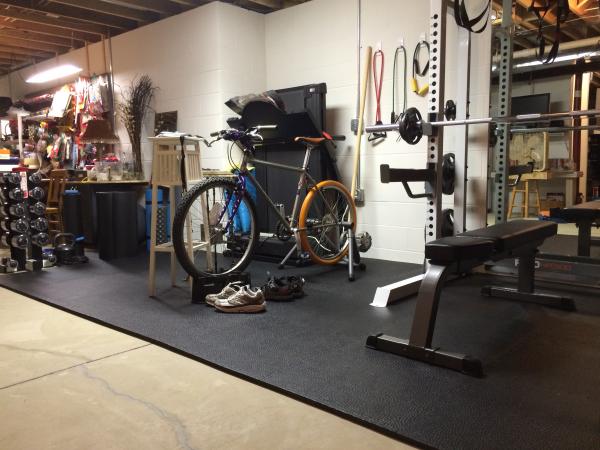 01/02/2015
Great product! Mats are very solid and not subject to denting by my equipment like some of the softer mats sold in sporting good or big box stores. Mats are extremely easy to install, took me about 40 minutes to install my project (see attached picture). Shipping was very fast. I would certainly recommend this product from Great Mats for anyone looking to put together a home gym.
Stephen
Broadview Heights, OH
Customer Rating:
12/18/2014
SO FAR , SO GOOD. IMPRESSED BY THE PRODUCT COMPARED TO ALL I'VE LOOKED AT.
Rick M.
Florence, MT
Customer Rating:
12/12/2014
We are using the mats as a cushioning agent over a concrete floor in our grand-daughters small play room. It has made the room much warmer and quieter. It was easy to trim to fit the area. We placed 12'' Mickey Mouse puzzle pieces on top and they stay in place very nicely. It was exactly what we were looking for.
Glenda D
Bossier City, LA
Customer Rating:
11/23/2014
They worked well in the stalls at shows. Easy to put down and take up.
Sue
SAINT FRANCIS, KS
Customer Rating:
11/10/2014
These mats are great! They were easy to put down, take up, and clean off. Reboxed and will wait for another show where the stalls are not matted. Thank you!

Lucy Rumble
LUCY
NEWTON, GA
Customer Rating:
08/30/2014
We take these portable mats to horse shows for when the stalls are on pavement. They are light and easy to transport and put together. I definitely recommend them!
Julie
Bend, OR
Customer Rating:
08/14/2014
Love the mats. Had them drop shipped to the NBHA Youth World Championship in Perry, Ga. After the two day trip from Houston to Perry I was not looking forward to learning how to and then putting the mats in two stalls. It was easy and fast!! We were very pleased with the whole process of ordering, delivery and installing.
The stalls in Perry, Ga are concrete and my horses could NOT have made it 8 days there without them! Thanks so much!
P. Renee Perko
P R
San Felipe, TX
Customer Rating:
07/17/2014
Thickness uniformity could be a little better, but overall a good product.
Kevin
Snohomish, WA
Customer Rating:
06/27/2014
The mats are great!! Very user friendly and they did exactly what we expected them to do..,which was provide cushioning on our concrete garage floor for exercise. We love that they can be configured in any shape. They are commercial grade and very lightweight. We would recommend them highly.
Kaye
The Villages, FL
Customer Rating:
06/05/2014
It was exactly what I was looking for. So far they have been great and I have had them in for around a month.
Mathew R
Montfort, WI
Customer Rating:
03/22/2014
Easy to install!!!! Only problem is my 2 year old like to pull the individual pieces up.
Rebecca
Auburn, AL
Customer Rating:
11/27/2013
Product was easily and quickly installed, works as advertised and is visually appealing.
Mario
Huntsville, UT
Customer Rating:
11/09/2013
Mats are lightweight and durable. The trim pieces can be like a puzzle trying to get them to fit different mat configurations. The challenge was fun, though. Shipping was reasonable and quick. I like that.
Debbie
Larkspur, CO
Customer Rating:
10/23/2013
would definitely recommend this product to anyone!!
Jonathon
Sulphur, LA
Customer Rating: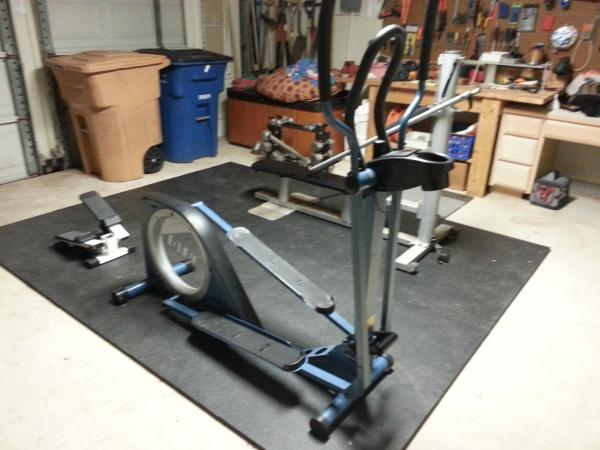 10/18/2013
The mat is as "great" as advertised and works perfectly for what I bought it for - gym mat for the workout area in my garage. Furthermore, it was quick and easy to install.
Alan
Austin, TX
Customer Rating:
08/22/2013
I conducted an extensive web search before deciding on this product. The pricing was the best, and the reviews were consistently superlative. The actual results with this product were consistent with the reviews. My contacts with Greatmats were friendly and complete, shipping was prompt, and installation (which I did myself) was a snap. It was a winner in all regards.
Theodore J
Mars Hill, NC
Customer Rating:
08/14/2013
The only way they could be better is if someone else put them down and picked them back up for us! We use the at horse shows that have concrete floors in the stalls. They are light weight and put together easily. I'm going to order another dozen!
Jeanette
Grove City, OH
Customer Rating:
08/06/2013
This was the perfect product for my home gym. The mats are nice and firm to support my weights. The estimator was right on in figuring how many tiles I needed for my room that is a bit odd shaped. Great product and everything was delivered as expected with no problems.
Kraig
Far Hills, NJ
Customer Rating:
07/04/2013
I am SO impressed with these mats!! My horse has had some navicular problems, so I bought these to take to overnight horse shows where they have concrete or packed dirt stalls. I tried using big rolled up mats, but I about killed myself trying to move them. I did lots of searching and research before finding these mats. They seemed too good to be true, but they were guaranteed, so I took a chance. First, let me say that the customer support was fantastic. I called because I wanted to be sure they would get here in time for a show I was going to. The customer service representative said she would personally watch for the order and ship it out immediately. It was at my house much earlier than expected. The mats themselves are high quality, lightweight, and easy to handle. (And the don't small bad either like some mats do!) I still wasn't convinced my horse wouldn't tear them up, though. When we got to the show, I quickly and easily laid them out. (You have to have them turned the right way for them to hook up, but I figured that out pretty quickly.) We put down some shavings and brought in the horse. By this point we had a small crowd gathered to check out the mats. Other people had brought in all kinds of things (insulation foam, carpet tiles, you name it) to try and soften the floor for their horses, and they were all interested in my mats. My horse was very comfortable for the three days we were there, but the best part was when we left. I easily pulled the mats up and hosed them off. And when I examined them, there were no indentations at all from my 1000-pound horse's hooves--not even on the ones at the front of the stall where she stood the most. The mats looked brand new! A few more people gathered to ask about the mats as I was hauling them back to my trailer. I couldn't say enough about them. The small investment was well worth it as I am certain these mats will last for years and save wear and tear on my horse. Thank you for the great service and the great product!!
Dawn
Blairsville, GA
More Reviews...