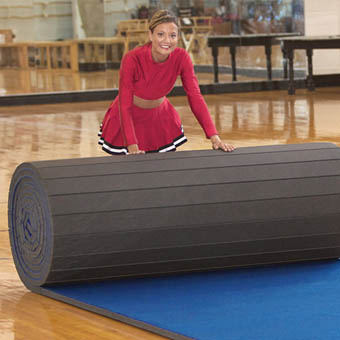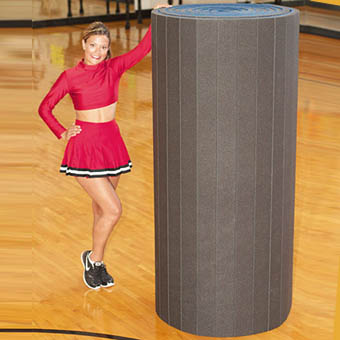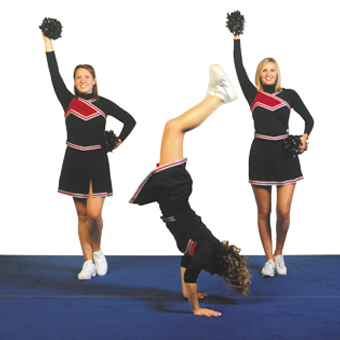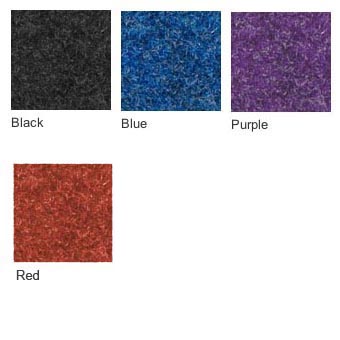 Our pricing includes hook and loop connector strips, when ordering more than one 6x42 foot strip. Connector strips are used on top of the mats to fasten one mat to the next.
Greatmats features cheerleading rolls for cheer competitions, high school and university practice squads and for All Star cheer clubs. Our cheerleading mats are 6x42 ft in size and either 1-3/8 or 2 inches in thickness. The manufacturing process for our cheerleading mats is monitored on a consistent basis to insure a full carpet to foam bond during production which will ensure a long lasting and high quality product.
Greatmats offers cheerleading mats in four colors, made to order for each customer. School or club logos can be cut into the cheerleading rolls in multiple colors, please consult our professional and caring customer service personnel to discuss logo options. Most customers choose to put a school or club logo in one strip of cheerleading mat.
The flexible roll out feature included in our cheerleading mats are cut with waterjet precision for a perfect cut in every mat. This is very important because if the cut is too deep the carpet can become damage or compromised and if cut too shallow the foam will rip when rolled up.
Cheerleading Mats Benefits:
Flexible Rolling Feature for Free!
4" Velcro Rolls Included
Three-Year Limited Warranty


This product is shipped via freight delivery.
Please review our
shipping disclaimer.
Features:
Material: Carpet top / polyethylene foam bottom
Foam Material Density: 2.2 lbs per cubic foot
Type: Roll
Country of Manufacture: USA
Roll Size: 6 x 42 feet
Thickness: 1-3/8 or 2 inch inch
Connection: Butt one roll to another side by side
Universal Interlocks: None
Weight per: 115 or 135 pounds for 1-3/8 or 2 inch
Edge Type: Straight Edge
Ordering Minimum: 1 Roll
UV Treated: No
Stocked: No
Non Absorbent: No
Ships Out From Warehouse: 1-3 weeks
Warranty: 3 Years
Border Strips: None
Installation: Use Velcro Strips
Special Adhesives: No
Top Texture: Needle Punch Carpet
Loss Per Tile: None
Reversible: No
Characteristics:
Flame Laminated Carpet to Foam
All Rolls are Flexible Style for Easy Roll Up
Non Slip
Anti-Fatigue
Made in USA
No Adhesive Required
Size and Dimensions:
Rolls: 6x42 Ft x 1 3/8" or 2" thickness
Cheer Rolls Protective Sleeves
Call for detials
Setup Options
Single roll setup as a 6 x 42 ft Tumbling Strip
7 roll setup as a 42 x 42 ft Standard Cheer Floor or regulation gymnastics Floor Exercise area.
10 roll setup as a 42 x 60 ft All-Star Cheer Floor which gives multiple 60 ft tumbling lanes.
Custom setups of multiple 6 widths x 42 ft long.
Foam options:
1-3/8 and 2 inch thickness with crossed-link polyethylene foam.
Use 1-3/8 inch for medium floor protection, and use 2 inch thickness for advanced stunting and tumbling.
Pricing for Cheerleading Mat
1 3/8" Poly Foam

On Sale Now




$569.00

per -
Was:$625.00 per

You Save 8%

2" Poly Foam

On Sale Now




$699.00

per -
Was:$789.00 per

You Save 11%

Cheer Mats Connect Strips 75 Ft Blue 4 Inch
$29.00 per piece -