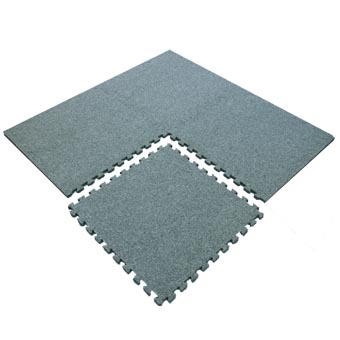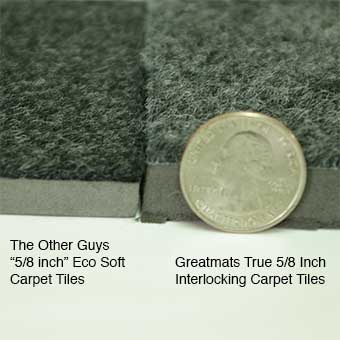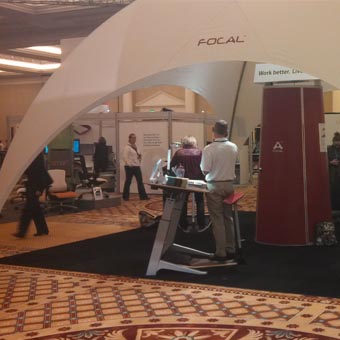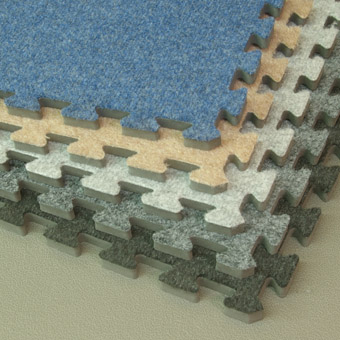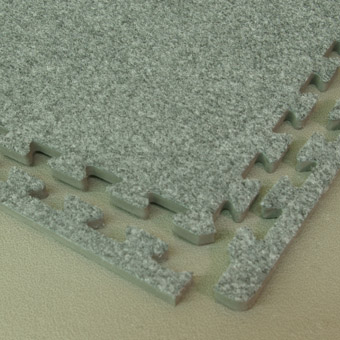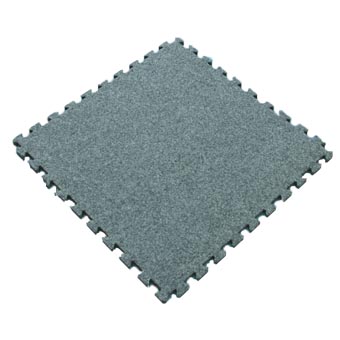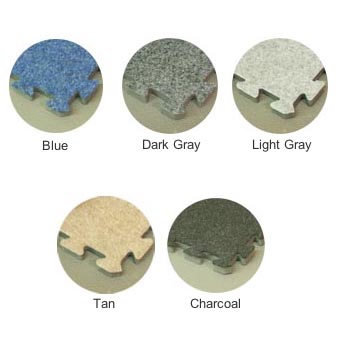 If you're in the market for a lightweight, interlocking carpet tile that is simple to install, requires no carpet pad or adhesive, and is waterproof, the Royal Interlocking Carpet Tile is exactly what you need. Great for basements, commercial offices, and trade show booths, this product is thick, soft, and comfortable. Compare this product to other interlocking carpet tiles and you'll find that the foam layer for the Royal tile is thicker and the carpeted top is softer and more lush. Available in five popular colors, each tile comes with two border strips. These strips allow you to turn any tile into a center, border, or corner piece. Warm, comfortable, and great looking, these interlocking carpet tiles will transform any space into a comfortable location. Great for standing, working, or relaxing.

Interlocking carpet tiles are softer than many interlocking carpet tiles on the market today. They are feature a plush carpeting similar to what you might find in a luxury car as opposed to the more fibrous burlap-feeling carpeting. Interlocking carpet tiles are convenient and can be installed without a carpet pad or adhesives. You don't even need tape. Simple interlock these carpet tiles together and cut to fit your area with a sharp utility knife. Should you decide to relocate, simply stack them up and bring them with you.

These interlocking carpet tiles are an excellent choice for trade show booths, home basement floors, and any retail installation where a carpet top with anti fatigue flooring is needed, such as parmacies and behind retail counters. This interlocking carpet is commercial quality designed to last for years of retail and commercial usage.

These interlocking carpet tiles are perfect for trade show booths and will provide a professional look and a comfortable anti-fatigue feel. Choose this carpet tile for a basement floor to create a comfortable and warm carpet floor system that is waterproof and stain resistant. Our interlocking carpet tiles are an easy DIY installation project as this carpet tile can be cut using a sharp utility knife for a wall to wall fit. Install this interlocking carpet tile directly over any hard flat surface including concrete, wood or ceramic.

The bottom structure of this interlocking carpet tile is a 1/2 inch dense foam material that is designed to provide the best anti-fatigue characteristics for people that need to stand for long periods of time. Durable enough for tables and chairs, these interlocking carpet tiles are a great choice for high traffic areas, at conventions and retail environments or for an interlocking rug for anti-fatigue work stations.

Our interlocking carpet tiles are available in popular colors and can ship via ground service to your door. Greatmats has this interlocking carpet tile in stock and can ship in a few working days from the time of order. Choose the Royal Interlocking Carpet Tile for your next flooring project that requires a clean looking carpet with a padded fatigue bottom. We are sure you will be very satisfied with this high quality carpeted flooring option.
Applications:
Trade Show Booths, Conventions and Showroom Flooring
Basements and Garages
Patios
Theaters
Sun Rooms
Workspace
Interlocking rugs
Great for Concrete or and Hard Floor
Please Note:
Color and shade may vary somewhat from carpet tile to carpet tile within the same order and/or lot or batch of carpet tile. This is common with this type of interlocking carpet tile.

This product is shipped UPS or FedEx Ground and or via freight delivery.
Please review our
shipping disclaimer.
Features:
10x10 ft kit coverage has no loss
20x20 ft kit has 1.75 inch loss, for a 19 ft 10.25 inch actual coverage
Mix and match to create any layout or design.
Border Strips Provided, 2 per mat to make any mat a corner, border or center
Easy to install, easy to take up, lightweight and portable.
Easy to clean. Can be vacuumed.
Anti-Fatigue Relief
Place directly on concrete or tile, no adhesive needed for a snug, tight fit.
Waterproof and odor proof.
Anti-fatigue and insulation value similar to carpet.
Comfortable and Durable, Light and Portable
Will Stand up to Tables and Chairs and High Heels
Easy to Assemble, Easy to Clean
Build any size layout in 2 Ft increments
Interlocking design makes for continuous surface system
The edge is not beveled down, it is a straight 90 degree edge. The straight edge will not present a tripping hazard.
Can be custom cut with utility knife and a straight edge
Characteristics:
No Odor
Anti-Fatigue
Waterproof
Non Slip
No Adhesive Required
Size and Dimensions:
Tile Size: 24" x 24" x 5/8"
Foam Padding Thickness: 1/2"
When installing make sure all the arrows on the bottom of these mats are pointing in the same direction.
View Fire Rating PDF
Order 25 tiles per 100 SF of coverage - for example, a 10x10 ft booth is 25 tiles and a 20x20 ft booth is 100 tiles



Blue




Dark Gray




Light Gray




Tan




Charcoal
Customers who viewed this item also viewed: