Discount Tumbling Mats, Gym Mats for Sale, Discount Gym Mats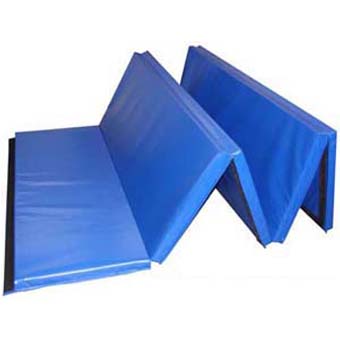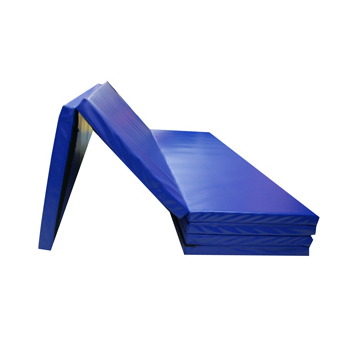 Order Online -
Free Shipping 4x8 only
To Request a Volume Quote Please Call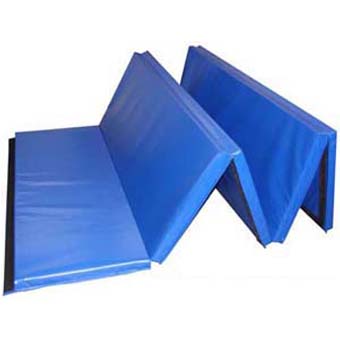 View Discount Gym Mats in our
Customer Gallery.
Use our discount gym mats for home tumbling and cheer practice and gymnastics training or for martial arts studios. Our discount gym mats are available in several thicknesses and colors to match your needs. All of these discount tumbling mats have hook and loop fasteners on all 4 sides and 18 oz vinyl cover.
Our discount gym mats and tumbling folding mats are hand crafted of extremely durable 18 oz coated vinyl and double stitched seams. These tumbling mats feature 2 foot wide panels and fold accordion-style for easy storage and transportation. All folding gym mats feature 2 inch hook and loop fasteners on all four sides for end to end and side to side attachment as desired.
Designed for durability and superior shock absorption. Softness and shock absorption make the mats an excellent multi-purpose mat.
Hook and Loop Fastener Information: V4 has Hook and Loop Fasteners on all four sides. Choose 4V for attaching the gym mats to each other on the long side of the gym mats - for side to side placement.
These mats can be used as wall padding also, simply screw the external flange on the long side of the mats to a firing strip attached to the wall.
The vinyl used with this product is 6P compliant for Phthalates and Lead Free, and meets California state law Proposition 65 requirements.
Applications:
Cheerleading Training
Gymnastics Training
Floor Exercises
Wall Pads
Martial Arts Training
Pilates
Home Exercise
Made in Asia
Mat Safety Tips
Mats and protective equipment are not the complete answer to eliminating or reducing injuries. Mats are not fail-safe. Nothing can substitute for proper instructions, spotting and good common sense in the teaching of gymnastics. Landing on the head or in an out-of-control position can result in injuries regardless of the amount of mats.

This product is shipped UPS or FedEx Ground and or via freight delivery.
Please review our
shipping disclaimer.
Thickness Options:
Size Options:
4 x 8 FT. 20 lbs
5 x 10 FT. 36 lbs
Hook and Loop Fasteners on 4 Sides
18oz Vinyl Cover
Pricing for Tumbling Mats
4x8 FT x 1.5 Inch Thickness - V4 - 18 oz cover
Royal Blue

Free Shipping

- in the lower 48


On Sale Now




$159.00

per
Was:$229.00 per

You Save 30%

4x8 FT x 2 Inch Thickness - V4 - 18 oz cover
Royal Blue or Black

Free Shipping

- in the lower 48


On Sale Now




$199.00

per
Was:$259.00 per

You Save 23%

5x10 FT x 2 Inch Thickness - V4 - 18 oz cover
Choose Royal Blue or Black

On Sale Now




$249.00

per
Was:$299.00 per

You Save 16%

Blue


Black