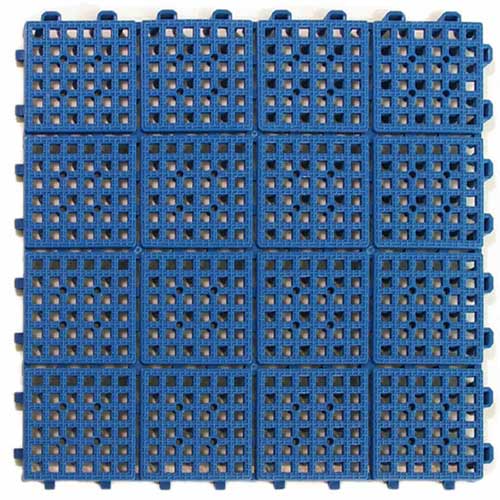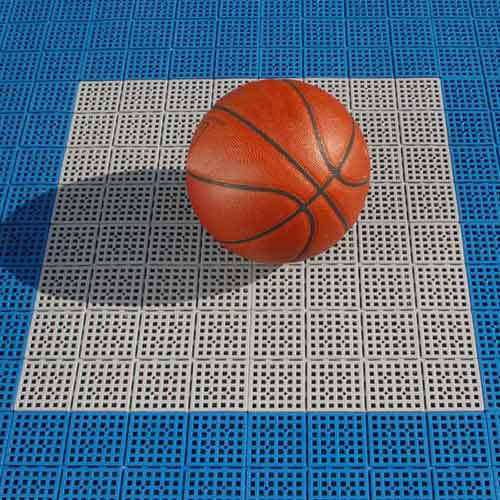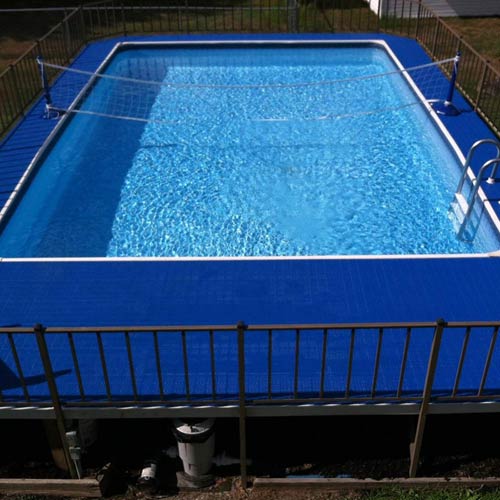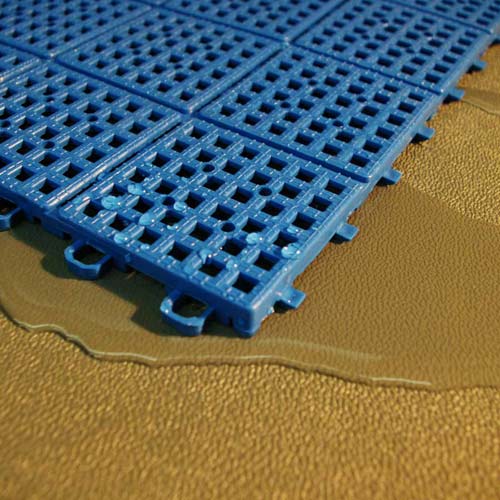 Patio Outdoor Tile
(67 Reviews ) Write a Review
SKU# PTA.5
On Sale
Reg: $3.49 per Tile
$2.29 per Tile - In Stock
$2.49 per SF
Ships out 1-3 Days
Ship times are typical, inquire for immediate availability.
Use Types
Wet Area Tile, Outdoor Flooring, Pool Surrounds, Deck Top Floors
The Patio Outdoor Tile is recommend for indoor and outdoor where an interlocking patio tiles is needed. Use around wet areas and where a drain through elevated floor product is required, such as outdoor patios, decks, and pool surrounds. Designed for the weight of common foot traffic and residential tables and chairs for outdoor use.
These interlocking patio tiles are 11-5/8 x 11-5/8 inches size and 1/2 inch thick. An easy to install patio tile features a unique interlocking tab and loop connecting system. Easily cut this interlocking patio tile with a utility knife for a wall to wall installation. Border strips are not available for this product.

Consider using this interlocking flooring around your outside pool, sauna or spa area. The Patio Outdoor Tile is equally useful on the deck, patio, or to create a outdoor entertainment area. This drain through interlocking patio tiles will not absorb any moisture and lets all water drain right through in order to insure a constantly dry surface on top of the tiles.

Not suitable for rubber membrane rooftop surfaces. This tile can be installed on hard flat surfaces. Use this interlocking patio tile outdoors for home and commercial desks and around wet ares. Or use this interlocking wet area tile indoors inside of showers or near locker rooms.

Imported from overseas, colors and quantities may be seasonal, please check with customer service for availability of larger quantities of over 3000 tiles.
Maintenance
Product can be damp mopped with common household floor cleaners, avoid bleach
Shipping
Ships in cartons via ground service to your door, for larger orders product may ship freight delivery.
This Product Ships UPS Ground, FedEx Ground and/or Freight.
Please review our shipping disclaimer.
| | |
| --- | --- |
| In Stock | Yes |
| Product Type | Tile |
| Material Type | PVC Plastic |
| Product Edging | Straight |
| Thickness | 1/2 inch |
| Width | 0.97 feet |
| Length | 0.97 feet |
| Weight | 1.00 lbs |
| Packaging | Cartons |
| Number of Pieces per Package Type | 60 |
| Non Absorbent | Yes |
| Special Adhesives | No |
| Universal Interlock | No |
| Interlock Loss | 0.04 feet |
| Material Density | Shore A 89 |
| Interlocking Connections | Yes |
| Made In | Taiwan |
| Order Minimum | 30 |
| Surface Finish | Perforated top |
| Surface Design | Solid color |
| Installation Method | Interlocking, dry lay |
| UV Treated | Yes |
| Reversible | No |
| Border Strips Included | No |
| Manufacturer Warranty | 1 year limited |
Customer Product Reviews
Customer Rating:
12/25/2014
Love the patio tiles. Easy installation, product exactly as described. Great value!
Erin
Parrottsville, TN
Customer Rating:
12/17/2014
I am very pleased with the product. There were a few bent edges that made a few tiles hard to put together but nothing mayor.

The main issue for me with this purchase was the shipping cost. I understand that this is heavy material, but seeing that it was going to cost me something like 50% more for shipping, made me hesitate a lot. As a matter of fact I was thinking on getting a few more tiles but instead I'm waiting to see if I may need something else before making my purchase.
Jorge
Hillsboro, OR
Customer Rating:
10/23/2014
This produck worked out really great and was a snap to install (get the pun) ? My deck was 15' by four feet and it took me around three hours to install. It solved my problem of water puddles on the deck which the dogs got into and then tracked in. Now the puddle is under the decking but I can still use a hose to wash it.
William
Tacoma, WA
Customer Rating:
08/27/2014
We bought the Grey Greatmats product on sale and installed on an outside porch. It has a roof, but no walls. We live in Southwest Florida and it's the rainy season. The mats get wet almost every day. They don't get slick and with the holes in the tiles they dry quickly. To sum it up the tiles have far, far exceeded our expectations. Wish I would have this products years ago.
Jim
Ft Myers Beach, FL
Customer Rating:
08/22/2014
The matting was used to cover a metal dock-- which used to get very hot with the sun beating down on it-- Now with the new matting it's comfortable to walk on and soft on your bare feet
Joseph D.
WORCESTER, MA
Customer Rating: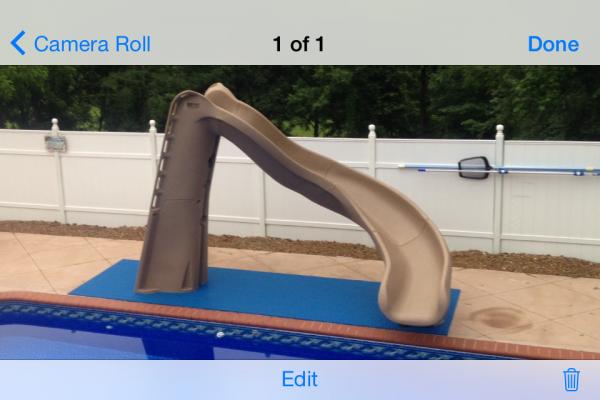 06/02/2014
Great! Easy to trim and install under slide where there was concrete damage.
DON
JACKSON, TN
Customer Rating:
05/21/2014
We love our greatmats! They absolutely match the colors surrounding our pool. They were very easy to install once we got them figured out. They are also easy to move and clean the tile underneath. Also, we cannot believe how comfortable they are to walk on.
Greg
Houston, TX
Customer Rating: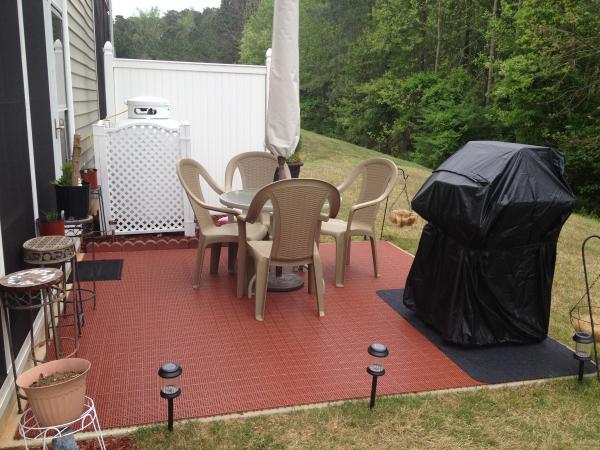 05/10/2014
Very please with the matts I brought. Gave my patio some life and color
Tony
CLAYTON, NC
Customer Rating:
02/02/2014
Excellent product! Easy to install and built well.
Rod
Three Forks, MT
Customer Rating:
12/12/2013
I'm using the tile to cover a muddy patch in my lawn, just next to the deck steps, so my dog doesn't track mud into the house this winter. So far, so good. I (and my kitchen floor) appreciated the very quick delivery.
Paul
St. Charles, IL
Customer Rating:
08/22/2013
YOUR PRODUCT IS GREAT.WORKS GREAT FOR MY NEEDS.SEEMS A BIT PRICEY BUT ALL IN ALL GREAT PRODUCT AND SERVICE
jed
florence, KY
Customer Rating:
08/15/2013
Love the product. Easy to work with and to put together. Highly recommend it!
Anthony
Long Beach, NY
Customer Rating:
08/05/2013
great product and exactly what i was looking for at half the price of the marine stores , I use them to in the bottom of all my storage lockers on a bass boat so they keep the rods, reels and equipment off the damp carpet.
jerry
wakefield, MA
Customer Rating:
07/25/2013
I actually purchased these tiles for a tavern that I worked at. They work great for placing clean glasses. They are raised so that the water drains out and the don't sit in the water.
DK
Mt Pleasant, WI
Customer Rating: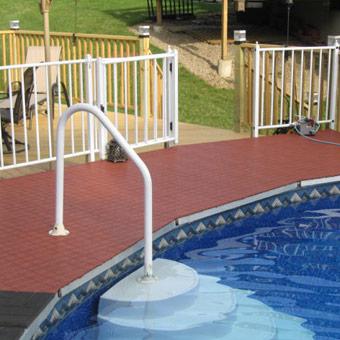 07/23/2013
My deck project has finally been completed. The most complimented area receiving the most attention is the conversion of the former aluminum pool deck utilizing your Aqua tile. A very elegant finish to a formerly bland and unappealing area. The tiles were simple to work with and very easily configured into odd angles that i was worried about. The material was easily cut to fit and appears custom made just for me. I am tempted to continue the tile all the way around the plank deck of the entire pool. This was the answer to resolving an area that has seen many different attempts at other rugs, pads, etc. thanks so much!
Joe
Customer Rating: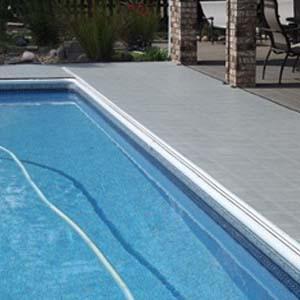 07/23/2013
Your staff, particularly Angie, was extremely helpful in assisting me with sending tile samples, ordering the tile, etc. The tile was delivered quickly, and it performed exactly as advertised. It is extremely easy to install & forgiving of minor mistakes in trimming, etc.. It totally transformed the appearance of my pool deck. I HIGHLY recommend this product. Michael Bush Morton, Illinois
Michael
Morton, IL
Customer Rating: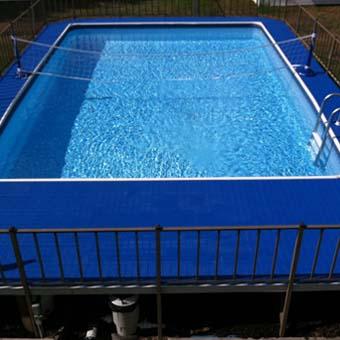 07/23/2013
Here is the finished pool deck. It looks amazing and we are extremely pleased! The pool is 23 years old and was reinforced underneath the deck with 4' x 4' wood posts. The deck itself is vinyl over wood, but in the last 5 years the vinyl was splitting and peeling. We covered all these areas with a duct tape that is good to 40 degrees below zero, then we put the new pool tiles on top. The manufacturer of the pool told us 5 years ago that it would cost somewhere between $3000 & $4000 to replace the deck. Obviously, we weren't about to spend that kind of money. We had been looking at different alternatives for the last 2 years, and I came across your company on the Internet. We are now looking forward to many more enjoyable years with our pool, at a cost that was considerably less than anything else we could find. Thanks to Angie-who quickly answered all my e-mail questions, the customer service reps who directed me to you, and to you for getting my order out quickly. We appreciate all the assistance, and wouldn't hesitate to use Greatmats again!
Karen
Customer Rating:
07/22/2013
We installed the tiles on a 5th floor terrace that gets a lot of sun, and the cement floor would get very hot in the summer and also slippery when wet. It has worked out just great!
Caroline
New York, NY
Customer Rating:
07/11/2013
This is an incredible product! It's light and durable. I have a very damp basement. I used the tiles to make a path in my basement. It was very easy to use. The price was right and it arrived very quickly! I am very pleased!
Andrea
Greenfield, MA
Customer Rating:
07/01/2013
We bought your product Patio tile aqua to put around our pool. The concrete looked horrible, cracked, small pieces missing, looked terrible. To replace the concrete they wanted $3500, entirely too much!!! This went down easily & looks beautiful. What an improvement. Thank you Great Mats!!!!
Kathleen
Steubenville, OH
More Reviews...