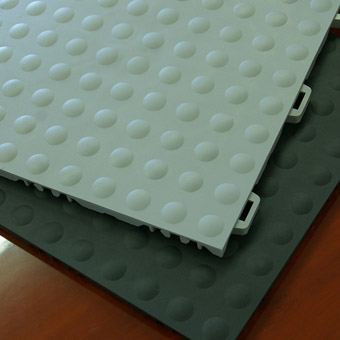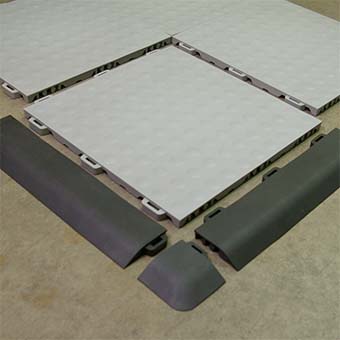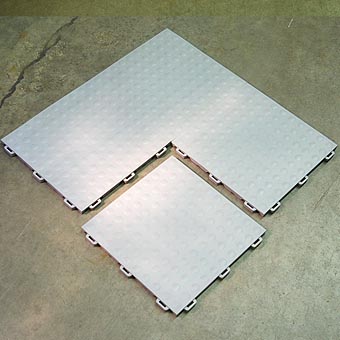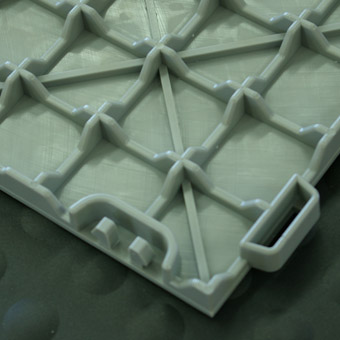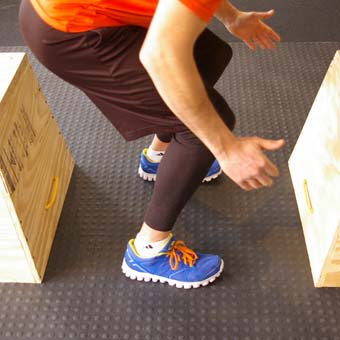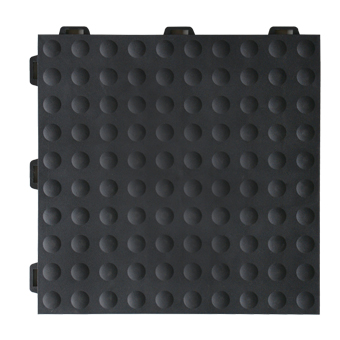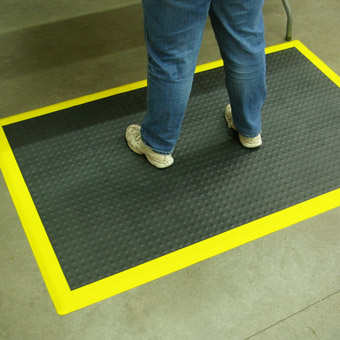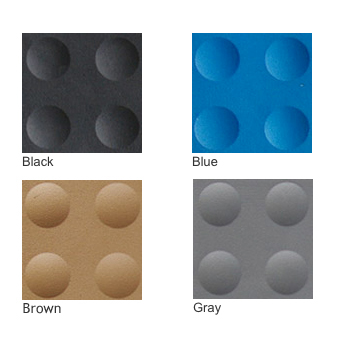 Cut to fit around obstructions. Install in any configuration; easily take up and move. This durable PVC flooring does not need underlayment to provide outstanding ergonomic benefits in athletic, labs, or industrial foot traffic applications. Resistant to most acids and oils. Easy to keep clean. No waxing or finishing required. Very low maintenance costs.

Choose this type of modular floor tile for industrial ergonomic flooring, aerobic floors, home gyms, basement floors, or anywhere a comfortable and easy to install modular floor tile is needed. This modular flooring features cushion ergonomic benefits for people who have to stand for long periods of time in industrial, athletic, and standing work environments.

The bottom web structure of this modular tile features excellent cushion to provide relief for standing on this floor tile. StayLock is available in bump top and orange peel top surface designs. (Bump top design pictured.) The bump top texture will provide the most ergonomic benefits for industrial and standing work environments while the orange peel will deliver a more aesthetic appeal for commercial and home athletic, gym, cardio, and aerobic installations.

StayLock flooring tile is easy to connect together using a rubber mallet. Anyone can put these modular floor tiles together. The tiles can easily be taken up but will stay together perfectly for as long as needed. The typical life span of this type of modular flooring tile is 20 years or more.

When the floor tile life span is completed, this material can be reclaimed and reground back into base material. This can then be manufactured into useful products which means this product need never needs to go to in landfill.

All colors are made from virgin PVC material. Black is made from material with a low percentage of recycled content.

This product is shipped UPS or FedEx Ground and or via freight delivery.
Please review our
shipping disclaimer.
Features:
StayLock Connector Design
Cushion Fatigue Benefits
Ergonomic Flooring
Waterproof
Resistant to Oils and Acids
Border Ramps Available
Increase Worker Comfort
Install Large or Small Areas
Move as Needed
Easily Replace Damage Tiles
7 Year Warranty
Also Available in Orange Peel Surface Texture
Specifications
Tile Size: 1x1 Ft
Tile Thickness: 9/16 Inch
Tile Weight: 1.5 lbs
Pricing for Staylock Bump Top Tiles
1x1 Ft Tiles - Black

On Sale Now




$3.98

per piece - $3.98 per SF
Was:$5.65 per piece

You Save29%

1x1 Ft Tiles - Color

On Sale Now




$4.99

per piece - $4.99 per SF
Was:$5.89 per piece

You Save15%

400 + SF
Customers who viewed this item also viewed: