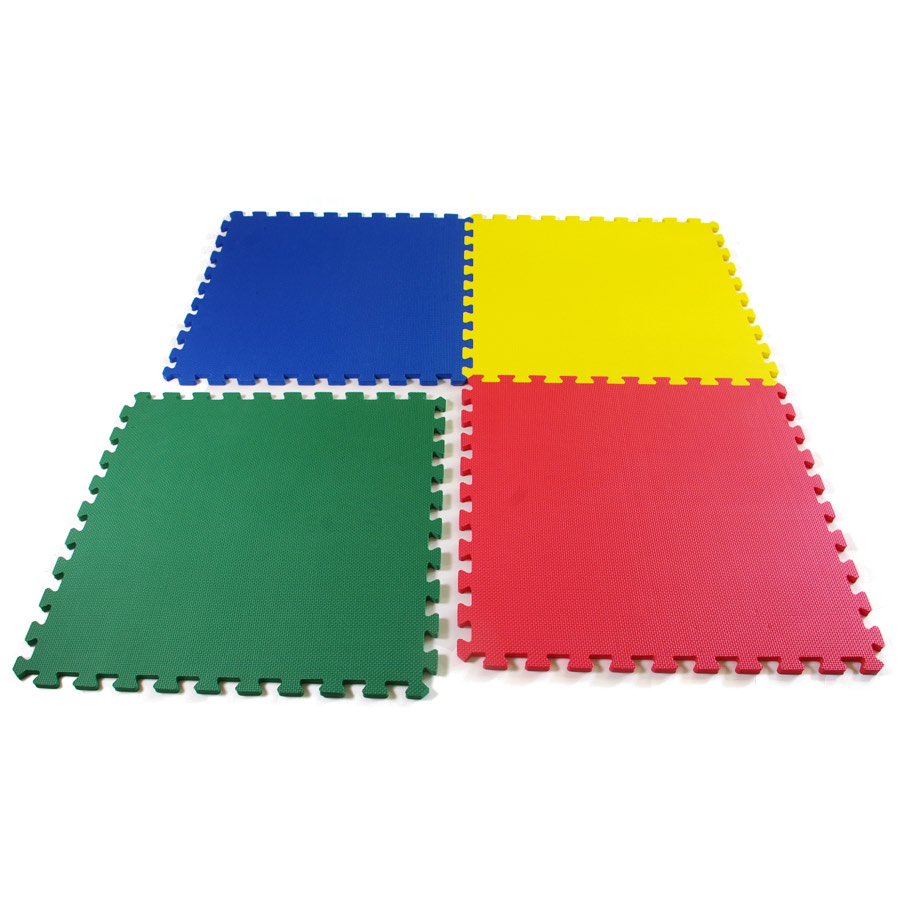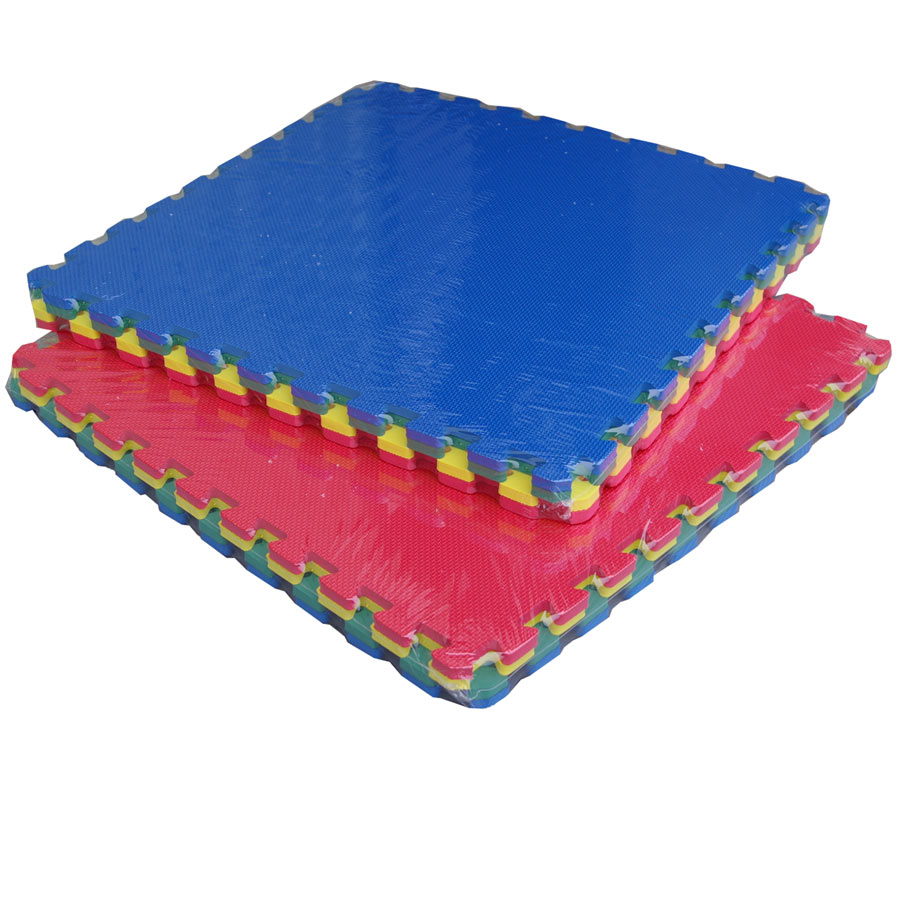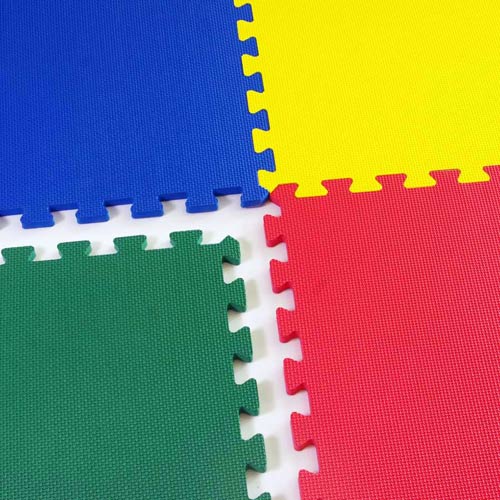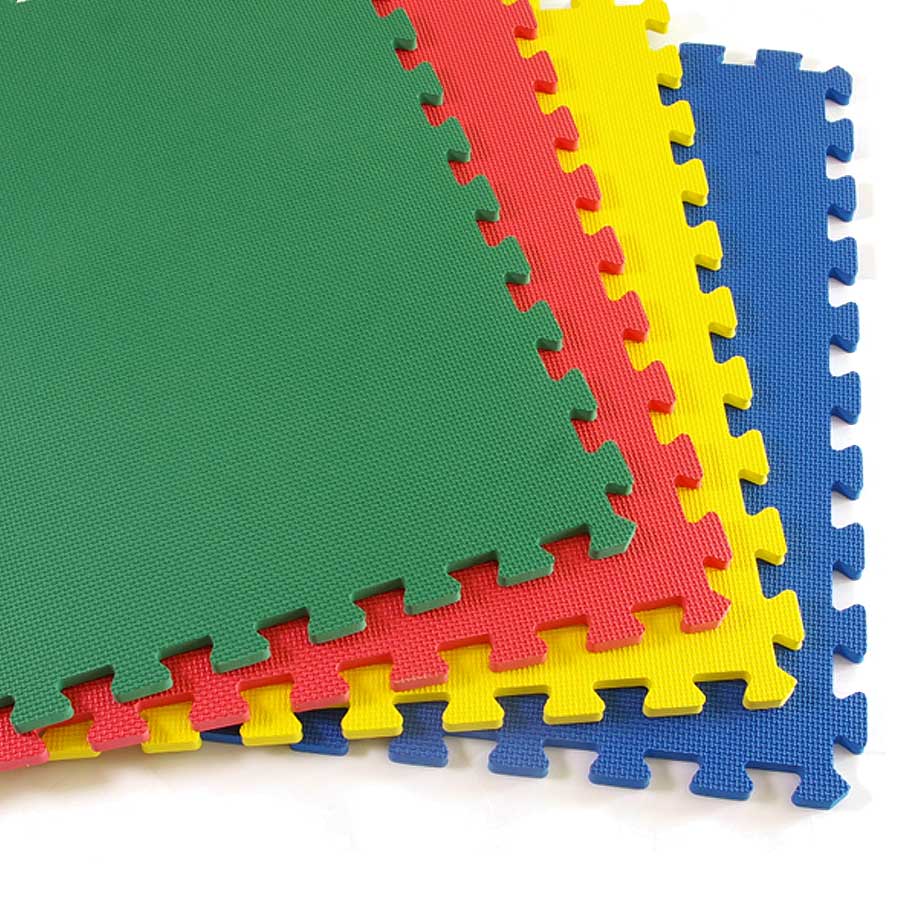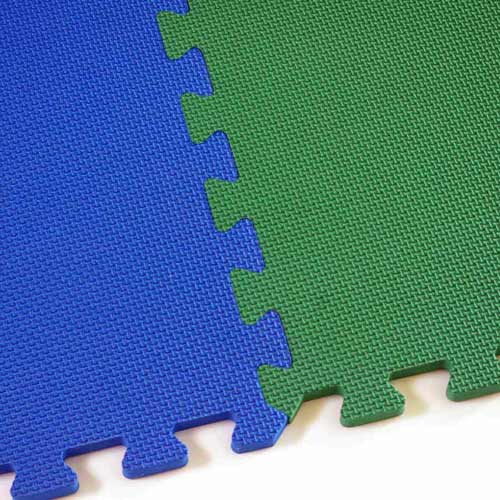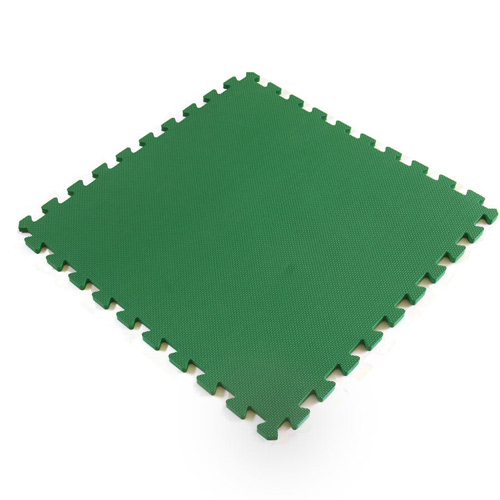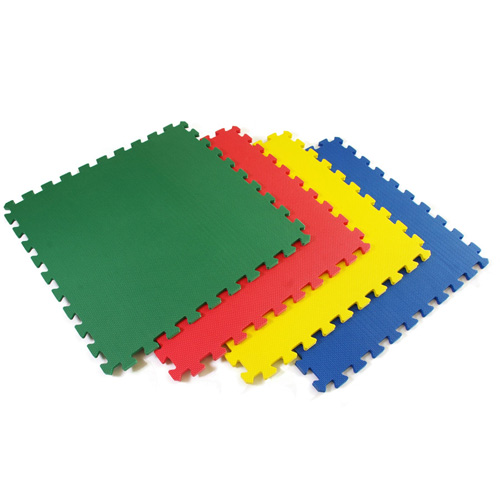 Play Mats Foam Puzzle Tile 4 Pack
(79 Reviews ) Write a Review
SKU# DF12 4pk
On Sale
Reg: $36.00 per Pack
$17.44 per Pack - In Stock
$1.09 per SF
Free Shipping
- lower 48
Ships out 1-3 Days
Ship times are typical, inquire for immediate availability.
GREATMATS CUSTOMERS ALSO VIEWED
DESCRIPTION⌃ Back to top
Benefits
Colorful set of 4 mats per pack
Waterproof and non absorbent
Scuff resistant top texture
Latex and lead free
Easy to clean, can be washed with soap and water
Ideal for playrooms, basements, and exercise rooms
Great for concrete or hard surfaces
Lightweight and portable interlocking puzzle tiles are easy to install
Use Types
Kid's Playrooms, Basement Floors, Playroom Flooring, Preschool Floor Tiles
Our interlocking foam play mats feature 4 interlocking puzzle mats in one pack. Use these foam play mats in the home or at school. Easily combine the 4 interlocking play mats tiles together in any room. Each playmat pack comes with one tile of each of the following colors; red, green, yellow, blue.
These foam tiles are waterproof and easy to clean. Use under art projects in any room in your home. This foam four pack offers a great foam flooring option at a great price.

Interlocking foam play mats are made of high-density EVA foam that is scuff resistant and will last for years. Safe and soft, these foam mats are great for kids, exercise or both. Lay directly on any hard surface for a safer, durable floor.

Use this product for kids play areas, kids soft flooring and kids recreation rooms. Each pack offers 4 fun colors to mix and match to create a unique fun design for your children's safe and soft flooring surface. These interlocking foam tiles are 12 mm thickness and feature strong colors. The interlocking tiles are cut with precision and feature a very tight fitting interlocking design when assembled together.

Each play mat is 2x2 feet in size. With a universal interlock design, these play tiles can be laid down in any direction, making installation as easy as can be. Just push the tiles together and you are ready to go. With such a easy installation process, you can easily change the pattern or layout of the flooring in you play area. Simply pick up the tiles at any time to swap with other tiles or completely start fresh. They are fast and easy and do not require special tools or adhesives. Kids will love to be involved in the installation and redesign process as it is just like putting together a mega-sized puzzle. Tile can be cut to fit for wall-to-wall-installation.

These interlocking puzzle mats are a wonderful solution for creating a soft room for infants, toddlers and small children. Create pattern using the four different colors to created a lively, stimulating environment for you children to play. And keep peace of mind in knowing that they are protected against slips trips and falls with this soft surface. Plus, the thatch surface texture helps create a non-slip surface.

These play tiles are intended for indoor use, are not UV treated, and feature a 1-year limited warranty. As with all foam products, indents will occur if heavy objects are left on them for long periods of time. In most cases the tiles will return to their original form after the heavy objects are removed. It will take approximately the same amount of time for the indents to disappear as it took for them to form. In some cases indents may be permanent.

Clean play mats regularly with a vacuum after testing to make sure the vacuum does not damage the mats. Have your vacuum cleaner set at highest setting or just use hose and nozzle. Don't use a power head. You may also clean the mats with a damp mop as needed using basic household soap and hot water. Spot clean with a scrubby and a sponge.

In cases where extensive cleaning is needed, the mats can be easily pulled up and taken outside to clean. Wait for the tiles to dry before laying them back down to prevent moisture from becoming trapped underneath or between the tiles. The closed cell foam playmats will not absorb moisture. Walk behind automatic cleaning machines may be a good choice in large commercial areas.



Please Note:
High heels can puncture the foam tiles.
For aerobics activities do not place the tiles on top of carpeting, as foam tiles can shift.
When used outside the foam tiles may expand and curl if exposed to direct sunlight in warm climates for extended periods of time.
Color and shade may vary somewhat from foam tile to foam tile within the same order, this is common with EVA foam tiles.
Allow the foam tiles to acclimate to your room before installation. The foam tiles can expand with changes in heat and humidity, allow a 1/4 inch expansion gap for wall to wall installations.
Maintenance
Product can be damp mopped with common household floor cleaners, avoid bleach. Test your vacuum before use.
Shipping
Ships in cartons via ground service to your door, for larger orders product may ship freight delivery.
This Product Ships UPS Ground, FedEx Ground and/or Freight.
Please review our shipping disclaimer.
SPECIFICATIONS⌃ Back to top
| | |
| --- | --- |
| In Stock | Yes |
| Product Type | Tile |
| Material Type | Foam |
| Product Edging | Interlocking |
| Thickness | 1/2 inch |
| Width | 2.00 feet |
| Length | 2.00 feet |
| SF per Item | 16.00 |
| Weight | 4.00 lbs |
| Packaging | Cartons |
| Number of Pieces per Package Type | 10 |
| Non Absorbent | Yes |
| Special Adhesives | No |
| Universal Interlock | Yes |
| Interlock Loss | 0.03 feet |
| Kid Safe | Yes |
| Material Density | Shore C 30-35 |
| Interlocking Connections | Yes |
| Made In | Taiwan |
| Order Minimum | 4 |
| Surface Finish | Thatch |
| Surface Design | Solid color |
| Installation Method | Interlocking, dry lay |
| UV Treated | No |
| Reversible | No |
| Border Strips Included | No |
| Manufacturer Warranty | 1 year limited |
PDF DOCUMENTS⌃ Back to top
View Installation Instructions
View Cleaning and Maintenance
View Warranty
View Specifications Data Sheet
You will need Adobe® Acrobat® Reader to view PDF documents.
Download
a free copy from the Adobe Web site.
VIDEOS⌃ Back to top
Q & A⌃ Back to top
Ask a question about this product
Product Questions:
How many 4packs do I need to do a 10x 10 room
Each tile is 2x2 ft or 4 SF, and 10x10 ft is 100 SF, therefore 25 tiles are required to cover a 10x10 ft area or 7 - 4 packs which is 28 tiles.
Is it possible to buy border strips for these sets?
This product does not offer border strips.
REVIEWS⌃ Back to top
Customer Rating:
09/16/2015
Great foam tile product, easy to install.
Tho
Philadelphia, PA
Customer Rating:
08/31/2015
Really happy with the purchase! Product was easy to order and customer service was very helpful/friendly. The foam mats provide enough cushion on our carpet for a 7 month old learning to stand who is constantly falling. Like the different colors as it's perfect for babies/toddlers to keep them entertained.
Phillis
South Pasadena, CA
Customer Rating:
07/27/2015
I purchase the mats so my granddaughter would have a safe surface to play on when she was on the deck. We love them!! They are easy to rearrange and clean. Not to mention how durable the are. I will definitely purchase more.
Catherine
Islandia, NY
Customer Rating:
05/25/2015
I ordered these mats to use in my basement to practice obedience training with small dogs. They are working out just fine. I probably would not use them for larger, heavier dogs when I get to the open and/or utility level, but they should work just fine for the smaller dogs for a long period of time. The fact that they are movable, washable and can be vacuumed meets my needs.
Carla W.
South Yarmouth, MA
Customer Rating:
04/26/2015
great mats grandson loves them
joe
brea, CA
Customer Rating:
04/20/2015
We made this purchase to provide some cushion under our grandchildren's glider. It provided the confidence needed that if a fall took place, there'd be something soft to land on. The unexpected surprise....Our granddaughter is quite an active sleeper, we'll hear thumps upon the walls. So, we were able to use them to soften the thumps. We used the removable hooks and some self made latches to hold the squares in place.

Thank you for this great product.
Patricia
Omaha, NE
Customer Rating:
04/19/2015
We are very happy with our mat so far. We got 11 packages to fill the play room for. The color is holding and there are no scratches like the cheaper brand we bought before. I wish it would have been a little bit cheaper though.
Abbey
Evans, GA
Customer Rating:
04/06/2015
Great Product!
Tammy
LAS VEGAS, NV
Customer Rating:
01/11/2015
Product is an excellent addition to the play room, and , well made
Vin
Centereach, NY
Customer Rating:
09/09/2014
Great service, fast shipping, no problems!
Katie
Youngsville, LA
Customer Rating:
07/11/2014
I purchased 6 4-packs of these for camping. The first time we used them was when scouts were over and it was pouring rain. We made a mat on the garage floor for a free-standing tent as one of the kids was afraid to sleep outside. The next time was for under a tent at a state park when the tent site had stones and roots. These mats seem pretty durable. They make a nice shoe mat for outside our large family tent as well. I chose these mats after seeing an ad for camping mats that cost over twice as much. They're not camo, but do I really care?
Randall
PAYNESVILLE, MN
Customer Rating:
06/18/2014
The mats are great. Easy to install, easy to clean, and most of all, they look beautiful.
Jin
Wilmington, NC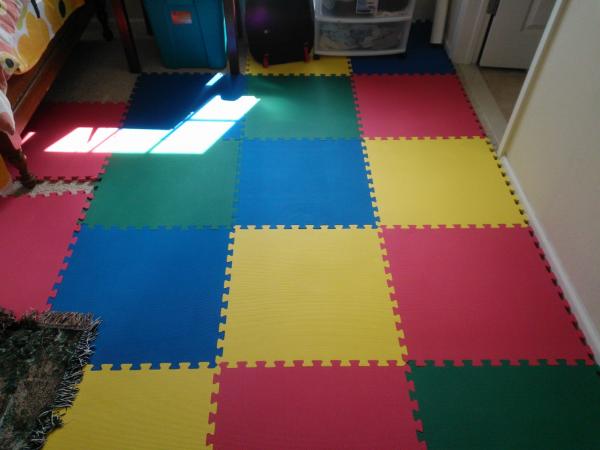 Customer Rating:
01/13/2014
We ordered and received about 400 Sqft of play mats to cover our hard tile floor. The play area is comfortable and warmer. They look great, and were an awesome value. Our kids love playing in the area too.
DAWN
YELLOW SPRINGS, OH
Customer Rating:
01/01/2014
Great mats. I use them for dog beds. Each dog gets two, end to end, and each of my four have their own color. They last long, are easy to vacuum or wash, and easy to break down and store when necessary. PLUS, they love them.
Linton
Kerrville, TX
Customer Rating:
12/14/2013
Excellent product - so easy to clean, and colorful!
Lisa
Holt, MI
Customer Rating:
10/13/2013
Great floor for child's playroom
William
Bellport, NY
Customer Rating:
10/01/2013
love it. love it, love it. easy to clean, kids fall and dont get hurt. quiets sounds.
joan
white marsh, MD
Customer Rating:
08/06/2013
Easy and fast to put down and take up. No odor, light weight, great colors.
Jacquelyn
Milwaukee, WI
Customer Rating:
08/02/2013
I use the mats to block my knitted shawls after washing. Some of the shawls are quite large, and I have to use 6-8 mats for blocking each one. These mats are very suitable for my purpose as I can put them away when the shawls have dried. Because they are foam, the pins that hold the shawls in shape stay in place. They probably won't get dirty the way I use them, but I expect they'll be very easy to clean if needed.
Yvette
Oakland, CA
Customer Rating:
06/08/2013
Great price, fast shipping and the best part of all is that the product had no chemical type smell whatsoever. I was fully prepared to air it out for a week or so, but that wasn't at all necessary.
Natalie
Telford, PA
More Reviews...