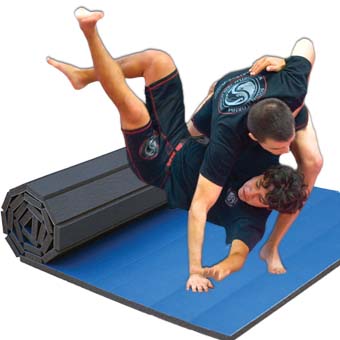 This workout mat makes exercise and athletic home practice easy. It is a foam covered, vinyl-top workout mat that you can effortlessly roll out and back up to store when you're done. Home users will appreciate this athletic workout and exercise mat for aerobics, wrestling, grappling, and martial arts practice.

This home roll out workout mat is 5x10 ft x 1.25 inch thick, order two mats to cover a 10x10 ft area. Releasable vinyl tape should used to cover the seam on the top when assembling more than one mat together.

You will find this workout mats works very well on top of carpeting for home workout exercises such as P90X. The foam material of this workout mat will grip carpeting very well. It is quick and simple to install and transport making this product an excellent choice for aerobic and plyometric training and exercise. Also great for all types of martial arts including BJJ, judo, and MMA.

This product is backed by a one-year limited warranty. Our quality control standards are among the industry's most stringent. This workout mat is manufactured in the USA with the best quality durable vinyl cover and foam materials and is manufactured from the same quality materials that are used in our professional roll out mats.

Easily clean workout mats with common household floor cleaners with a damp mop. 

Get free shipping on this product in 5x10 foot rolls.



Applications:
Martial Arts Mats
Wrestling Mats
MMA Mats
Judo Mats
Juijitsu Mats
Home Exercise

This product is shipped UPS or FedEx Ground.
Please review our
shipping disclaimer.
This product is non-returnable.
Features:
Material: Cross-linked PE Foam Base with Vinyl Cover Top
Material Density: Foam at 30 Shore C. Measured from top 62
Type: 5 ft wide Roll
Country of Manufacture: USA
Tile Size: 5 feet x 10 feet
Thickness: 1.25 inch
Connection: Tape
Weight per: 35 pounds per
Edge Type: Straight Edge
Tiles per Carton: N/A
Ordering Minimum: 1
UV Treated: No
Stocked: No
Non Absorbent: Partial
Ships Out From Warehouse: 1-2 weeks
Warranty: 1 Years
Border Strips: None
Installation: Lays Flat
Special Adhesives: No
Top Texture: Smooth Flat
Loss Per Tile: None
Reversible: No
Additional Features:
Easy to Roll Up and Storage
Waterproof Foam Material
Smooth Surface Texture
Shoes & Boots are OK
Durable PE High Density Foam Base
Expand Your Floor as Needed
Tape Together Numerous Sections
Pricing for Roll Out Mats 5x10 Ft x 1.25 Inch
Per Roll 5x10 ft x 1.25 inch

On Sale Now




$248.95

per piece - $4.98 per SF
Was:$299.00 per piece

You Save 16%
Customers who viewed this item also viewed: